Please note that some of the links in my blog are affiliate links. I may earn a small commission if you purchase via these links, but the price you pay is not affected.
Introduction 
Looking for a long lacy rectangular wrap or scarf?  The Estelle Wrap is a beginner crochet wrap pattern.  With an easy repeating pattern, consistent touches of texture and a reversible and convertible pattern, this wrap is a great addition to any wardrobe all year round.
Inspiration
The Estelle Wrap is the second design in the Estella Series, the first to be released.  The design was inspired by Estella, designed for my mother in law.  I enjoy the flexibility of rectangular wraps and while making Estella I wondered what it would look like as a rectangle.  This long lacy wrap is the end result.  Read on to find out more about the wrap and how to get your copy below.

It turns out it is easier to reengineer a pattern you didn't totally write down in a different shape to the original!  Long lacy wraps lend themselves to being customised or customisable and once I had confirmed my desired width and stitch count, this beginner crochet pattern worked up extremely quickly.
The Estelle Wrap is part of a shawl trio including two triangle shawls, the Stella Shawl and Estella.  
For triangle shawl lovers, also check out the Two M's Shawl – my first published pattern.
Yarn and Materials 
This design was created during the summer heat of the pandemic – covid-19 2020.  Ugh.   As I rummaged through my stash, using this gorgeous cake from Flo's Yarn Basket immediately stood out as the perfect choice.  A gradient 4ply yarn cake, 1000m and a 60% Cotton 40% Acrylic mix.  

Unlike the Scheepjes Whirl or similar branded alternatives, this cake is unplied.  The cake comprises individual strands of yarn which are not plied, stuck or wound together.  This is unnerving at first, but once you get used to working with this type of cake it is fabulous.
To find out more about Flo, check out her selection and grab your own cakes click here.
I was hoping to create a light, summery/beachy version with this wrap as the sun was shining brightly here in Pwllheli and I wanted something I could throw around my shoulders to walk up to the beach.  I think I succeeded.  I have also remade this wrap in my more usual colours – shades of blue. 
Yarn: 1000m gradient yarn cake – I used the colourway Peachy in my sample from Flo's Yarn Basket.  In my blue sample I used, Twirls Deluxe no from Hobbii.  
Any gradient cake will work for this pattern, it will also work up beautifully in solid colours.  For a more autumnal feel, use a DK or 3-weight yarn such as Stylecraft Dreamcatcher.
Other materials: scissors, darning needle and stitch markers
Estelle Wrap pattern info & tips
Skill level: Intermediate
Terms: US Crochet terms
Yarn: Scheepjes Whirl, Hobbii Twister, Yarn Art Flower, or any similar 4 ply 1000m gradient cake.
Terms: Pattern is written in US crochet terms.  
Skill level: beginner
Stitches used:
This beginner friendly pattern works up quickly, however, there are a couple of irregular stitch placements at the end of rows.  Please be mindful of which row of the repeat you are on.  Complete the row as written – this will ensure that your wrap stays straight.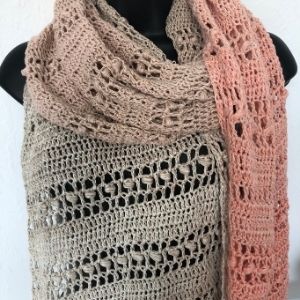 If you use an unplied yarn cake you can pull from either inside or out, however, keep the cake standing and lower than your work pulling the yarn up and out while you work on your beginner crochet shawl pattern.  Do NOT shake the cake.  Under any circumstances.  If you get yarn barf, ease this undone slowly with your fingers and crochet the freed yarn into your work as you go.  
If you are finding that your threads are loose, there are other solutions.  Put a small bead over the threads before you start, this helps to keep them together.  Use a smaller hook and go slowly.
If you have never made a puff stitch, please check out the photo tutorial here.
Tester Thanks
Long Lacy Wrap Pattern
Buy your copy of the Estelle Wrap here
I hope you enjoyed the post and look forward to seeing your Estelle Wraps!
Pop into the Facebook Group and let me know what colour you plan to make your wrap in and share your progress.
Bye for now,
B x