How to make a crochet lace triangle shawl – Two M's Shawl
Please note that some of the links in my blog are affiliate links. I may earn a small commission if you purchase via these links, but the price you pay is not affected.
Looking for an easy crochet lace triangle shawl pattern? The Two M's Shawl is a lacy shawl pattern that has open wings and a textured centre that adds intrigue to the finished design. Read on to find out more about the inspiration behind this crochet shawl pattern and how you can get your copy below.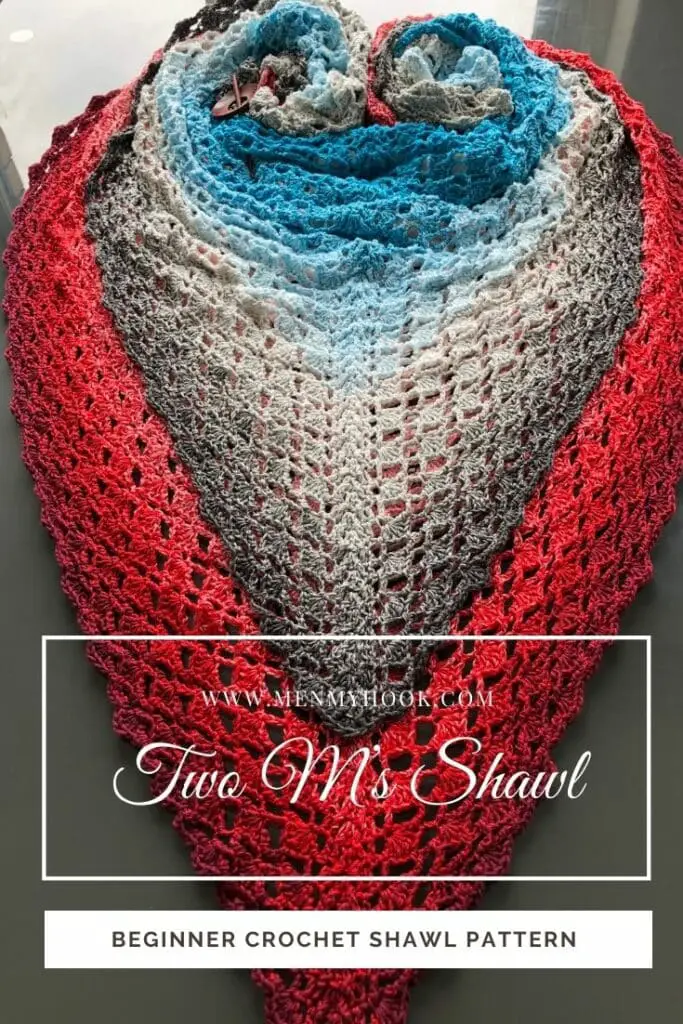 Crochet lace triangle shawl inspiration
It's weird, I never planned on being a crochet designer, or a crocheter for that matter.  However, working through patterns, or flicking through one of the many facebook groups I belong to, it can be very easy to get lost in the idea of how you can 'tweak a pattern' either with your own colours, or changing a border.  For me at least designing is the scary extension of that.  
The Two M's Shawl is a crochet lace triangle shawl pattern inspired by, and named for, my two son's, Marcell and Myles. I didn't try to think of a 'better' name for this crochet shawl pattern, as they were the inspiration behind it using their names seemed appropriate. Just sadly I couldn't think of a suitable mash-up of the two!
Already a daily crocheter, at the start of the Covid-19 pandemic outbreak in the UK, I struggled at first to manage my moods as I felt trapped at home. Although i'm a home body, I don't like being told what to do and those first few days and weeks were a struggle for me.
During the second week and following an 'I'm bored, what can I do', my oldest, Marcell, challenged me to make the shawl I had been talking about doing for a few weeks. "O.K then, you lot choose the yarn" and after a very quick look in the pouffe where I store my yarn cakes, two were selected and off I went.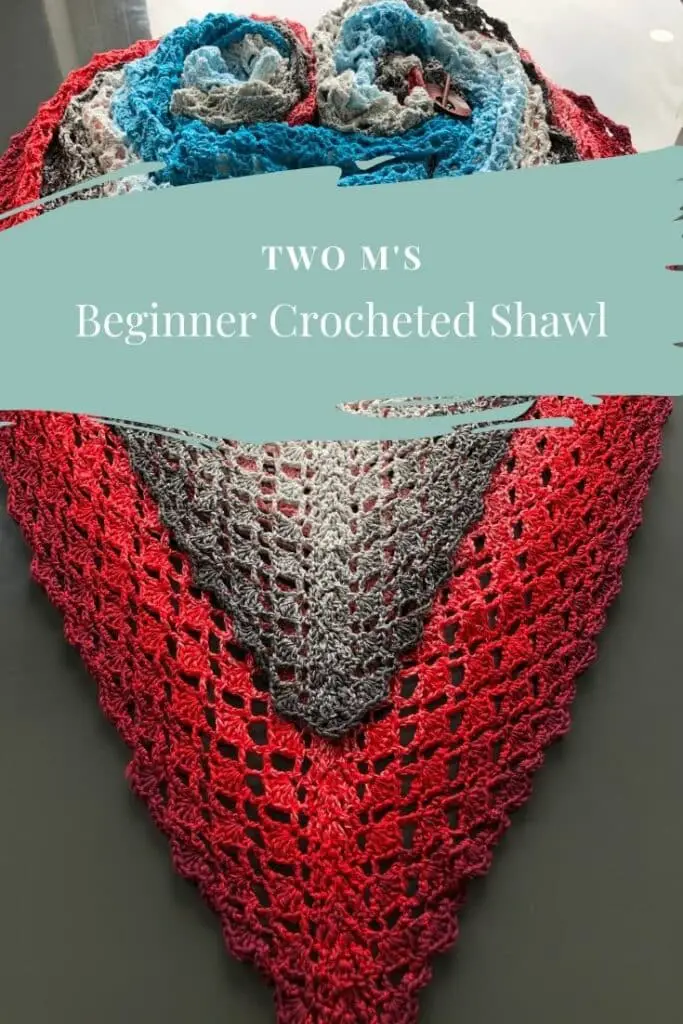 Accidentally, it is actually a perfect blend of their personalities, both are quite easy to please characters but they need discipline or structure.
The Two M's Shawl is a light, lacy shawl pattern, with a textured spine that creates a centre or focal line that draws the eye.
Easy triangle shawl – yarn and materials 
To make both my sample shawls I used Yarn Art Flowers Cakes. These are a great and more cost effective version of the popular Scheepjes Whirl or Twirls Deluxe Cakes that I use more regularly now. The characteristics of these cakes are largely the same, making them perfect for making a crochet lace triangle shawl.
Two M's lace triangle shawl info & tips
This beginner shawl pattern uses double crochets to create all the open work and textured stitches. While a gauge is included in the crochet lace pattern pdf, I am not a stickler for gauge and prefer to just the feel of the fabric as I am working. I'm a fairly tight crocheter, but as long as there is a nice drape to your fabric then I say use whatever hook you like!
Skill level: Beginner, easy
Terms: US Crochet terms
Yarn: Scheepjes Whirl Fine Art or 400-450m of any dk weight yarn.
Hook: 4mm
Stitches used:
Crochet lace triangle shawl pattern
Buy your copy of the easy crochet lace triangle shawl, the Two M's Shawl pattern at your favourite pattern store below
I hope you enjoyed the post and look forward to seeing your Two M's Shawls!
Love triangle shawls? Check out Stella or Lena.
Pop into the Facebook Group and let me know what colour you plan to make your wrap in and share your progress.
Bye for now,
B x