This post may contain affiliate links. This means I may earn a small commission if you make a purchase from these links, at no additional cost to yourself.
Introduction 
Looking for an easy crochet shawl pattern, to create an elegant gift or wardrobe addition?  Estella is a beginner crochet triangle shawl pattern, suitable for all crocheters.  With a subtle repeating pattern and using two variations of the puff stitch, read on to find out more about the pattern and how to get your copy of this beginner shawl pattern below.
Easy crochet shawl – inspiration
Ever found yourself needing a gift last minute in a pandemic?  That's when and how I came up with the Estella triangle shawl.
Estella is my mother in law and she celebrated a special birthday this year during the Covid-19 global pandemic.  I did plan on making a shawl, and ordered some really beautiful hand dyed yarn from The Mermaids Purse Yarns especially to make it.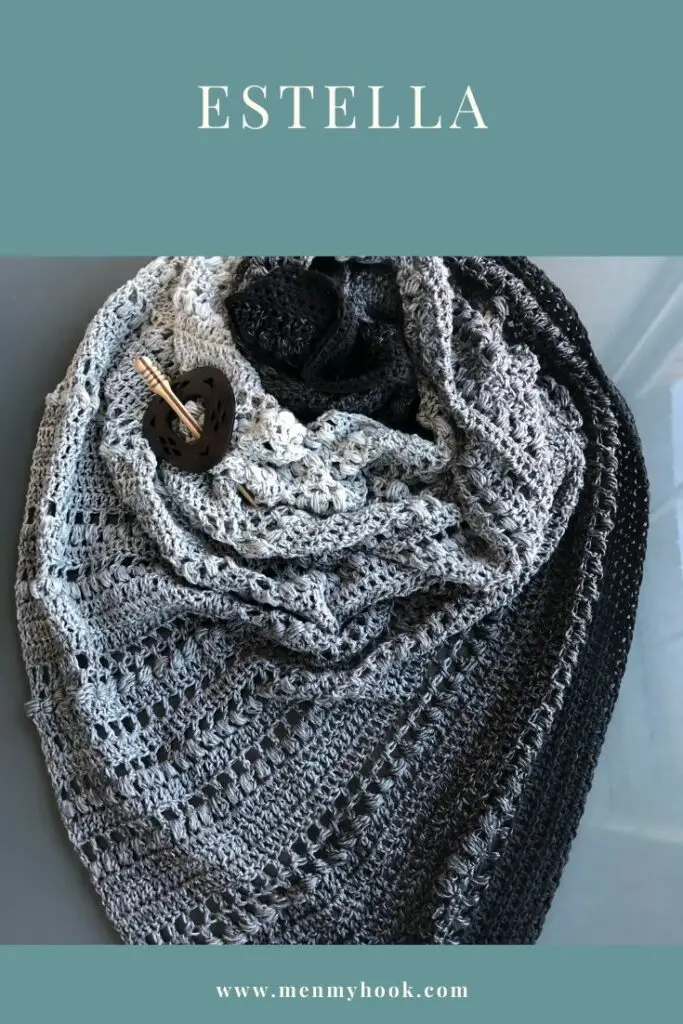 As with all good ideas, when the yarn came inspiration left me temporarily.   I let the yarn decide what I am going to make and this had me stumped.
Although beautiful – think a speckled natural coloured yarn made with a combination of merino and tencel fibres.  Soft and luxurious but I just couldn't imagine how the colours would play out.
The Estella Shawl was the inspiration behind the Estella series.  Estella triangle shawl, is the first pattern designed in the Estella Series of beginner crochet shawl patterns, but released last.  The series is made up of three designs – Estelle Wrap, Stella Shawl and Estella.  
Like triangle shawls?  Check out the Two M's Shawl here.
Love the Estella / Stella stitch pattern?  The Stella Infinity Cowl has a free pattern using these stitches available here.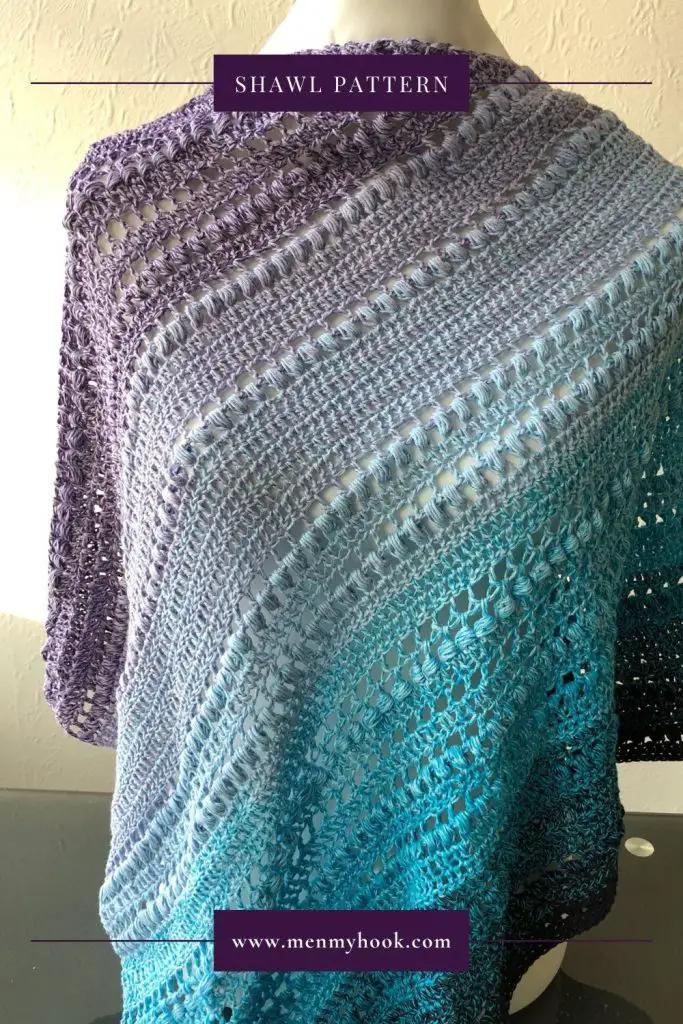 Triangle shawl yarn and materials
I took the opportunity to use a coupon code from Deramores to some of Lionbrand Yarn's Amazing Lace and this became the prototype or original version of the Estella beginner triangle shawl pattern.  
This yarn was totally not what I expected, although now thinking about it, I'm not sure what I did expect.
Amazing Lace is a Lace weight yarn.  Each cake is 930m/ 1013yds and easily enough to make a scarf.  The texture of the yarn is what I call fluffy, almost like cotton wool BUT its stronger, less breakable and doesn't pill/shed.
The final scarf is soft and fluffy and the perfect finished piece.  Estella wears it under her coat or jacket as a scarf – exactly how I pictured it which is a total result!
I, however, failed to write all the instructions for this pattern as I went along.  And, like all last minute gifts, as soon as it was ready, it was washed, dried and shipped.  No notes, no proper pictures to inspect of this beginner shawl pattern and so I began again.
Amazing Lace isn't the yarn used in the published pattern.  1 x Yarn Art Flowers cake to make the black grey version.  For the blue, I used Twister no xx.  Both of these cakes are 250g/1000m 4ply gradient yarn cakes.  60% Cotton, 40% Acrylic mix.  As yet, I haven't found a difference between these two cakes, except the price.  Yarn Art Flowers are generally available on Etsy for £9.99, while Twisters are £22.00 at full price.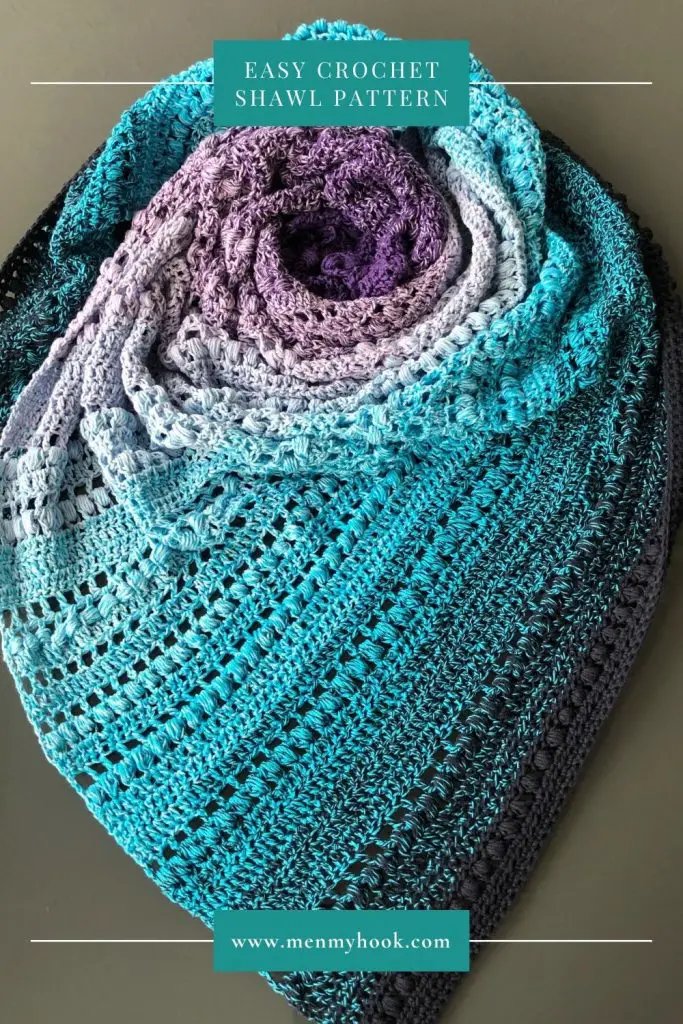 Easy triangle shawl info & tips
Skill level: Intermediate
Terms: US Crochet terms
Yarn: Scheepjes Whirl Fine Art or 400-450m of any dk weight yarn.  I love gradient cakes and think this would work with most gradient or long striping yarns.   The effect with a pooling or mottled yarn would be interesting and I think a solid colour would be gorgeous.
Terms: pattern is written in US crochet terms
Skill level: beginner 
Hook: 4mm
Stitches used:
Double Crochet
Puff Stitch
Modified puff stitch – Puff around the double crochet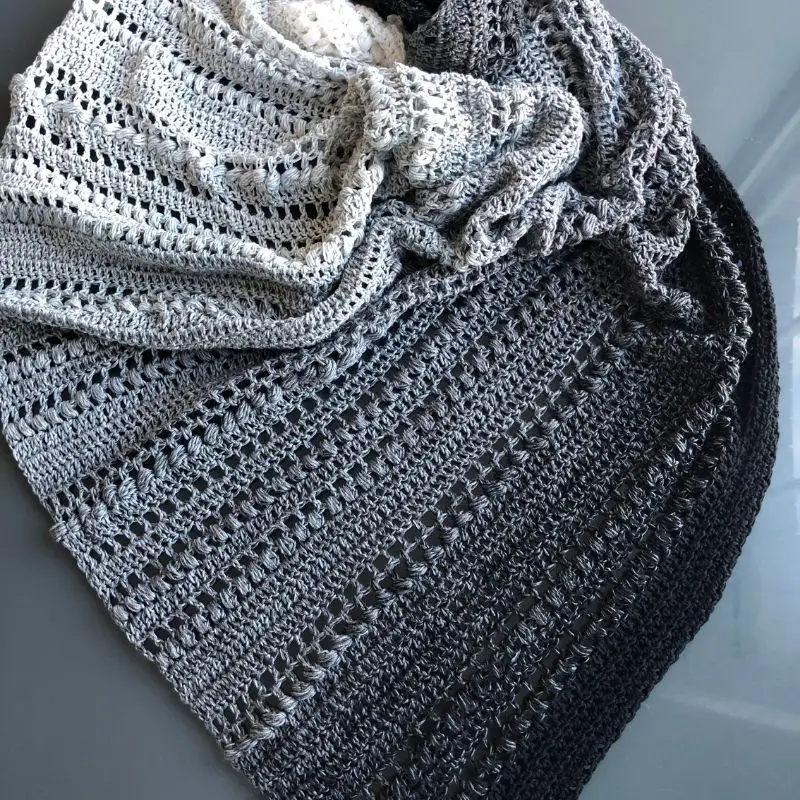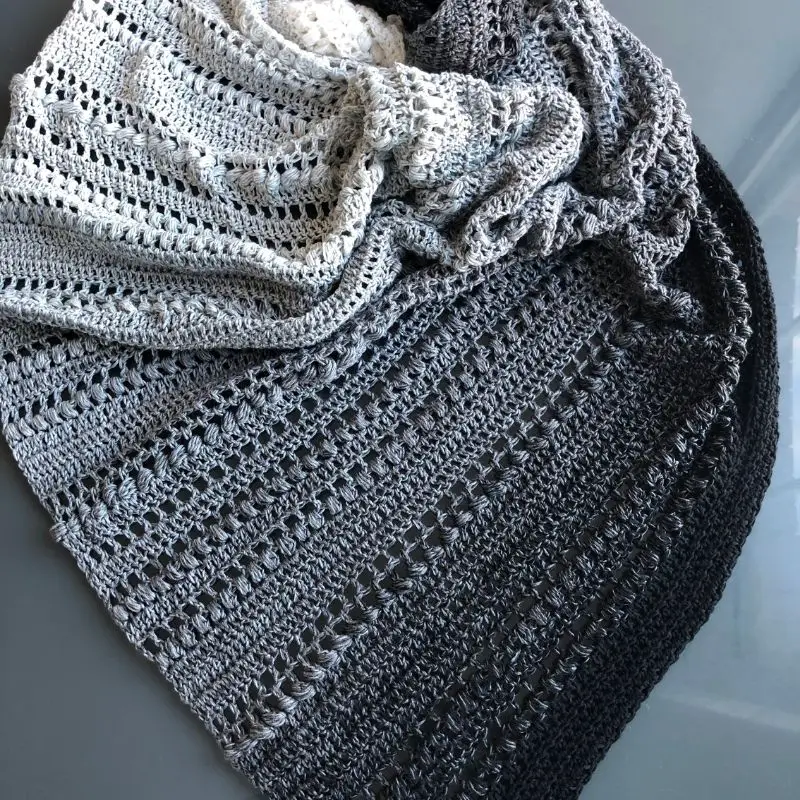 This shawl is worked from side to side from the smallest point.  Use a stitch marker to note the increase side.  I also use stitch markers of a different colour to mark out the beginning/ending row of the repeating section to help me easily see where I am in the pattern when I put it down for a while.
If you have never made a puff stitch check out the tutorial here
If you have never made a puff stitch around a double crochet check out the tutorial here
Easy crochet shawl tester thanks
Many thanks to Felicia Lie for testing this beginner triangle shawl pattern for me – especially as I had a super demanding turnaround time. I love the way the greens and browns work together in this easy crochet shawl pattern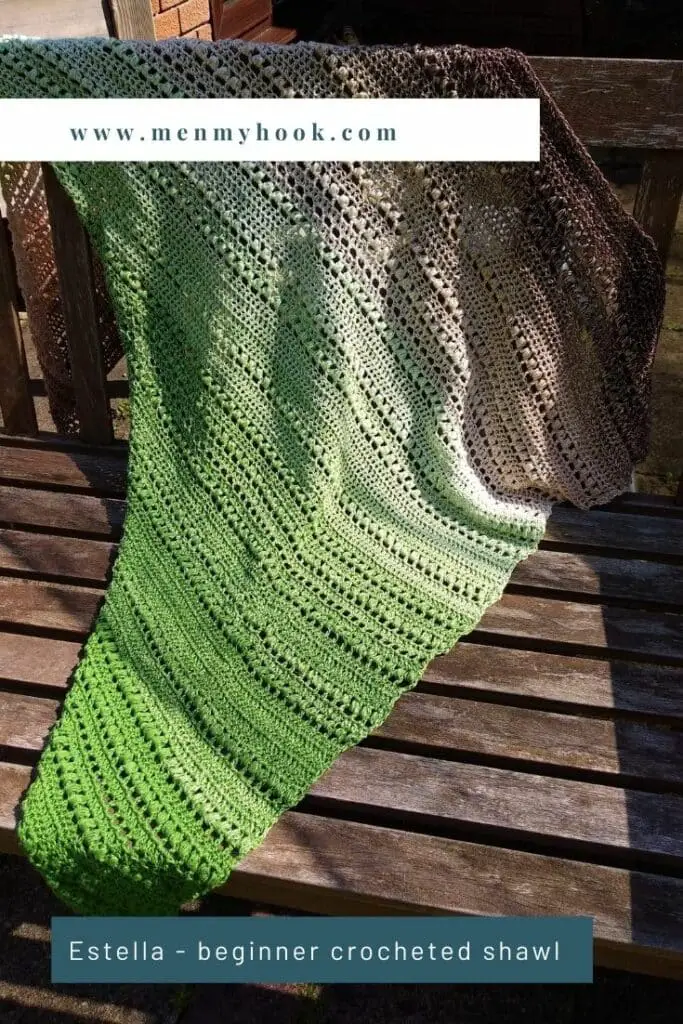 Estella Pattern
Buy your copy of Estella beginner shawl pattern here

I hope you enjoyed the post and look forward to seeing your Estella shawls!
Pop into the Facebook Group and let me know what colour you plan to make your wrap in and share your progress.
Bye for now,
B x