This post may contain affiliate links. This means I may earn a small commission if you make a purchase from these links, at no additional cost to yourself.
Introduction 
Looking for a complementary set of beginner crochet shawl patterns to make as gifts?  The Estella Series is a collection of beginner crochet patterns including two triangle shawls and a long lacy wrap.  Featuring a lacy, and lightly textured stitch pattern using puff stitches, these beginner patterns work up quickly and make stunning gifts.  Read on to find out more about the collection and how to get your copy of all the patterns below. 
Inspiration
Sometimes inspiration comes from necessity, that is how the Estella Series came to be.
Estella is my mother in law, and she recently celebrated her 70th birthday during the covid-19 pandemic lockdown.  
Initially, I designed Estella, but failed to write down the actual pattern and so had to recreate it.  During this time, the Estelle Wrap and Stella Shawl also came to be.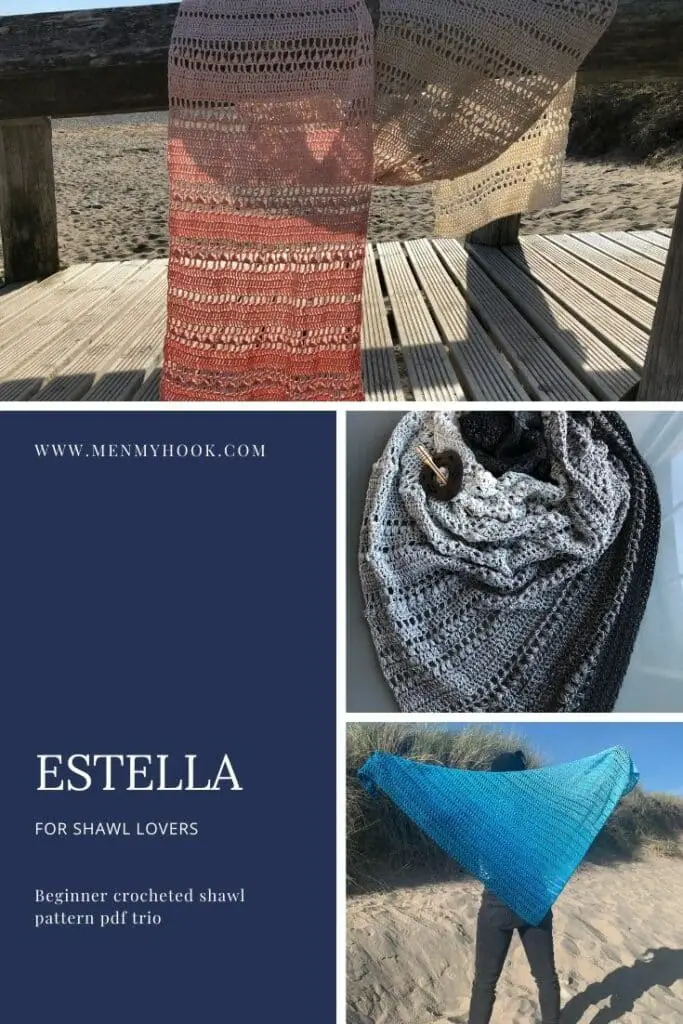 Estella
Estella, the original design but the last pattern released is the most true to the original design of the trio.  Shown here in black white and grey ombre, its the perfect addition to that little black dress!  A simple side to side triangle shawl, featuring two types of puff stitch, this pattern is perfect for beginners and is just challenging enough to keep the more experienced crocheter on their toes.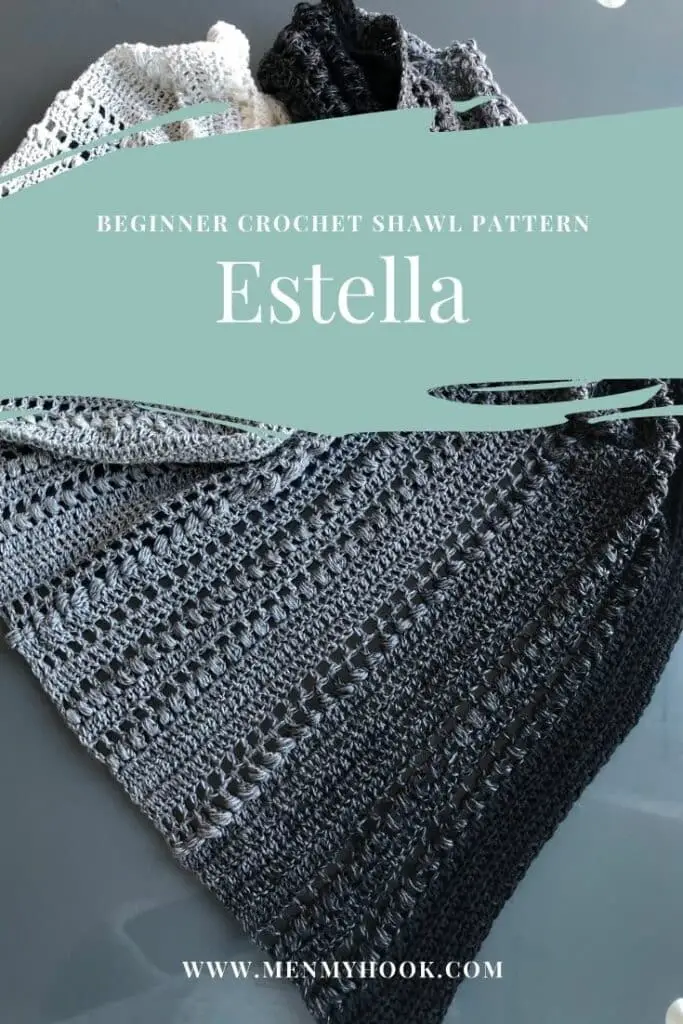 Stella Shawl
The Stella Shawl is probably my favourite of all three patterns.  Blues and greens are my favourite colours and this shawl just makes me happy every time I look at it.  An easy triangle shawl, Stella is also worked from side to side, but features a different take on the repeating pattern and uses only one of the puff stitches featured in the Estella Series.  Check out the post to see the gorgeous sunset brown ombre version created using the Baltic Amber Twirls Deluxe.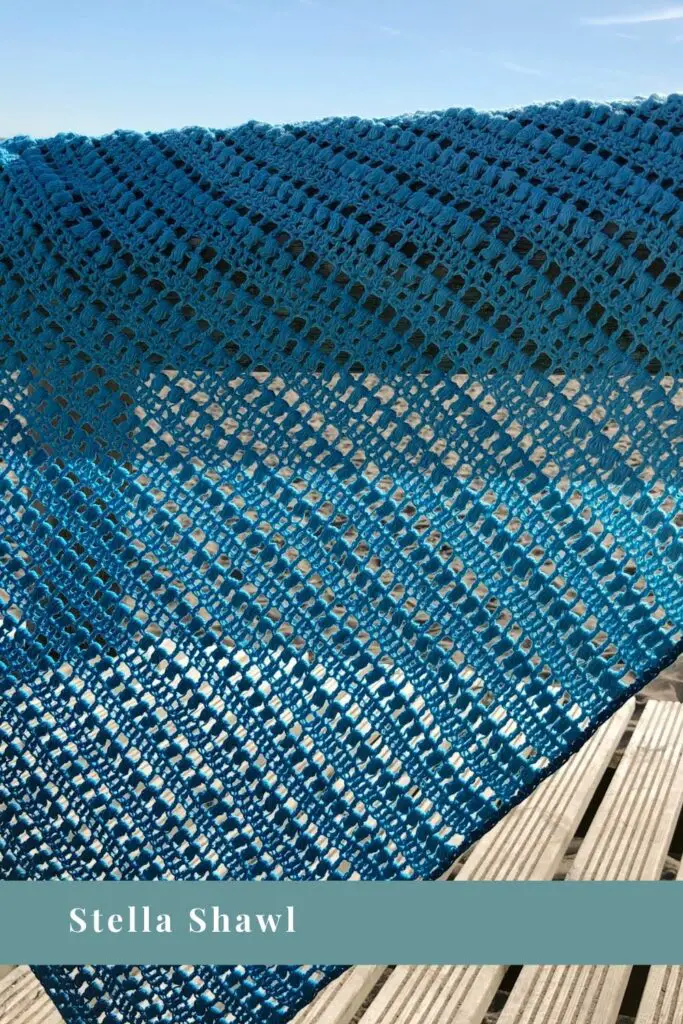 Estelle Wrap 
The Estelle Wrap was the first in the series to be released.  Lightweight and easily extendable, this wrap is versatile and falls easily off your hook.  This long lacy rectangular wrap version of the Estella Series is surprisingly the most popular.  Made using a single puff, this wrap will keep you on your toes as although the repeating rows look the same, they are not! This design was the first to be released of the series.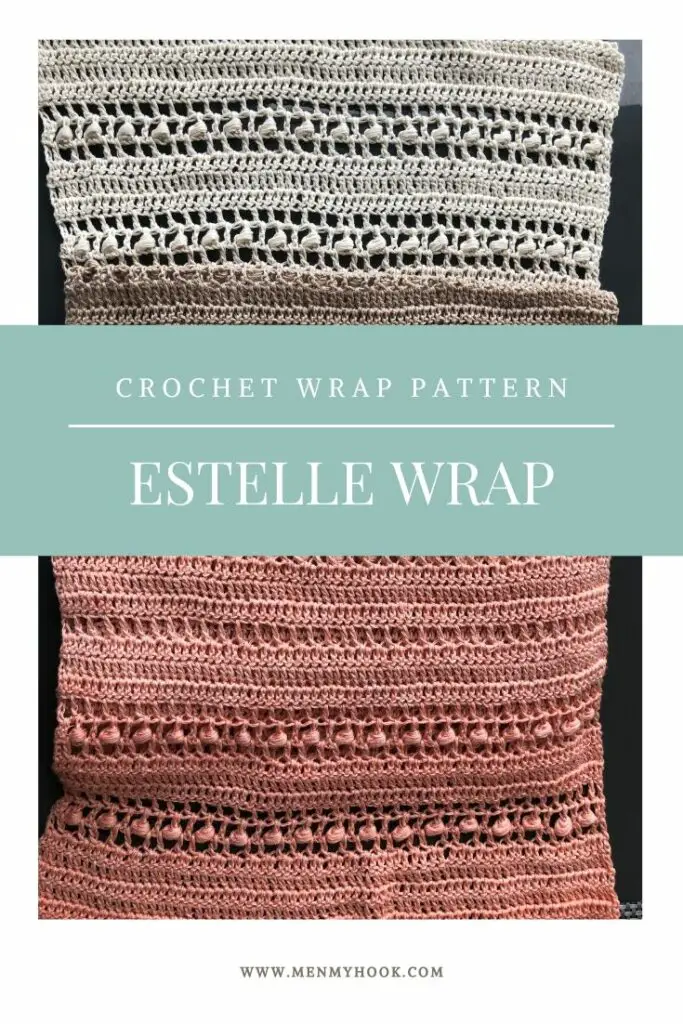 Estella Series info & tips
Pattern is written in US crochet terms.  
Skill level: beginner
Stitches used:
Double Crochet
Puff
Puff around the double crochet
Chain(s)
If you have never made a puff stitch, please check out the photo tutorial here.
If you have never made a puff stitch around a double crochet, please check out the photo tutorial here.
Estella series pattern ebook
Buy your copy of the Estella Series here
I hope you enjoyed the post and look forward to seeing your wips from the Estella Series!
Pop into the Facebook Group and let me know what colour you plan to make your wrap in and share your progress.
Bye for now,
B x