Easy crochet puff and lace rectangular shawl pattern – Angelina
Looking for a touch of handmade glamour to add the finishing touches to your little black dress?  Angelina is crochet puff and lace rectangular shawl pattern that will add some simple glamour to your outfit.  Read on to find out more about the pattern and how to make your own Angelina.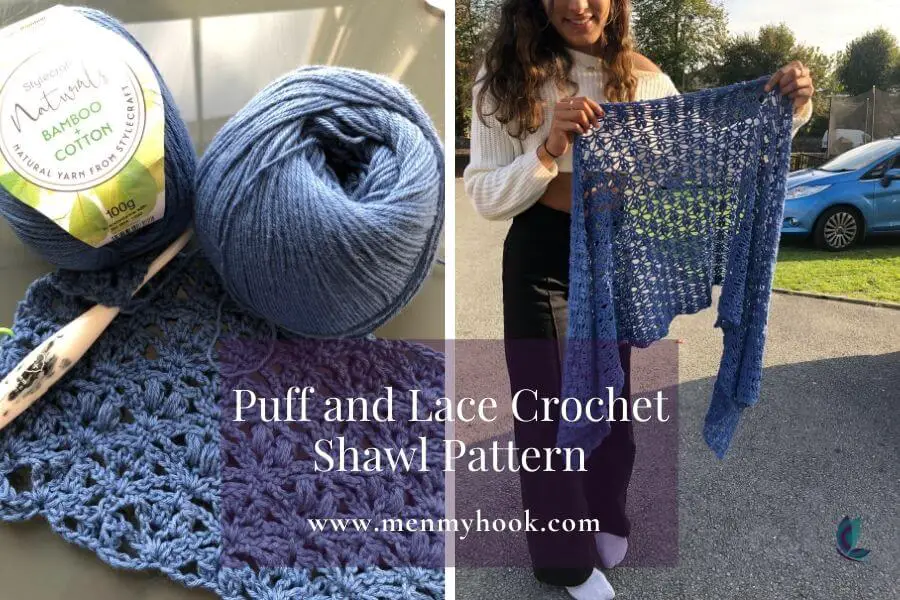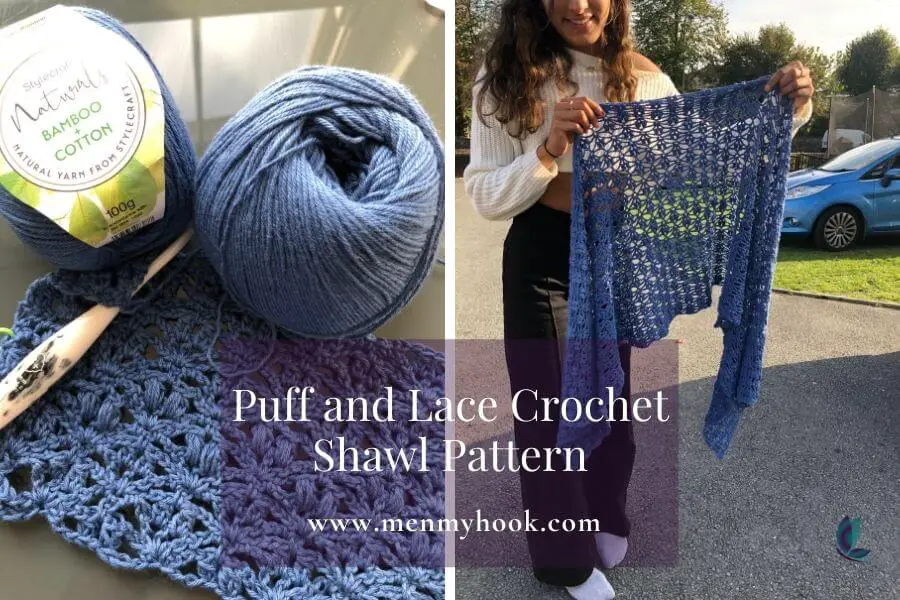 Crochet puff and lace rectangle shawl inspiration
Angelina is my oldest sister and we call her Angie, so I probably will do the same throughout the post.  She will DEFINITELY not be impressed with the use of her full given name, but what the hey.  Also, she will only know this if she reads the whole blog post – insert rofl emoji here.   Continuing the theme of naming my Shawl designs in 2021 after female members of my family, this lacy shawl pattern is deceptively simple to make and works up like a dream.
From afar, this design may appear to be quite complicated to make to new crocheters. Up close, it has a repeating pattern that is easy to fall into, broken up with some interest points – my favourite, puff stitches. When designing this crochet puff and lace shawl, I had a plan. After the madness that has been the pandemic, I have 2 weddings and a christening to go to and I wanted a new shawl to wear to at least one of them.
Angelina yarn and materials information
To make my Angie, I used Stylecraft Naturals Bamboo Cotton DK in Indigo.  If you're new here, I have a thing for blue.   I also love this yarn.  It comes in 250m/273yd 100g balls of 60% Bamboo 40% Cotton mix yarn.  It has a fabulous drape and for larger projects will have a little weight to it – but not it makes your project feel more substantial – which is perfect for a lacy shawl. Available in 43 colours and from most retailers, this yarn is generally priced at £4.49.  To find out more about the yarn, check out my review here.
To check out other designs using the yarn, check out Joanne, Denise & Deborah and the Key West Pullover.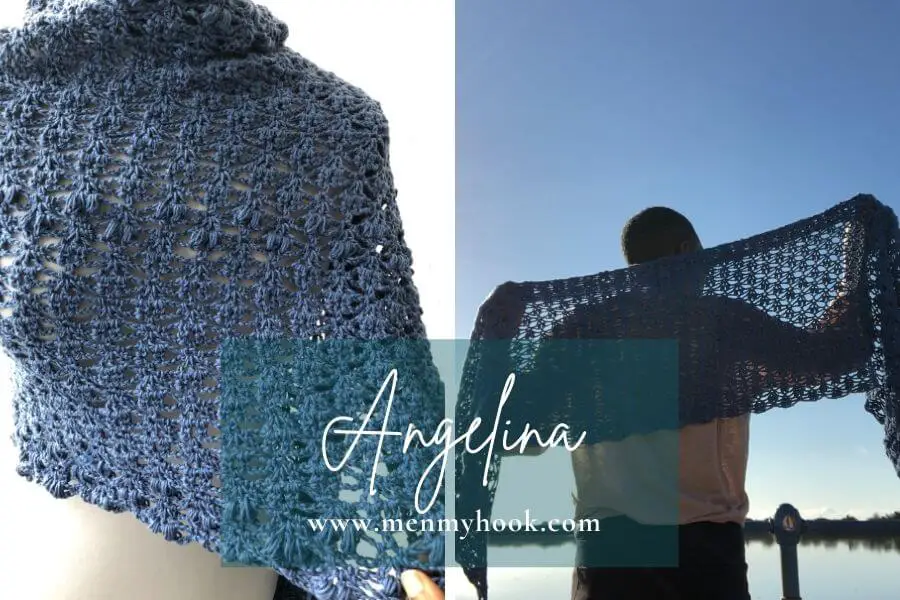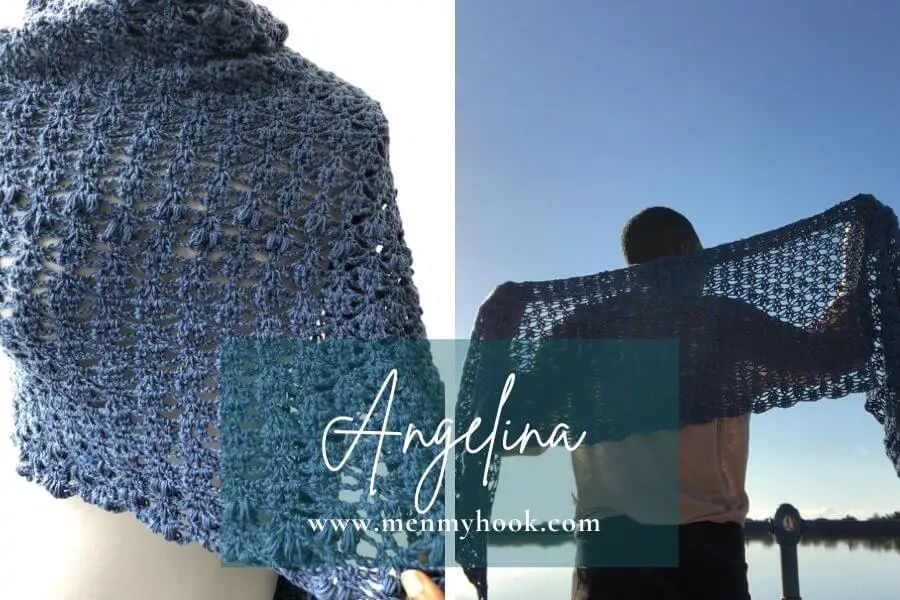 Angelina – pattern info & tips
I like to consider all my patterns beginner friendly and this lacy shawl pattern is no different.  This design includes repeating stitch patterns and these are built on top of each other to create the open lacy effect.  When making this lacy shawl, I would advise using stitch markers at the ends of rows.  If you like to print your patterns, I would use a ruler and pen/pencil to mark your repeats as this design doesn't appear to grow quickly.  The rows that create the lace are not easy to count if you are a less experienced crocheter, making it easy to lose track of where you are in the pattern.
Terms: written in US crochet terms.  
Skill level: Beginner – confident
Pattern type: written
Yarn: 4 x Stylecraft Naturals Bamboo Cotton DK in Indigo, or 1000m/1092 yds of any DK or 3 weight yarn
Hook: 4.5mm Cookie Furls Streamline or whatever required to meet gauge
Stitches used:
Single Crochet
Double Crochet
Shell
Puff
Double Crochet Two Together
Crochet puff and lace shawl collaboration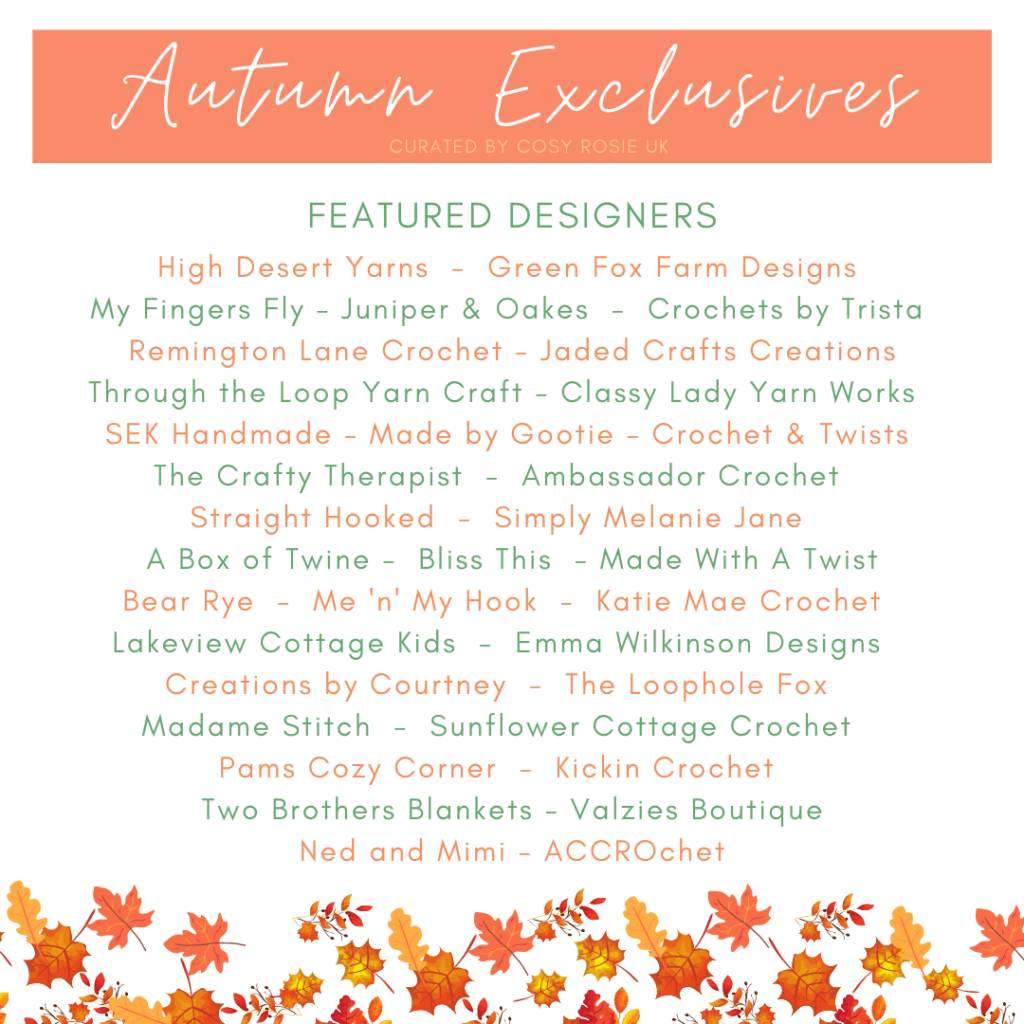 Angelina is my second design to be featured in the Autumn Exclusives event, curated by Cosy Rosie UK. Today, 17th October, Angelina is available at 50% off, along with another featured design as part of this exclusive event. To find out more, grab your discount code AND find out about the other design released today, head over to the main event post via the button below.

Then, grab your copy of Angelina using that code via your favourite pattern store below


You can grab the ENTIRE 40 pattern bundle as part of Autumn Exclusives and get Angelina, The Houndstooth Bag – also featured, via the button below

I hope you enjoyed the post and look forward to seeing your Angie's !
Pop into the Facebook Group and let me know what colour you plan to make your wrap in and share your progress.
Love shawls? Check out Lena and Colette
Bye for now,
B x