Easy crochet summer dress – Key West Summer Dress
This post may contain affiliate links. This means I may earn a small commission if you make a purchase from these links, at no additional cost to yourself.
The days are getting longer and that means it is summer dress season!  If you are looking for an easy crochet summer dress pattern – you are in the right place.  The Key West Summer dress is a beginner crochet dress pattern that works up quickly.  Read on to find out more about the design and how to grab your copy.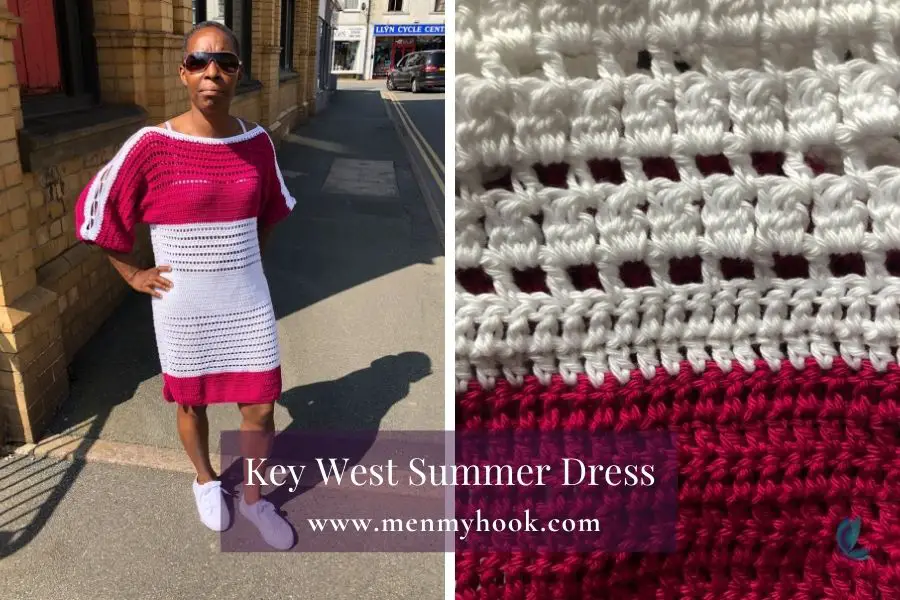 Crochet summer dress pattern inspiration
I love summer dresses.  Generally longer flowy types but I like them all.  When I designed the Key West Pullover I wanted to make it longer but I didn't have enough yarn to hand.  Fast forward a couple of weeks and during the Spring Exclusives event I jokingly shared that I wanted to remake it as a dress and was challenged to do so by Fiona, and Trista from Crochets by Trista.
Not one to back down from a challenge, also an excuse to do something I wanted to anyway, I filed it away in my mind as a future project.
Once selected to take part in the Summer Exclusives event hosted by Cosy Rosie UK, I immediately decided to make the dress.  It was an excuse to buy the yarn, also to try something new and of course the push I needed to make the dress.  With some tweaks.

Key West crochet summer dress yarn love 
The original idea for this crochet summer dress was to go full length.  Those are my favourite type of summer dress, long and flowy, even though I'm only 5'2" and so most of the time I have to knot the end or wear heels.  
I loved the feel, drape and shine of the yarn used to design the pullover, however, I had reservations.  For a full length crochet summer dress pattern, even at my height, I thought that the Dk weight would be too heavy and could sag.  I turned to Hobbii, as they have a 4ply bamboo and cotton yarn, which is the same composition as the Stylecraft Naturals used in the original design, so I hoped that the lighter weight would mean I could follow through on my plan.
The Rainbow Bamboo is 60% Bamboo viscose 40% cotton blend yarn.  It comes in 100g balls of 250m/274 yds and a range of 40 colours.  This is not the cheapest yarn at £7 a ball.  I was able to get it on discount, and I love it and advise you do the same – also when you buy multiple balls of this yarn on Hobbii they automatically add a discount to your basket on a sliding scale.
There is a subtle sheen to this yarn and it is very easy to work with.  It has great stitch definition and drape.  It has great movement and WILL grow when blocked.
To find out more about the Rainbow Bamboo yarn used in this design check out the review post here

Crochet summer dress pattern info & tips
The Key West Summer Dress pattern is written for beginners. using a couple of easy stitches to create a repeating pattern, and separated with solid blocks, this crochet summer dress works up quickly.
Not being able to choose which design to go with, this crochet summer dress pattern includes 2 alternative necklines and 2 lengths giving you multiple choices to create a summer dress that suits your style.
Option 1 – a simpler curved/boat neckline and option 2 features the signature sleeves from the Key West Pullover.  Either option can be made as a shorter or longer dress.
The colour blocks used in the pattern are inspired by the test version of the Key West Pullover by Winnie and optional, but add an additional eye-catching touch.
Written for sizes XS – 5X this versatile crochet summer dress pattern is a classic summer staple.  
Terms: US crochet terms, written & photo tutorial 
Skill level: Beginner
Sizes: XS – 5X
Hook: 4mm
Yarn: 1250m/1370 yds – xxxx for sleeveless option & 2000m /2192yds  – for sleeved option
Stitches used:
Single Crochet
Half Double Crochet
Double Crochet
Chains
Cluster
Other Materials: stitch marker, darning needle, scissors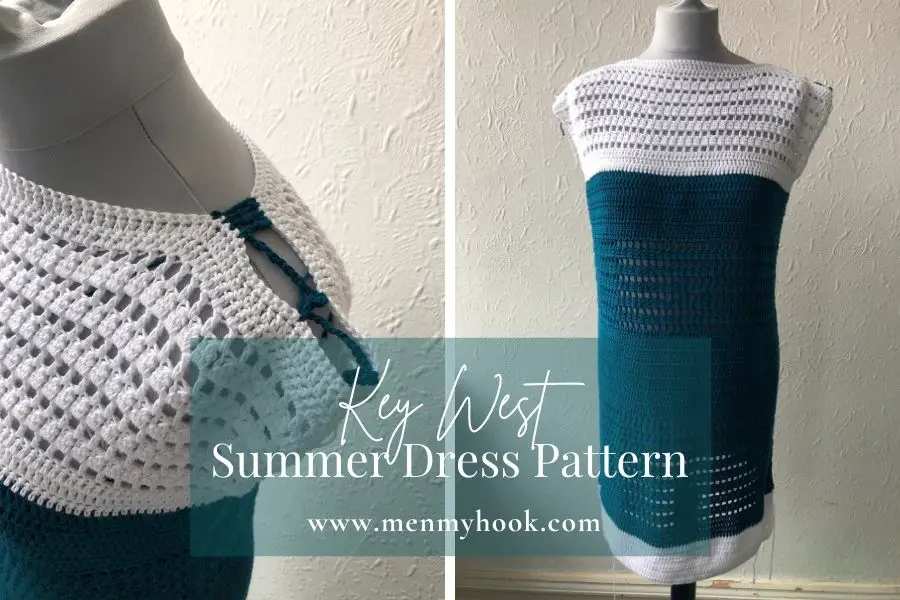 Key West Summer Dress Collabs
Once again, I was lucky enough to be selected to take part in an exclusive curated event by Cosy Rosie UK – the Summer Exclusives.   Every day for a fortnight in July, 2 new patterns will be premiered at a discount for release.  Today, 6th July, is my day to be featured, and until 8am tomorrow, the Key West Summer Dress Pattern is available for 50% off.  To grab your discounted copy, head over to the main event post via the button below 


Then hit the button below for your favourite pattern store and use the code before 8am BST tomorrow 


I hope you enjoyed the post and look forward to seeing your Key West Summer Dresses !
Pop into the Facebook Group and let me know what colour(s) you plan to make your dress in and share your progress, I would love to see it.
Bye for now,
B x