This post may contain affiliate links. This means I may earn a small commission if you make a purchase from these links, at no additional cost to yourself.
Looking for an easy shawl pattern? Meet Stella. This elegant beginner crochet triangle shawl is a super quick make that is a great gift for all occasions! Read on to find out more about this easy shawl pattern and how to get your copy today.
Originally designed in a blue turquoise this easy shawl pattern is one of my favourite makes of the moment and the second in the Estella Series, a trio of patterns inspired by gift making for my mother in law.  Read on to find out more about Stella and how to get your copy below.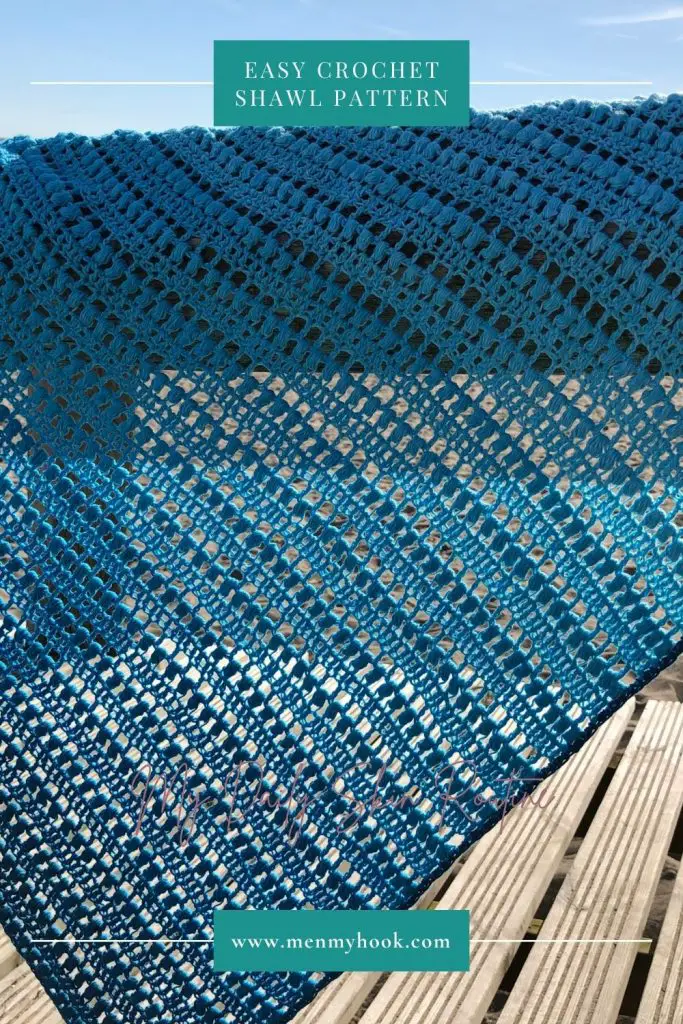 Easy shawl pattern inspiration
While the Estelle Wrap was still on my hook, and having a chat with a friend I decided to make this 3rd shawl in the series.   Shawls being one of my favourite projects, this triangular version was the piece I needed to complete my Estelle Series.  I had the idea, but I wasn't happy with just two pieces.  I liked the idea of a trio of beginner shawl patterns over a duo weird maybe but true.
While crochet math isn't my thing, this came to me as what I think of as the love child of Estella – the original design and Estelle, the rectangle wrap.
Starting the Stella crocheted triangle shawl at the smallest point, it took me a couple of tries to get the multiples to work.  As a maker – asymmetrical or scalene triangle shawls are really easy for me to follow.  As a designer, counting more than a couple of stitches in a row – like 20, seems to be beyond me. This easy shawl pattern, somehow manages to be beautiful and not require me to count!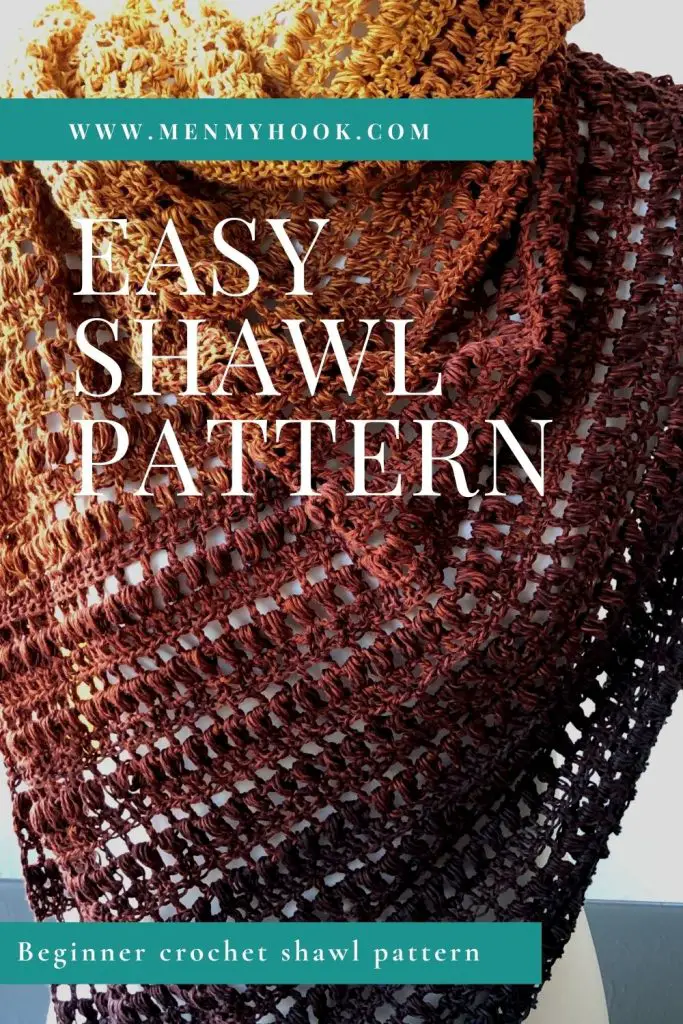 While I love triangle shawls, it didn't immediately occur to me to try a top down style.  I wanted to rework the original pattern but with a shorter simple repeat and see what happened.  This time though, my gradient yarn comes from an established brand – Twirls Deluxe from Hobbii, a permanent member of my stash and firm favourite.
If you love patterns that make you think a little, but are repetitive enough to not have to count the entire time then this pattern is for you.  
Made using a mixture of double crochet, chain spaces and puffs – this shawl flies off the hook fairly quickly making this beginner shawl pattern an ideal last minute gift for any occasion!
Yarn and Materials
Ooh, exciting.  So, here's what you need to know:
Yarn – I used 1 Twirls Deluxe Cake from Hobbii and recommend that you stick to any similar type of gradient cake OR 1000m of a solid coloured yarn of the same weight.  
I admit that I am biased, I am sure it will look amazing in a solid colour but I love the effect of the gradient over the puff stitches and as the triangle shawl grows.
This cake is 100% Cotton and plied.  If you aren't used to working with 100% cotton one thing to note is that it can, with continued use, make your hands feel a little dry.  Keep your favourite hand cream close by.  Mine is currently the Hemp Hand Cream from the Body Shop.  It smells weird though.
Alternatives to the Twirls Deluxe from Hobbii include, Scheepjes Whirls of all types, Rico Degrade
Hooks and things: 4.5mm hook, stitch markers, darning needle and scissors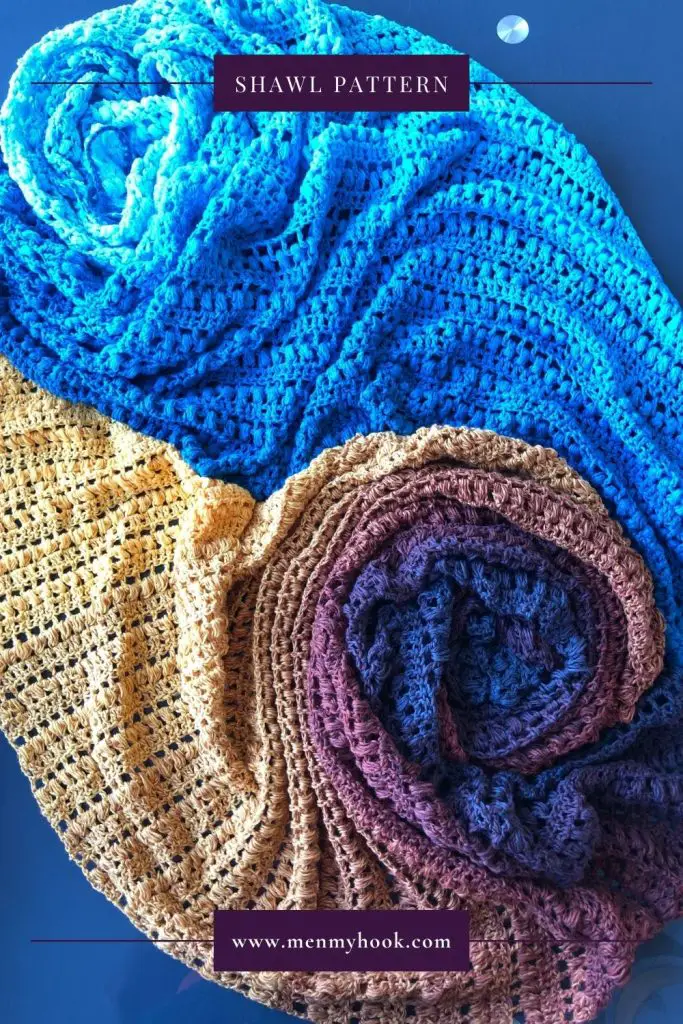 Beginner crochet triangle shawl pattern info & tips
Skill level: Beginner
Terms: US Crochet terms
Yarn: 1 x Twirls Deluxe 1000m/1040 yds 100% cotton gradient cake
Hook: 4.5mm
Stitches used:
Double crochet
Puff stitch 
This is a beginner crochet shawl pattern, but it is very easy to be in the wrong section and not notice when making this pattern.  Use stitch markers to help guide you with the repeats and increases.
This pattern increases on a single side, I use a single marker on the side that increases to let me know that this is the side that should have an increase when I work it.  As the piece grows I will either move the marker up OR insert another higher up the side in the same colour.  
It means less counting, and when I pick up my shawl pattern after leaving it for a while, and,  I can more easily tell which part of the repeat I am in if I have not kept a close watch on my row number on the pattern.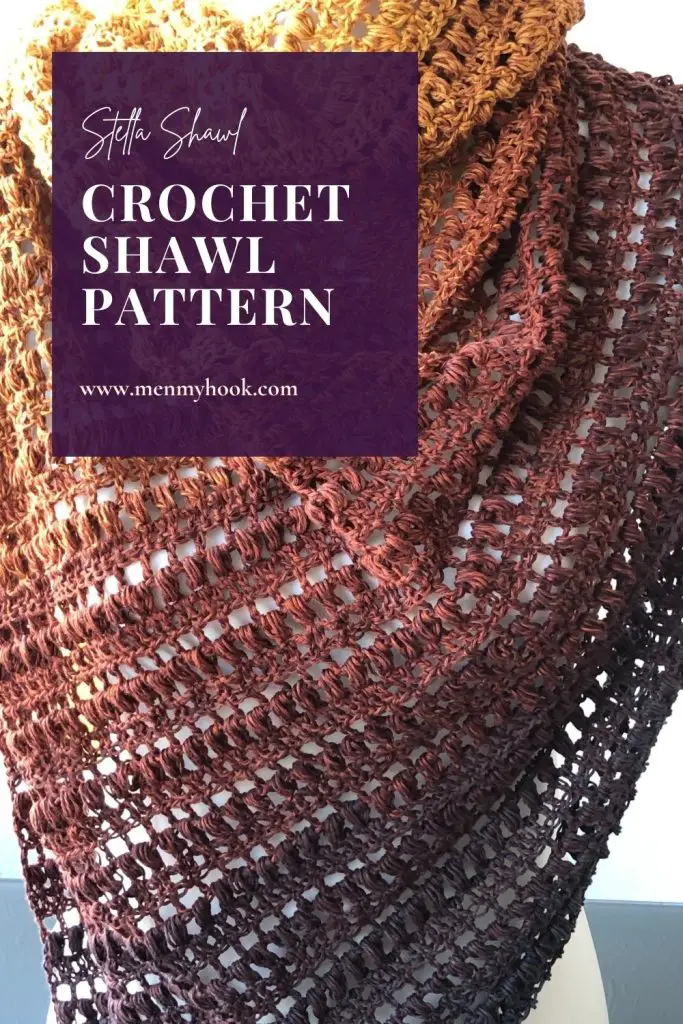 50% off Stella crochet triangle shawl pattern 
Are you fan of one skein projects? Today on the Candy Stripe Sale hosted by Cosy Rosie UK, you can get Stella and a selection of other best selling one skein makes for 50% off. To find out more and grab your discount code, his the button below

Then use your code on Ravelry or Etsy before 8AM GMT 18th November
Grab a copy of all three beginner crochet shawl patterns here
I hope you enjoyed the post and look forward to seeing your Stella Shawls!
Pop into the Facebook Group and let me know what colour you plan to make your wrap in and share your progress.
Bye for now,
B x