Custom gradient yarn cake review – Flo's Yarncakes
This post may contain affiliate links. This means I may earn a small commission if you make a purchase from these links, at no additional cost to yourself.
Are you looking to try custom gradient yarn cakes but struggle to know where to get them from?  Check out this custom gradient yarn cake review featuring Flo's Yarncakes, a small business based in Cyprus.  Read on to find out more about Flo, her yarn and how to get your hands on a custom gradient yarn cake or two. 
Why Flo's Yarncakes?
Flo's Yarncakes is one of the small businesses I regularly shop from.  That's probably a spoiler as to what you will find in this custom gradient yarn cake review, however, as I buy 90% of my yarn it's probably cool and we can just go with it.  I 'met' Afroula or Flo in the Bowltech fans group on facebook – the name just recently changed because of the word police and I can't remember it now!  I am a huge fan of gradient cakes and the idea of creating individual colours excites and intimidates me because I get lost in a lot of choices.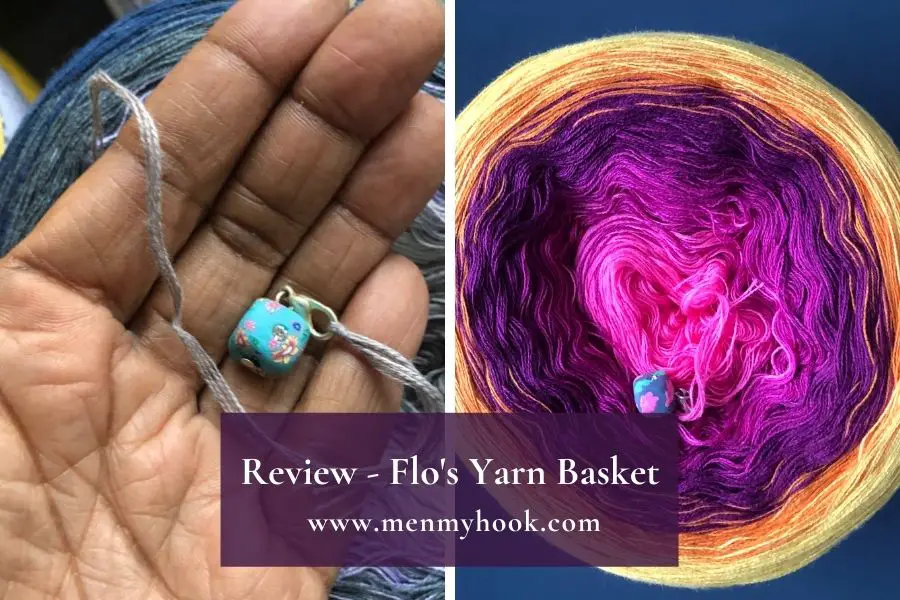 After some time in the group, I decided to take the plunge and my personal experiences, thoughts and tips are included below in this custom gradient yarn cake review 
To check out the Estelle Wrap and Chantelle both designed with gradient yarn cakes from Flo, 
Flo's Yarn cakes – custom gradient yarn cake review
So custom gradient yarn cakes from Flo are an acrylic / cotton blend and available in a range of lengths – single colours any size, and starting at 500m in gradient cakes.  Available in 3 -4 ply there is a riot of colour and choice available when you first land on her website.  Prices start at around €12 for a 1000 4ply custom gradient cake. 
Prices vary based on ply and length of cake and do not include shipping.   Each cake will arrive individually packaged in an appropriately sized organza bag and have a stitch marker attached. When you first land on the Flo's Yarncakes website, there is a covid/pandemic warning regarding shipping rates and available countries – check this to ensure you are able to get your custom gradient yarn cake fix!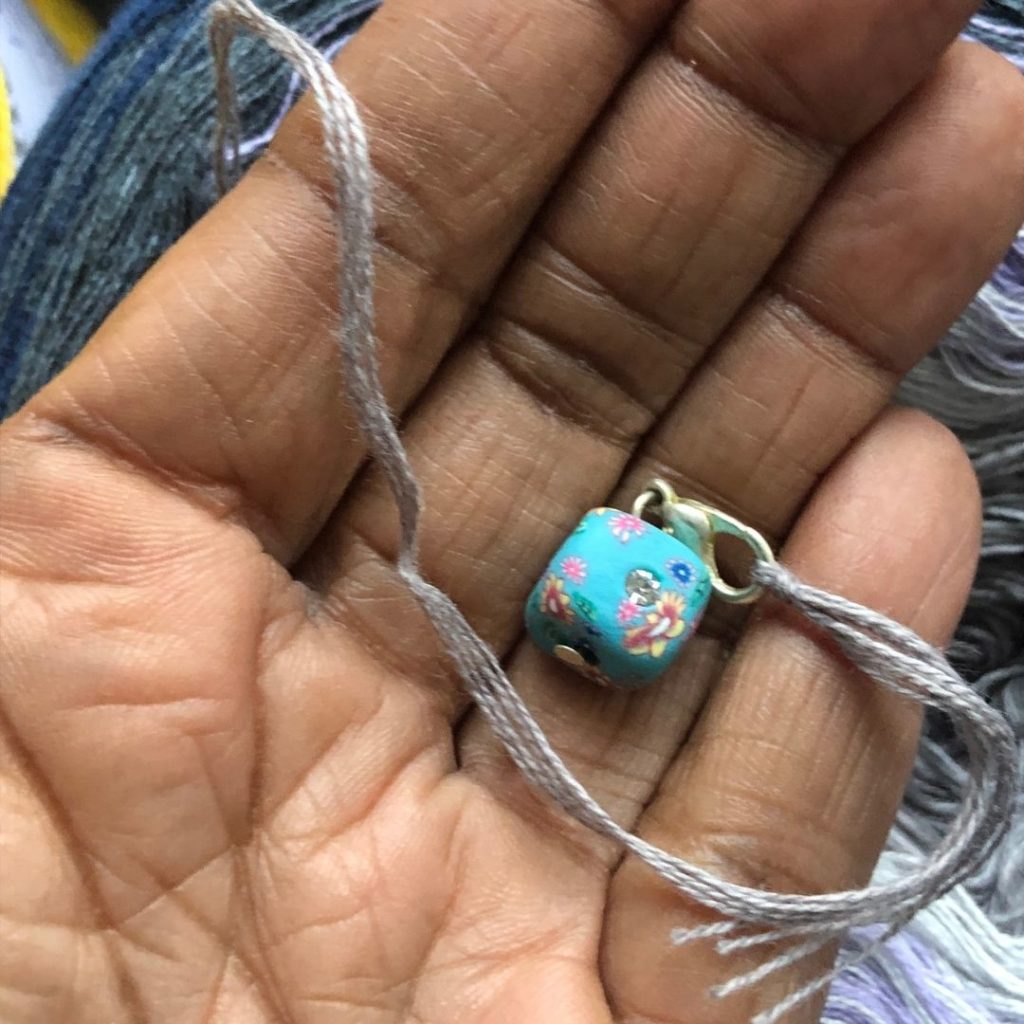 First, let's talk about the price.  For me, the prices are reasonable, haven't increased because of the pandemic – unlike my food shop, and when considering I can get a custom colour for approximately half the price of a branded cake of this nature I think it's a steal.  Flo is very friendly, responsive and extremely helpful in putting new colours together which makes it even better.  Shipping rates vary, but I have a set budget for shipping and just get enough for the to make the minimum rate worthwhile in every order. 
This doesn't / will not work for everyone, but small businesses don't get the same deals or rates on shipping so I factor this into my yarn costs with small businesses.   I cannot count the available number of colour inspirations and choices, I will leave that to you to scroll.  My tip for getting a custom gradient cake is to message Flo via her facebook page and have a pic ready for your inspiration and ask for help.  
Flo helped me to create the Carnation colourway – just ask for Carnation in your chosen weight and length when ordering, kits for the Lena Shawl and the colours used in Chantelle and Estelle come straight from her extensive range.
How does it feel?
Amazing.  I am biased.  I like working with cotton and prefer this weight and type of yarn.  However, as with all gradient yarn cakes with this fibre content, Flo's custom gradient cakes feel amazing.  Moisturising regularly but lightly is generally how I manage them.  
Things to note when working with this type of yarn  
These cakes are unplied gradient cakes.  This means you will receive a cake with multiple individual strands of yarn that are loosely wound together to form your cake.  

Each colour change is joined with a tiny knot and this progresses through the cake.  Colour changes take place across the number of strands/plys in your cake.  So if you choose a 4ply gradient with 3 main colours, it will not fully change colour until all 4 strands of the first have changed. 
Do NOT cut the tiny knots unless you are one of those superheroes who deconstructs yarn cakes.  I don't, I crochet the knot into the stitch as much as possible.  Once I have finished and blocked the piece I don't know where the knots are and they haven't ever failed me yet. A tip that I don't use, but is widely shared on social media is to thread a bead or stitch marker around the strands to help keep them together. Handily, there is one already attached and ready to go on your cake!
What's it like to work with?
I think the biggest challenge working with this type of yarn is getting used to the individual strands and how to treat the cake or work with it and troubleshoot when thing go wrong without making it worse for yourself.  Then it's the weight of yarn.  My two best tips are – work with the yarn lower than you, i.e on the floor next to you, and be flexible in your hook choice.  Keeping the yarn lower will help to keep all the strands even as you work. 
Choosing a hook I find is based totally on your crochet style and tension.  I am fairly tight and consistent crocheter and use 4 – 5.5mm hooks with my custom gradient cakes, mostly a 4.  This gives me the stitch definition and drape I like, but I have many crochet friends who swear by a smaller hook, and comparative brands recommend the same.  Try it until you find what you like is my advice.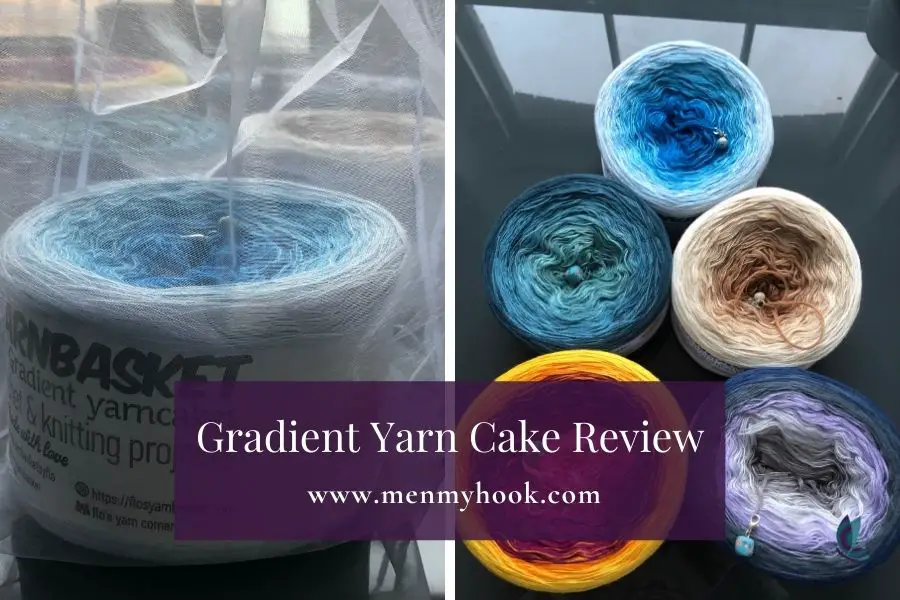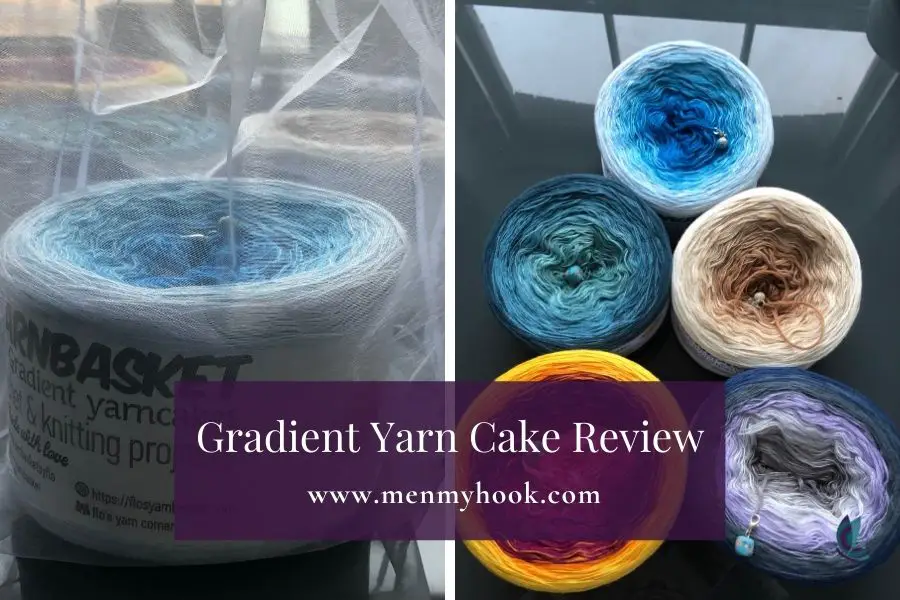 Yay or Nay Flo's Yarncakes
For me, it's a yay.  This yarn is a great value for my budget and project needs.  Flo is easy to work with, has a great range of colours, and has a better shipping rate than Lovecrafts.  I regularly order from her and receive my parcel within a week here on the coast of Wales from Cyprus.  There are few other places I can say are that efficient that I purchase from – yarn related or otherwise.   
The feel of the yarn, drape and price makes this an affordable option for shawls, garments, and homewares including blankets and wall hangings.
Projects you could try with a custom gradient yarn cake from Flo
Key West Pullover – Get 2 identical 4 ply custom gradient cakes in equal amounts based on your size and make yourself a super unique version of this open shoulder summer pullover sweater.
Stella Shawl, Shanae, and Rheanna all require a 1000, 4ply gradient and will work well with a range of colours too.
I hope you enjoyed the post and it has inspired you to be a little more adventurous in your yarn choices and give Flo's Yarncakes a try if and when you buy your next custom gradient yarn cake!
Pop into the Facebook Group and suggest another yarn or small business that I might fall in love with.  
Don't forget to let me know what you think if you get some yarn from Flo, or share your wip with us when you do.  
Bye for now,
B x