Easy granny cocoon cardigan – Granny Merge Cocoon
This post may contain affiliate links. This means I may earn a small commission if you make a purchase from these links, at no additional cost to yourself.
Looking for a quick easy granny cocoon cardigan pattern?  The granny merge cocoon is a beginner crochet that works up quickly and creates a super stylish and lightweight cardigan.  To find out how to make your own granny merge cocoon cardigan, and get your copy of the pattern, read on.
Inspiration
I like oversized cardigans and wanted something simple and easy to wear when I made the first version of this granny merge cocoon cardigan.  It was summer 2020 and we were in the height of the Covid 19 lockdown.  Hot as anything in my house and with no shops open, I wanted a light cardi and something to do with my hands and an idea was born.
I like the granny stitch variations, but I get a little bored doing the same stitch over and so loved the idea of using two different granny principles together.  To add something for a little variety and texture I added a ribbing creating with post stitches to the collar and sleeves of the cardigan to finish it off.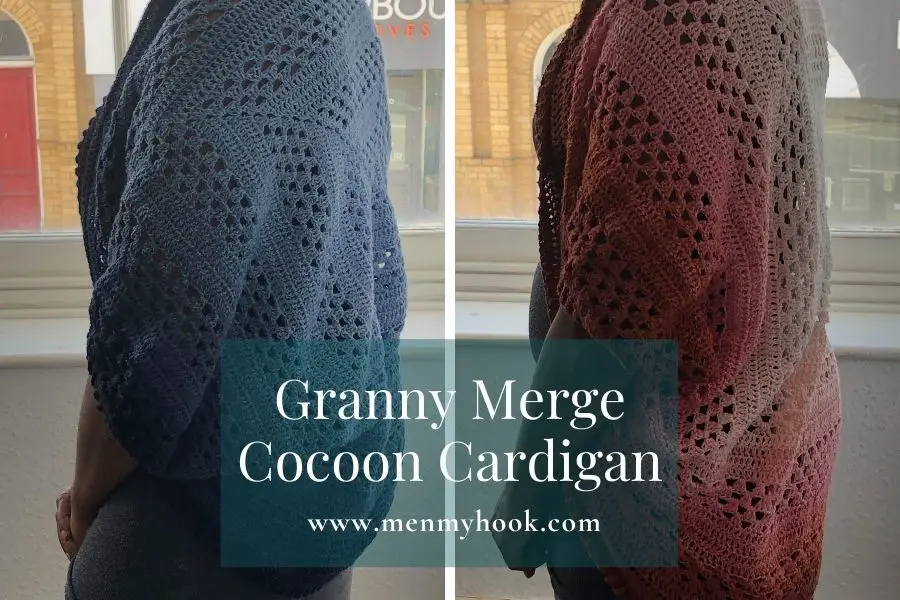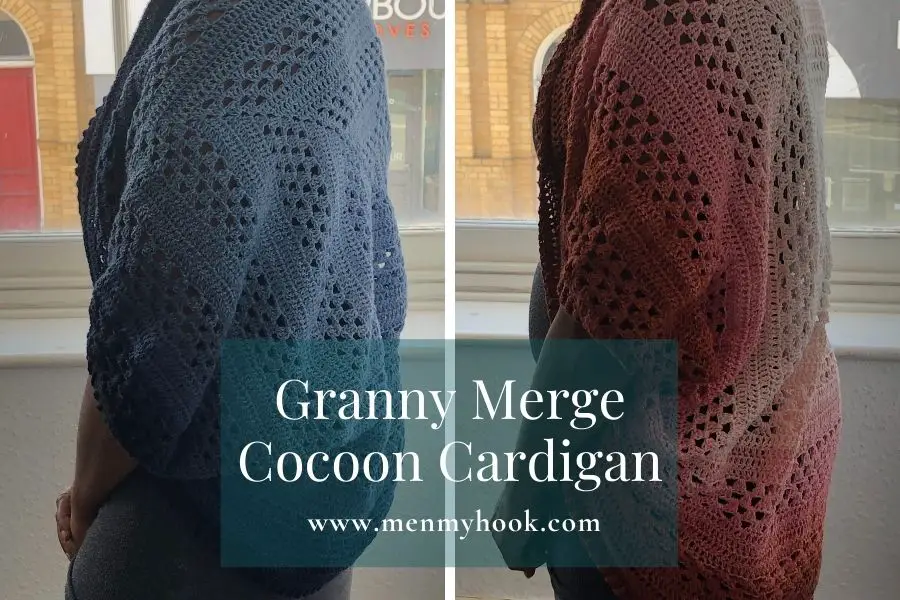 Granny Merge Cocoon Cardigan – yarn love 
To make my Granny Merge Cocoon Cardigans I used Twister, Twirls Deluxe and Twister Solid from Hobbii.  The first is a sunset version using colours Twirls Deluxe no 24 Koi Diamond, and Twister solid no 118 Amber. My second more recent cardigan, is much more my style in Twister no 40, Storm Chaser and Twister Solid no 106, Navy.  
This design will work in any weight of yarn, however a bulkier yarn will produce a thicker colour and a varied or multi coloured yarn with a shorter colour change will possibly create an interesting pooling effect.
Granny cocoon pattern info & tips
A beginner granny cocoon cardigan pattern, this is graded as easy and is suitable for all levels of crocheter.  If you can make a double crochet, a chain and a post stitch you can make this cardigan.
Something to watch in this pattern is that there are two repeating blocks within the 8 row repeating pattern.  The stitch pattern is very easy to make and remember once you get into it.  That means that it is very easy to miss the end of the repeats if you are watching and crocheting – it happened to me and a couple of testers.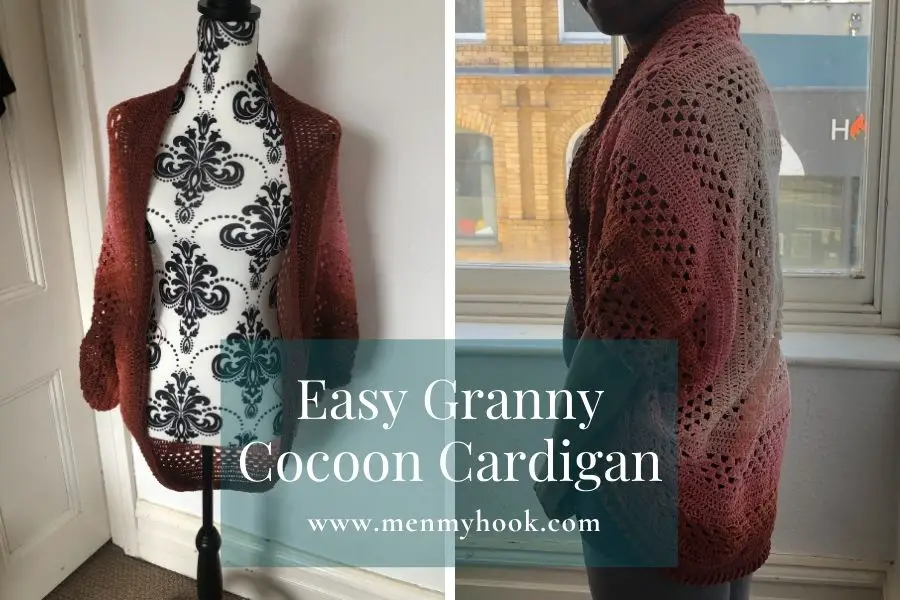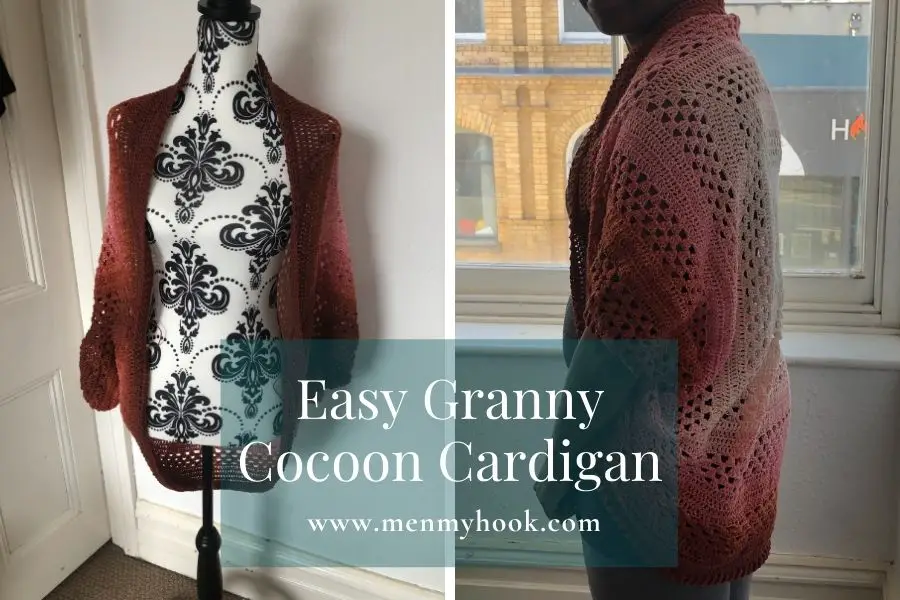 Terms: written in US crochet terms.  
Sizes: includes sizes XS – 5X
Skill level: Beginner – easy
Yarn: 1 x Twister & 1 x Twister Solid OR 1000m – 2000m of any sport or fingering weight yarn
Hook: 4mm
Stitches used:
Magic Ring
Double Crochet
Chains
Slip Stitch
Half Double Crochet
Half Double Crochet Two Together
Front Post Treble Crochet

Tester Thanks
Many many thanks to Winnie, Nicole, and Karen for their help with testing this granny cocoon cardigan pattern, examples of their Granny Merge Cocoon Cardigans are below.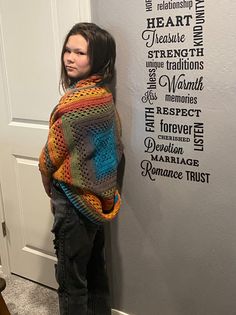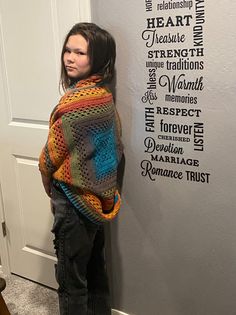 Candy Stripe Sale – get 50% off this pattern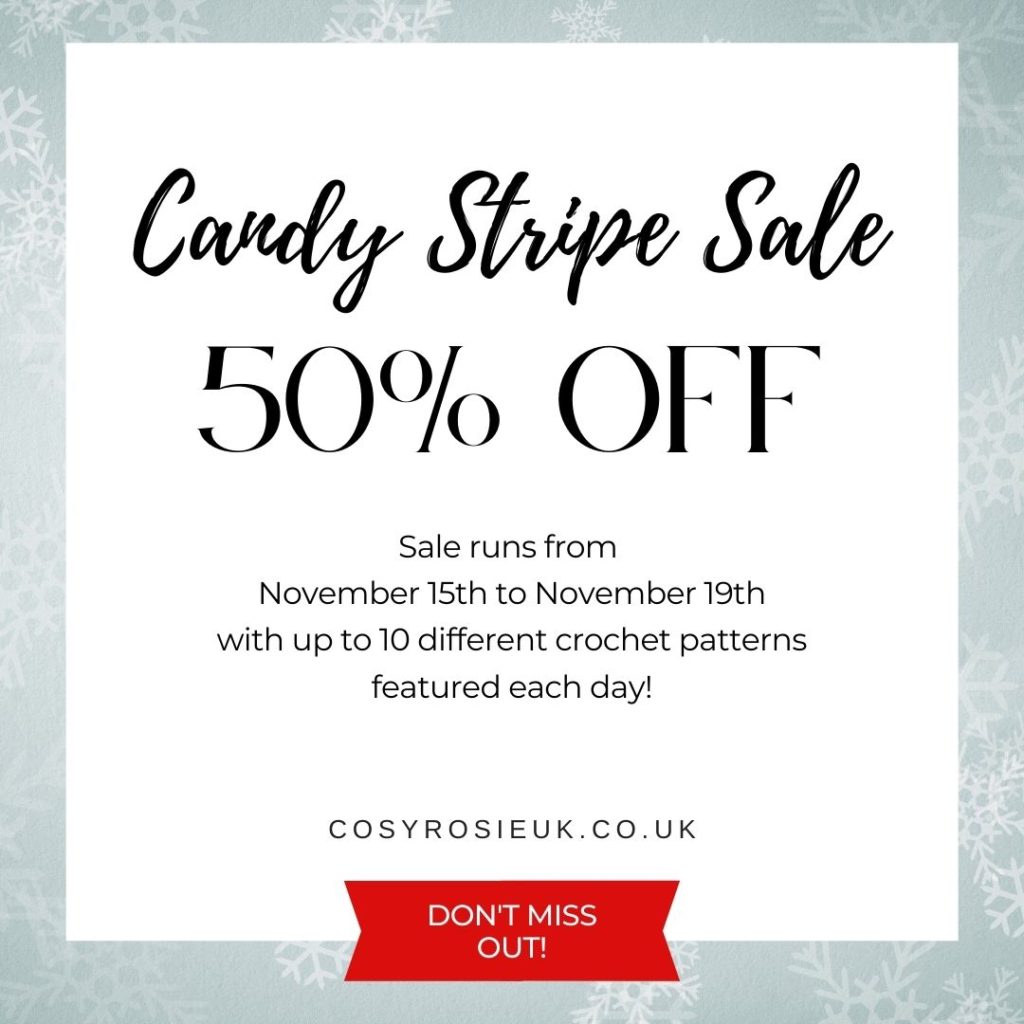 Love cardigans and the granny stitch? This easy crochet cocoon cardigan works up great in any weight of yarn – making it the perfect beginner garment make. Today, part of the Candy Stripe Sale you can get your copy for 50% off and add a touch of granny to your wardrobe. To find out more about the sale, and grab your discount code, hit the button below.

Then, use the code on either Ravelry or Etsy before 8am GMT 16th Nov
I hope you enjoyed the post and look forward to seeing your Granny Merge Cocoon Cardigans!
If you liked this pattern, don't forget to check out the Marian Bay Cocoon.
Pop into the Facebook Group and let me know what colour you plan to make your wrap in and share your progress.
Bye for now,
B x