Easy summer lace crochet shawl pattern – Narcissus
This post may contain affiliate links. This means I may earn a small commission if you make a purchase from these links, at no additional cost to yourself.
Looking for a summer lace crochet shawl pattern?  Narcissus is an easy oversized summer lace crochet wrap pattern that will compliment your summer wardrobe.  Using familiar stitches over Read on to find out more about Narcissus and how to make yours.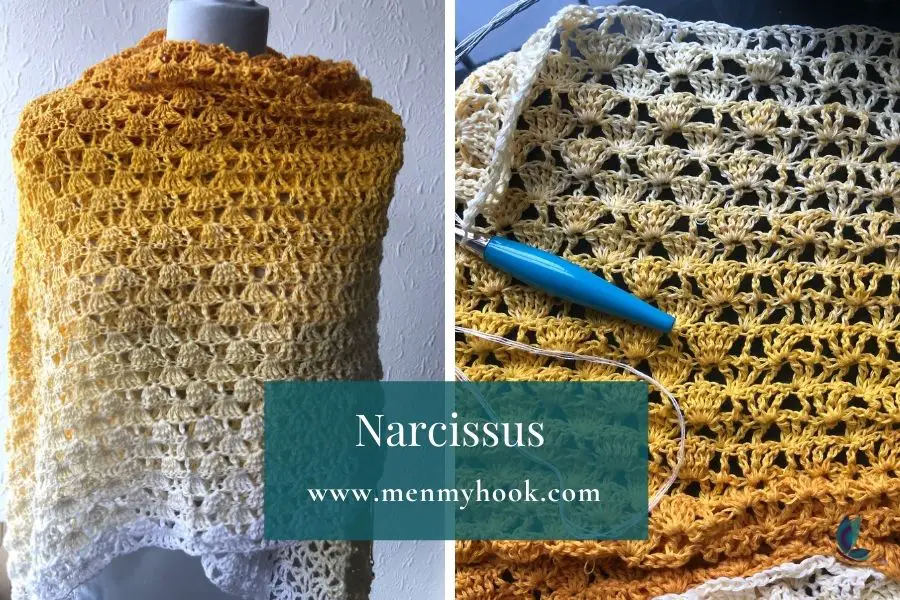 Narcissus, summer lace crochet wrap inspiration
The Narcissus oversized summer lace crochet wrap pattern is the second design I created using my flower colour theme for 2022 and inspires the name of the design, Narcissus or Daffodils, being the colour of the month for March.
After I finished making my first Carnation, I had a couple of different shawl ideas running around my mind.  I knew I wanted to do something else with the column and bowl stitch combination to create a summer lace crochet wrap pattern, but it took a few different tries to create the stitch repeat that I was aiming for.
Oversized summer lace crochet shawl yarn & materials 
To create my lace crochet shawl, I used a custom colour from Flo's yarn basket, designed specifically with the flower theme in mind, Daffodil.  1250m 4ply gradient yarn cake, this is a yellow gradient which fades to white, and is a glorious happy vibrant ombre.  Using flowers to create colours and name the design was easy with this oversized summer lace crochet wrap pattern. The open stitches used and the bright colour just call for something bright and summery. To find out more about this yarn, you can check out the review on Flo's yarn here.  
For alternatives to make your own Narcissus lace crochet shawl, my favourite options would probably be Twister and Twister Solid from Hobbii, or Scheepjes Whirl and Whirlette or similar. You will need the whole 1250 yards – I just about had enough to finish the wrap myself!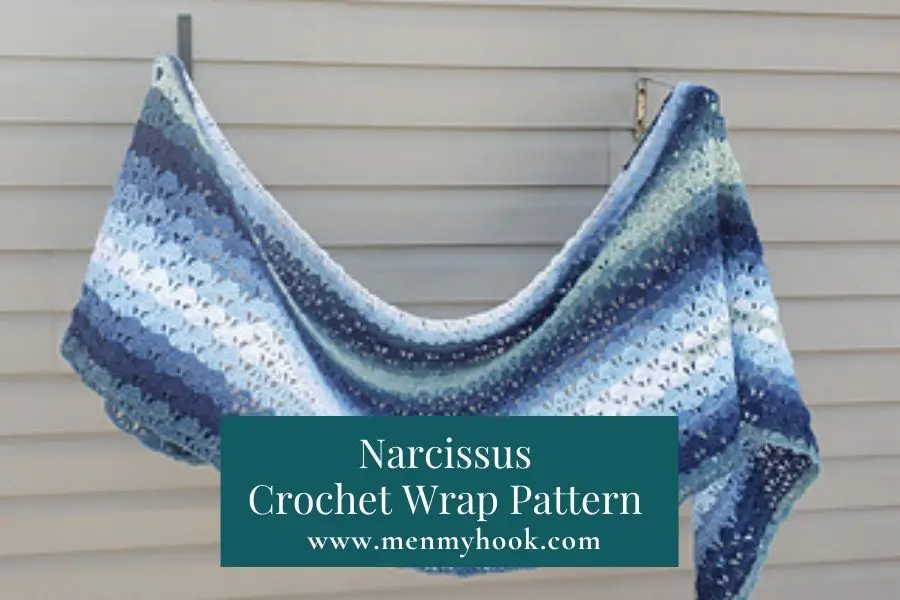 It is also possible to make this oversized summer lace crochet shawl in DK or 3 weight yarn. It would increase the size and weight of it, however, if you chose a natural fibre or blend yarn and a slightly larger hook you will get a still quite lacy and light shawl but also something that will work well for evenings when it gets a little colder than expected. For this I would choose Stylecraft Naturals Bamboo Cotton as it has fantastic drape and weight without being too heavy.
Love shawls?  To check out other designs created with yarn from Flo, see Estelle Wrap, or Lena Shawl which has kits created with the same yarn.
Narcissus Wrap pattern info & tips
Narcissus is an easy oversized summer lace crochet wrap and a great beginner project. Using familiar stitches over a longer repeat this pattern works up quickly with a steady pace/rhythm to it. Worked across a long chain and extended repeat, this lace crochet shawl pattern is a yarn eater. Counting is required as it is easy to get lost in the repeat – sometimes simple is the hardest thing. Use stitch markers definitely. I have highlighted the centre as a space to mark within the pattern for this lace crochet wrap but additional markers at the start/end of the repeating sections will also help you to keep on track.
Like all my shawls, gauge isn't super important for success in this summer lace crochet shawl pattern, consistent clear defined stitches are. I crochet quite tightly and have included an unblocked gauge.
Terms: US crochet terms.  
Type: written
Skill: beginner, confident
Type: written, chart, and photo tutorial
Yarn: 1250m 4 ply gradient yarn cake in colour way Daffodil from Flo's Yarn Basket, or 1 x Twister & 1 x Twister Solid in a complimentary colour, OR, 1 x Scheepjes Whirl & 1 x Scheepjes Whirlette in a complimentary, colour, OR 1250m of any 4ply gradient cake, fingering /sport weight yarn.  
Hook: 4.5mm or whatever is required to achieve gauge
Other materials: stitch markers, darning needle, scissors
Stitches used:
Chain
Treble Crochet
Fan Stitch
Shell Stitch
Narcissus summer lace shawl pattern tester thanks
Testing crochet patterns like this oversized summer lace crochet wrap is a huge part of the fun of designing.  Many thanks to Carmel, Connie and Kris for testing Narcissus for me.  This was a bit of a challenge has I had covid, forgot how to count AND forgot to actually do the test but these guys really helped me pull it together for this summer lace crochet shawl pattern, thank you.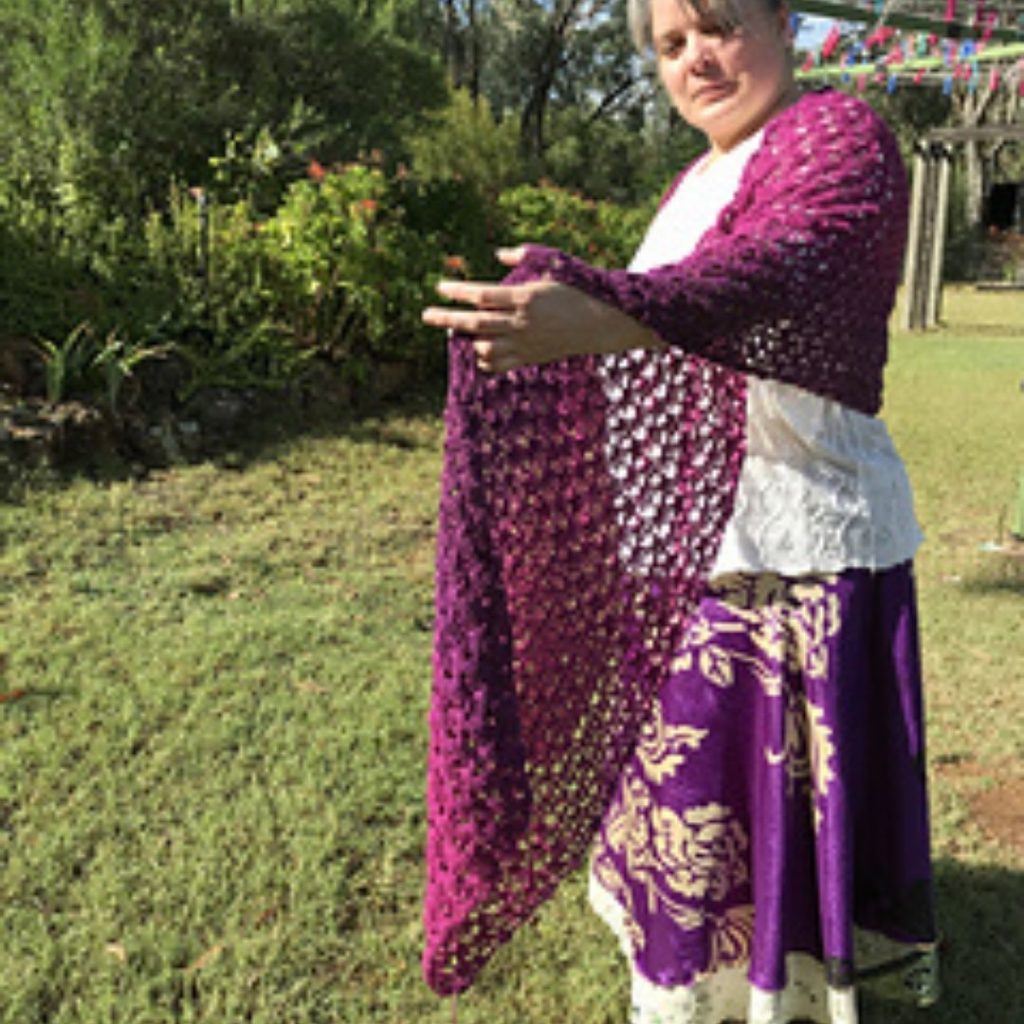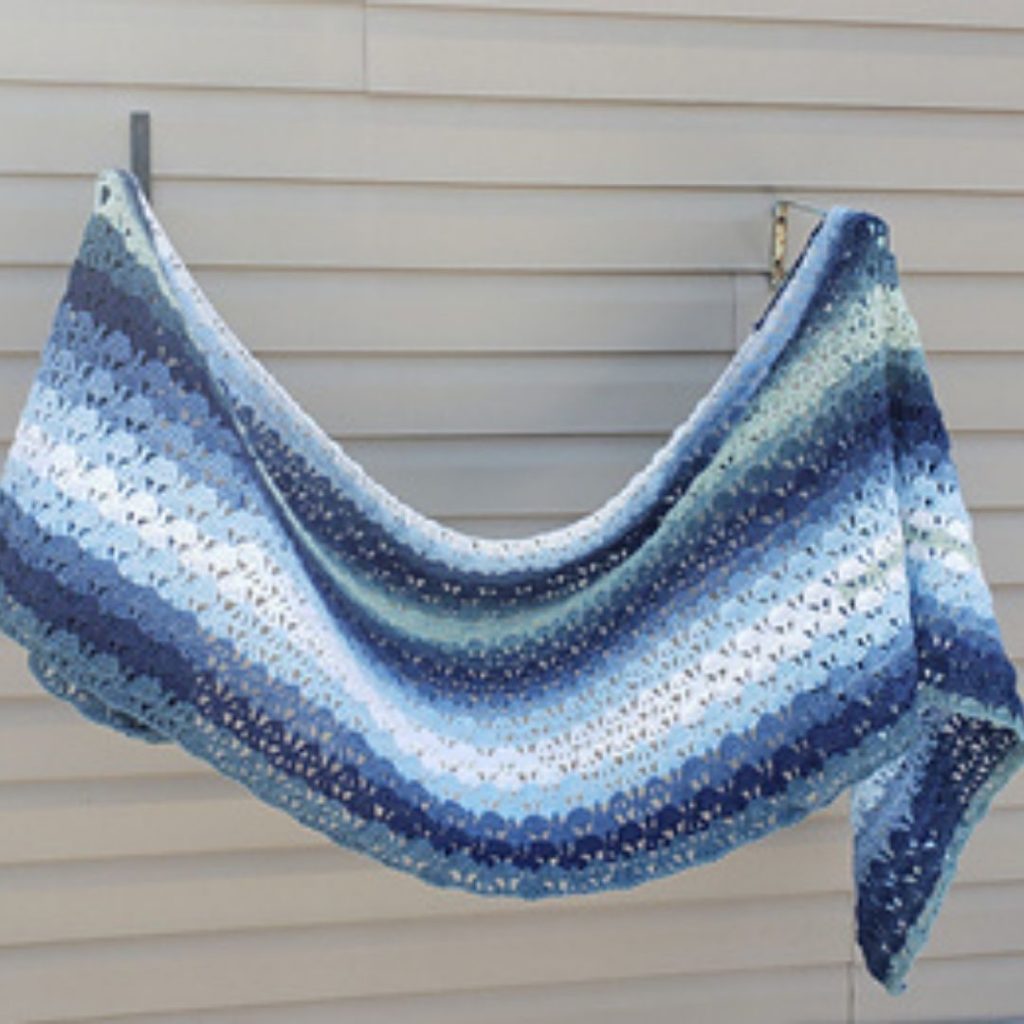 Narcissus summer lace crochet shawl pattern collabs
Spring is that time of year, when the sun is starting to shine more regularly and you're looking forward to the summer holidays.  Of course, you will need a wrap for those beach days and nights.  Luckily, the Spring Exclusives Event, hosted by Cosy Rosie UK, is full of patterns to get that spring into your step and set your summer up for project success.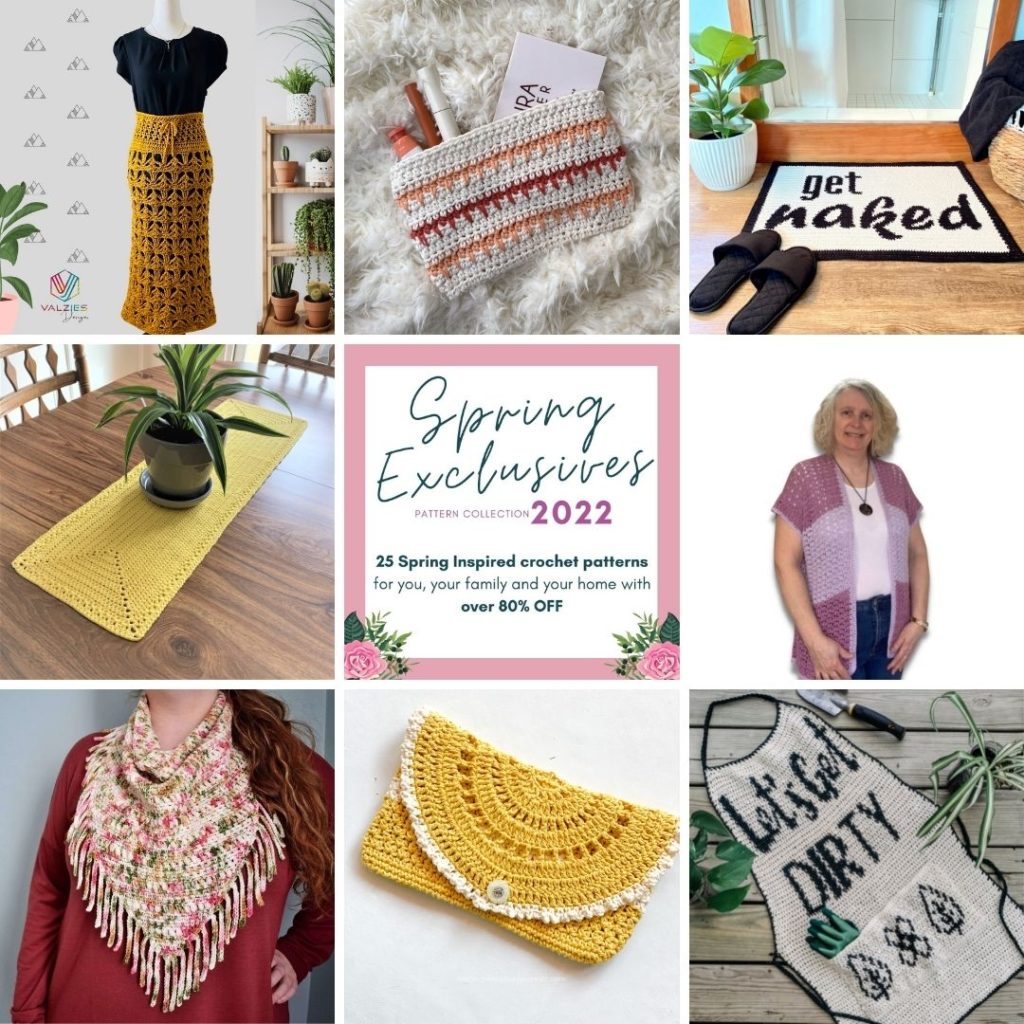 Every day, from 1st – 25th March, a new crochet pattern will be released and available at 50% off.  Today, 8th March, Narcissus is featured and available for 50% OFF.  To find out more about the event, and grab your discount code, head over to the blog post here

Then head over to your favourite pattern store here before MIDNIGHT 9th March



Like what you see?  For a limited time only you can grab the entire 25 pattern bundle for $18 here

I hope you enjoyed the post and look forward to seeing your Narcissi!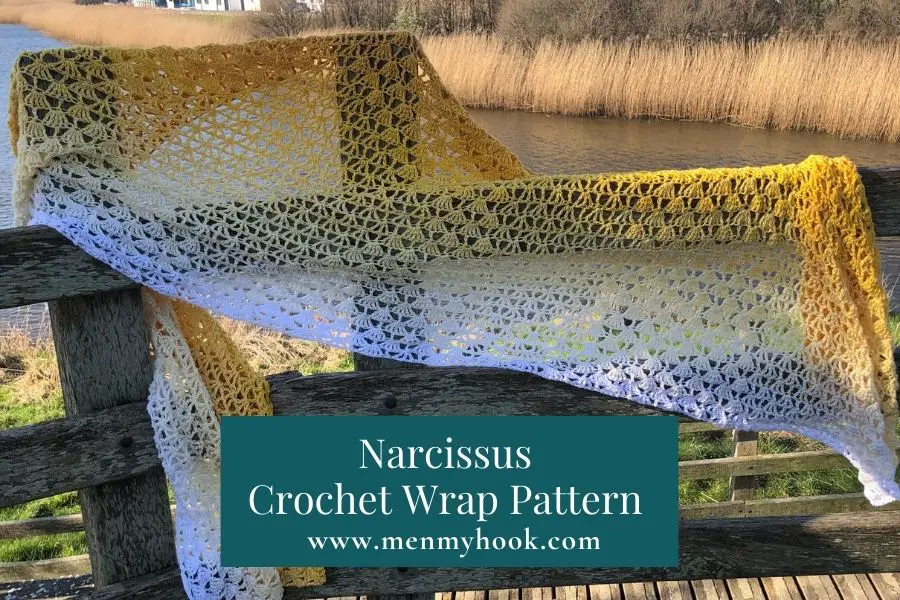 Love lacy projects? Check out Stella Shawl, Cloverleaf and Simone Wrap
Pop into the Facebook Group and let me know what colour you plan to make your wrap in and share your progress.
Bye for now,
B x