Summer Shawl Crochet Pattern – Hyacinth
This post may contain affiliate links. This means I may earn a small commission if you make a purchase from these links, at no additional cost to yourself.
Looking for a lace summer shawl crochet pattern?  Hyacinth is an experienced beginner summer wrap pattern that has a staggered repeating pattern and a vintage lace feel.  Read on to find out more about the design and how to get your copy below.
Hyacinth lace crochet summer scarf inspiration
You know how sometimes ideas are like buses – they all come along at the same time?  Well that is definitely true for the evolution of this lace wrap crochet pattern.  Earlier this year while I was supposed to be working on the charts for the Carnation pattern, I had an idea and couldn't let it go.  Actually, I had 354656 billion ideas, but the Hyacinth summer shawl crochet pattern was the first of these designs to actually become a thing.
Still in the chart making app Stitch Fiddle, I began plotting out the design in my head.  This was definitely a departure for me as I usually start with the yarn first.  But it seemed like a good idea so I went with it.  The initial design is still in there, but I made some tweaks to the original stitch combination to create the staggered effect as I wasn't super happy with the swatches I made with the first draft.
Love shawls? Check out Puffin Lace or Narcissus for alternative lacy summer shawl crochet patterns.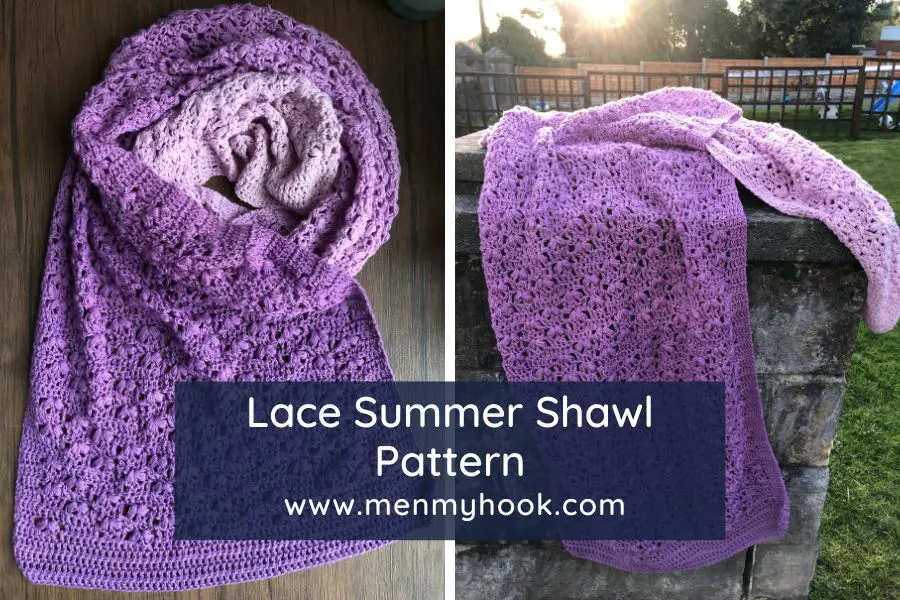 The name Hyacinth was suggested by Vicky, one of my testers and I chose it because it goes with my theme of using flowers and their colours to name shawl designs this year. I also love it because it reminds me of Hyacinth Bucket from Keeping Up Appearances and makes me chuckle.
If you haven't seen it it's an 80's tv show I grew up on and I don't know that it was an international thing but if you can find it on a streaming platform, have a watch as she's the curtain twitchy neighbour who is TOTALLY led by what other people think of her, and it's usually the reason she is in some ridiculous situation.
Lace summer shawl yarn & materials
To create my Hyacinth summer shawl crochet pattern, I used a firm favourite, Sultan Deluxe from Hobbii in no 21 Hortensia.  Unfortunately, Hortensia isn't currently stocked and they are not able to confirm when it will return. Alternative colours that include purples/pinks are 02, 10, 11, or 18.
Sultan Deluxe is a 100% Cotton, 1000m / 1092 yds 4ply gradient yarn cake.  Similar to Twister or Scheepjes Whirl in the gradient style but a wholly cotton alternative.
For alternative yarn choices, I think this design would work best with a single light colour or gradient colour choices to show up the stitches as a delicate summer shawl so I would stick to Sultan or Twister or similar. For a single colour, a whirlette or twister solid would work well. For a slightly warmer version, possibly some fingering weight merino blend yarn would be my choice.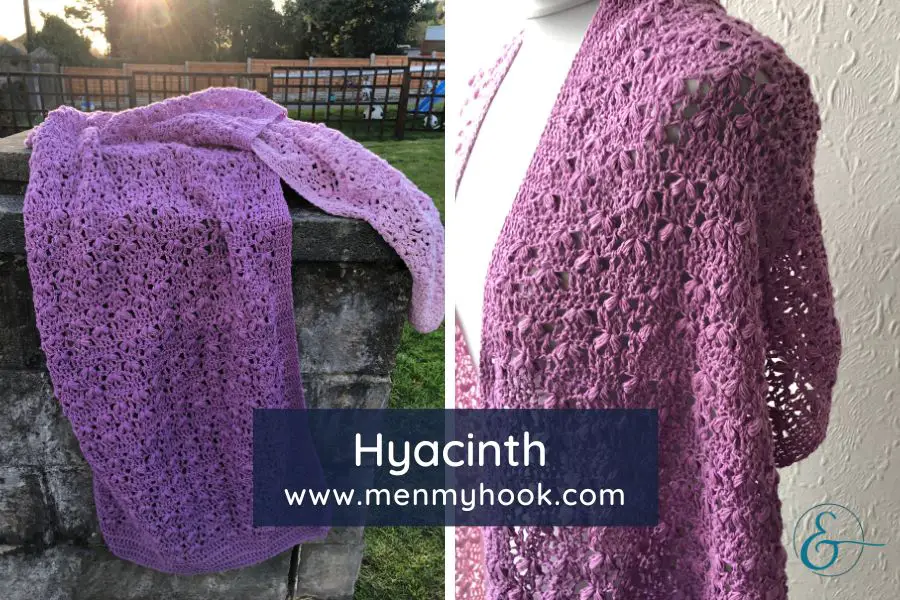 Easy lace crochet summer scarf pattern info & tips
Hyacinth is an experienced/advanced beginner summer shawl crochet pattern, some confidence is required, although complete beginners are encouraged to try.  Using a regular repeating stitch pattern that is then overlaid and staggered in a later row you will find that this lace crochet summer scarf pattern is easy to work up BUT is also easy to make an error.  
I am a crochet rebel and don't normally count or use stitch markers, but I recommend them for this, even if only to mark off each repeat so that it is easier to find your place when returning to your project. Many of the rows start and end the same, but are different in the middle. 
Gauge, in many of my designs isn't super important, but in this lace crochet scarf pattern it is, as well as clean and consistent stitch definition. I used almost the entire cake to create my Hyacinth, what was left wouldn't give me a consistent reading on the scale. So, if you too are a crochet rebel and decide to make adjustments / do not match my gauge and use the same yarn, you will likely need more yarn.
Although this is designed in a 2 weight yarn, I think it would work equally well in a 3 like Stylecraft Naturals Bamboo Cotton, or a similar. As long as you stay in the range of thinner 3 weight yarns. this summer lace wrap crochet pattern will result in a slightly larger finished piece but should work equally well. It can also be adjusted, if you like a longer summer shawl by increasing the number of repeats you complete.
Terms: pattern is written in US crochet terms.  
Type: written, chart and photo tutorial included in pdf
Skill level: experienced/advanced beginner
Yarn: 1 x Sultan Deluxe, or any similar gradient yarn cake, or 1000m / 1092 yds of any fingering weight yarn
Hook: 4mm Furls Odyssey in Navy 
Other materials: stitch markers, darning needle, scissors
Stitches used:
Chain
Double Crochet
Half Double Crochet
Treble Crochet
Puff Stitch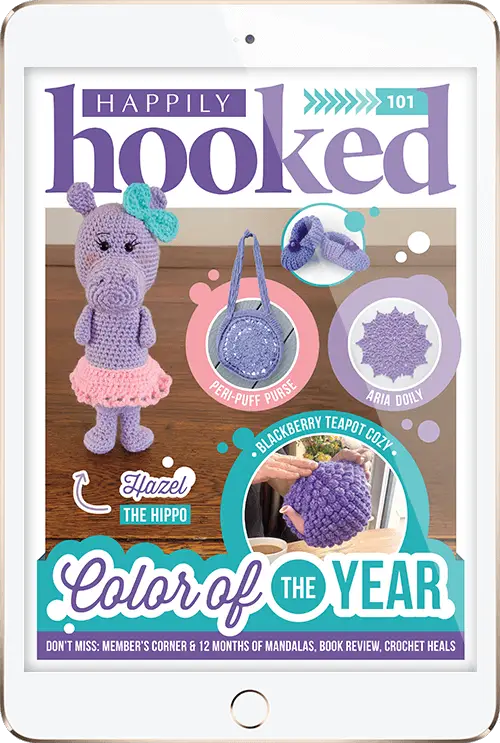 Hyacinth summer shawl crochet pattern collaboration
Periwinkle is the colour of the year, and incidentally the original name for this crochet wrap pattern design, and in honour of that Happily Hooked Magazine have put together a Colour of the Year edition, featuring all the purple projects, including Hyacinth.. Including 17 different crochet projects in purple, there is sure to be something to pique your interest.  To find out more, and get your copy of the Colour of the Year 2022 Edition of Happily Hooked Magazine check out the link here.
You can also get a subscription for this and all the issues of Happily Hooked Magazine featuring designs by me. To find out more, check out all the details here.
Get the Hyacinth Pattern
Get your Ad FREE Digital Download PDF copy of the Hyacinth pattern from your favourite pattern store below.
I hope you enjoyed the post and look forward to seeing your Hyacinth's!
For other designs by me featured in Happily Hooked check out the Key West Pullover.
For easy free crochet shawl patterns, check out Shanae and Colette.
Don't forget to pop into the Facebook Group and let me know what colour you plan to make your Hyacinth in, share your wip's and fo's I would love to see them.
Bye for now,
B x