Free Easy Crochet Shawl Pattern Crochet Along – Carnation
Please note that some of the links in my blog are affiliate links. I may earn a small commission if you purchase via these links, but the price you pay is not affected.
Looking for a classy lightweight spring crochet wrap pattern?  Carnation is a free easy crochet shawl pattern crochet along.  Suitable for beginners with a light, lacy feminine touch, this easy to wear rectangle shawl pattern is a great introduction to shawl/wrap patterns.  Read on to find out more about the pattern below.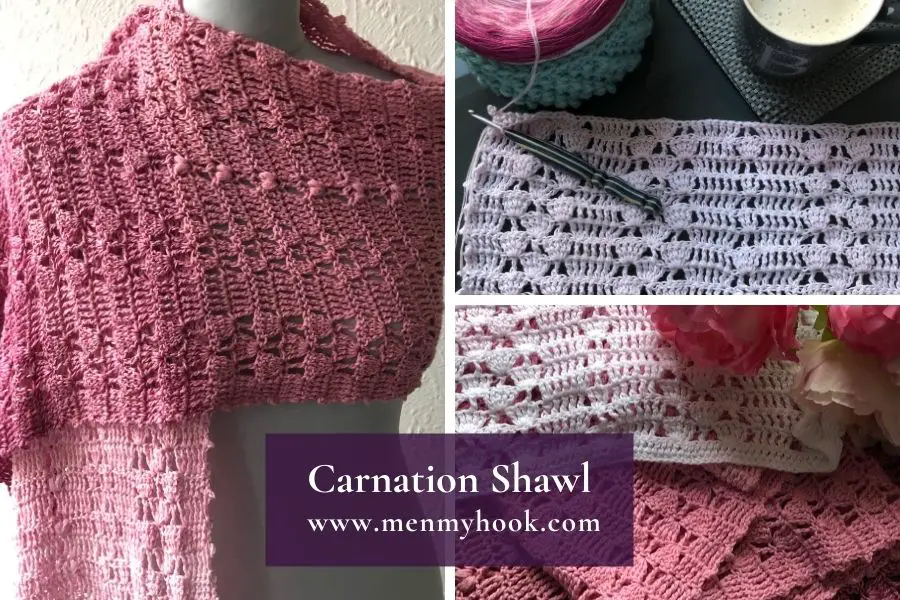 Spring crochet wrap pattern – Carnation
I don't know about you but accessories make the difference in most of my outfits.  I find easy spring crochet wrap patterns are a great way to add to my accessories and feed my crochet addiction!  
In my quest to add a more unique and handmade or slow fashion touch while updating my wardrobe, I realised that most of my clothes are quite harsh with hard lines and I wanted to add something that was softer.  The Carnation spring crochet wrap pattern and crochet along, was inspired by flowers.
I looked for stitches that I could employ in my designs but I found that a little too literal and decided to go with the flow as usual.  This lightweight easy crochet shawl pattern free crochet along uses some familiar stitch favourites, with a different take/slant in order to achieve the overall effect.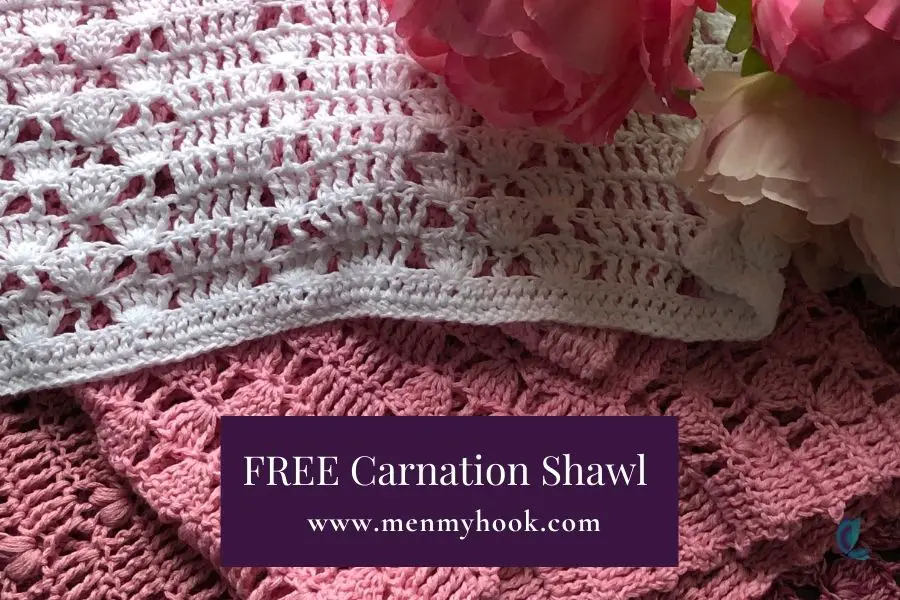 FREE easy crochet shawl pattern yarn and materials 
To create my Carnation spring crochet wrap pattern, I reached out to Flo from Flo's Yarn Basket and rattled off my inspiration idea for flowers.  Together we came up with the colourway 'Carnation', based on the January birth flowers of Carnations and Snowdrops. 
I have used a slightly larger than normal cake at 1250m, however, it is possible to recreate this design with a gradient cake and complimentary solid – with plenty of yarn left over!  To find out more about the yarn, check out my review post here.
Love gradient cakes?  For other designs featuring flo's yarn check out, Estelle Wrap, Rheanna and Lena which has kit's including yarn from Flo.
Carnation CAL 
Start the year with a cute make for yourself and a crochet along.  The Carnation pattern will be released as a crochet along in January 2022 and remain free on the blog once the event has completed.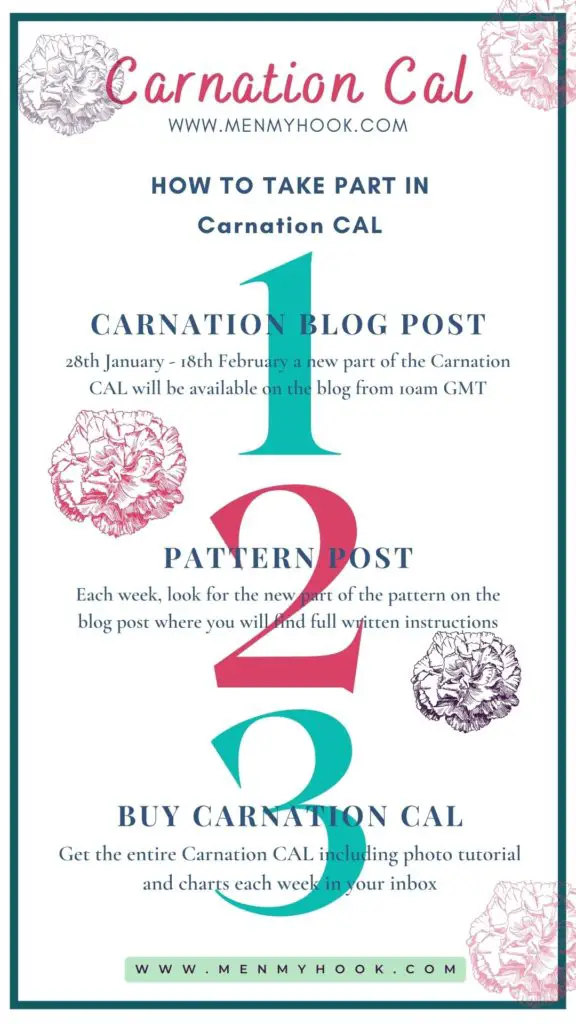 How it will work
Each week, for 5 weeks, starting on the 28th January 2022, a new part of this easy crochet wrap pattern crochet along will be made available, for free, on the blog.
To take part in the CAL you will need:
1250m of any fingering weight yarn, you can grab a cake from Flo with the info 1250m 4ply cake and your colour selection here, OR, 1 x Twister and 1 x Twister Solid in a complimentary colour from Hobbii.
4mm crochet hook – I used my Spectraply insert from Bowltech Crochet Hooks, or whatever works best with the yarn you choose. Gauge isn't super important in this design, consistent tension and clear crisp stitch definition is so use whatever works best for you
Stitch markers, darning needle, scissors
Blocking materials – optional. Blocking will improve the final appearance of your Carnation lightweight spring crochet wrap pattern
Optional – yarn bowl or something to keep your cake in to lessen the chances of it collapsing
Your favourite beverages and snacks
To share your makes, tag me on social media @menmyhook using the #CarnationCAL and #CarnationCAL2022
Add the Carnation CAL to your Ravelry queue & you're ready to go!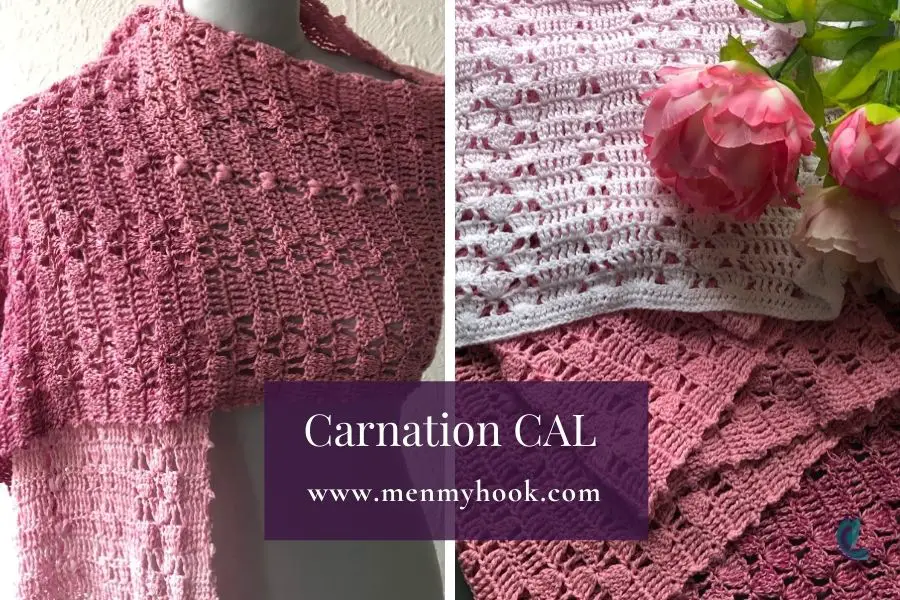 Pre-order Carnation CAL
Carnation will always be available for free on the blog but you can buy the pdf pattern including photo tutorials and stitch charts for 50% until the 25th Feb.  You will receive – weekly notifications of each part as it is released. Individual pdfs for each part of the pattern which will include stitch charts and photos.
To pre-order your copy of Carnation hit the button below 

Join my Facebook Group and let us know how excited you are to take part in the CAL using the #CarnationCAL  and #CarnationCAL2022 !
See you on the 28th,
B x