How to make an easy modern crochet pullover sweater – Key West Pullover
This post may contain affiliate links. This means I may earn a small commission if you make a purchase from these links, at no additional cost to yourself.
Looking for an easy crochet pullover sweater pattern?  The Key West crochet pullover sweater is a beginner friendly reversible crochet top pattern, that works up quickly and looks fab on its own or with a vest top. Read on to find out more about the pattern and how to get your copy.
Crochet pullover sweater pattern inspiration
While working on my blue Granny Merge Cocoon, the idea for this easy crochet pullover sweater came to me.  I wanted something that was easy to construct and make.  A simple repeat and I wanted anyone to be able to make it AND I wanted as little sewing as possible – sewing is not my jam.  Full disclosure – it took me almost as long to seam this crochet pullover sweater together as it did to make the two panels that form the entire thing.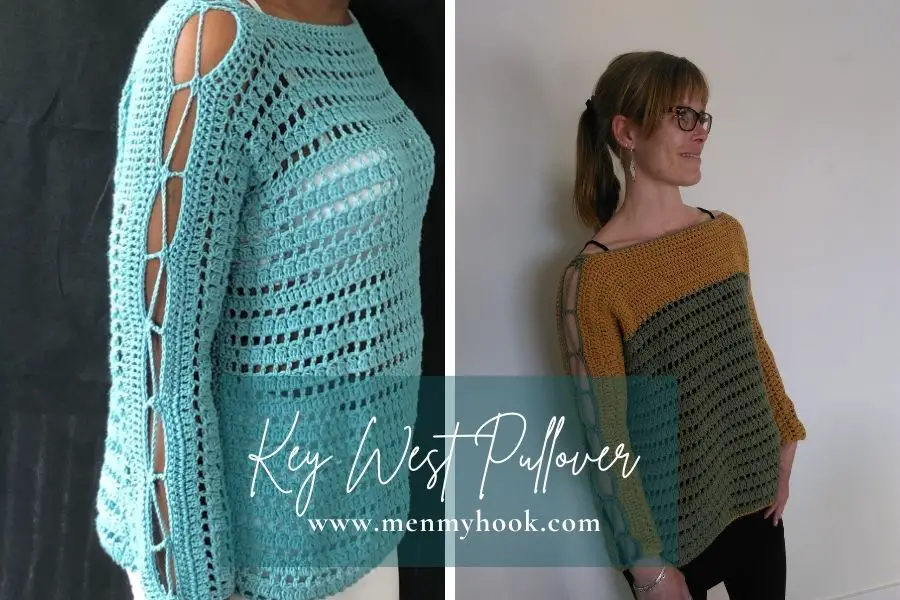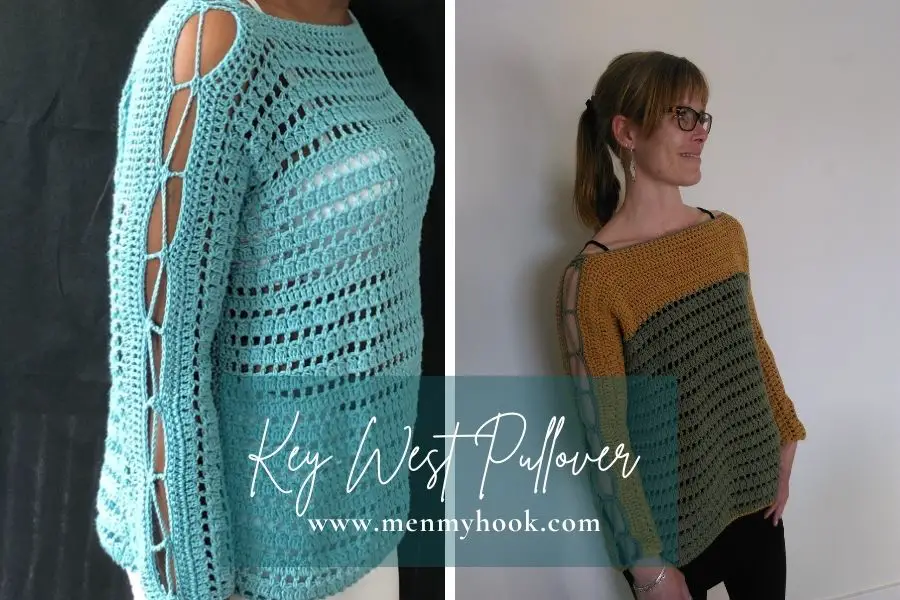 While I do not even begin to claim to be fashionable or know what the trends are, I knew when I started out with this design that I wanted to make something that had the potential to be trendy.  My idea of trendy and quasi fashionable is something that looks good with or without a pair of jeans.  It's low effort and can be casual or smart with the right jewellery, shoes or accessories.
The easy repeating pattern of clusters and open sleeve details are the inspiration for the name of this design. I've never been to Key West in Florida, but I'm reliably informed that the coral reefs and the makeup of the keys including the bridge from key west are a cool metaphor for this sleeve, like island hopping. I loved it immediately and am sticking with it!
Key West Crochet Pullover Sweater – yarn love 
To make my crochet pullover sweater, I wanted something that was going to be good in spring or summer so I chose my new favourite – Stylecraft Naturals Bamboo Cotton in Surf.  This is a 60/40 mix of bamboo and cotton, 3 or dk weight yarn.  It has an amazing drape, is very forgiving when frogging and just glides off the hook.  Can you tell I love it? For all the details on Stylecraft Naturals Bamboo Cotton check out my review here.
For alternative designs using the Stylecraft Naturals Bamboo Cotton – check out the Chilo Lacy Spring Scarf and Joanne Shawl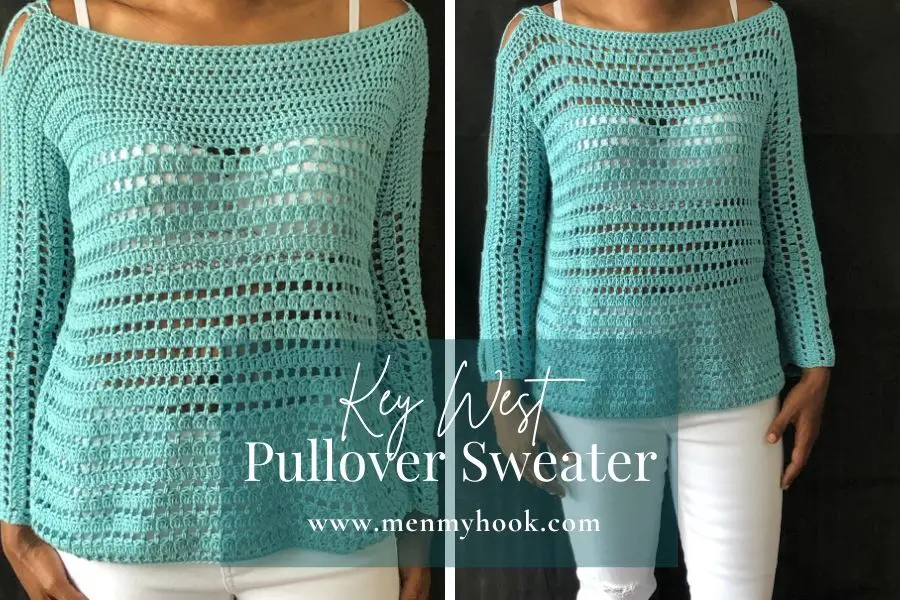 Crochet pullover sweater pattern info & tips
The Key West crochet pullover sweater pattern is written in multiple sizes and is a beginner crochet pattern so should be accessible to all. The pullover is made in two panels, then seamed along the sides and features an open topped sleeve.
There are two alternative panel designs meaning you can make a reversible top – as is the original, OR you can make two of the same panel making this crochet pullover sweater pattern very easily customisable. With an easy repeating stitch pattern, the simple construction makes this crochet top a must have addition to your handmade wardrobe this summer!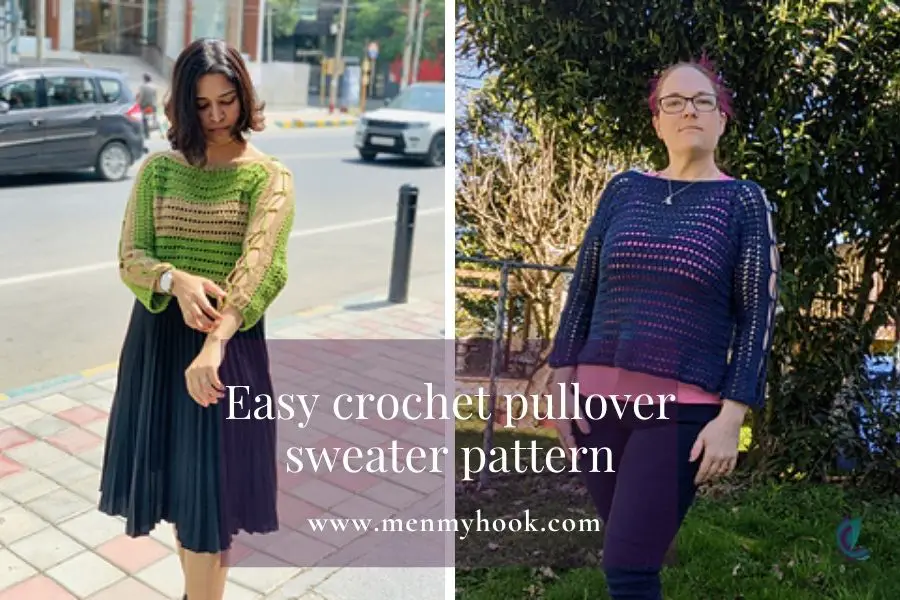 Terms: US terms, written pattern
Skill level: Beginner Easy
Sizes: includes sizes XS – 5X
Yarn: 4 – 8 x Stylecraft Naturals Bamboo Cotton or 1000-2000m / 1094-2200yds of any 3 or dk weight yarn
Hook: 5mm
Stitches used:
Double Crochet
Chain
Space
Cluster
Foundation Double Crochet – optional
Crochet Pullover Sweater tester thanks
Many thanks to Winnie, Sherrie, Yvonne, Pearl, Jennifer and Kelly for their help in testing this pattern, and Kristine from Ambassador Crochet for tech editing.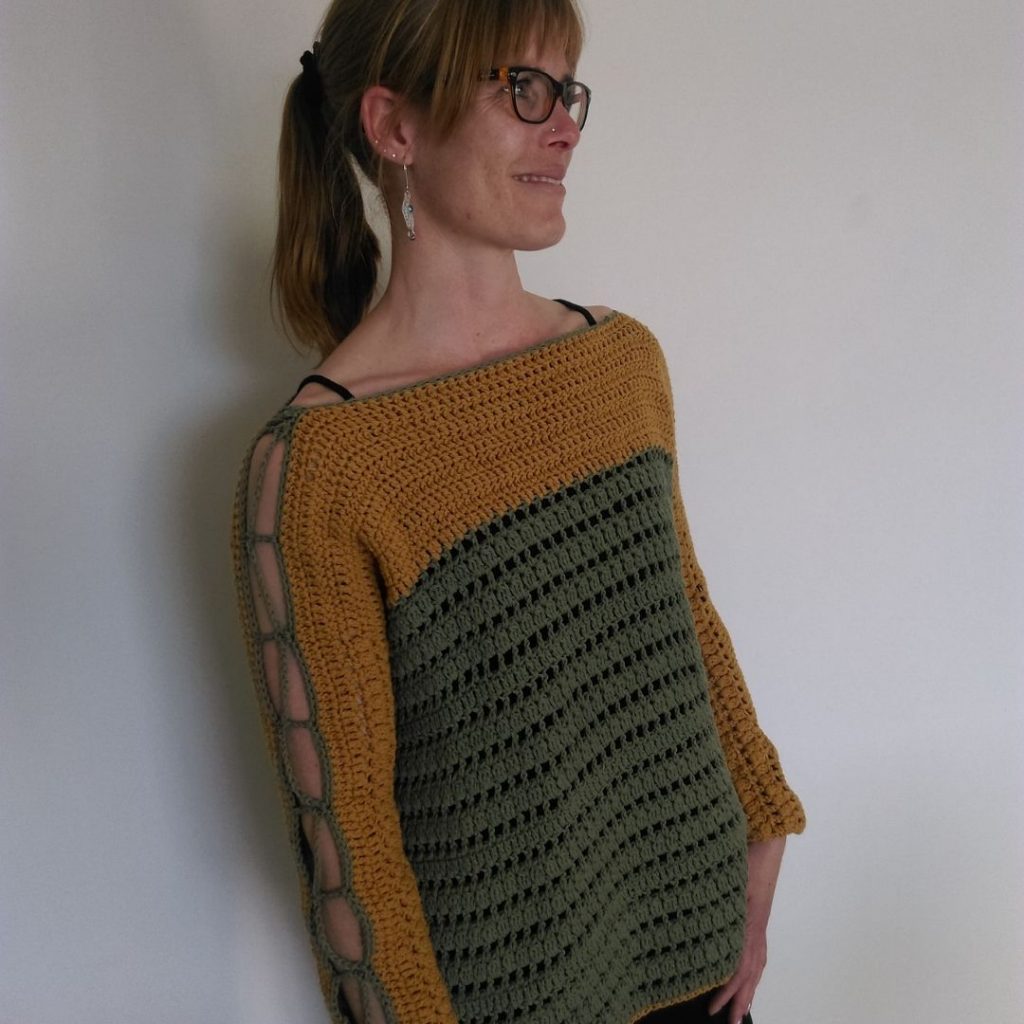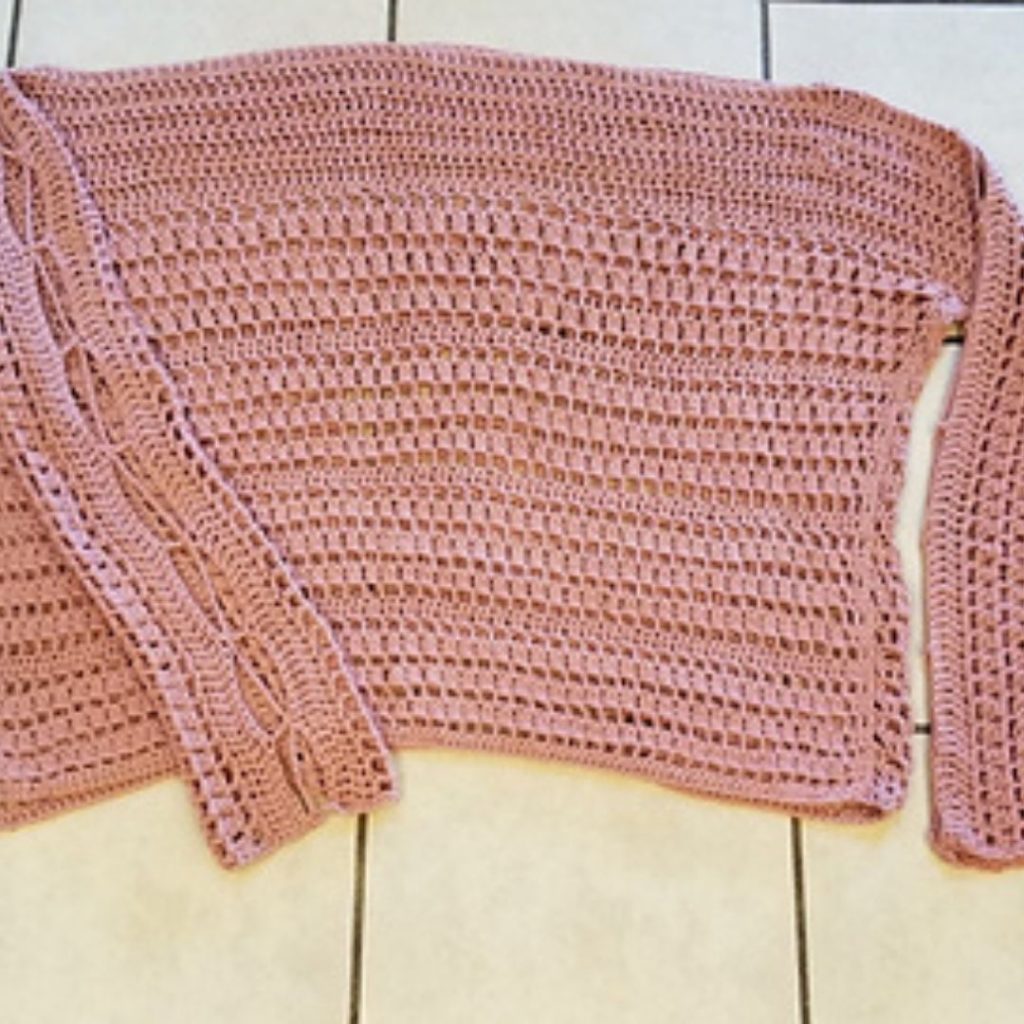 Easy crochet pullover sweater collab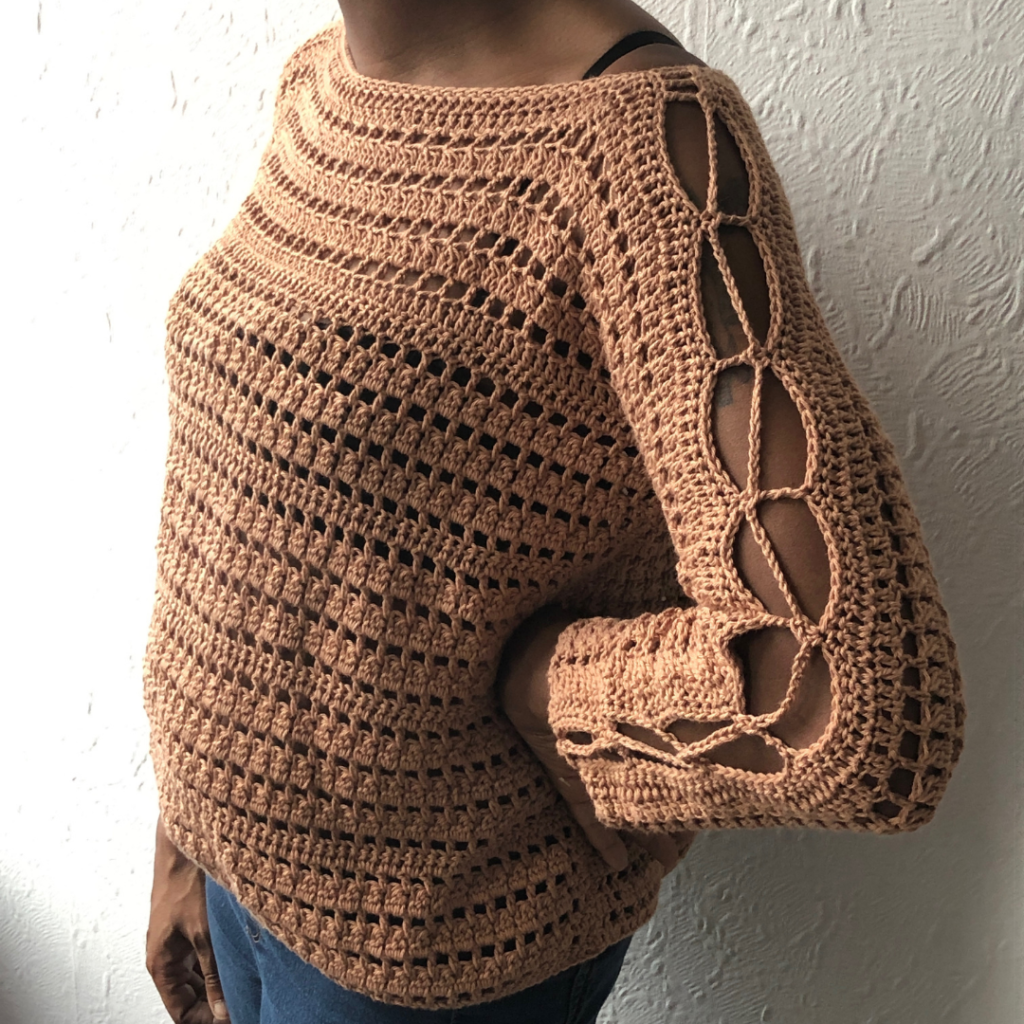 Are you looking for summer fashion inspiration? Something that is easy to make and breezy to wear? Easy Breezy Wraps and Tops Edition of Pattern Pack Pro April 2022, has got you covered. Featuring easy to wear and make shawls, wraps, and tops, including the Key West Pullover, this mag is sure to get your creative juices flowing!
To find out more, and get your copy of Easy Breezy Wraps and Tops, go here.

Buy the Key West Pullover pattern
Buy your copy of the easy crochet pullover sweater pattern the Key West Pullover from your favourite pattern store here
I hope you enjoyed the post and look forward to seeing your Key West Pullovers!
Pop into the Facebook Group and let me know what colour you plan to make your wrap in and share your progress.
Bye for now,
B x