Easy One Skein Crochet Shawl Pattern – Shanae Wrap
This post may contain affiliate links. This means I may earn a small commission if you make a purchase from these links, at no additional cost to yourself.
Looking for a beginner one skein crochet shawl pattern?  Shanae is a beginner wrap created with a two row repeat that works up quickly and looks stunning in any yarn – the perfect crochet wrap for all occasions.  Read on to find out more about how to get a copy or to access the FREE pattern below.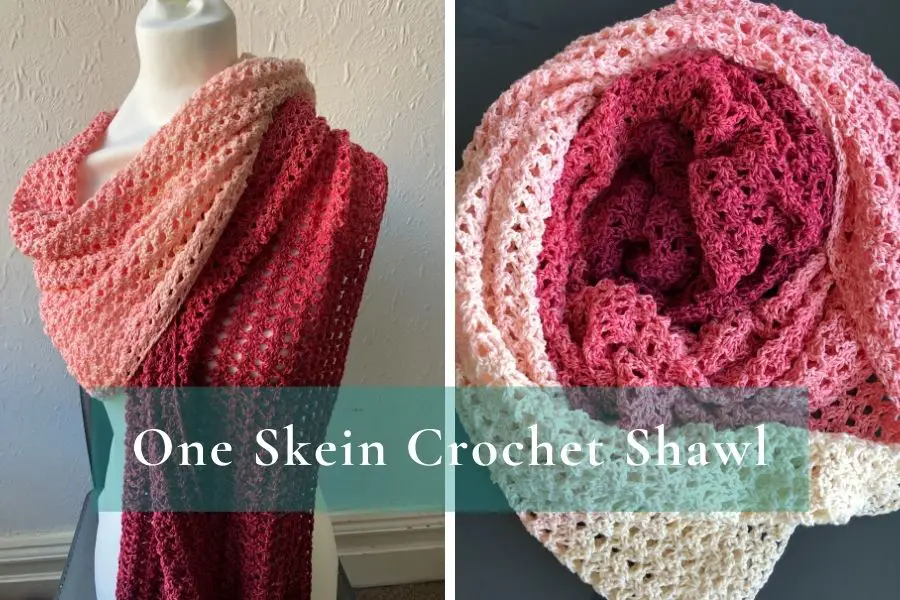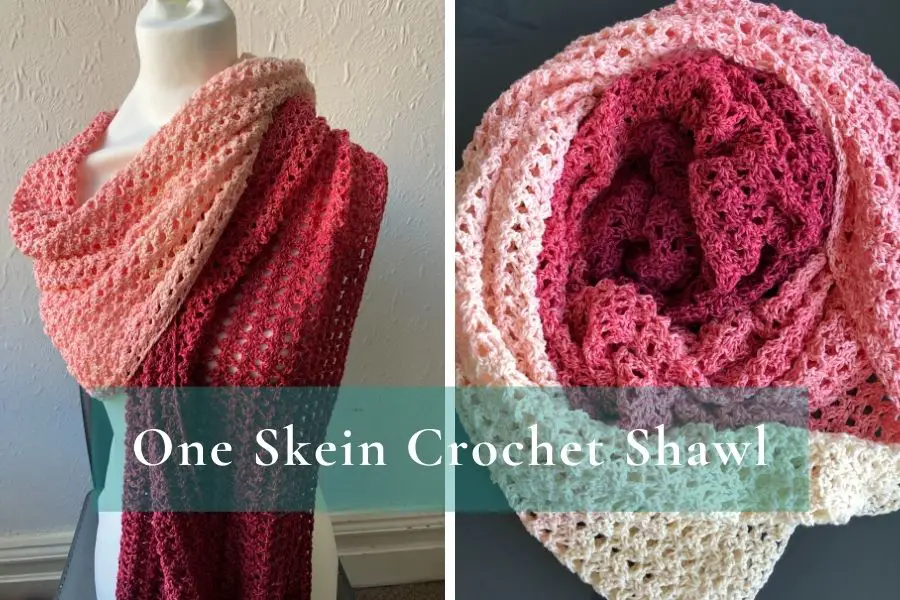 Inspiration
The Shanae wrap is a reworking of the Fanfare Cowl pattern.  While designing the cowl I saw that it could be a wrap but I did not have enough of the Stylecraft Dreamcatcher that I designed the original cowl in.  I also wanted to make a few adjustments and while the dreamcatcher produces a beautiful scarf and ombre, it is a nightmare to frog, and so I made a mental note to rework the design at a later date.  
One of my goals this year is also to feature a guest in other blogs and a magazine hopefully and this design is my first successful attempt. Luckily, Susannah from Fosbas Designs, accepted my application to appear on her blog – thank you.  I love her stuff, just a little bit appropriately fan girly, and I'm really excited to be included as a guest on her blog.
I wanted to include something stylish, easy to make and with wide appeal hopefully I have achieved that with this design.  I get asked a-lot – who wears scarves and shawls these days – erm I do.  This can be worn as a scarf, shoulder wrap, head scarf if you know how to wrap it, sarong – the options are varied.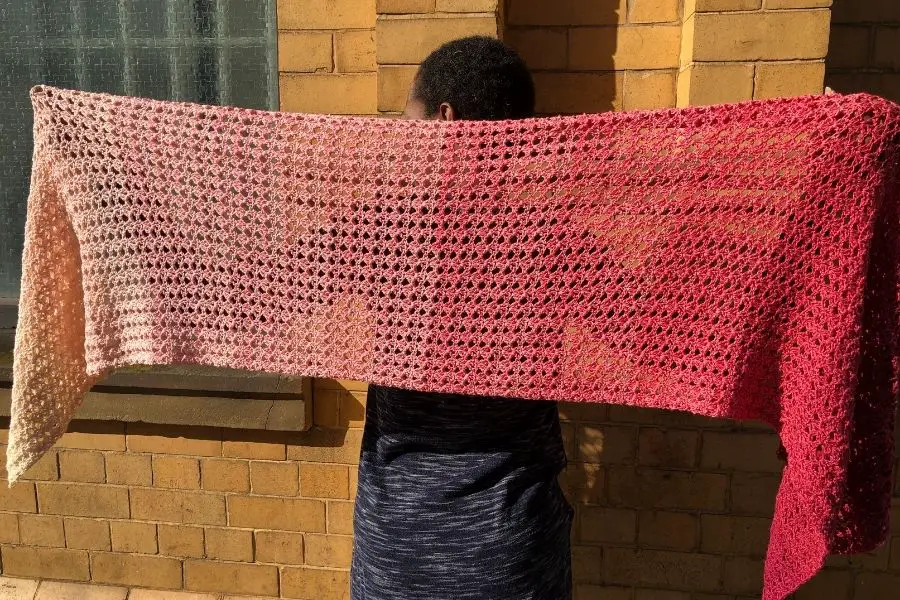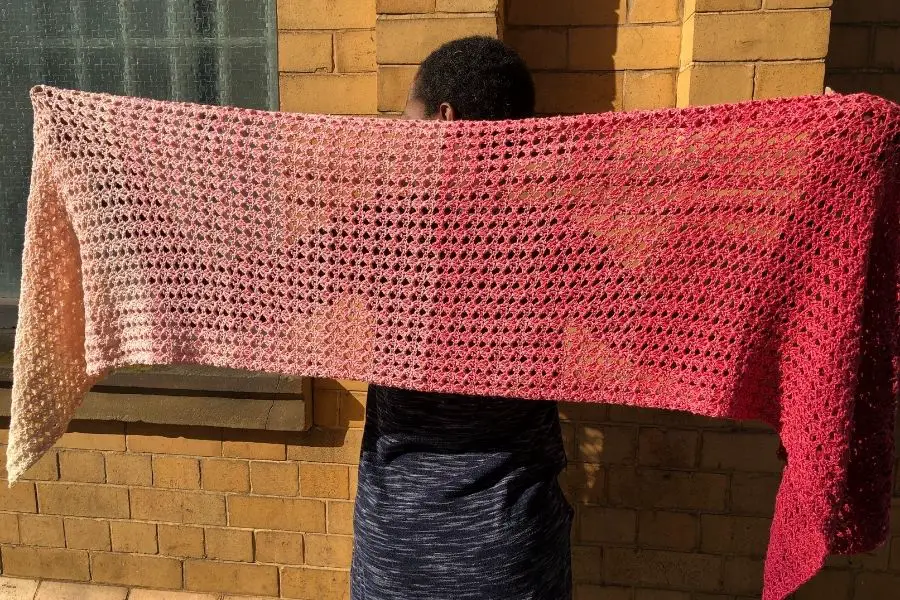 Yarn and Materials 
I'm designing with my stash at the start of the pandemic, so this opportunity is two fold – to use something I bought on a whim and to get one of my ideas into reality so to speak.  For this design I chose the Twister from Hobbii in Rhubarb and Cream (no 33), a 250g, 1000m/1093 yds sport/4ply yarn cake. 
This is a cotton acrylic blend yarn, great for making a variety of things – baby blankets, shawls, clothing and more.  It is what I like to call an affordable, Scheepjes Whirl because I buy them in bulk, on sale.  As previously mentioned, this design was originally conceived with a dk weight yarn – which would also work.  To achieve the same size of wrap you would need at least 3 x Stylecraft Dreamcatcher or dk/3 weight yarn.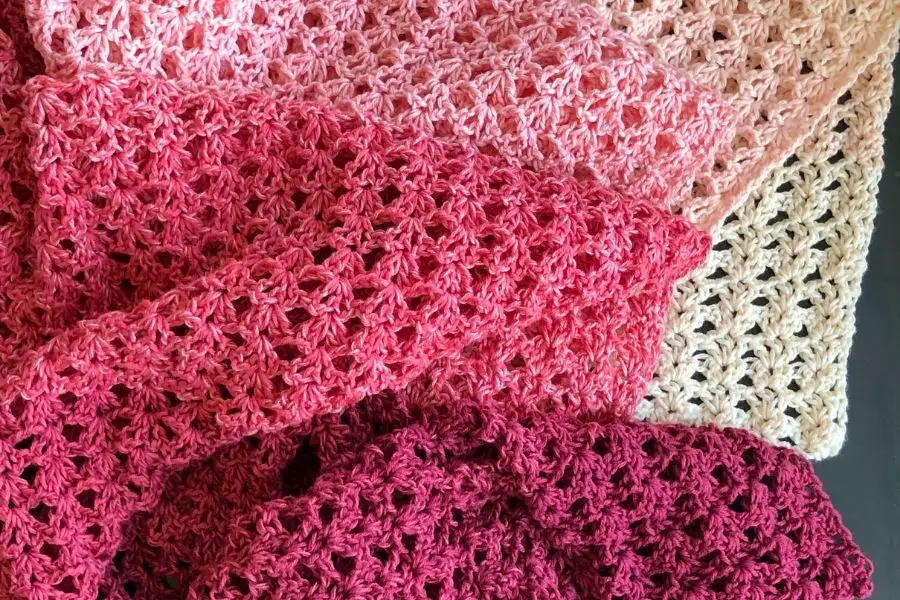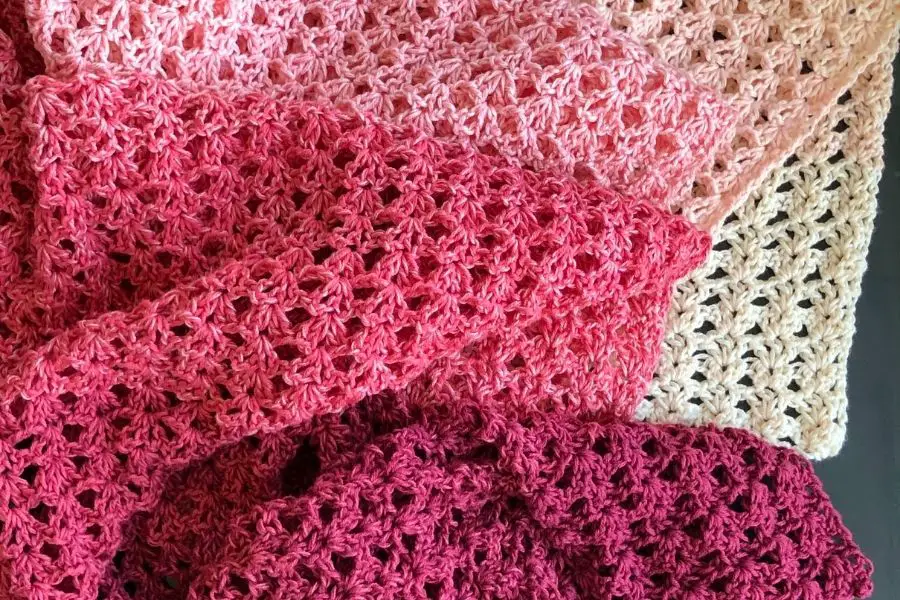 Pattern info & tips
This one skein crochet shawl is made entirely using a fan and open shell stitch – the instructions on how to create these are included in the pattern.  Being a two row repeat, this is a fairly easy beginner pattern and works up quickly in front of the tv – just be mindful of WHICH row of the repeat you are in when stopping or restarting your project it's easy to repeat the same row once you get going – and that changes the appearance of the stitch work.
Gauge – I am not a slave to it so please don't feel like you need to be.  I have included a gauge and final size in the instructions but it is more important that you have uniform fairly tight stitch work rather than stick to my gauge.  An inch either way will not make a difference to the final result.  If you decide to stick with the Twister or similar and your stitches are a bit loose – go down a half, or maybe a whole size depending on which hooks you have to hand.  I am a fairly tight crocheter so the smallest hook I use with this type of yarn is 4mm.
Pattern is written in US crochet terms.  
Skill level: Beginner –  Easy
Yarn: 1 x Hobbii Twister, or Scheepjes Whirl or similar in any colour
Hook: 4mm, or whatever size you need to achieve gauge 
Stitches used:
Double Crochet
Fan
Open Shell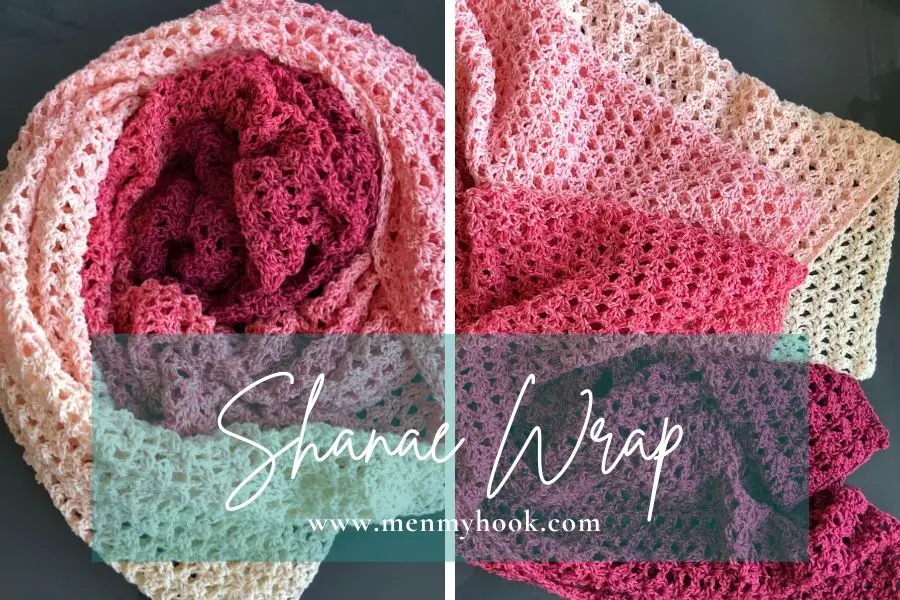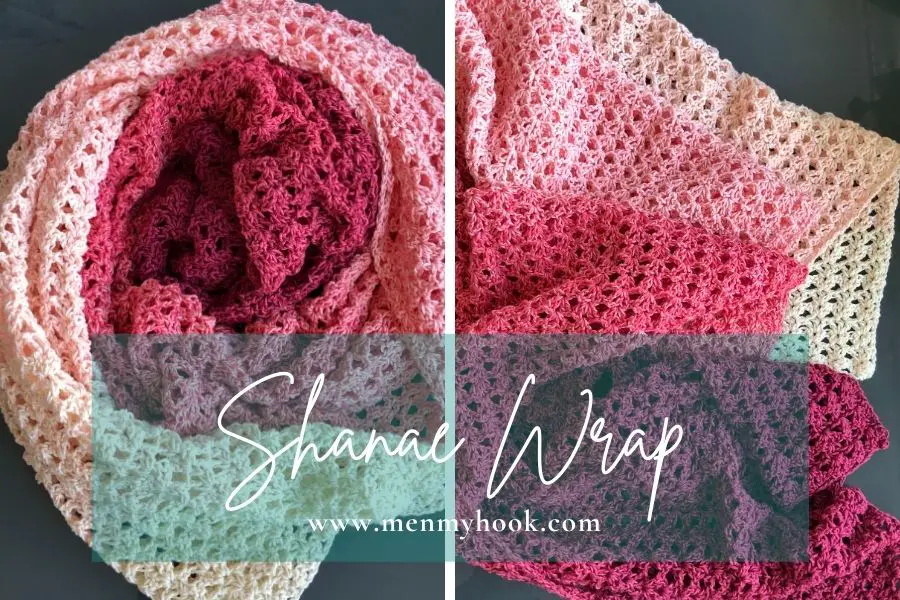 FREE One Skein Crochet Shawl Pattern
To access the free pattern for the Shanae one skein crochet shawl pattern head over to the Fosbas Designs Blog here
Shanae Wrap pdf pattern
Buy your copy of the Shanae one skein crochet shawl pattern from your favourite pattern store here:
I hope you enjoyed the post and look forward to seeing your Shanae Wraps!
Pop into the Facebook Group and let me know what colour you plan to make your wrap in and share your progress.
Bye for now,
B x