Easy Crochet Book Cover pattern – Marian Bay Book Cover
Please note that some of the links in my blog are affiliate links. I may earn a small commission if you purchase via these links, but the price you pay is not affected.
Looking for an easy way to protect your book – a bible or your current novel? This easy crochet book cover pattern is a simple, stylish beginner crochet project. Read on to find out more about the pattern and how to make your own crochet book cover below.
Inspiration – Crochet book cover pattern
While I don't read a lot of physical books myself anymore, I do have a small planner that I am trying to train myself to use daily. That means outside the house I need a way to keep it clean because I throw a lot of crap into my bag and there is always a disaster lurking at the bottom. I have a thing about books. I don't bend the corners, I don't write in novels or textbooks. I like to keep them just so. Well Myles got a fingerprint on my 2021 planner and this bugs me. I can't get rid of it, but I can cover it and stop any further damage.
I used the same stitches as the Marian Bay Collection to make this easy crochet book cover pattern. Firstly for ease as I am currently working on a different design in the stitch. But also it gives me an opportunity to look at the stitch pattern again and see if I can tweak and make it simpler for users. This, with the Marian Bay Throw and Hot Water Bottle Covers makes a great co-ordinating cosy gift combo.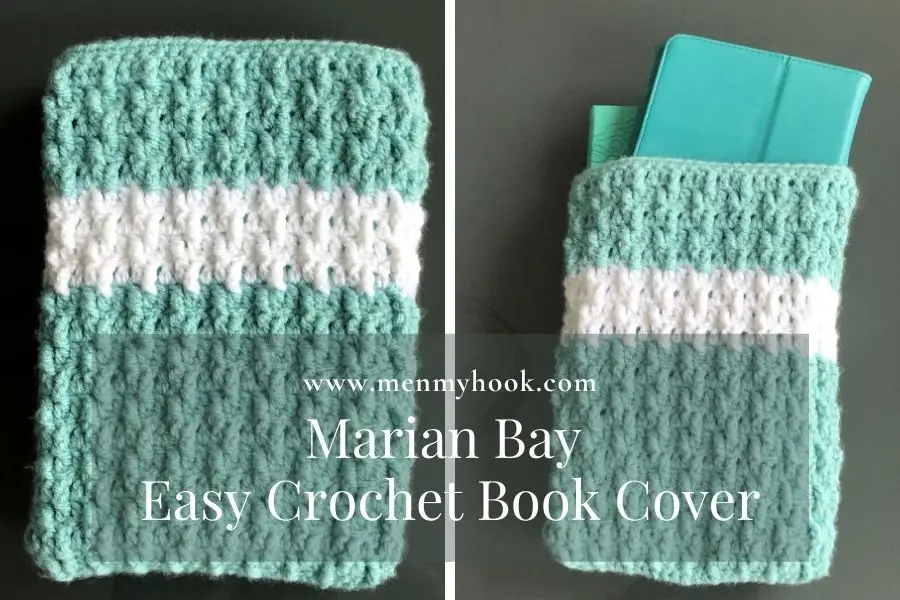 Easy crochet book cover yarn love
To make my crochet book cover pattern I used Paintbox Simply Aran. I had a couple of balls in my stash and am trying to continue in my quest design from what is in the stash. It has all the qualities I love of the Paintbox Simply Chunky used to make the hot water bottle cover and throw, but is a little thinner. Simply Aran is available in 49 shades and comes in 100g balls 184m/201yds of 100% acrylic at £2.25 per ball. It is also available in single colour and multi colour packs which are regularly reduced – a great buy if you are making multiple projects in the same colour.
Marian Bay Book Cover pattern info & tips
This is an easy, beginner crochet book cover pattern. In order to keep your trebles tighter at the top – keep your finger on the loop on your hook when working through all steps of those stitches.
Pattern is written for two sizes of book A5 & A4 – A5 (6.5ins x 9ins) is included FREE on the blog below.
I used a slightly smaller hook than advised for the yarn to create a dense fabric. I also didn't want to line my crochet book cover because it was supposed to be a real quick make and I don't really like sewing. Feel free to line yours for an extra layer of protection for your book.
Terms: US Crochet Terms
Skill level: Beginner, easy
Hook: 4mm
Yarn: 1 – 2 Paintbox Simply Aran or 100g – 150g of any aran or worsted weight yarn
Stitches used:
Single Crochet
Double Crochet
Half Double Crochet
Front Post Treble Crochet
Back Post Treble Crochet
Slip Stitch
Buy the Marian Bay Book Cover pattern
Buy your copy of the Marian Bay Book Cover crochet pattern from your favourite pattern store here:
Get the ENTIRE Marian Bay Collection pattern bundle here
Love co-ordinating? The Marian Bay Collection is just what you need – grab the bundle here and get all current and future patterns for one great price.
FREE easy crochet book cover pattern
Skill Level: Beginner
Terms: US Terms
Yarn: 100g or 1 x 100g, 184m/201yds – Paintbox Simply Aran or any Aran/Worsted 4 weight yarn
Hook: 4mm
Other items: darning needle, stitch markers, scissors, tape measure
Gauge: 17dc x 9rows = 4in
Finished size:
S – 6.5ins x 9ins (A5)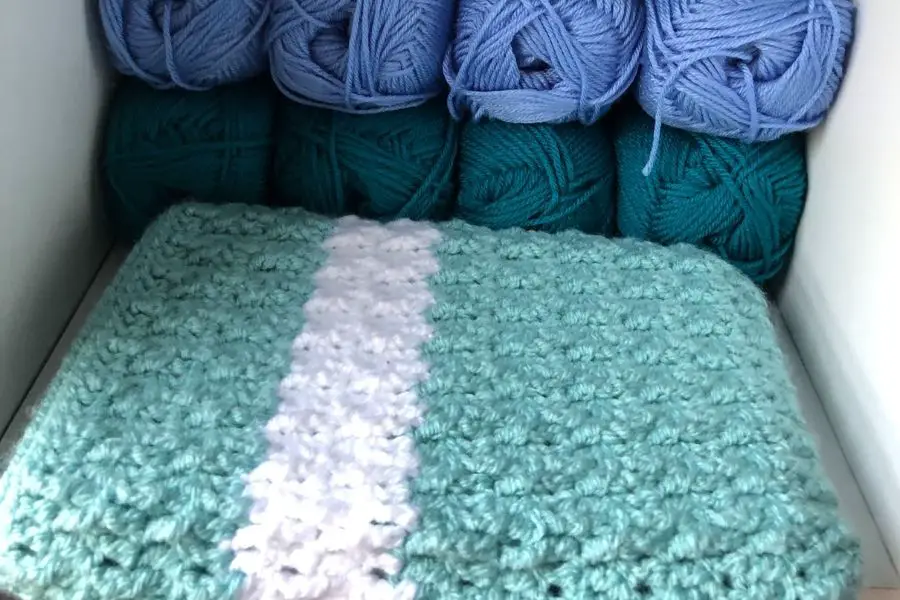 Notes:
This pattern is worked in one piece
Ch3 counts as a dc
Ch2 does not count as a hdc
Ch1 does not count as a sc
I work into the back loops of the chain in a starting chain, this is a preference, and will not make a difference if you choose not to.
Stitches:
Single Crochet – sc
Double Crochet – dc
Half Double Crochet – hdc
Front Post Treble Crochet – fptr
Back Post Treble Crochet – bptr
Slip Stitch – sl-st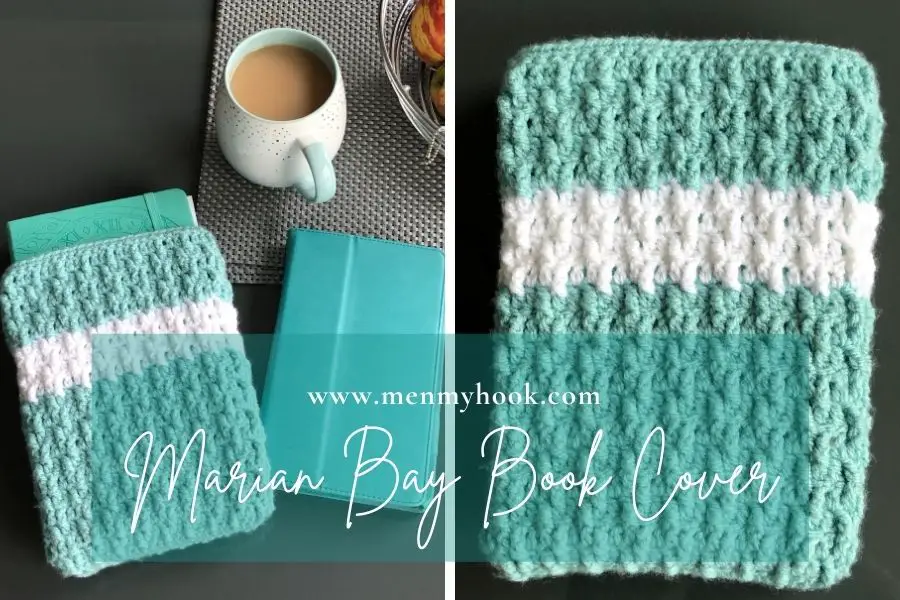 Start:
Ch61
Row 1:
Dc in the back loop of the 4th ch from the hook (ch3 counts as dc), dc in each st across. Turn (59)
Row 2:
Ch3 (counts as a dc here and throughout), dc in the next st, [fptr in the next st, dc in the next 2 sts], repeat until the end. Turn (59)
Row 3:
Ch3, dc in the next 2 sts, [bptr, dc in the next 2 sts], repeat until 2 sts remain, dc in the next 2 sts. Turn (59)
Rows 4 – penultimate row:
Repeat rows 2 and 3 until your work reaches 9ins tall
Final Row:
Ch1 (does not count as a stitch), sc in the same st, sc in each st across. Tie off and secure ends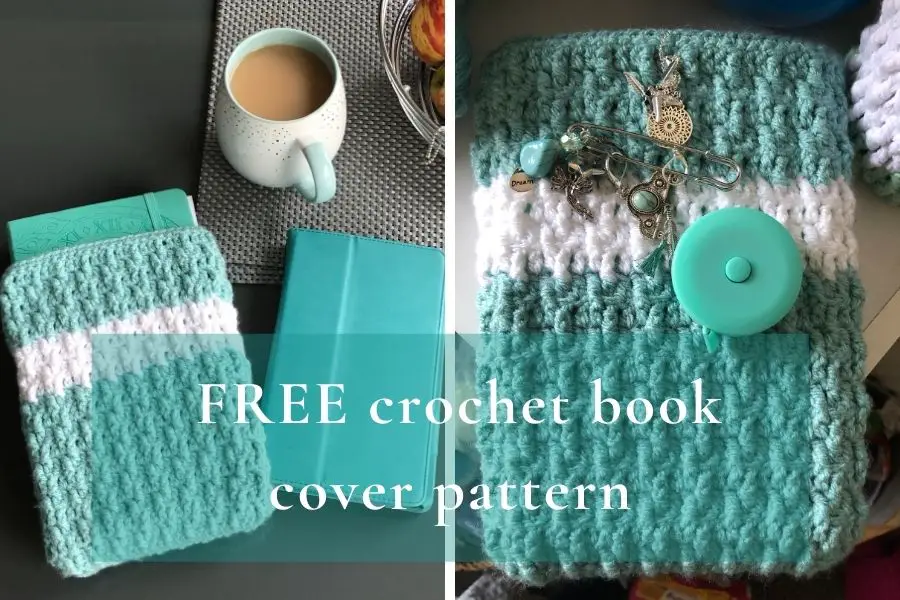 To seam
With the wrong side facing
Fold the piece in half, like a book. Starting at the bottom inside corner, join with a mattress stitch along the bottom edge.
When you reach the corner, place 1 more stitch in the corner, then rotate the work and continue working along the open edge. I placed 2 sts evenly throughout these sts. End at the next corner. Tie off and secure your work.
I hope you enjoyed the post and look forward to seeing your Marian Bay Book Covers!
Pop into the Facebook Group and let me know what colour you plan to make your wrap in and share your progress.
Bye for now,
B x