How to make a semi circle shawl – Granny Merge Semi
This post may contain affiliate links. This means I may earn a small commission if you make a purchase from these links, at no additional cost to yourself.
Looking for a beginner crochet shawl pattern with a difference?  The Granny Merge Semi is a beginner crochet semi circle shawl pattern featuring the Granny Stitch.  Read on to find out more about the design and how to make your own Granny Merge Semi Shawl.
Half circle shawl crochet pattern inspiration
Sometimes, well, alot of times, my designs are accidents that happen while I am in the middle of another project. That is how the Granny Merge Semi began. Sort of. I have been kicking about a few ideas for an easy crochet semi shawl pattern but not done anything with them. Then while I was waiting for the extra yarn I needed for my Granny Merge Maxi, I had the random idea to make a matching half circle shawl as that might be easier than doing a triangle shawl crochet pattern. Erm – spoiler no not really, equally doable just not easier.
Love the Granny Stitch?  Check out the Granny Merge Market Bag and the Granny Merge Bralette.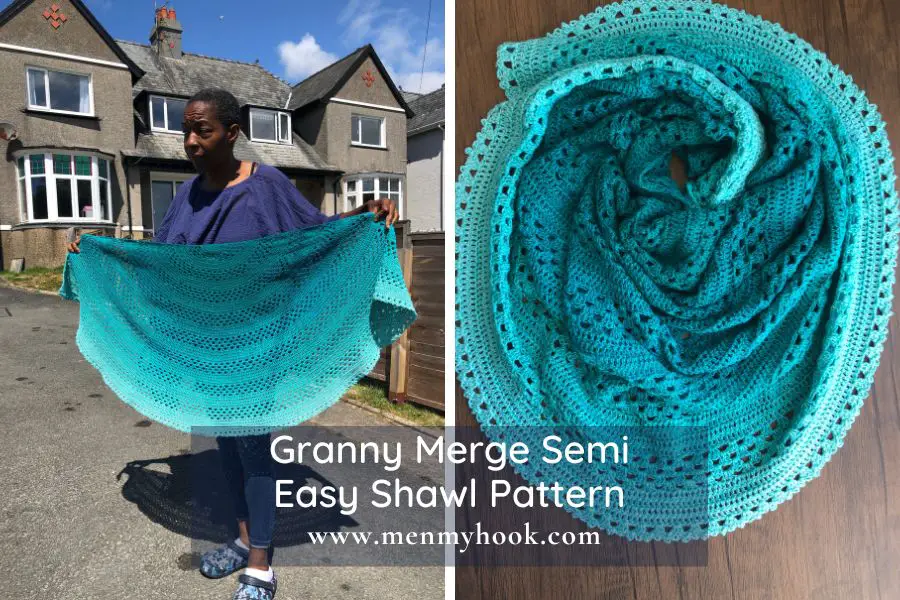 Granny Merge half circle shawl yarn & materials 
To make my Granny Merge semi circle shawl I used two different gradient yarn cakes.  The lighter green version is made with a Scheepjes Whirl in Jade Jim Jam and a 3.5mm hook.  The larger, khaki version is Twister and approximately half of a Twister Solid no 141 and a 4mm hook.  
Both yarns are cotton acrylic blends and have a gradient colour changing effect.  I originally designed this with the khaki combination to wear with my maxi dress but I wasn't totally happy with the written pattern at the end and restarted with a smaller hook and new cake in an effort to tweak some bits and make this a one skein half circle shawl crochet pattern.
To find out more about Twister yarn, check out the review here.
For tips on working with gradient cakes including problem solving, check out the hints and tips here.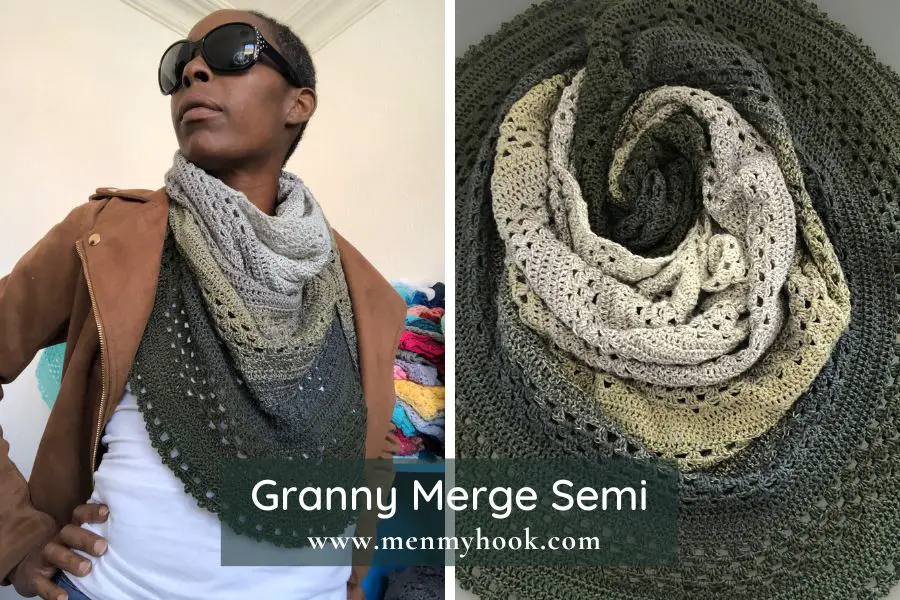 Semi circle shawl pattern info & tips
The Granny Merge Semi is a beginner crochet half circle shawl pattern.  Featuring the granny stitch, this simple shawl is worked over a regular repeat to create a 'merged' effect that is similar to that found in the Granny Merge square.  
To be successful in recreating this pattern, I would advise using stitch markers and counting regularly and checking that you are in the correct place – once the repeats in the half circle shawl get longer it is easy to miscount and place them in the wrong spot. 
Although I generally stick to a sort of one skein shawl pattern, I wanted this to be a little longer without using too much more yarn.  Accidentally, I discovered that a different hook size would generate a larger shawl.  Gauge isn't super important in this design and half of the rows are worked in chain spaces so it is an ideal pattern for being a little flexible with the rules and seeing what happens.
A note of caution, the original is already fairly big so I wouldn't necessarily make this in anything more than a thin 3 or DK weight yarn if you decide to experiment.    
Within my test group and more generally I find that makers usually go down a hook size to achieve the same general gauge and finished size piece as me.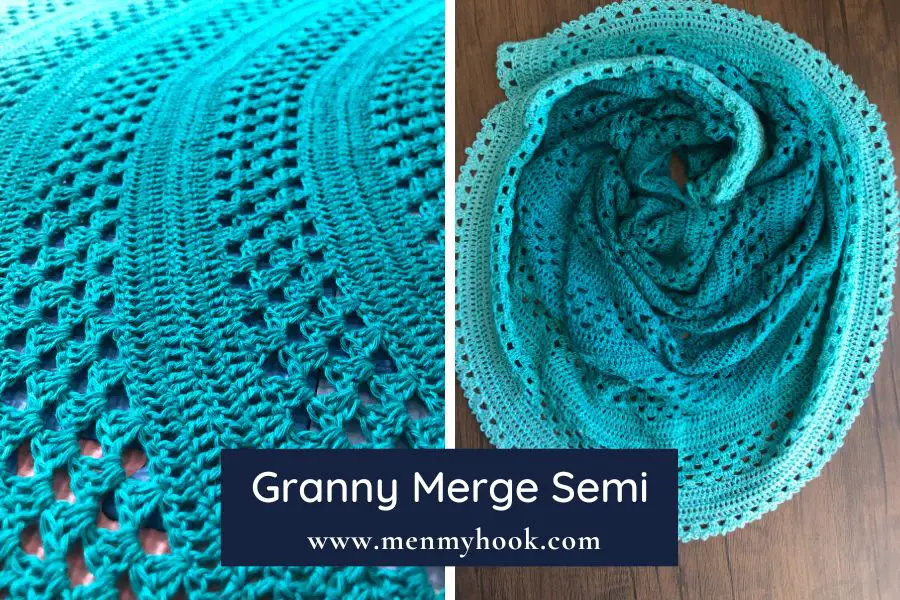 Skill level: Beginner
Type: written
Terms: US 
Yarn: 1 x Scheepjes Whirl 1000m 215g-225g or any similar cake for the single skein option, for a larger shawl 1 x Twister and 1 x Twister Solid ( you will use approx 20g) or a similar amounts of any fingering or no2 weight yarn

Hook: 3.5mm or 4mm 
Other materials: stitch markers, darning needle, scissors
Optional materials: your regular blocking supplies, blocking is not essential but will open up your stitches further
Stitches used:
Chain
Double Crochet
Slip Stitch
Turning Chain
Picot
Granny Merge semi circle shawl tester thanks
Huge thanks to Lyn, Carmel and Jeanette for helping me with this test for this design. I love how each different colour scheme changes in this design.
Half Circle Shawl Pattern Collabs
Any excuse to celebrate a thing is sort of my motto so when I heard of the Stitching with Granny event hosted by Cosy Rosie UK, I was eager to take part.  Every day from 1st of August a different premium crochet pattern will be released featuring the Granny Stitch and in celebration of Granny Square Day.  Today, the 9th of August is the featured day for the Granny Merge Semi and you can get your copy of the PDF pattern for 50% off for the next 24hrs.  To find out more, hit the button below to check out the other gorgeous designs featured in the event and grab your discount code.

Then, head over to your favourite pattern store via one of the buttons below before midnight on 10th August GMT
Get the Granny Merge Semi Crochet Shawl Pattern
Get your Ad FREE Digital Download Copy of the Granny Merge Semi Circle Shawl Crochet Pattern from your favourite pattern store below.
Stitching with Granny Bundle
Missed a couple days?  Like a deal?  Grab the exclusive Stitching With Granny Bundle for $9.95 and get all 15 patterns featured in the event straight to your inbox.  To get yours, hit the button below.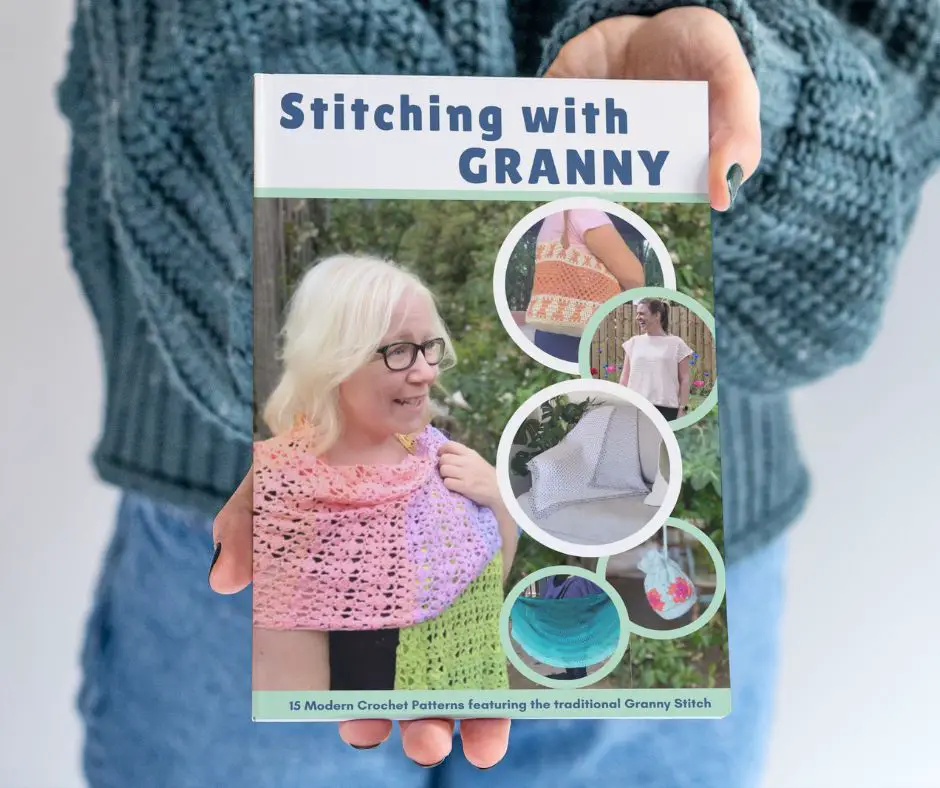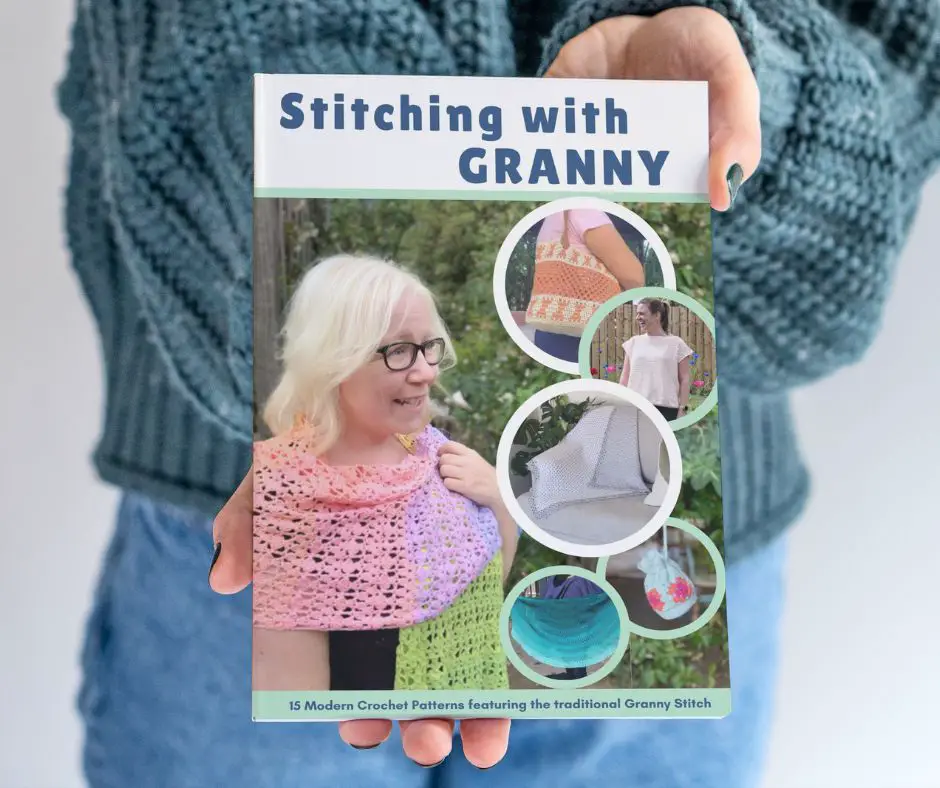 I hope you enjoyed the post and look forward to seeing your Granny Merge Semi Shawls!
Don't forget to pop into the Facebook Group and let me know what colour you plan to make yours in and share your wip's and fo's, I would love to see them.
Still looking for more inspiration?  Check out Lena and Colette.
Looking for even more shawls? Check out 35 Lace Crochet Shawl Patterns
Bye for now,
B x