Yarn Review – Stylecraft Naturals Bamboo Cotton Dk
This post may contain affiliate links. This means I may earn a small commission if you make a purchase from these links, at no additional cost to yourself.
Are you looking for summer yarns with natural fibres? Stylecraft Naturals Bamboo Cotton DK is a bamboo cotton blend yarn that was added to the Stylecraft range during 2020. Read on to find out more about this yarn, the types of projects it's suitable for and if it might be the right yarn for you.
Why Stylecraft Naturals Bamboo Cotton Dk?
It's summer 2021 and I am designing this year from my stash. I originally bought some of the Stylecraft Naturals Bamboo Cotton Dk yarn when it was initially released, but I had a little squeeze and did nothing else with it until I decided to design the Chilo Lacy Spring Scarf with it. I confess right now, I am a little bit obsessed with this yarn, and have bought a number of colours and am designing with it throughout my summer patterns this year. For that reason, I thought it was worth talking about this yarn, why I love it and what you can make with it.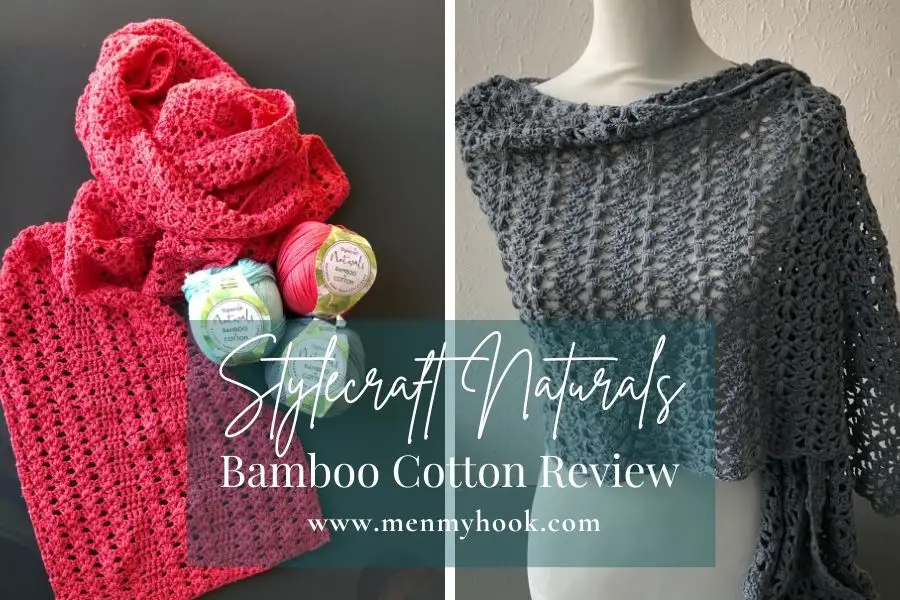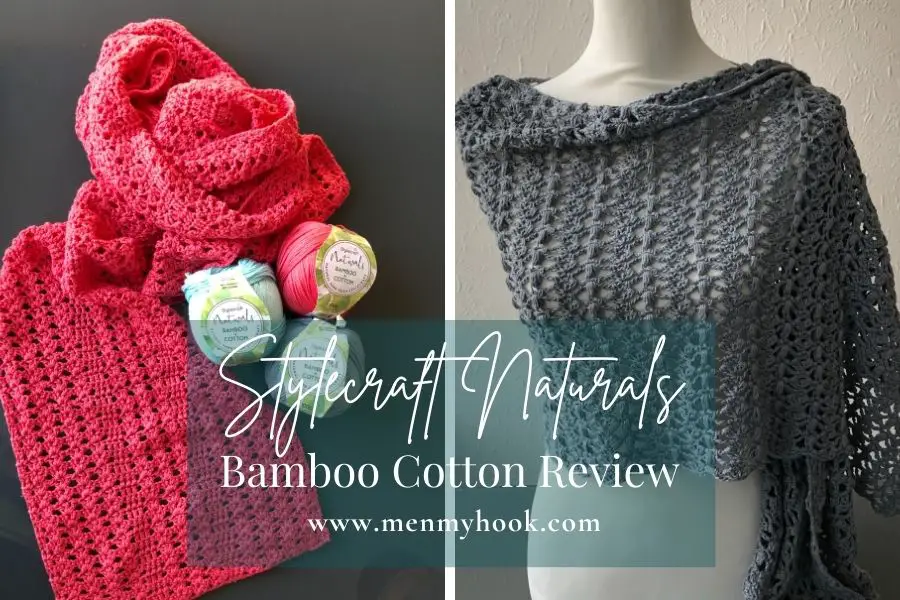 Stylecraft Naturals Bamboo Cotton Dk – the info bits
So, what's in a skein of Stylecraft Naturals Bamboo Cotton Dk? This comes in 100g, 250m /273yd balls of dk weight yarn. It is comprised of 60% bamboo and 40% cotton fibres, and is vegan friendly. It is fairly tightly wound and has a light sheen to it. Available in 43 colours, this yarn is priced at £4.50 on Lovcrafts and between £4 – 4.50 on Woolwarehouse, Deramores and Black Sheep Wools in the UK.
Right off the bat, I want to talk about the price first. This is definitely what I would consider a luxury yarn – I generally make projects that are 1000+ mtrs, even with sales and vouchers this is one I have to think about. HOWEVER, I personally think it is worth every penny. Natural fibre yarns tend to cost more, this is a blend of two and 100g skeins, which is unusual for cotton yarns – which are some of my favourites.
What does it feel / look like?
To the touch, this is immediately soft. For me, the shiny appearance led me to believe that it would be slippery to work with. To date, that isn't my experience. What I have found is that is glides off my hook. At the time of writing I have designed the Chilo Lacy Spring Scarf, Joanne Wrap, Key West Pullover, an as yet unnamed ruana style cardigan and have yet to experience any splitting or anything except pleasure working with this yarn. That is in excess of 4000m of yarn, with way more planned!
Each colour I have used is vibrant in its own way, the greens of surf and aqua, vs the vibrancy and depth of colour in downpour and azalea, or the sheer brightness of chalk all lend themselves to something that makes me think of nature and the environment. Which is handy as all the colours of the Stylecraft Naturals Bamboo Cotton Dk are based on colours that can be found 'naturally'.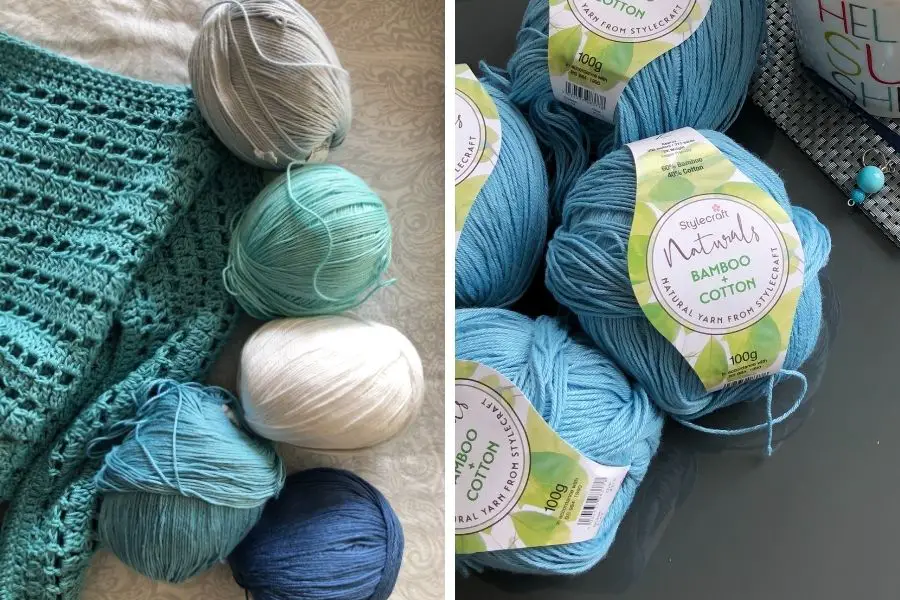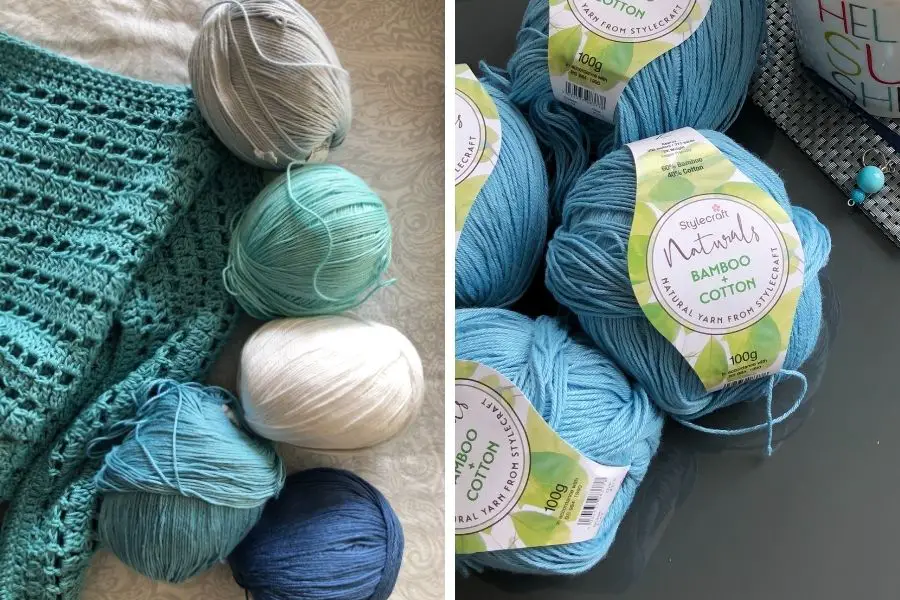 Working with Stylecraft Naturals Bamboo Cotton Dk – stitch definition and drape
So if you're not new to me you know that I like a lot of texture in my crochet. As yet, I haven't made anything that is what some might consider to be traditionally textured, or feature things like post stitches with this yarn to compare it. I have made a small section of ribbing with a 4mm hook – gorgeous.
What I have done includes puff stitches and clusters, and more lace type textures. I've also used from 3.5mm – 5.5mm hooks with this yarn – I use Clover Amour crochet hooks mostly. For me, the definition of the stitches has been perfect. I crochet fairly tightly, and find that sometimes although I think I want a smaller hook, its a bit to tight and stiff and bunched up.
With this yarn, there is an incredible amount of flexibility/give and drape available. As a huge fan of shawls, particularly in the summer this is everything. It also meant that I have gone quite big on hooks for my initial ideas and found that I get all the definition that I want, and plenty of drape.
The drape has and is a huge plus with making summer garments, but so far this yarn has not let me down in the holding shape stakes yet either. It feels amazing next to my skin and I keep thinking up ideas of things to make with it so I can justify getting more of it.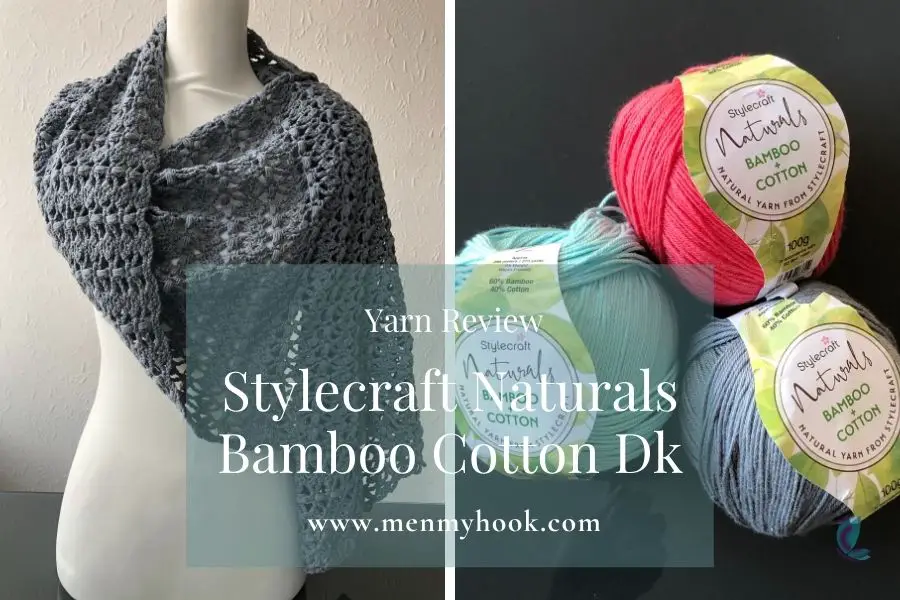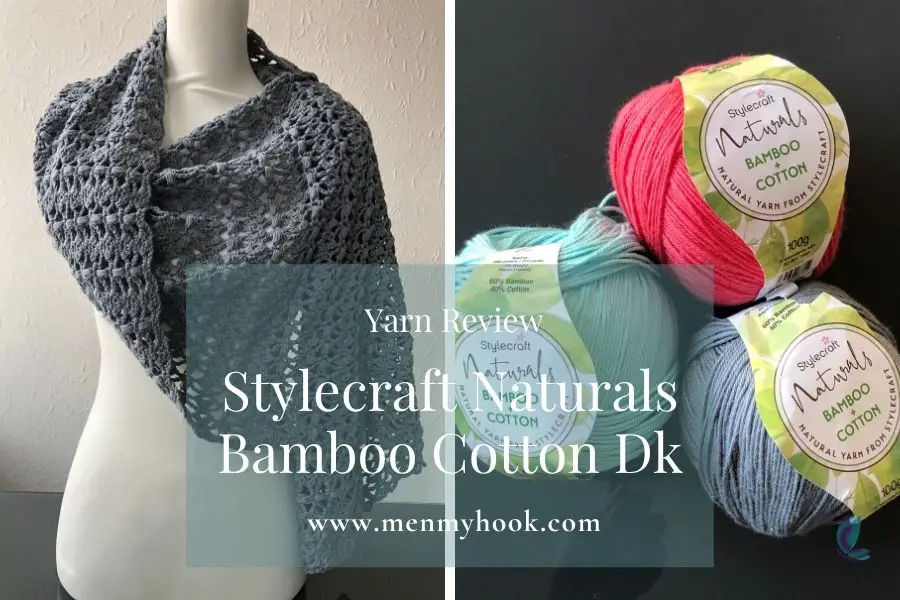 Yay or Nay, Stylecraft Naturals Bamboo Cotton Dk
For me, this yarn is 100% YAY. It features across my designs this summer, is one I look out for in sale deals and I can't wait to try new colours. I think it is perfect for summer garments, shawls and scarves and depending on your budget and climate would be an excellent choice for a baby blanket/lapghan. Although it is a little on the pricier side than some of my other stash staples, this yarn is definitely one I would be happy to use to gift with, or make myself something again and again.
For projects to make with the Stylecraft Naturals Bamboo Cotton Dk, check out the Chilo Lacy Spring Scarf here. Also look out for the Joanne Wrap, Key West Pullover and more.
For alternative cotton yarns that I love, check out my post My 3 Fav cotton yarns to crochet with here.
So, what did you think? Are you interested in having a go with this yarn? Have you used it before and loved it? Hated it? Let me know in the comments.
Don't forget to pop into the Facebook group and share your wips, thoughts and project ideas, I would love to see them.
Bye for now,
B x