This post may contain affiliate links. This means I may earn a small commission if you make a purchase from these links, at no additional cost to yourself.
Looking for a unique, modern crochet scarf pattern to brighten up your spring wardrobe?  The easy lacy crochet scarf pattern – Chilo, is an easy beginner crochet pattern that works up quickly and will add a pop of style to your spring wardrobe.  Read on to find out more about the Chilo Spring Lacy Scarf Pattern and how you can get your copy below.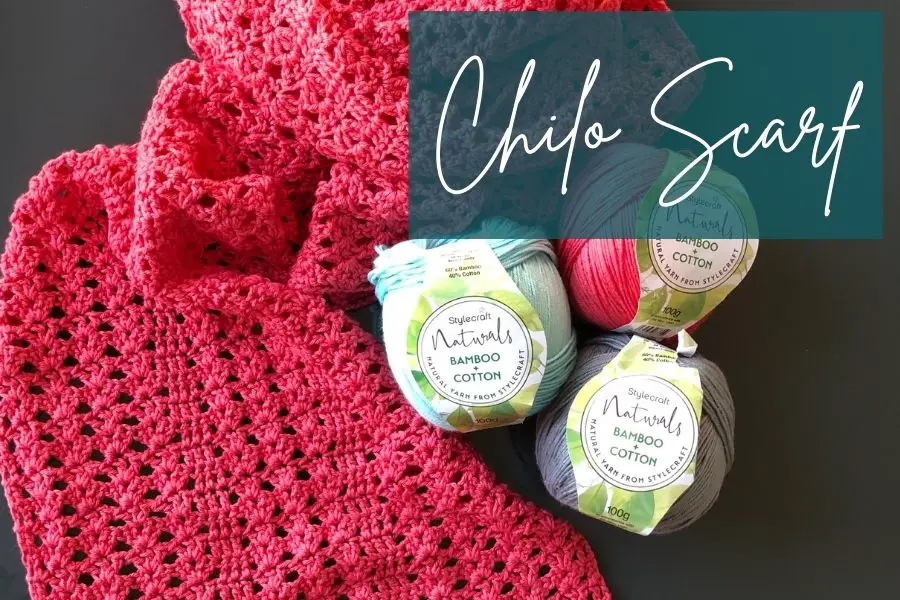 Lacy crochet scarf inspiration
I struggle with naming patterns, so I've decided to name all my shawl, scarf and cowl patterns after female friends and family members in 2021.  Chilo is one of my younger sisters and a school teacher.  Strong, but super laid back and get's on with everyone, I really don't think I know of anyone who doesn't like her.  Also her's is the name I kept coming back to every time I looked at this scarf to try to name it, so, it's kinda apt.

Truth – I let the yarn decide what it is going to be.  I keep in my stash sort of enough of any one type of yarn to make a project that I am most likely to make – shawls or scarves.  If I want to make a blanket I generally will need to order something in, but 1000m or less and probably have something on hand.  
I had the idea for this modern lacy crochet scarf pattern while thumbing through my stash.  I had purchased the yarn a while ago, and forgotten about it.  But when I got to that pile in the stash it immediately said – super quick easy crochet pattern.  Make an open scarf, you know something that is lightweight that you can wear with jeans and a tee.
Easy crochet scarf pattern – Stylecraft Naturals love 
For this design I used Stylecraft Naturals.  It is 60% Bamboo and 40% Cotton mix yarn.  It comes in 100g doughnuts, 250m/273yds of dk weight yarn.  Available in 43colours, it is priced at £4.75 per skein.  It's isn't for all budgets, but as a gift make – £15 for a handmade bamboo and cotton scarf that feels almost as good as baby skin – I'm there!

This yarn is simply gorgeous – totally my opinion but i'm hooked.  It has a soft, stretchy and silky fibre, that is perfect for a lightweight crochet scarf.  
Imagine it's a late spring/early summer evening and you just need a little something around your neck to keep the chill off.  This yarn is perfect for that.  It also washes spectacularly well.
I haven't had a chance to test out my spring/summer nights theory with this lacy crochet scarf, North Wales, its January, I need a minute.  HOWEVER, it is bright, light and feels almost not there next to my skin so I expect GREAT things.
Pattern info & tips
Pattern is written in US crochet terms.  
Skill level: Beginner, easy
Hook: 4.5mm
Yarn: 3 x Stylecraft Naturals or 750m/819yds of any dk weight yarn
Stitches used:
Double Crochet 
Chains
Clusters
Fans
Open Shells
Lacy crochet scarf – get the pattern
Buy your copy of the Chilo Scarf here:
I hope you enjoyed the post and look forward to seeing your Chilo Scarves!
Pop into the Facebook Group and let me know what colour you plan to make your wrap in and share your progress.
Bye for now,
B x