Modern Puff Stitch Crochet Shawl – Cleo
This post may contain affiliate links. This means I may earn a small commission if you make a purchase from these links, at no additional cost to yourself.
Looking for an easy puff stitch crochet pattern?  The Cleo Shawl is a beginner puff v stitch crochet pattern with a simple repeat.  Read on to find out more about the pattern and how to make your own Cleo.
Puff V Stitch Crochet pattern inspiration
Cleo is mostly everything I love in a crochet pattern.  Featuring the puff stitch this easy crochet shawl pattern fell off my hook almost without thinking about it.  While designing for the book, I wanted to include different shapes and textures and this puff stitch shawl isn't exactly what I planned but I loved it immediately so decided to run with it.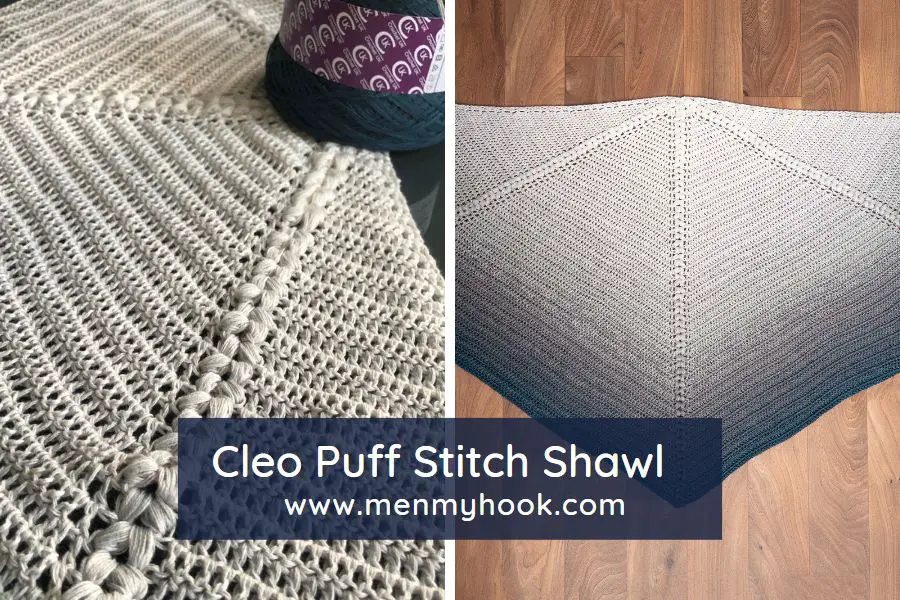 With its trio of puff v stitch columns, Cleo is named or inspired by Queen Latifah as Cleo in the movie Set It Off.  The columns of puff stitches remind me of her braids, a style I wore regularly when growing up, so I had to go with it. I also hadn't seen this movie for years so it was an opportunity to watch it again whilst working on my Kickstarter, It's a Wrap.
Puff Stitch Shawl yarn & materials 
To make Cleo puff stitch shawl, I used 1 x 1000m 4ply gradient yarn cake from Crochet UK in a custom colour.  When I originally designed the cake, I had no idea what I was going to make with it.  Once I had the idea for this beginner puff stitch shawl crochet pattern, I knew I wanted to use something that was subtle to show off the simple pattern.
For my second Cleo puff v stitch shawl, I used a second 1000m cake from Crochet UK in the colour Cardigan.  This is a more vibrant gradient effect, but still highlights the puff v stitches.  To find out more about Crochet UK yarn cakes, check out the review post here.
For alternative yarns from a retailer, you can use Sultan or Twister from Hobbii or Scheepjes Whirl.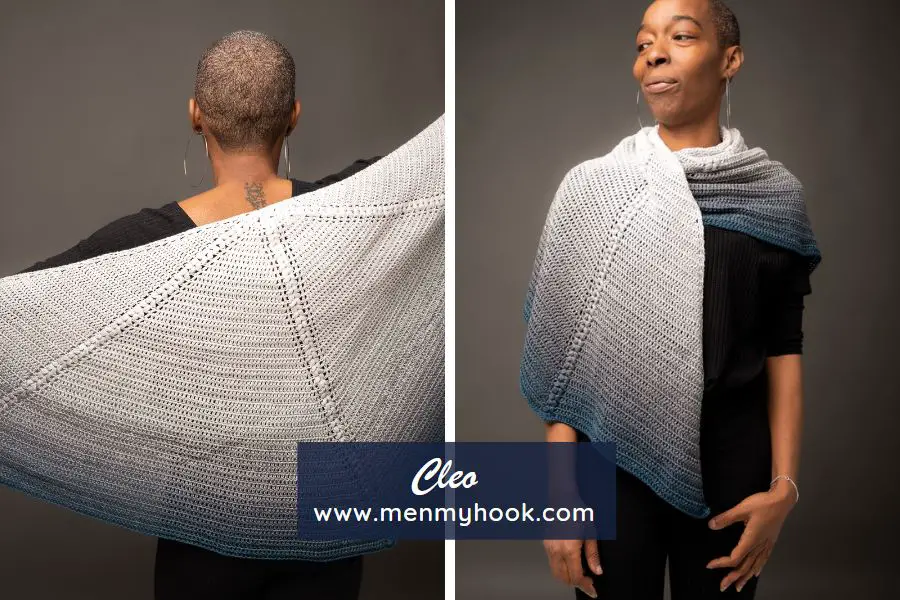 Cleo Puff Stitch Shawl pattern info & tips
Cleo is an easy beginner puff stitch crochet pattern.  Starting from the centre, this design uses a simple repeat and increase, and the puff v stitch to create a beginner crochet shawl that has 5 points.
Because the design is easy to repeat, this shawl can be worked in alternative weights of yarn, while still showing off the puff stitch.  
A great example of this is the Cleo Poncho, inspired by the shawl and worked in Aran/Worsted or 4 weight yarn.  To check out the Cleo Poncho, head over to the blog post here.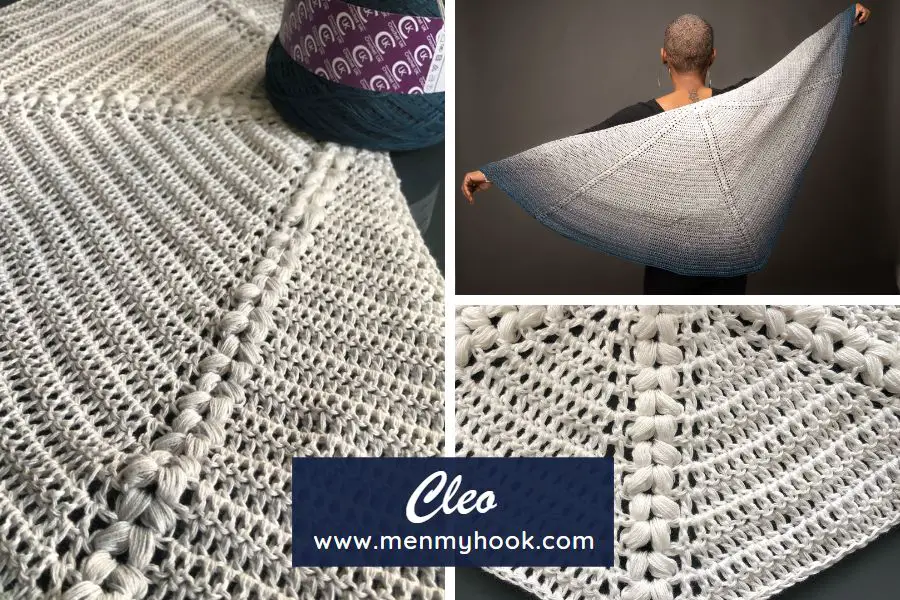 Skill: Beginner, Easy
Terms: US crochet terms.  
Type: written and chart included in the book
Yarn: 1 x 1000m 4ply yarn cake from Crochet UK, or 1000m of any Fingering or 2 weight yarn
Hook: 4mm
Other materials: stitch markers, darning needle, scissors
Stitches used:
Chain
Double Crochet
Puff Stitch
Cleo Shawl Tester Thanks
Huge thanks to Carmel for helping me with the test for Cleo whilst making It's a Wrap!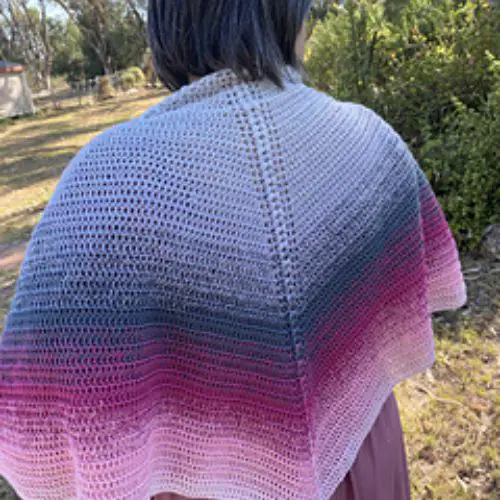 Get the Cleo Puff Stitch Shawl Pattern
Cleo is featured exclusively in It's a Wrap, 20 Modern Crochet Shawls.  Including 20 brand new beginner, modern crochet shawl patterns you can find out more about It's a Wrap, including the designs featured, here.
To get your copy of It's a Wrap, hit the button below
I hope you enjoyed the post and look forward to seeing your Cleo's!
Pop into the Facebook Group and let me know what colour you plan to make your wrap in and share your progress.
Want even more puff stitch shawl pattern inspiration?  Check out Stella and Puffin Lace.
Bye for now,
B x