Easy Crochet Rectangular Shawl Pattern – Frankie
This post may contain affiliate links. This means I may earn a small commission if you make a purchase from these links, at no additional cost to yourself.
Looking for an easy crochet rectangular shawl pattern?  Frankie is a beginner crochet rectangle shawl pattern with an easy repeat and a pop of texture.  Read on to find out more about the pattern, and how to make your own.
Easy crochet rectangular shawl pattern inspiration
Who doesn't love a rectangular shawl?  An easy crochet rectangular shawl is possibly one of the most versatile type of crochet shawl pattern there is.  Generally speaking, they can be scarves, sized up or down using a different hook or yarn or both.  
The idea for this easy rectangular shawl crochet pattern began as something else, although I'm not quite sure what as I spilt coffee on the original written pattern.  Easy to work up and adapt, this design immediately reminded me of Lily Tomlinson's character Frankie from the show Grace and Frankie.  Maybe it's the scarf she wears I don't know but it stuck.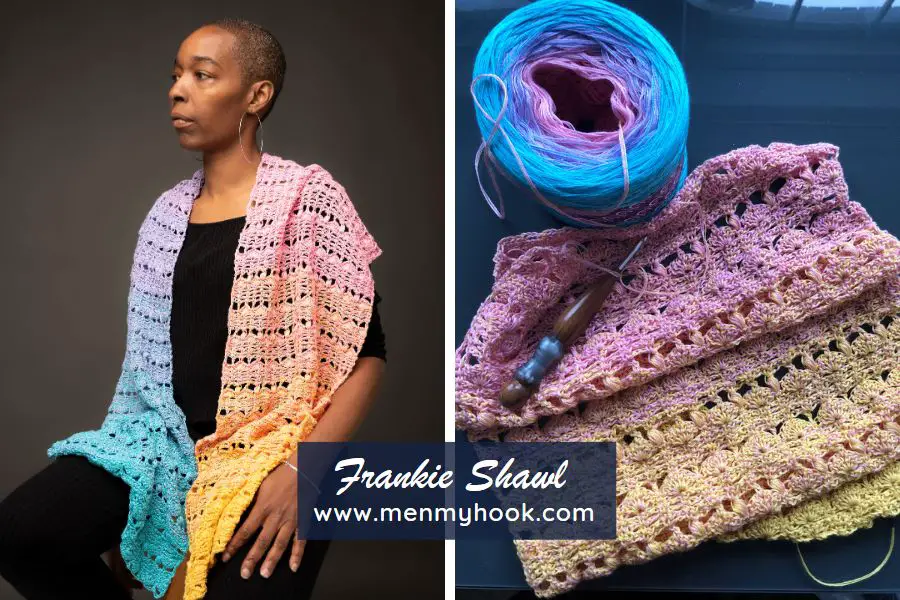 Frankie Shawl yarn & materials 
To make my easy crochet rectangular shawl I used a 1 x 1000m 4ply cake in the Looe from Crochet UK.  Not my usual type of colour choice I asked in a groups, stalked the gallery page of the website and decided to start picking random colours to design with.   I love this colour choice, vibrant and fun something I would definitely use again.  To find out more about yarn cakes from Crochet UK, check out the review post here.

If you are new to using unplied yarn cakes or 2 weight yarn cakes in general, check out my post on tips for working with them, especially when things go wrong, here.
For regular or branded alternative yarns to use to make your Frankie, Twister or Twister Solid are great alternatives.
Frankie rectangle shawl pattern info & tips
As with all the designs included in It's a Wrap, I tried to keep this rectangle shawl crochet pattern easy to work up but interesting with intermittent pops of texture introduced by the puff stitch.
Frankie is a beginner rectangle shawl crochet pattern.  Featuring an alternating repeat which includes fans and the aforementioned puff stitches, this design is easy to stitch up alongside your favourite movie.  It also has a natural line pattern that works well with striped or gradient yarns and will produce a colour block effect.
This easy rectangle shawl pattern is simple to adjust by using a dk weight yarn to make a thicker or more substantial or warmer version of the pattern.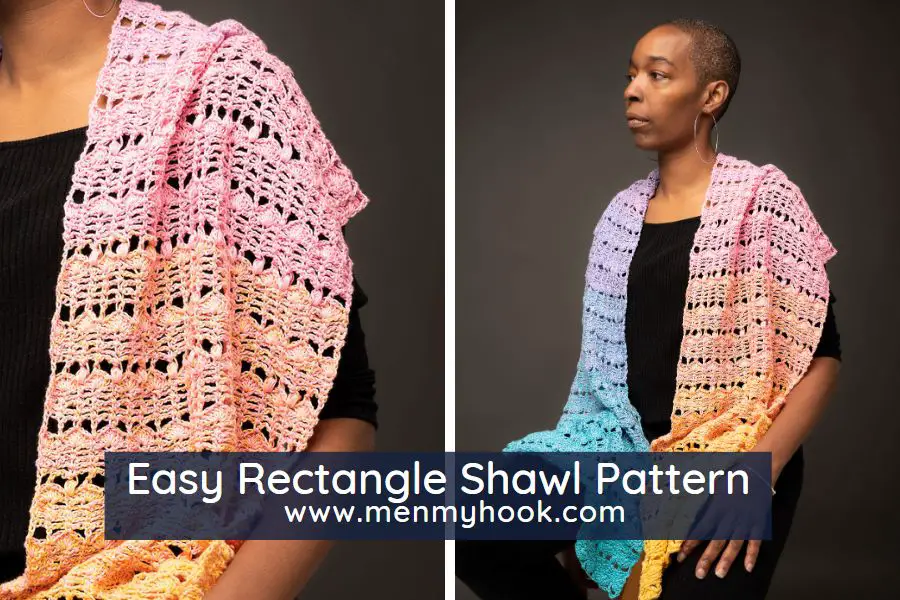 Skill: beginner
Terms: US crochet terms
Type: written pattern and chart included in book
Yarn: 1 x 1000m 4ply Cake from Crochet UK in Looe, or 1000m of any 2 or fingering weight yarn
Hook: 4mm or whatever is required to achieve gauge
Other materials: stitch markers, darning needle, scissors
Stitches used:
Chain
Single Crochet
Double Crochet
Puff Stitch
Beginner crochet rectangular shawl tester thanks
Huge thanks to Yvonne for helping me with the test for Frankie, check out her version below.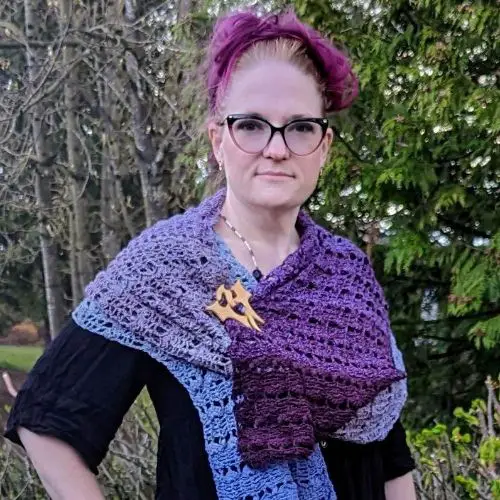 Get the Frankie Pattern
Frankie is available exclusively in It's a Wrap.  Featuring 20 Modern Crochet shawl patterns, you can find out more about the book and the patterns included here.
To get your own copy of It's a Wrap hit the button below
I hope you enjoyed the post and look forward to seeing your Frankie's!
Don't forget to pop into the Facebook Group and let me know what colour you plan to make your wrap in and share your progress, I would love to see your work.
Tag me on Facebook or Instagram to share your work @menmyhook with #FrankieWrap #FrankieShawl #ItsAWrap📖
Looking for more rectangular shawl pattern inspiration? Check out Estelle Wrap, Shanae or 35 Lace Crochet Shawl Patterns
Bye for now,
B x