Free crochet poncho pattern – Cleo Poncho
This post may contain affiliate links. This means I may earn a small commission if you make a purchase from these links, at no additional cost to yourself.
Looking for a free easy crochet poncho pattern? The Cleo Poncho is an easy to make and wear free crochet poncho pattern featuring the puff stitch. Read on to find out more about the pattern and how to make your own easy crochet poncho.
Cleo simple Crochet Poncho Pattern
Do you wear crochet ponchos? I don't, although I admire them from afar and I have made them before. While I was working on my book, It's a Wrap, a few different ideas for garments popped into my head and this easy crochet poncho pattern was one of them.
Using the stitch pattern from Cleo, this poncho pattern is super simple and quick to work up. This makes it a great beginner garment project, as there is minimal shaping required, while the option to add a fringe and follow the colour block pattern from the original, also makes this an easy to customise crochet poncho pattern.

Free easy crochet poncho yarn & materials
To make my Cleo easy crochet poncho, I used Furls Wander yarn in Agave and Foundry, and 5.5m Capricorn Streamline Resin Hook gifted to me by Crochet Foundry Magazine – thank you. Furls Wander yarn is a Aran / Worsted or 4 weight, 100% Acrylic yarn and comes in 100g, 109m/120yd bullet skeins. Exclusively available from Furls, you can find out more about Furls Wander yarn in my review post here.
For an alternative Aran weight yarn, check out Paintbox Simply Aran from Lovecrafts.
Beginner crochet poncho pattern hints and tips
Cleo is a beginner crochet poncho pattern with a simple repeat and easy to work up stitch pattern. Featuring a pop of texture using the puff stitch, this easy crochet pattern will work well in a single colour, striped as in the original or in a gradient yarn.
Size inclusive, this easy crochet poncho pattern is made as a rectangle, seamed and then the collar is worked onto the body of the poncho. Fringe is optional, but can be added easily to the bottom of the poncho for an additional boho vibe.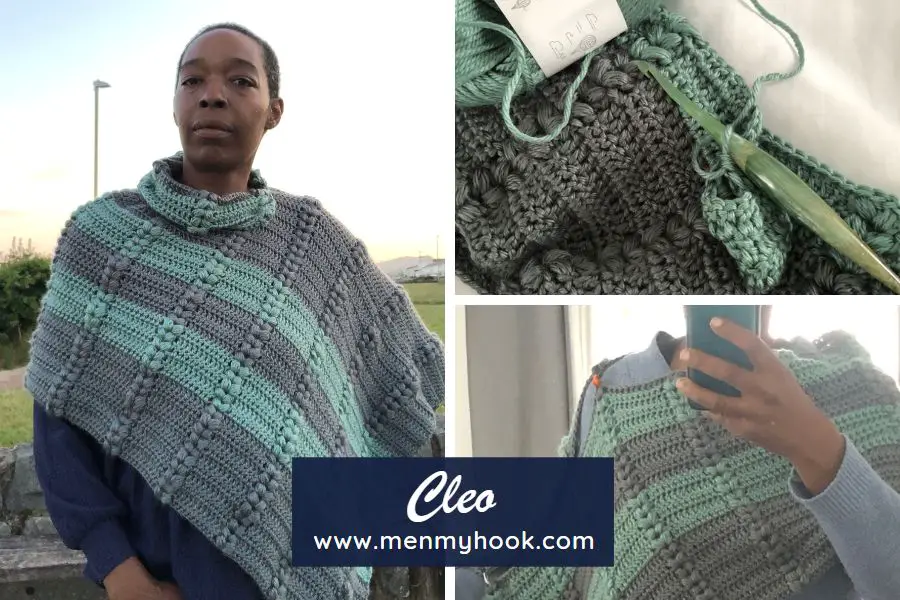 Skill: beginner
Sizes: XS – 5X
Terms: US Crochet Terms
Type: written pattern
Yarn: 7 – 12 x Wander Acrylic Yarn, or 700 – 1200m of any Aran/Worsted or 4 Weight yarn.
Hook: 5.5mm Streamline Resin Hook – or whatever is required to achieve gauge
Other materials: stitch markers, darning needle, scissors
Stitches used:
Chain
Double Crochet
Single Crochet
Puff Stitch
Free Crochet Poncho Pattern Collabs
Huge thanks to Crochet Foundry, their support and sponsorship brings you the Cleo Poncho as part of the Crochet Foundry Blog Hop 2023. Showcasing designs from independent crochet designers, every 2 weeks throughout 2023 a new pattern will be featured available as part of the blog hop. Including wraps, bags, beanies, wall hangings and more there is a lot of cute stuff to choose from. To find out more about the hop, head over to Crochet Foundry here.
Get the Cleo Poncho Pattern
Get your Ad FREE Digital Download pdf pattern of the Cleo Poncho via your favourite pattern store below.
FREE Cleo Poncho Pattern

Skill Level: Beginner, Easy
Terms:  US Terms
Materials used:  
Yarn: 7 – 12 Wander 100% Acrylic Yarn, 100g, 109m/120yds 
Hook: 5mm
Other items:  scissors, darning needle, stitch marker
Gauge: 16dc x 8 rows = 4ins
Size (s):
To fit bust (ins)
XS 28 – 30
S 32 – 34
M 36 – 38
L 40 – 42
XL 44 – 462
X 48 – 50
3X 52 – 54
4X 56 – 58
5X 60 – 62
Notes:
Please read through the entire pattern before you start your project.
Ch3 at the start of rows COUNTS as a stitch
Ch1 at the start of rows does NOT count as a stitch
Stitches
Chain – ch
Single Crochet – sc
Double Crochet – dc
Puff Stitch – Puff* see special stitches
Special Stitches:
Puff Stitch (puff) – yarn over and insert your hook into the specified sp, yarn over and pull up a loop 5 times (11 loops on the hook), yarn over and draw through all the loops on the hook, ch1 to secure the puff.  This final ch1 does not count as a stitch.
Start:
Ch 190 (205, 220, 235, 250, 265, 280, 295, 310)
Row 1:
Dc in the 4th ch from the hook, dc in the next 8 sts, *sk2, (puff, ch1, puff) in the next st, sk2, dc in the next 10 sts* repeat across.  Turn
Rows 2 – 33 (35, 35, 37, 37, 39, 39, 41, 41):
Ch3, dc in the next 9 sts, *(puff, ch1, puff* in the next ch1 sp, dc in the next 10 sts* repeat across.  Turn

Seam/Join
Fold your piece in half.
Measure a space 18 ins from the fold, you should have 5 puff blocks in this space, place a marker in the 2nd st before the puffs on each side – this will be your neck opening.
To create a wider opening, increase the width of your opening up to 22 ins – this will have approximately 7 puff blocks.
With your darning needle and a long thread in the same colour yarn, from the opposite end of your work to the opening you have just created, join the two sides together with a mattress stitch, taking care to place 3 sts in the puffs – 1 in the top of each puff, plus one into the ch1 sp between.  Continue to the marked st.  Tie off and secure all your ends.
Neck
Join with a sl-st into the marked st
Rounds 1 – 5:
Ch3, dc in the next st, (puff, ch1, puff) in the next ch1 sp, *dc in the next 10 sts, (puff, ch1, puff) in the next ch1 sp* repeat around until 2 sts remain, dc in the last 2 sts.  Turn
Row 6:
Ch1, sc in the same st, sc in every st and sp – taking care to place one st in the top of the puff and one in ch1 sp between puffs.
To increase the height of your collar, continue rounds 1 – 5 until you achieve the desired height, then complete with round 6.

Tie off and secure all your ends.
Add Fringe to bottom edge for a boho vibe
I hope you enjoyed the pattern and look forward to seeing your Cleo Poncho's!
Don't forget to pop into the Facebook Group and share your wips and projects, I would love to see your work.
Share your projects with me on social media @menmyhook using #CleoPoncho #Menmyhook
Looking for more crochet garment inspiration? Check out the Nain Sweater and Granny Merge Cocoon.
Bye for now,
B x