Modern elegant triangle shawl – Vanessa
This post may contain affiliate links. This means I may earn a small commission if you make a purchase from these links, at no additional cost to yourself.
Looking for a modern, elegant triangle shawl crochet pattern?  Vanessa is a beginner accessible triangle shawl crochet pattern.  Featuring lace and raised textures, read on to find out more about the design and how to make your own Vanessa.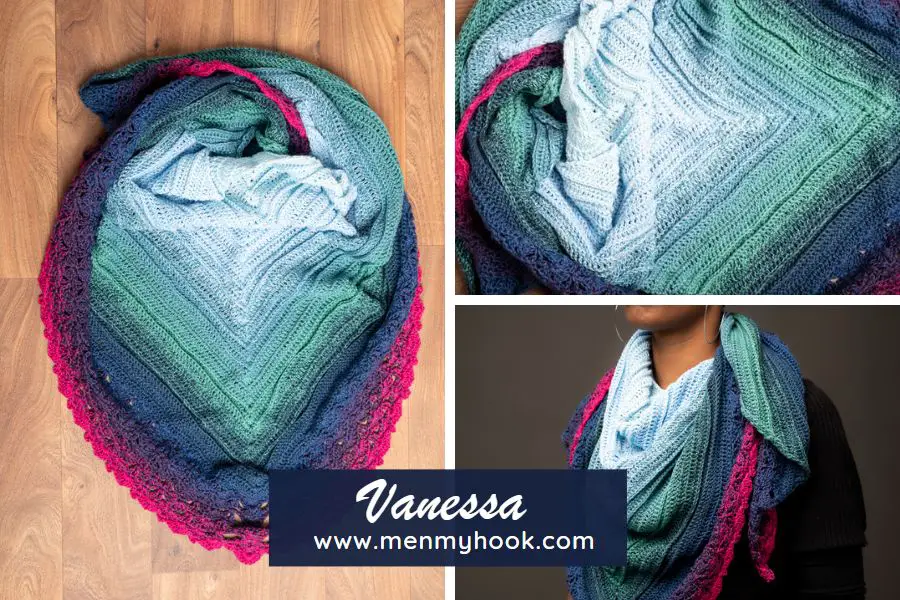 Vanessa elegant triangle shawl inspiration
Vanessa was totally inspired by the yarn it was made from.  A custom colour, it turned up and I knew I wanted to make a triangle shawl crochet pattern, to show the colours over my regular rectangle, but I didn't know exactly what.   The final result, a mixture of raised and lace textures shows off the yarn and how you can put two seemingly different crochet textures together.
Included exclusively in my book, It's a Wrap, Vanessa is the design featured on the cover of the book, as chosen by my kickstarters.  The name for this design is inspired by a Regina King character, Vanessa, in the movie Stella Got Her Groove Back.  
Although it originally started life named Sam Fuller, after her character in  Miss Congeniality 2, I think this name is better suited to this elegant crochet triangle shawl pattern.  Vanessa plays the sassy sister to the main character in Stella, and is encouraging her to take some risks, not be boring and regular and live her best life.  Definitely something I can get behind as the ethos behind the creation of the book, and really life in general.
To find out more about the story of how It's a Wrap, read all about the kickstarter here.

Elegant top down triangle shawl yarn & materials 
To make my Vanessa's I used 1000m 4ply cakes from Crochet UK.  The original and cover photo version is a custom colour and is 60% Cotton, 40% Acrylic and unplied.  I love the original colour and definitely need to get something else made in it. To find out more about the cakes available from Crochet UK, check out the review post here.  
For alternative branded yarns to make your own Vanessa, check out Sultan Deluxe or Twister from Hobbii or Scheepjes Whirl.  All are a similar weight but are plied cakes so a little easier to work with for beginners. To find out more about Twister and Twister Solid, check out the review post here.
Love triangle shawls? Check out Stella and Patience.

Vanessa triangle shawl pattern info & tips
Vanessa is a beginner accessible top down crochet triangle shawl pattern.  With two distinct sections, this design is a little more challenging for beginners.  The first section is worked in a simple repeat using post stitches to create a raised texture on one side.
The triangle shawl pattern is then finished with a lace section or border. That has an expanding fan repeat finished with picots.
Although I tried to keep all the designs really simple in the book, I firmly believe that beginners can try any project as everything is hard when it's new.  Also that with clear and easy to follow instructions, this crochet triangle shawl pattern is accessible and just challenging enough, without being super hard.
As with all the designs in the book, this also includes a chart.  That is especially helpful in the lace section, and placing your stitches in the correct place.
Gauge is important in this design – I used literally the entire cake and had just enough to tie off and weave my end.  Alternatively, use a slightly smaller hook, 
For tips on working with unplied gradient cakes for your triangle shawl, or other crochet projects, check out my top tips for working with gradient yarn cakes here.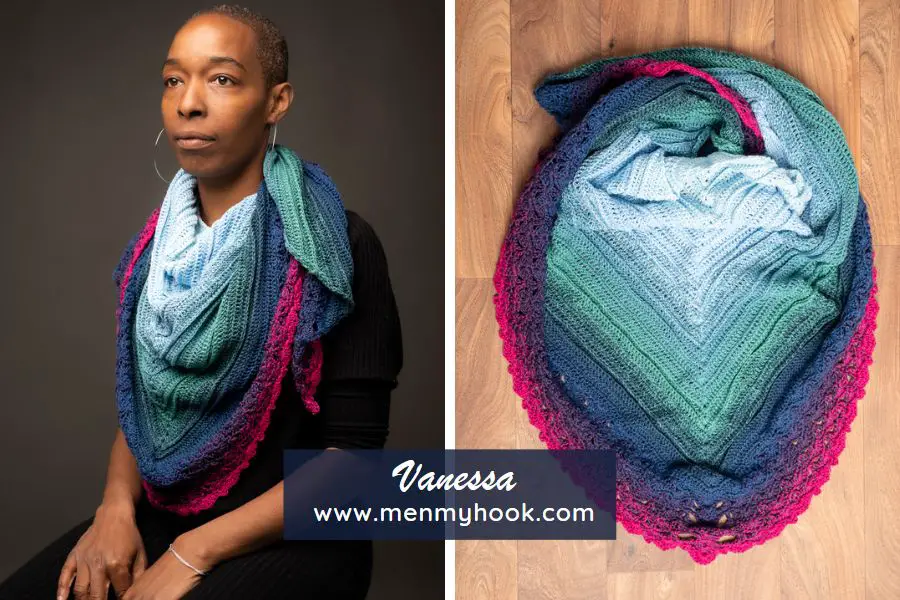 Skill level: beginner, experienced
Terms: US crochet terms
Type: written pattern and charts included in the book
Yarn: 1 x 100m 4ply cake from Crochet UK in custom colour, or any 1000m gradient cake or 2 weight yarn.
Hook: 4mm or whatever is required to achieve gauge
Other materials: stitch markers, darning needle, scissors
Stitches used:
Chain
Single Crochet
Double Crochet
Treble Crochet
Front Post Double Crochet
Picot
Elegant triangle shawl pattern tester thanks
Huge thanks to Carmel for helping me with the test for this top down triangle shawl crochet pattern.  Check out her version in Imperial Purple Sultan Deluxe below.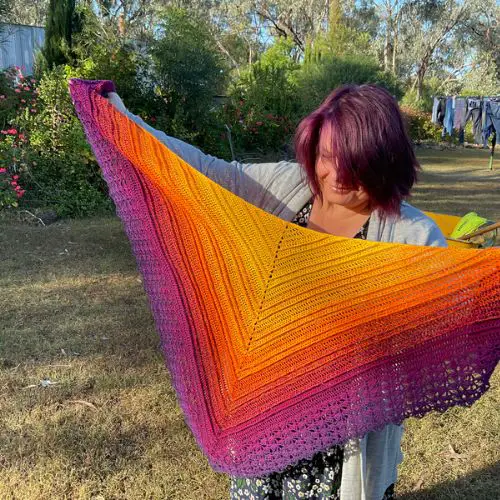 Get the Vanessa pattern
Featured exclusively in It's a Wrap, you can find out all the details on the book, including the other designs included via the blog post here.
To get your copy of It's a Wrap – 20 Modern Crochet Shawls, hit the button below.
I hope you enjoyed the post and look forward to seeing your Vanessa's !
Don't forget to pop into the Facebook Group and shares your wip's and fo's – I would love to see your work.
Looking for more crochet shawl pattern inspiration? Check out Ana Mae and Estella.
Tag me on social media @menmyhook to share your projects using the #VanessaShawl #ItsAWrapBook #menmyhook 
Bye for now,
B x