Joanne – simple modern crochet rectangle shawl pattern
Introduction 
Looking for a simple modern crochet rectangle shawl pattern?  Joanne is a stylish modern pattern made with cluster stitches and a simple repeating pattern that works up quickly.  Read on to find out more about the design and how to get your copy of the pattern.
Crochet Rectangle Shawl pattern inspiration
Continuing my theme of naming designs after female members of my family Joanne is named after my mum.  This design is a little like my mum, open and but appears complicated. It's also the one that immediately struck me that she would actually like and wear so it had to have her name.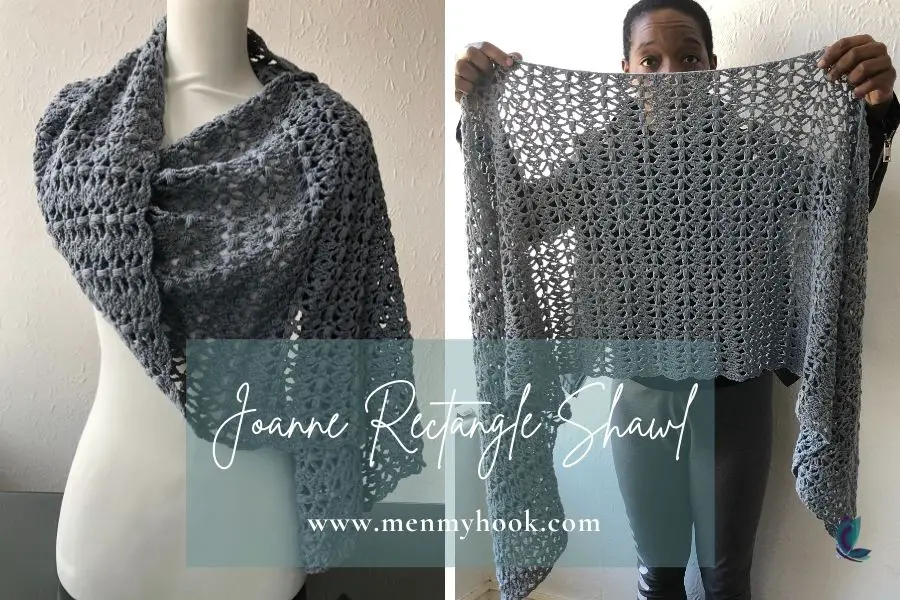 I would definitely call her style modern/classic. I think the lacy type thing that's happening mixed with the clusters and the steely grey colour are totally up her street. It's also a different take on the use of the cluster stitch, which you can also find in the Lena Shawl.
Joanne Cluster and Puff stitch rectangle shawl yarn love  
This easy modern crochet rectangle shawl pattern is designed using my new love Stylecraft Naturals Bamboo Cotton in Downpour.  I'm not sure about the name, although it does look like the sky when it is tipping down here in Wales so I guess it works!  Stylecraft Naturals Bamboo Cotton is a 3 or DK weight yarn, featuring a 60% bamboo and 40% cotton blend of fibres.  It comes in 100g 250 meter / 273 yard skeins, priced at £4.50 a balls/skeins.
This yarn is gorgeous – soft, great stitch definition and a fabulous drape – perfect for shawls and garments or a VERY nice blanket. It is very easy to work with, I didn't experience any splitting and the centre pull was very easy to find, which is always a bonus. It does have a sheen to it, which I attribute to the Bamboo content, but it isn't too shiny – if you see what I mean.
Please be mindful of this if you decide to use this yarn. I wet block everything, which probably makes a difference. On the plus side – it held its shape very well.  If you use an alternative yarn, it should still grow in blocking, however it may not be as much.  I could have achieved at least another inch in both directions.
For alternative designs using this yarn, check out the Chilo Spring Lacy Scarf
For an alternative yarn for this design, I would go to a gradient cake such as Twister or Sultan Deluxe from Hobbii, as in the example below. Same gauge, same hook and a single cake and this pattern works up pretty much the same, except this version of the crochet rectangle shawl pattern is lighter, and more colourful.

Easy crochet shawl pattern info & tips
Although labelled beginner, this pattern is comprised almost entirely of special stitches.  Beginning with a long starting chain, this pattern is a two row repeat worked entirely in chain spaces once you get going.  This makes it a fast make – after the pain of the first row, it's worth it though I promise.
The special stitches included in the stitch pattern are puff stitch and a cluster stitch. The Clusters form the majority of the open lacework of the pattern, and the puffs provide a little something to break up the clusters and keep you thinking while making your easy crochet shawl.
Gauge – not super important on this one.  This is a rectangle shawl with a simple repeat, as long as your stitches are fairly consistent and defined it will be fine. I'm not a slave to gauge when I follow designs, but I am mindful of how the yarn works/behaves as I am working with it. I am also a tightish stitcher. Whatever yarn you use, this should feel fairly floppy in hand until you have a few rows built up, and then as it grows it drapes nicely. All the chain spaces should be easy to get into, even those that are small.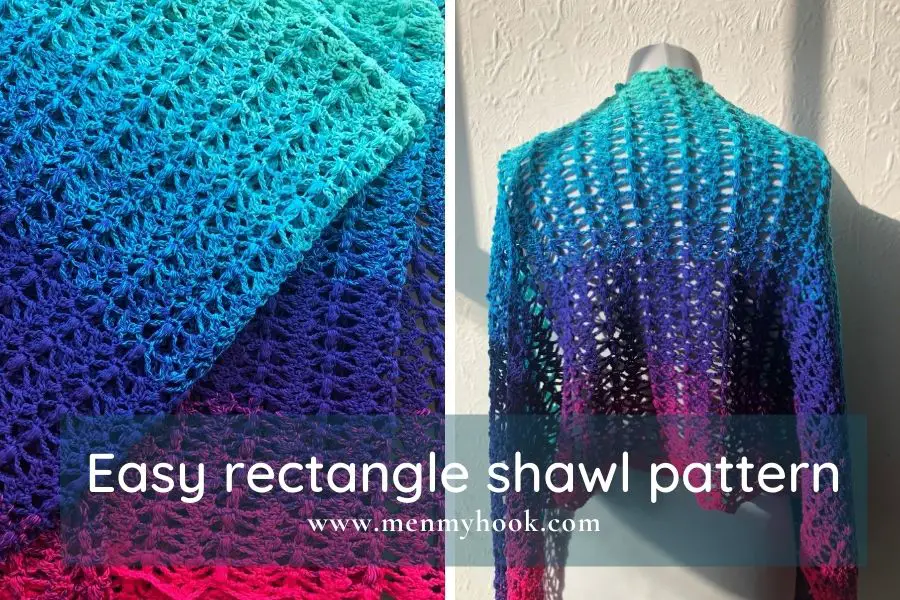 Terms:  written in US crochet terms.  
Skill level: Beginner – confident
Type: written, photo tutorial and chart
Yarn: 4 x Stylecraft Naturals Bamboo Cotton or 1000m of any dk or 3 weight yarn, or 1 x Sultan Deluxe or any similar 2 weight gradient yarn cake.
Hook: 4mm 
Stitches used:
Single Crochet 
Double Crochet 
Double Crochet 2 Together 
Double Crochet 4 together 
Puff Stitch 
Get the Joanne Cluster and Puff Stitch Shawl Pattern
Buy your copy of the Joanne crochet rectangle shawl pattern from your favourite pattern store here:
Like this post? Looking for an alternative rectangle shawl pattern? Check out the Shanae Wrap for a very simple repeating style shawl, or the Estelle Wrap which features the puff stitches included in this pattern.
I hope you enjoyed the post and look forward to seeing your Joanne shawls!
Pop into the Facebook Group and let me know what colour you plan to make your shawl in and share your progress.
Bye for now,
B x