Crochet Triangle Shawl Pattern – Lena Shawl
This post may contain affiliate links. This means I may earn a small commission if you make a purchase from these links, at no additional cost to yourself.
Looking for a crochet triangle shawl pattern that is a little bit different and a little bit classic?  The Lena shawl is just what you need.  Wrap your shoulders in style with this lightweight triangular shawl – perfect for a for that first trip to the beach for the season!  Read on to find out more about the Lena Shawl and how to get your copy below.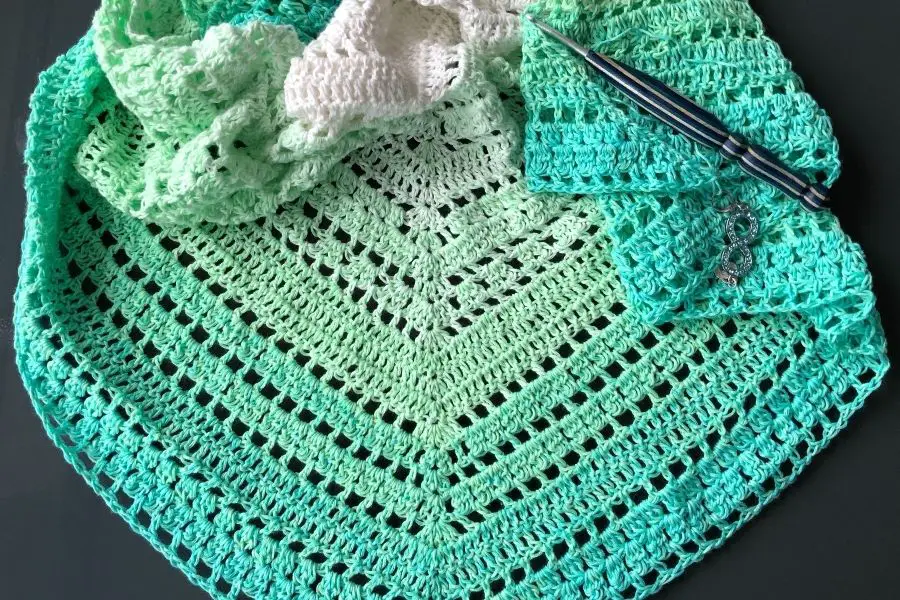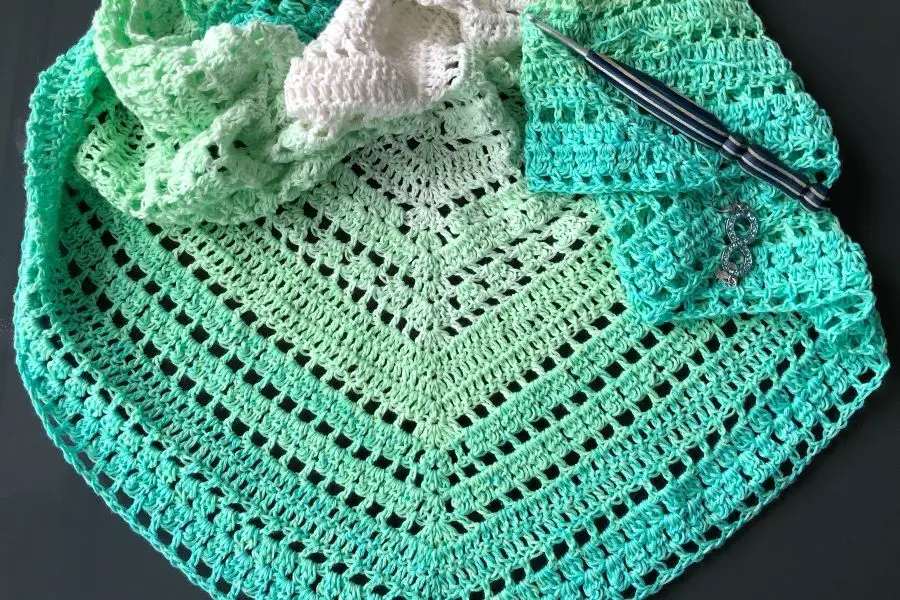 Inspiration
Lena was my maternal grandmother.  A kind, devout christian, she had a twinkle in her eye always.  I have continued my theme of naming my shawls, scarves and cowls in 2021 after female friends and family.  I am choosing the names at random and some of the stitch work reminds me of the top of a cardigan I can see in my minds eye from when I was like 10 and used to go to sunday school.  I like the randomness of how i'm choosing the names in the collection as it is almost as if they are choosing themselves – just like the way I let the yarn choose its project.
Lena is a top down triangle shawl pattern.  I have graded at intermediate, although I want it to be a beginner triangle shawl pattern it probably isn't.  
There are a few twists and turns in the structure of the pattern, including 2 different cluster stitches and cluster v-stitch just to make things a little more interesting, and a semi repeating pattern.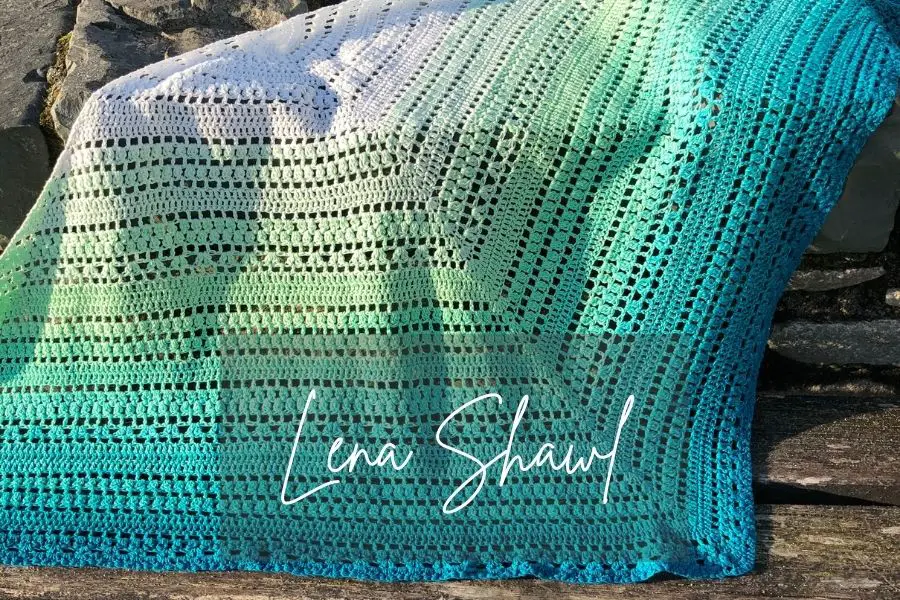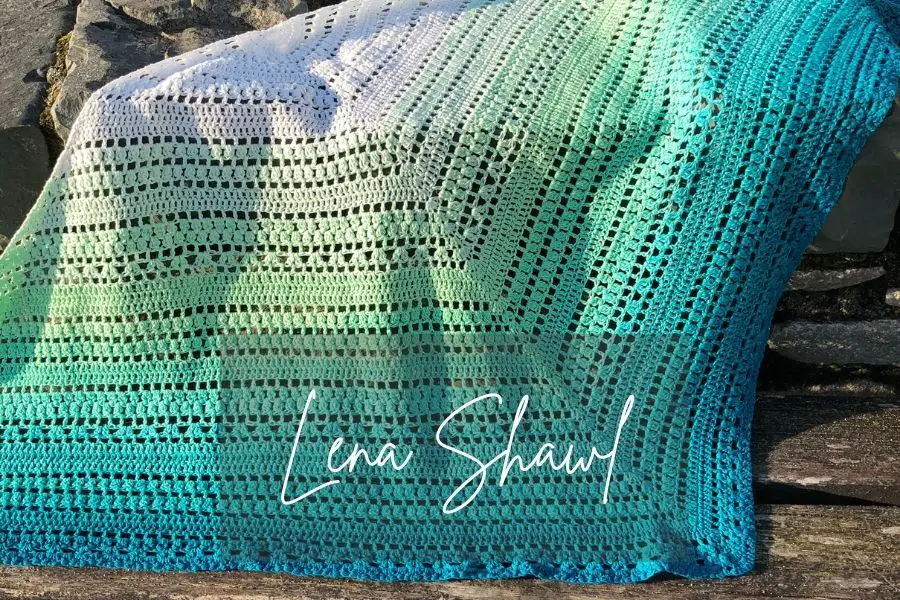 Yarn and Materials 
To design my Lena crochet shawl I used one of my personal favourite yarns – Twirls Deluxe by Cotton Kings at Hobbii.  This is 100%, 1000m / 10993 yds of fingering weight cotton.  I think this is technically lace weight in the US. I shall have to check.  If you have used, or seen a Scheepjes whirl this is the same idea, but is 100% natural fibres. 
I am working through my stash to design currently, and I used the colour no 12 – Paraiba Tourmaline, working from the centre out.  I love gradient cakes because they manage the colour changes far better than I could, give me an opportunity to try colours I probably wouldn't otherwise, especially together.  Also, a single cake is perfect for a crochet triangle shawl at the size I like them.  Like the famous Scheepjes version, these cakes are not the cheapest, the regular price is £21.00.  However, I generally buy these in bulk in the sale at Hobbii and encourage you to do the same.  Wait until they are 40% off and you can almost get two for the price of 1!
Yarn: 1 x Twirls Deluxe, or any 1000m / 1092yds of any fingering/sport weight yarn
Hook: 4mm – or whatever you need to get gauge. I am a huge fan of Clover Amour Hooks and the hook I used to make this shawl is custom made with that hook head by Bowltech Crochet Hooks – in Dark Aqua
Lena, crochet triangle shawl pattern info & tips
There are a couple of interesting things happening in this pattern – I don't want to say tricky and put you off.  More, there are several points in this crochet triangle shawl pattern that could trip you up if you get complacent about counting.  I don't count religiously every row but this does require some checking just in case.
The centre of this crochet shawl pattern does not consist of the same stitches in the centre of each row.   This isn't something I have tried before in a crochet triangle shawl but I like the overall effect and it is something I would definitely like to try again.
There are some rounds that have Ch4 as a treble crochet and others where it is actually a dc and ch1 it is important to make sure you have the correct starting st – this will affect your stitch counts and placement in following rows
There are two different cluster stitches included in this triangle shawl pattern.  There is also a cluster-v stitch that appears in both rows and the centre of the crochet triangle shawl pattern.
Pattern is written in US crochet terms.  
Skill level: Intermediate, advanced beginners
Stitches used:
Magic Ring
Double Crochet
Treble Crochet
2dc cluster stitch
3dc cluster stitch
Cluster v-stitch 
Chain(s)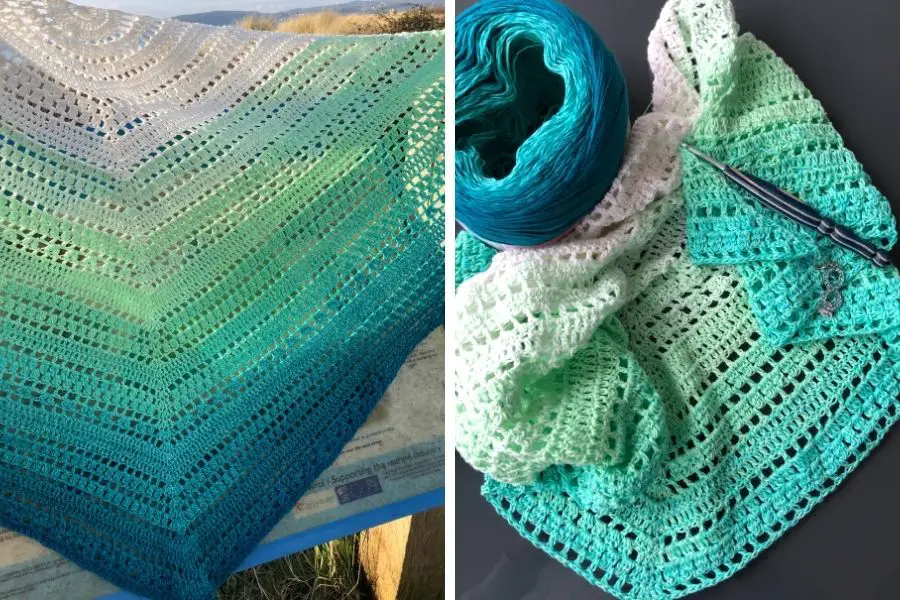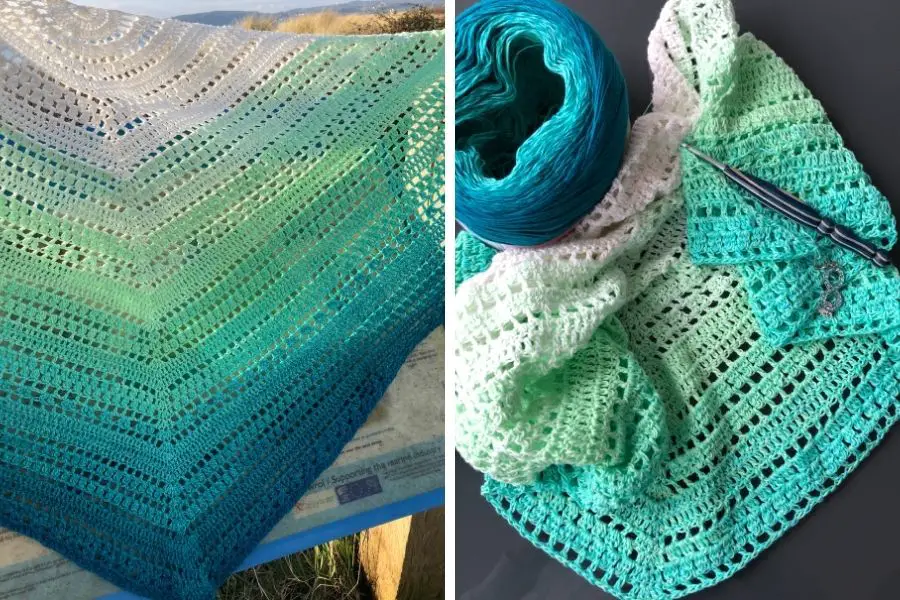 Tester Thanks
Testers rock.  Many thanks to Winnie, Nicole, Martha Casey, Laurene & Niki and for helping me to test this pattern.  I love the range of colours used.  To find out about the yarn used in each pattern please hit the image to be taken to their ravelry project.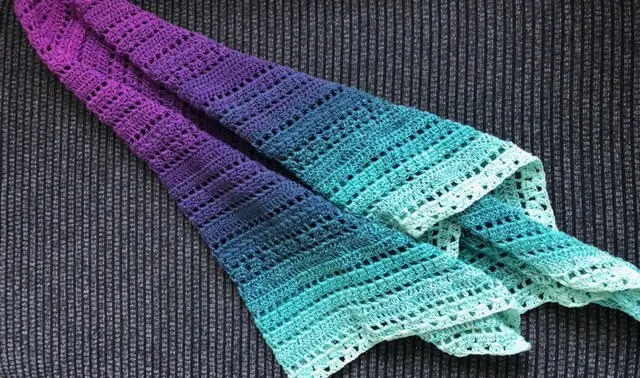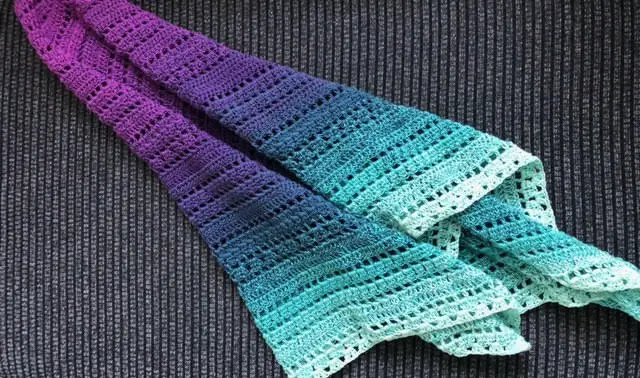 Lena triangle shawl kits
The Lena Shawl is now available in an exclusive kit. Each kit includes 1 x yarn cake – with a choice of colours, an exclusive stitch marker set, Lena Shawl pdf pattern download and some secret bits. To get your hands on a kit, head over to my Etsy Shop here
Get your Lena crochet triangle shawl pattern
On the 4th April, it was my turn feature as part of the Spring Exclusives event by Cosy Rosie UK, YAY – thank you for selecting me to take part Fiona. To find out more about the event and see the awesome selection of designs that are included you can check out the post here.
To get your copy of the Lena Shawl crochet pattern, head over to your favourite pattern store via the buttons below:
Spring Exclusives 31 Crochet pattern Bundle
Get the Spring Exclusives 31 pattern bundle for $18 via the button below

I hope you enjoyed the post and look forward to seeing your Lena crochet triangle shawls !
Pop into the Facebook Group and let me know what colour you plan to make your wrap in and share your progress.
Bye for now,
B x