How to crochet a V-Stitch Chevron Shawl – Rheanna
Looking for a rectangle shawl pattern with a difference.  Rheanna is just what you need.  A v-stitch chevron shawl.  Great for beginners, read on to find out more about this shawl and how to make your own Rheanna.
V- Stitch Chevron Shawl inspiration
I let the yarn tell me what it wants to be, 100% of the time.  For a while now, I have been tossing around the idea of a rectangle shawl with a ripple.  Like with most things, this kinda of stayed on my list until this yarn appeared in my house.  A v-stitch chevron shawl wasn't something I immediately thought of, however, once I came across it, I knew I had to have one as it would almost certainly be flattering in the layout I wanted – with ripples across your back.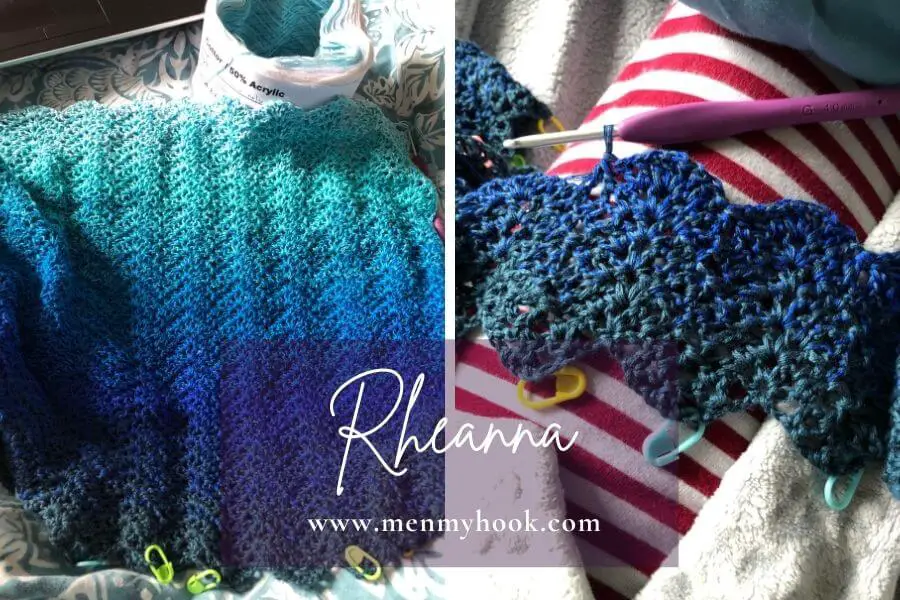 Continuing the theme of naming shawl designs after members of my family, this design is named after my niece Rheanna.  To see some other designs in the collection, check out Joanne, Lena and Simone.
Yarn and Materials 
To create my Rheanna, v-stitch chevron rectangle shawl, I used a custom colourway from Flo's Yarn Basket which is now called Aegean.  Although I didn't intend on creating something that reminded me so much of the sea when I chose the colours, the way it has worked up, especially in this rectangle shawl pattern, is undeniably reminiscent of the sea.  Luckily, Flo allowed me to help in choosing the name and I chose Aegean because there is a sea with that name close to Cyprus where Flo lives.  It also occurs to me that the Caribbean sea looks very similar and then it was a short leap to Rheanna as a name.  No relation, different spelling.
Anywho, back to the important details.  This cake is made of 1250m of 60% Cotton 40% Acrylic yarn, hand wound by Flo and using 6 different shades from her range.  To find out more about Flo, her yarn and to get a hand on your own cakes check out her website here.  For other designs featuring Flo's yarn, check out the Estelle Wrap.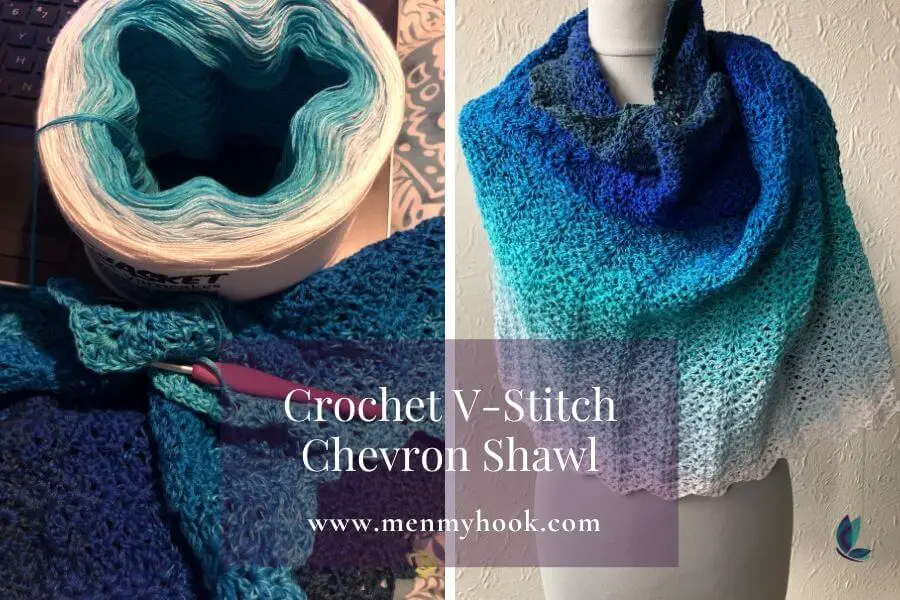 Pattern info & tips
Rheanna is a beginner crochet pattern.  I know some people may be intimidated by the ripple, but they shouldn't be.  The hardest part of this pattern is the set up, once you get into it it works up quickly and flies off your hook.  It is easily customisable and would work fabulously in a thicker weight yarn.  I would probably use less yardage if I went higher than a dk or 3 weight yarn.
Terms: written in US crochet terms.  
Skill level: beginner 
Pattern type: written
Yarn: 1250m 4ply yarn, colourway Aegean, or 1250m of any fingering/sport weight yarn, one of my favourites would be Twister plus the complimentary Twister Solid from Hobbii 
Hook: 4mm Clover Amour 
Stitches used:
Double Crochet
V-stitch
Double Crochet Two Together
Tester Thanks
Many thanks to Connie, and Kathy for helping me with this test.  To get all the details on their projects, hit the images below to check out their Ravelry projects.
Get your Rheanna V-Stitch Chevron Shawl Pattern
Today is the start of the 12 Weeks of Christmas event, hosted by Me. Every week for 12 weeks a new Christmas gift idea will be released, at a discount, to inspire and guide your christmas crochet gift makes. Today, 1st October, Rheanna features as part of that event. Who doesn't want something fabulous to wrap around their shoulders? To find out more about the event and grab your discount code, head over to the blog post via the button below

Then head over to your favourite pattern store, via the button below, and use the discount code before Midnight 1st October GMT



I hope you enjoyed the post and look forward to seeing your Rheanna's !
Pop into the Facebook Group and let me know what colour you plan to make your wrap in and share your progress.
Bye for now,
B x