How to crochet a Houndstooth clutch bag
This post may contain affiliate links. This means I may earn a small commission if you make a purchase from these links, at no additional cost to yourself.
Looking for an easy to make, forever on trend clutch bag pattern?  The Houndstooth Clutch Bag is a super simple crochet clutch bag pattern.  Perfect for beginners, this stylish clutch is made in two contrasting colours and works up quickly.  Read on to find out more about the Houndstooth Clutch bag and how to make your own.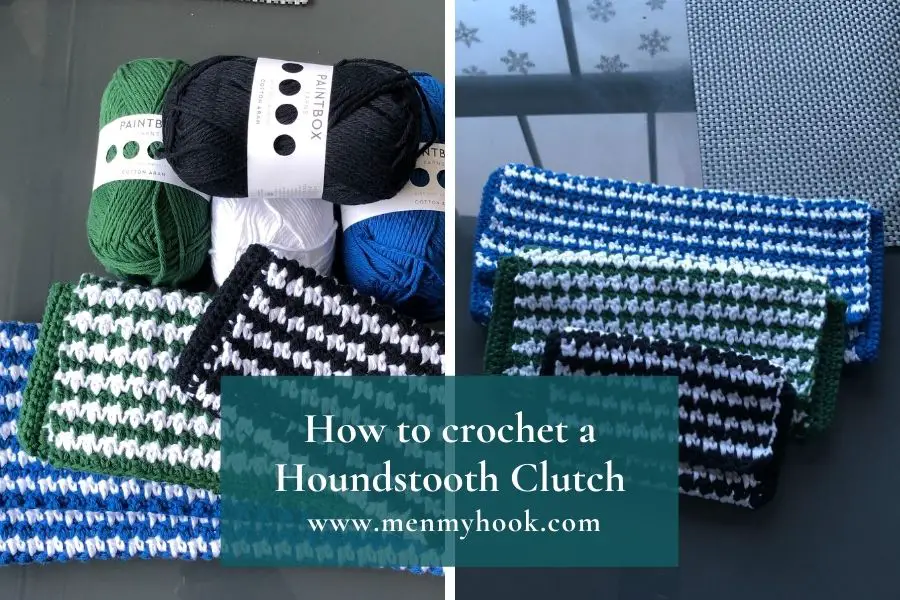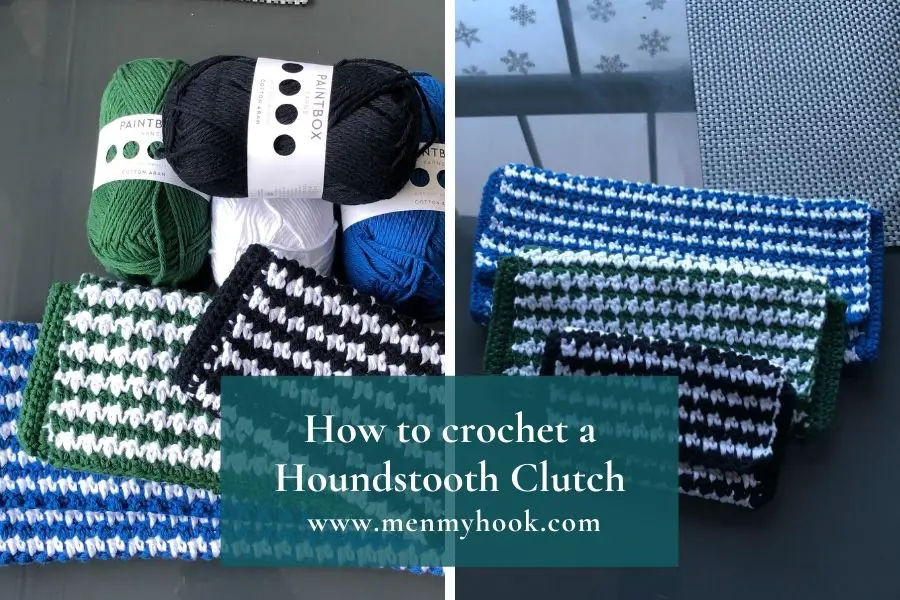 Houndstooth Clutch inspiration
Texture and bags are my favourite.  The Houndstooth Clutch Bag pattern came to me as an idea while I was puzzling through some issues with another bag pattern in the same yarn.  While I'm not a quitter, it had to be done and quickly became a couple of different ideas!  The houndstooth pattern is something that I have seen come and go throughout my life and I have a love hate relationship with it.  Classic and usually done in a monochrome colour palette, this houndstooth clutch bag crochet pattern is a beginner pattern that will work up quickly and add a touch of colour and intrigue to any outfit.
Love this pattern?  Check out the co-ordinating Houndstooth Bucket Bag here.
Yarn and materials – Houndstooth Clutch Bag
To make my Houndstooth Clutch bag I used Paintbox Simply Aran Cotton.  Paintbox yarns are a favourite of mine, I usually use the DK version but this is comparable. 100% cotton, it comes in 50g 85m/93yd balls and a range of colours. Available in single balls, 5 and 10 packs, this is a great value cotton yarn that is widely available. To make my bags I have used 100 – 130g of yarn making them a great stash buster project. I wanted something that was a pop of colour, but classic and started out with Sailor Blue and White, but I also used, Pure Black and Racing Green to make my other Houndstooth Clutch bags.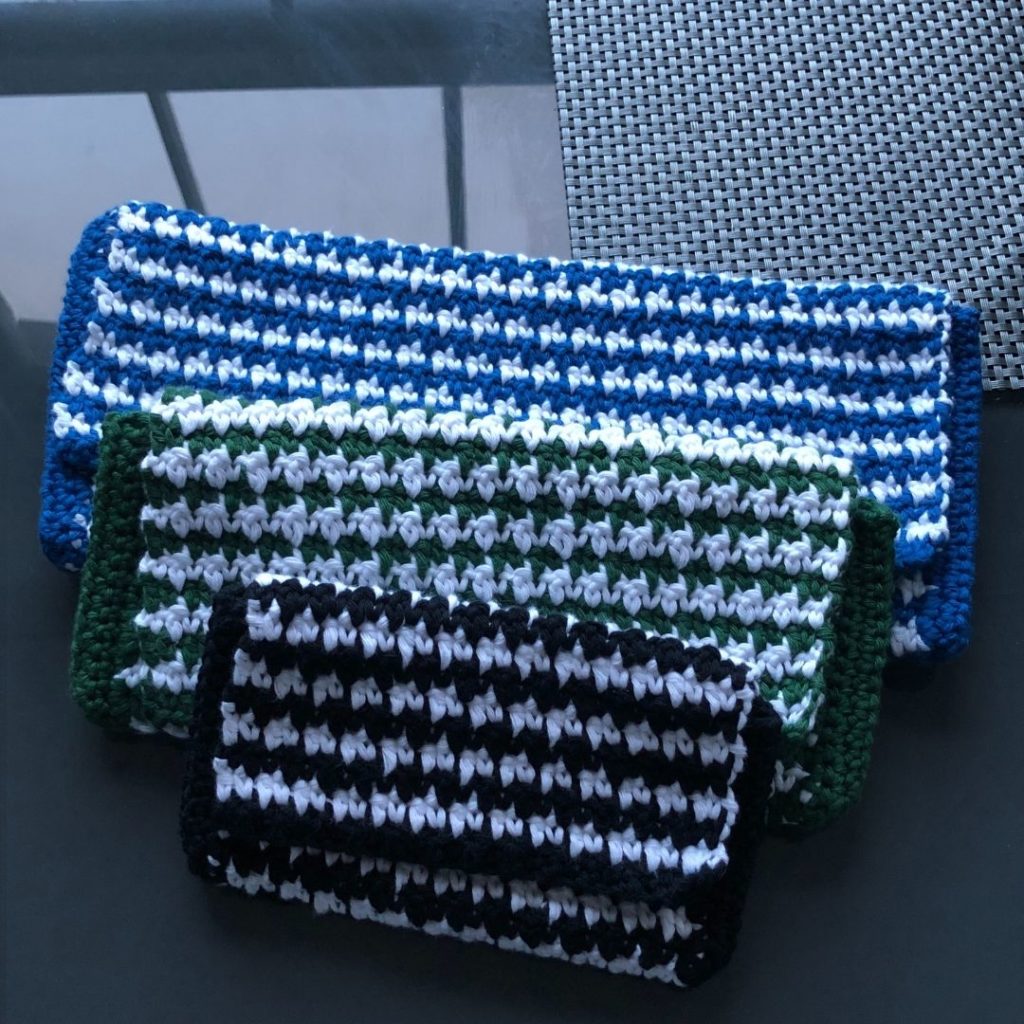 Houndstooth Clutch Bag pattern info & tips
The Houndstooth Clutch is a beginner friendly crochet pattern.  I think it can be a little bit fiddly if you haven't ever worked with two strands, or carried your yarn BUT once you get the hang of it/into a rhythm its super simple to make. To recreate this pattern you will use standard crochet stitches and alternate your yarn colour in each row.  You will work with two colours of yarn the entire time, working over the dropped colour throughout.  This minimises ends and also helps to create a dense fabric that is perfect for bags. You MUST use contrasting colours of yarn to get the full visual effect but the sky and your stash is the limit for colours!
Terms:  written in US crochet terms.  
Skill level: beginner, confident
Hook: 4mm , Spectraply with Clover Inserts from Bowltech Crochet Hooks
Yarn: 2 – 3x Paintbox Aran Cotton, 100 – 150g of any Aran/Worsted or 4 weight yarn in two contrasting colours, with 50g – 100g in your main colour, and 50g in your contrasting colour – in all my examples this is Pure White.
Stitches used:
Double Crochet
Single Crochet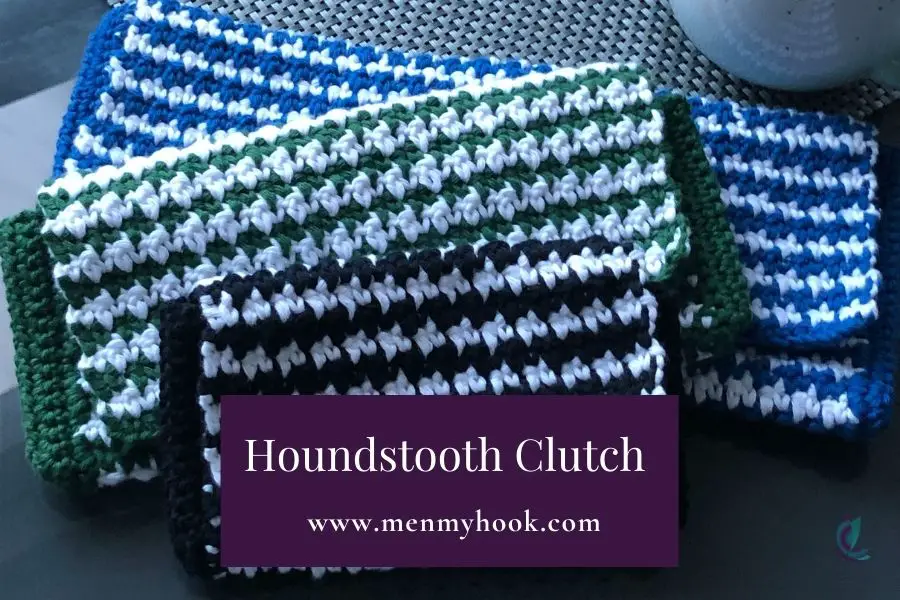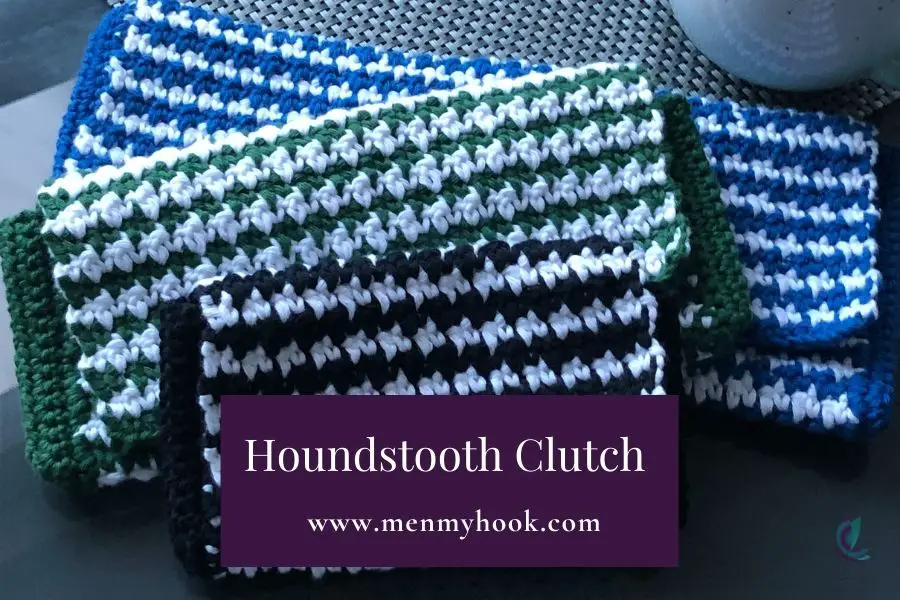 50% OFF the Houndstooth Clutch Bag Pattern
Two toned glamour is heading your way! Featured today, 19th November, in the Candy Stripe Sale, get your copy of the Houndstooth Clutch Bag at 50% off.
To find out more, and get your discount code, hit the button below

Then, use your code on Ravelry or Etsy before 8am GMT tomorrow!!!
I hope you enjoyed the post and look forward to seeing your Houndstooth Clutches !
Love bags generally? Check out the On the Bias Tote and the Harmony Bag.
Pop into the Facebook Group and let me know what colour you plan to make your wrap in and share your progress.
Bye for now,
B x