Simple classic lacy shawl pattern – Denise & Deborah
This post may contain affiliate links. This means I may earn a small commission if you make a purchase from these links, at no additional cost to yourself.
Introduction 
Looking for a classic lacy shawl pattern?  Denise & Deborah is a stylish classic lace rectangle shawl pattern.  Read on to find out more about the pattern and how to get your copy of the Denise & Deborah shawl crochet pattern below.
Denise & Deborah – inspiration
Do you like trellises?  That's what they are called right?  Those pretty sort of stand things that people have in their gardens and usually there are flowers climbing them and weaving through the pretty lace work?   Leafing through my stitch book, the stitch pattern for Denise & Deborah reminded me of those.  I love the way light shines through the openwork and creates different shapes and reflections.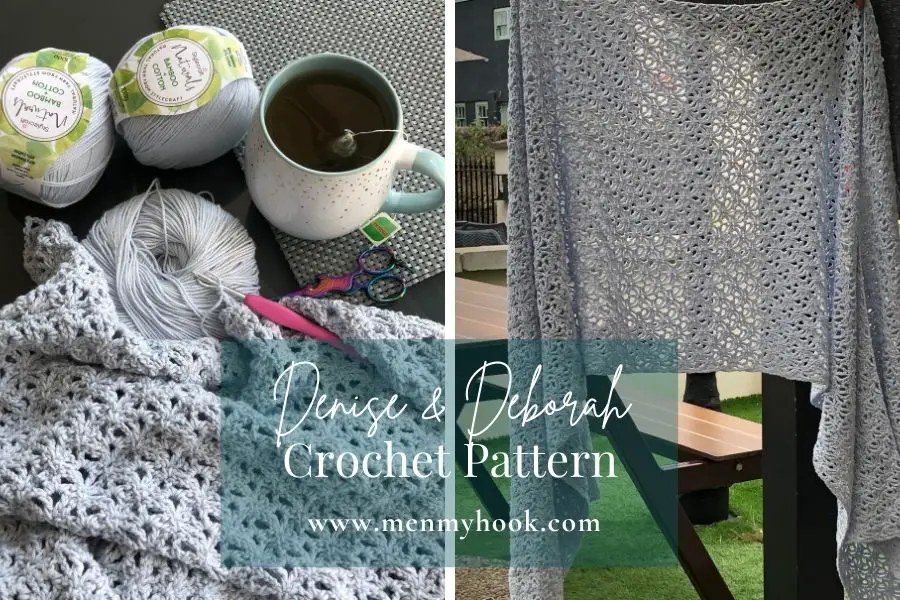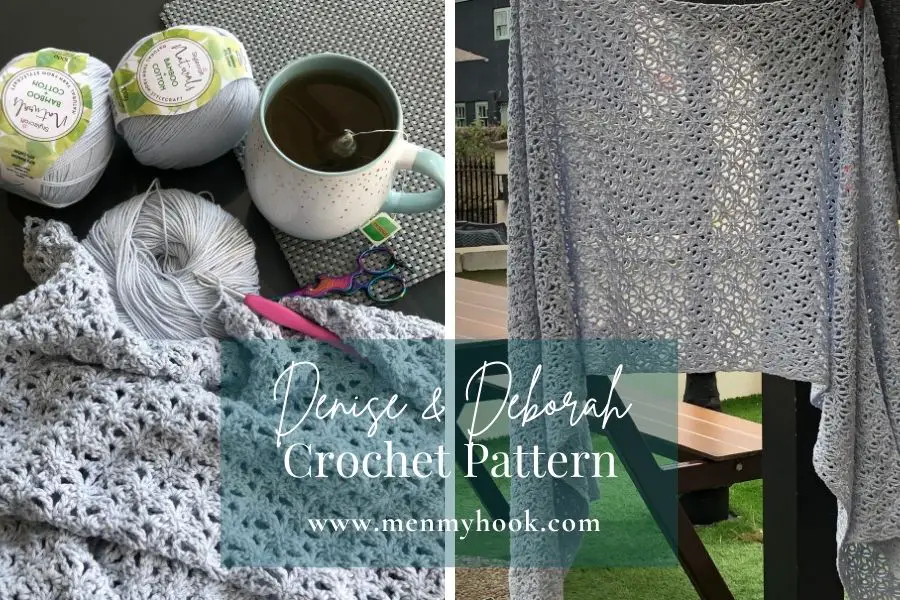 So why Denise & Deborah.  They are my twin cousins, and when I started naming my shawl and scarf designs after female members of my family, I knew I wanted to create a design that could work in a udal fashion and name it after them.  This classic lacy rectangle shawl pattern is written with both a long and short starting chain.  I am not a fan of super long starting chains, BUT the effect of this design when worn, totally lends itself to two arrangements.  
Classic lacy rectangle shawl yarn and materials 
To create my first Denise and Deborah I used Stylecraft Naturals Bamboo Cotton.  It's one of my new favourites, and for this design I chose Silver.  I wanted something that was light and summery but also neutral.  I did try my usual blue but it just didn't allow the stitches to pop the way that the Silver does.  Silver is made on the shorter row, and I call this one Denise.
To find out more about Stylecraft Naturals Bamboo Cotton check out my review here.
For project ideas using Stylecraft Naturals Bamboo Cotton, check out the Chilo Lacy Spring Scarf, the Joanne rectangle shawl, or the Key West Pullover.
To create my second, I am using Twirls Deluxe no 20 and Twister Solid, yes I'm back to the blues.
Denise & Deborah shawl crochet pattern info & tips
The stitch pattern used to create this classic lacy rectangle shawl pattern is made over a 4 row repeat.  While it appears to be very intricate and time consuming, it is actually a very simple repeat and a good portion of the stitches are made into chain spaces.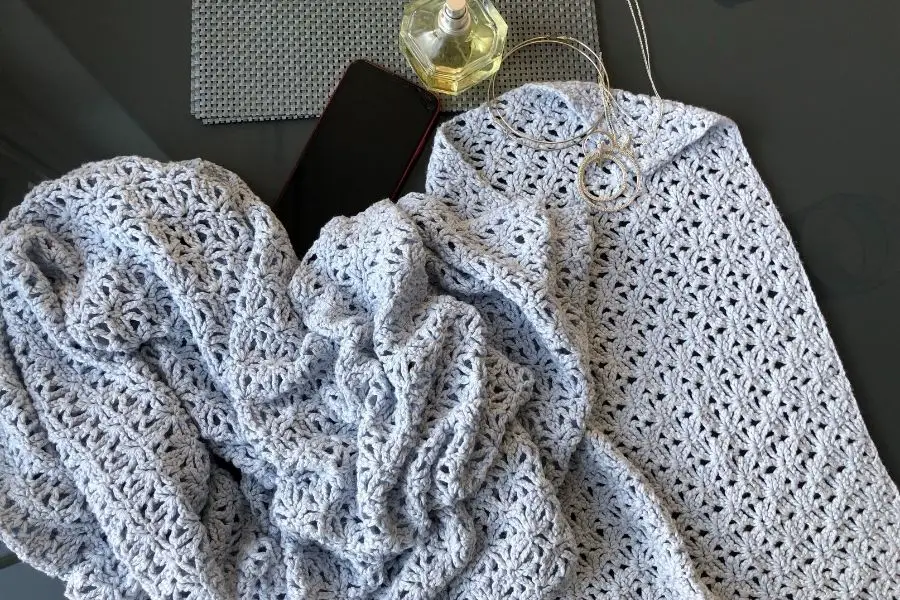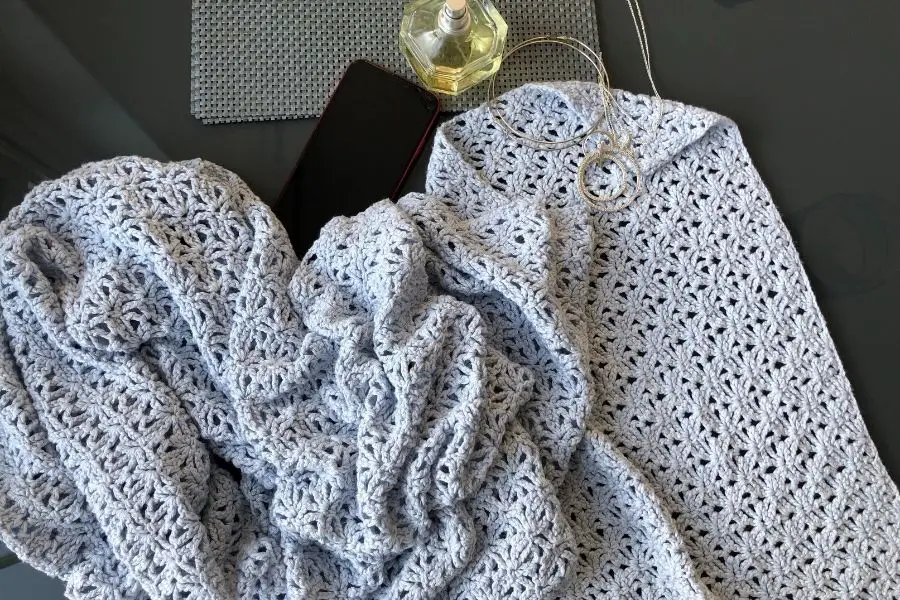 I have listed this pattern as advanced beginner as I think it is more suited to those who have some experience/confidence in reading written patterns.  A photo tutorial and chart are included in the pdf download and I encourage less experienced beginners to have a go – you won't be sorry.  Once you get it it just clicks and it works up pretty quickly, even though I did use 1250m of yarn!
Gauge – does gauge matter? If you're new here you won't know that I am not a slave to sticking to gauge. In this design as I have suggested two alternate weights of yarn I think that gauge is even less important that usual. I wanted to keep it as simple as I could, while giving you options for this lacy rectangle shawl crochet pattern. For this, gauge isn't a big deal, getting a consistent tension is – that will give your stitches the structure they need over the rows of the repeat and result in a crisp clear pattern that will look great BEFORE it is blocked.
Terms: Pattern is written in US crochet terms.  
Photo tutorial: included in pattern
Stitch chart/diagram : included in the pattern
Skill level: Advanced Beginner
Hook: 3.75mm/4mm – or whatever you need to achieve a nice even tension and great stitch definition with the yarn you choose.
Yarn: 1250m / 1365yds of any dk or 3 weight yarn, I used 5 x Stylecraft Naturals Bamboo Cotton Dk in Silver
Stitches used:
Chain
Single Crochet
Double Crochet
Single Crochet Spike Stitch
Shell Stitch
V-Stitch
Tester Thanks
Many thanks to Connie, Lyn, Colette for helping me with the test for Denise & Deborah. To check out their classic lacy shawls below.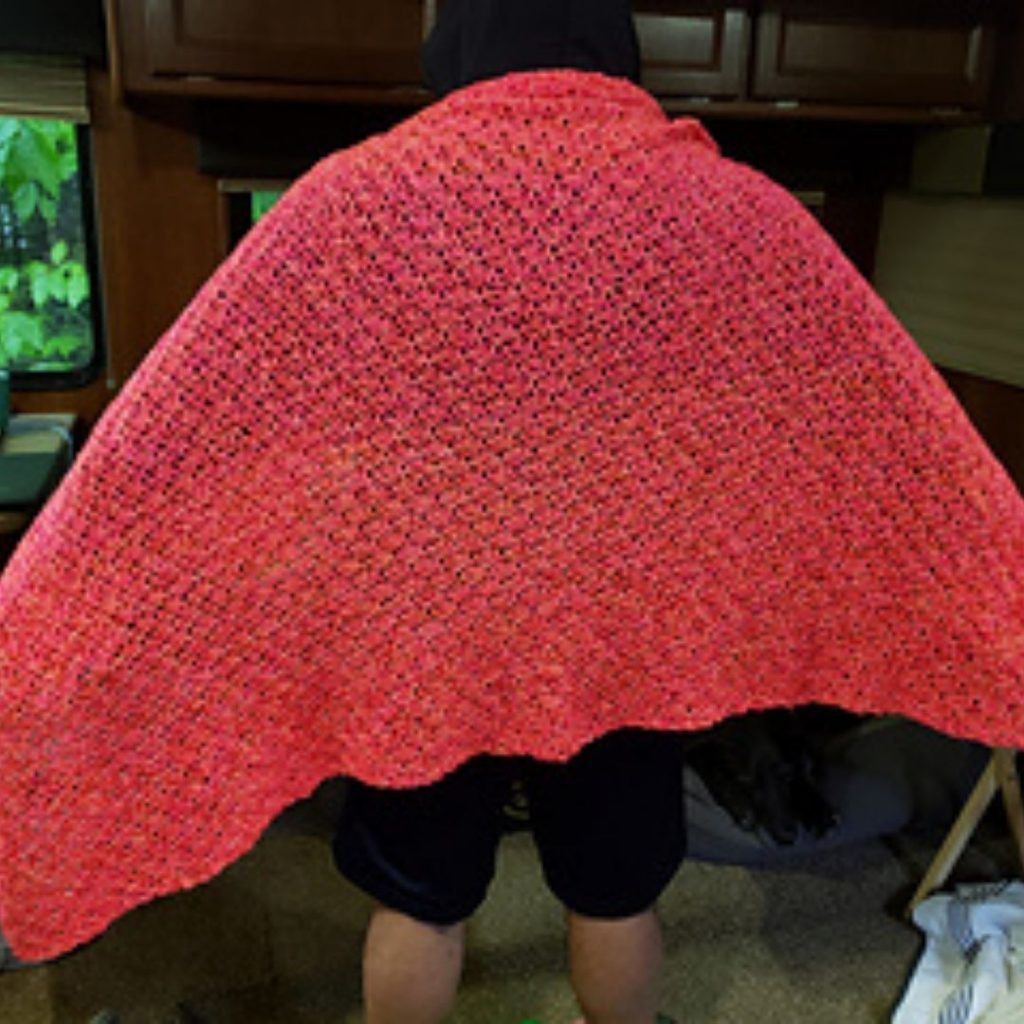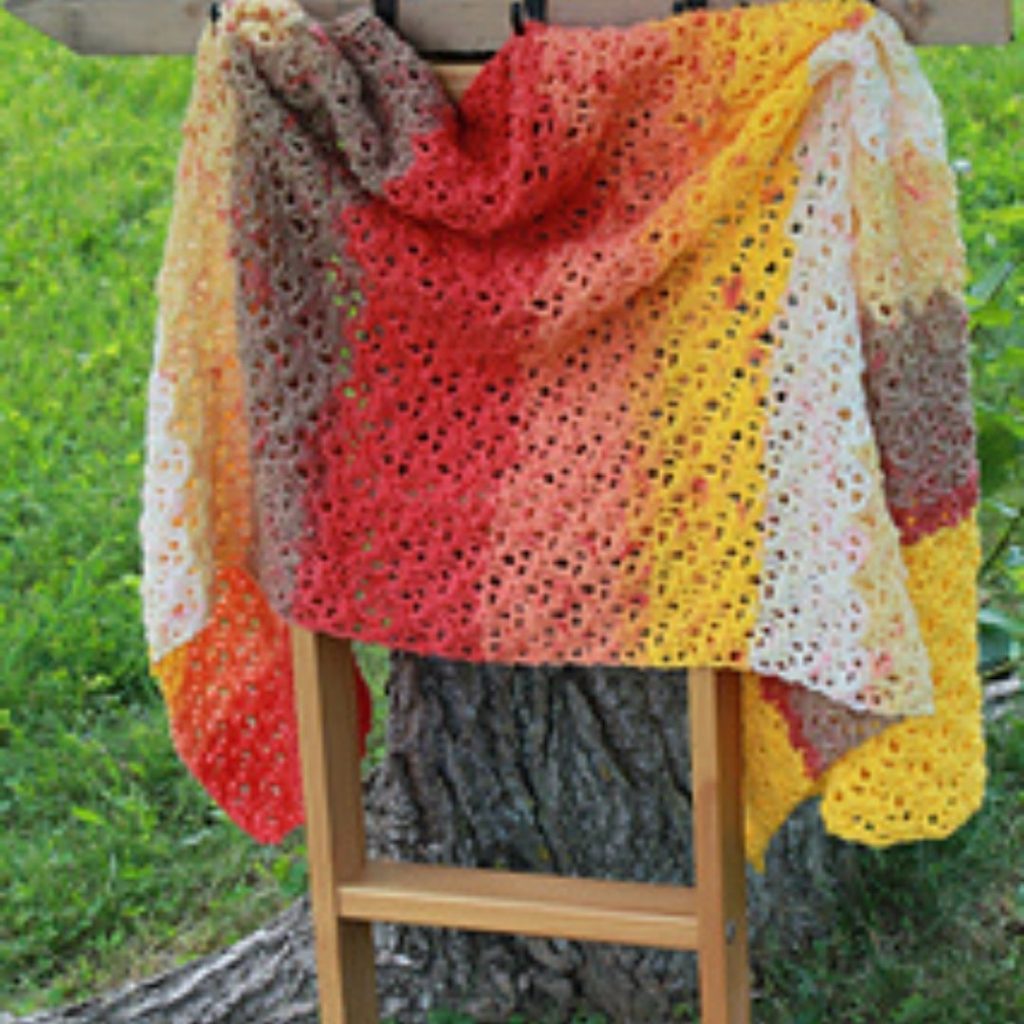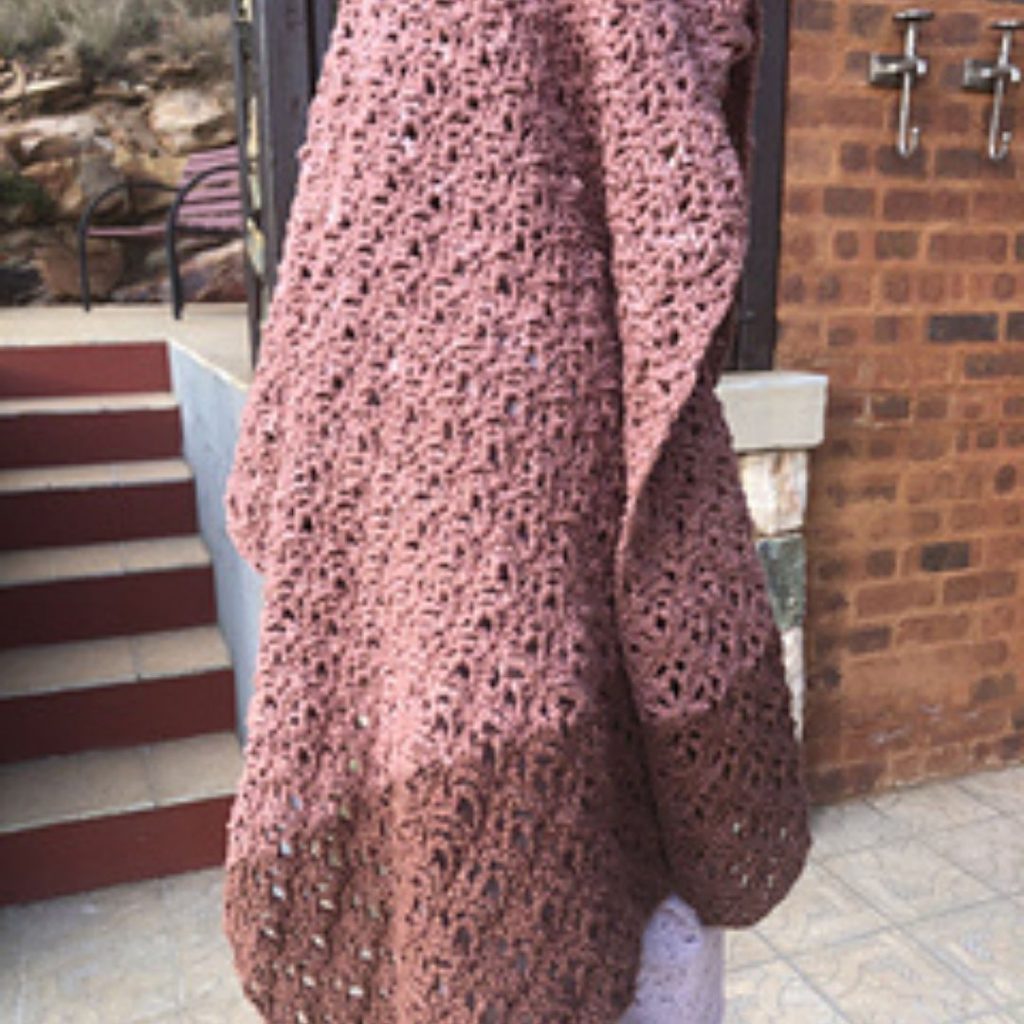 Get your copy of Denise & Deborah
Get your classic lacy rectangle shawl – Denise & Deborah pdf pattern from your favourite pattern store here
I hope you enjoyed the post and look forward to seeing your Denise & Deborah's!
Pop into the Facebook Group and let me know – are you going for a short or long row and what colour you plan to make your shawl in!
Bye for now,
B x