Belle Half Circle Shawl Crochet Pattern
This post may contain affiliate links. This means I may earn a small commission if you make a purchase from these links, at no additional cost to yourself.
Looking for a half circle shawl crochet pattern? Belle is a semi circular shawl crochet pattern featuring a cluster stitch. Read on to find out more about the pattern and how to make your own Belle.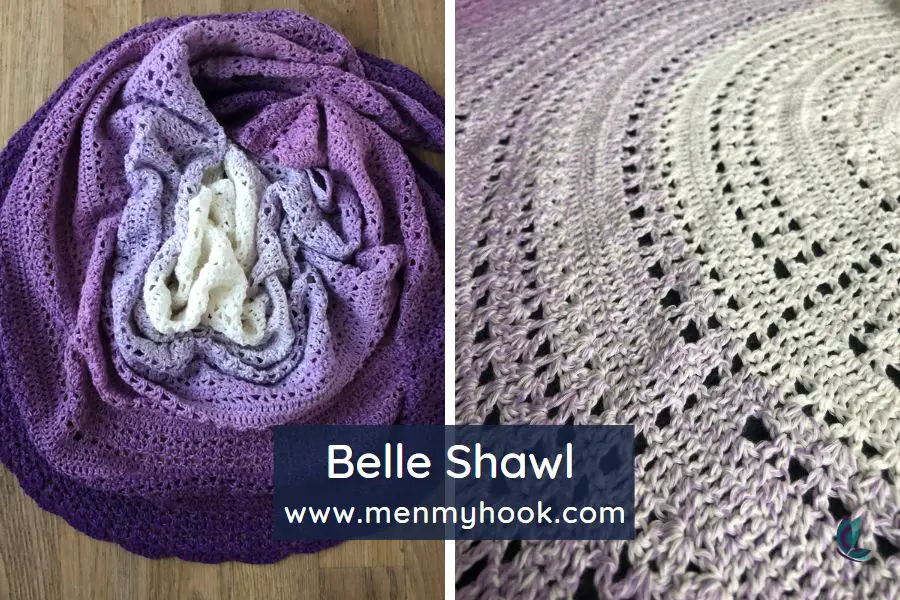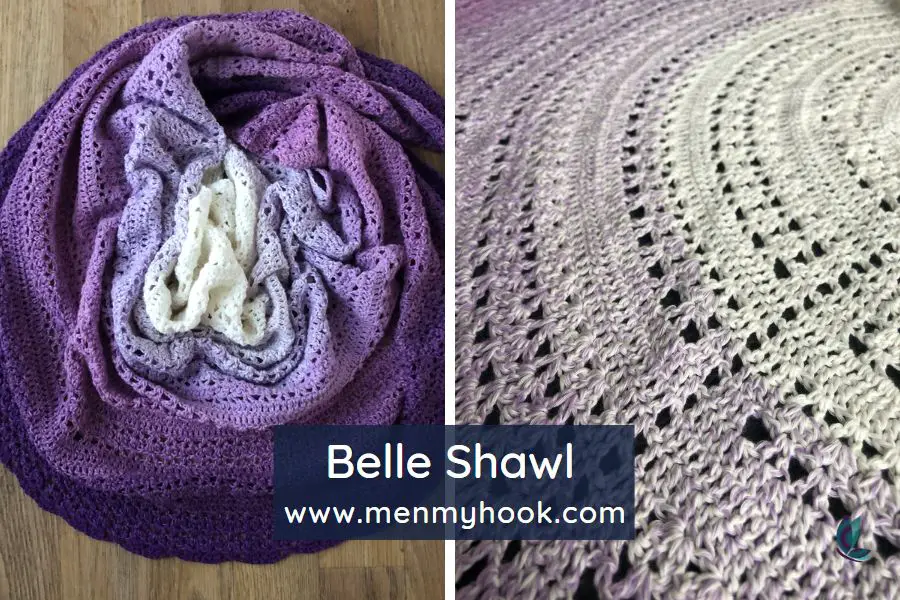 Belle half circle cluster shawl inspiration
I've been playing with half circle shawl designs since I finished the Granny Merge Semi. Although I normally work one pattern at a time, and one idea sort of happens while I am working on another. Belle didn't totally work that way. It's been on and off the top of my project pile for a while and originally began from the purple end of the cake.
However, that didn't lie flat and rather than pull it out – frogging is a part of designer life but I object to it, I decided to restart from the opposite end of the cake and keep a visual aid to what went wrong. That sort of worked for this half circle shawl crochet pattern – the end result is a mixture of what was and what I thought I saw, would have helped a lot if I had read the pattern I had written also. Lol.
Belle is so named because in the early second stages it reminded me of a white bell Christmas tree decoration. I haven't got my decs out yet but I think it's still in the box somewhere, I will share it if I find it.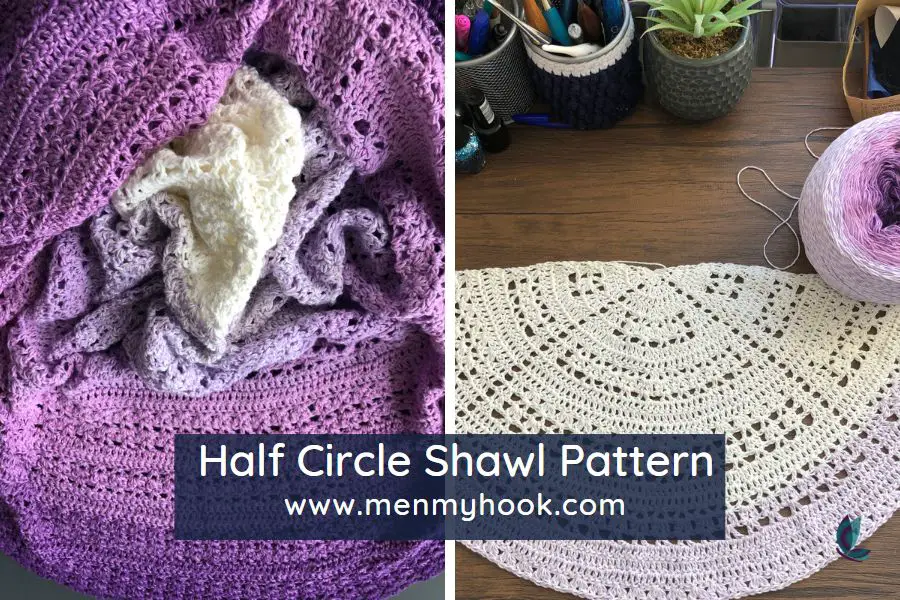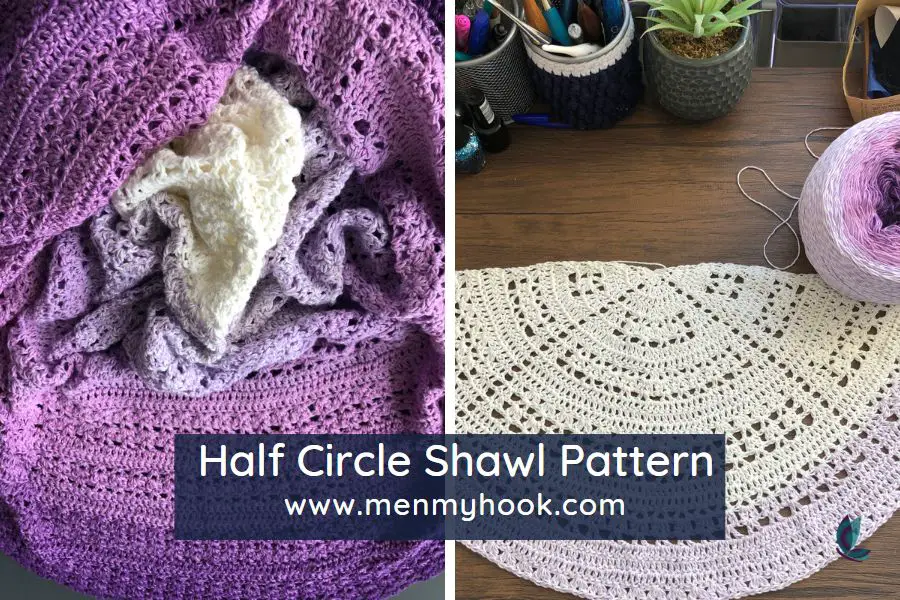 Belle half circle shawl yarn & materials 
To create my Belle I used Sultan Deluxe no 10 from Hobbii – Royal Amethyst. This is a 100% Cotton 4ply gradient cake – 2 weight yarn. This is a favourite of mine and similar to Twister from Hobbii in most things except colours available and fibre composition.
As usual I used my 4mm crochet hook to create this design and this works for me generally across the various types of cake – Scheepjes Whirl, Yarn Art Flower etc. Any or all of these would be suitable alternatives to make your own Belle half circle shawl. Gauge is fairly important with this design as I had just 12gs left of this cake once I had completed my project. This was partly because I had previously used the end and couldn't frog or save all of it, but I did cut and use everything I could and all of the colours.

Belle pattern info & tips
The Belle half circle shawl is an experienced beginner crochet pattern. Absolute beginners are encouraged to try as always, however, some experience of crochet stitches is helpful.
Belle is a semi circle shawl featuring the cluster stitch. With a staggered repeating pattern, the three sections appear and grow almost like a fan. This design is a little more tricky than my usual patterns in that stitch placement is important and counting, while the rows appear to be the same, in later repeats they are not and this caused a LOT of issues when I was making it, and when it was testing. Although those are mostly because I can't count not because it didn't work.
As mentioned above, gauge is fairly important due to the final yardage used, however, my testers regularly use a smaller hook to achieve the same results – 3.5 – 3mm, and also have a little more yarn left over. 
Skill level: experienced beginner
Terms: US crochet terms
Type: written
Stitches used:
Yarn: 1 x Sultan Deluxe or any similar 1000m/1092yd 4ply gradient yarn cake
Hook: 4mm or whatever is required to achieve gauge
Magic Ring
Single Crochet
Double Crochet
Double Crochet Two Together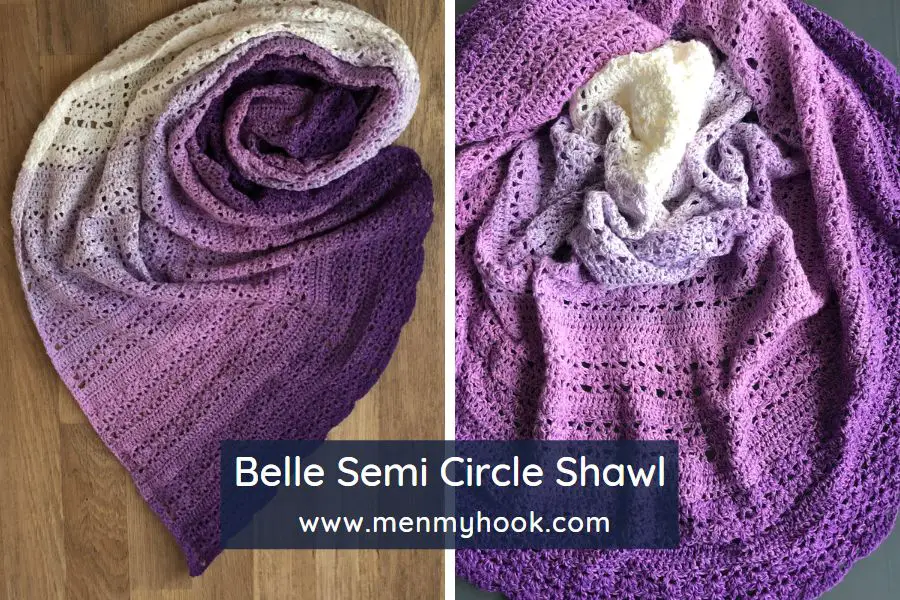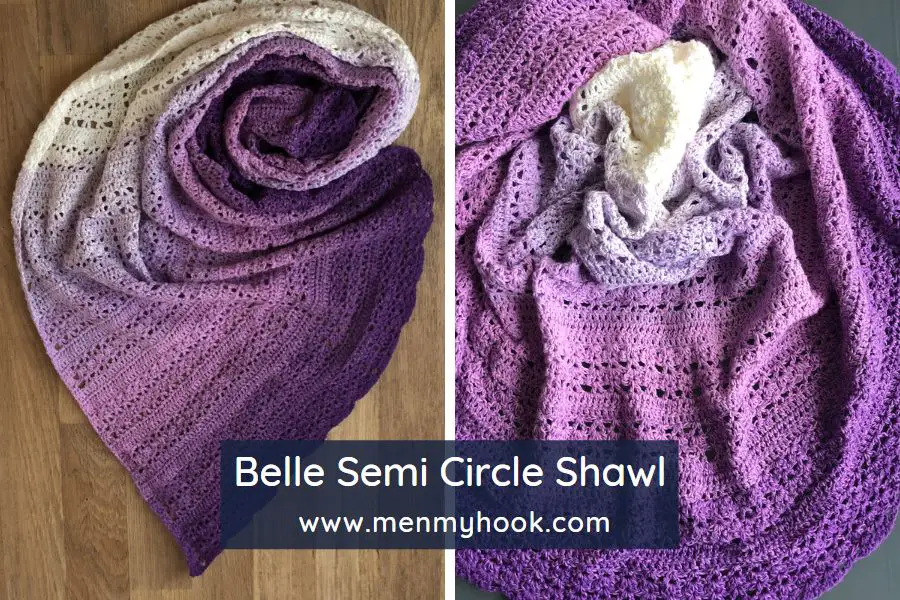 Get the Belle Pattern
Buy your copy of the Belle half circle cluster shawl pattern from your favourite pattern store below
I hope you enjoyed the post and look forward to seeing your Belle's!
Looking for more shawl pattern inspiration? Check out 35 Lace Crochet shawls
Don't forget to pop into the Facebook Group and let me know what colour you plan to make your Belle in and share your progress, I would love to see your work.
Bye for now,
B