Easy crochet pouffe pattern – On the Bias Pouffe
Looking for an easy crochet pouffe pattern that will add some simple style to your room?  The On The Bias Pouffe is an easy large crochet floor pillow that works up quickly.  In two sizes – tall and wide, this pattern will work well in a multi, duo or single colour palette. Read on to find out more about the pattern and how to make yours.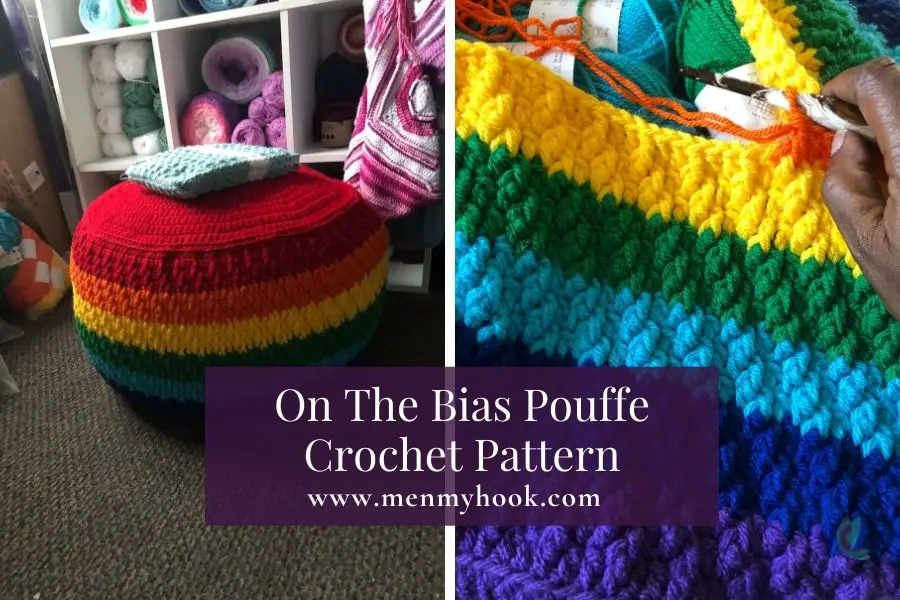 On the Bias Pouffe inspiration and collaboration
I began crocheting to make a pouffe.  It never happened.  My oldest son has been asking for one, since pretty much the day after I finished the border on my first blanket but you know how it goes too many patterns, not enough yarn and time. 
Well, recently the question came up again when he was moving house, and, I had also randomly submitted the idea for a textured floor cushion to Pattern Pack Pro Magazine which was accepted, and so the universe finally came together and I designed this easy crochet pouffe pattern.  The On The Bias Footstool was featured in the December 2021 issue of Pattern Pack Pro Magazine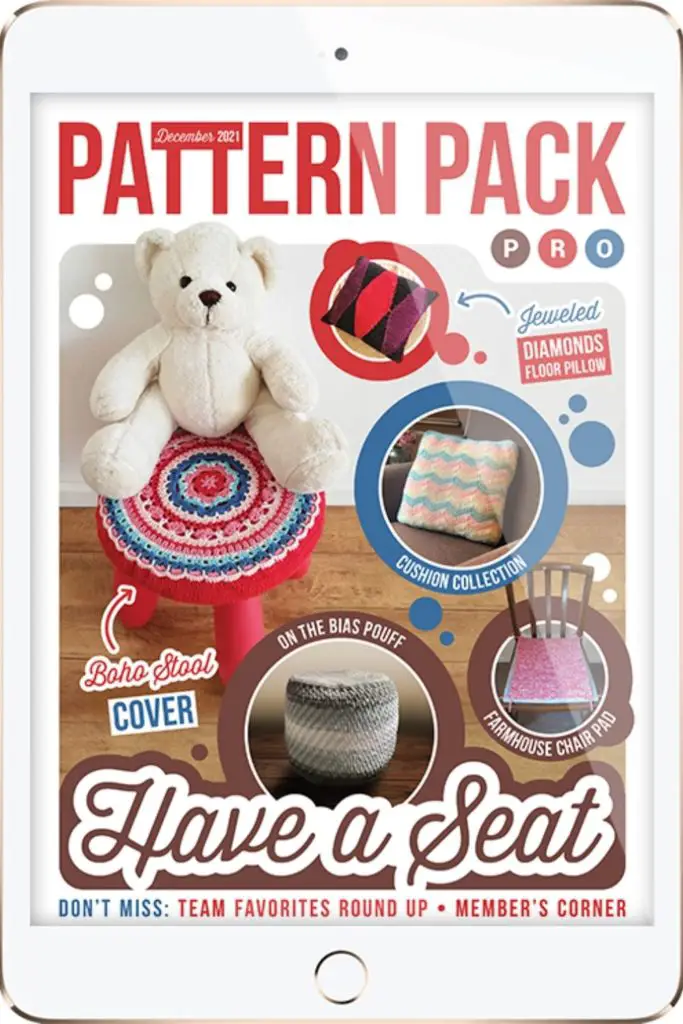 Easy crochet pouffe pattern yarn & materials
To make both versions of my On the Bias Pouffe I used Paintbox Simply Aran yarn.  This is 100% Acrylic and comes in 100g, 184 m/ 201yd balls in 64 shades at the time of writing.  Priced at £2.25 per ball and available in single and multi colour 5 or 10 packs this is a great budget conscious workhorse yarn. 
It has yet to pill in my years of using it, to see other designs I have made from the Paintbox range of acrylic yarns, check out the Marian Bay Throw, and the Craggy Coastal Cushion.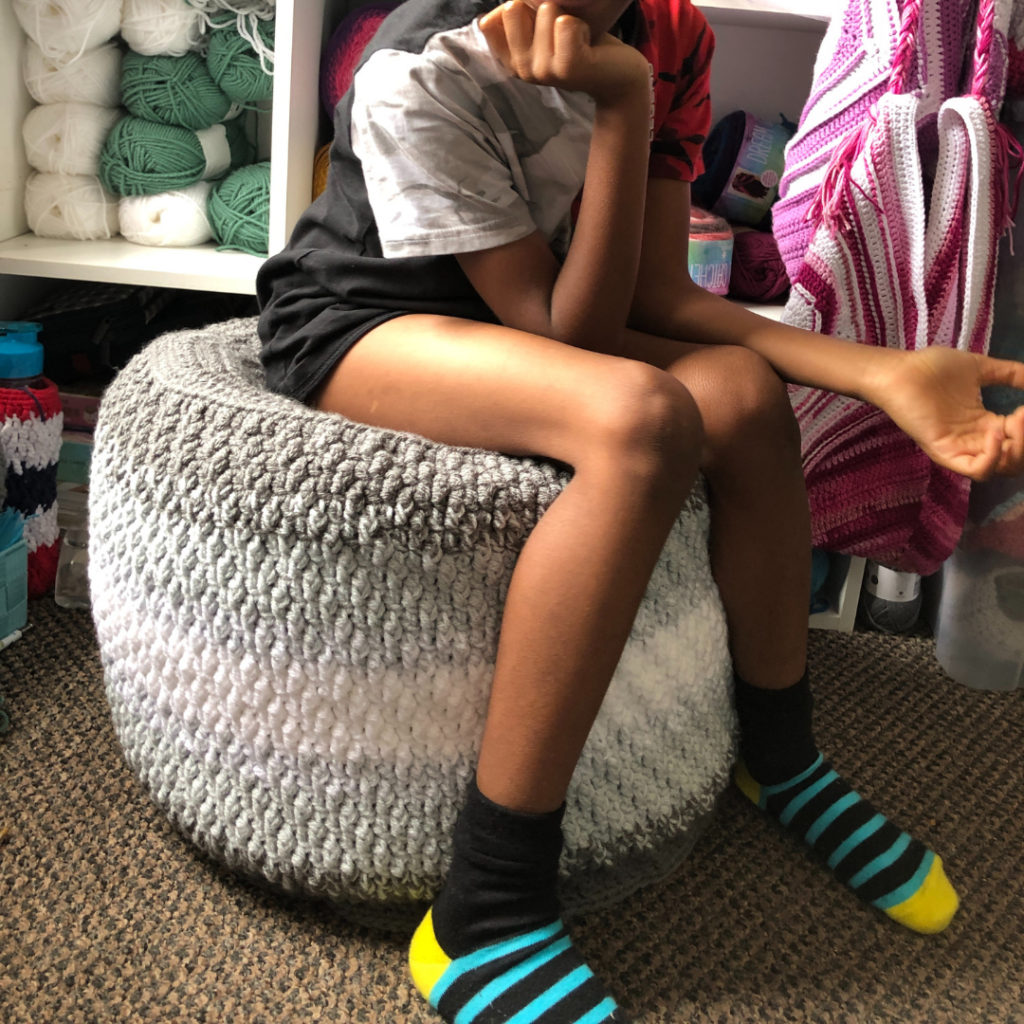 The Grey 'fade option' was chosen by Marcell, the rainbow option is Myles's because "it will be easy for you mum"!  Each uses a similar amount of yarn and filling but as you can see the proportions of each version of this easy crochet pouffe pattern are slightly different. 
The 'tall' version in grey fade uses 3 colours and is stuffed with preloved pillows to give it a fairly firm and steady appearance. It also holds it's shape very well.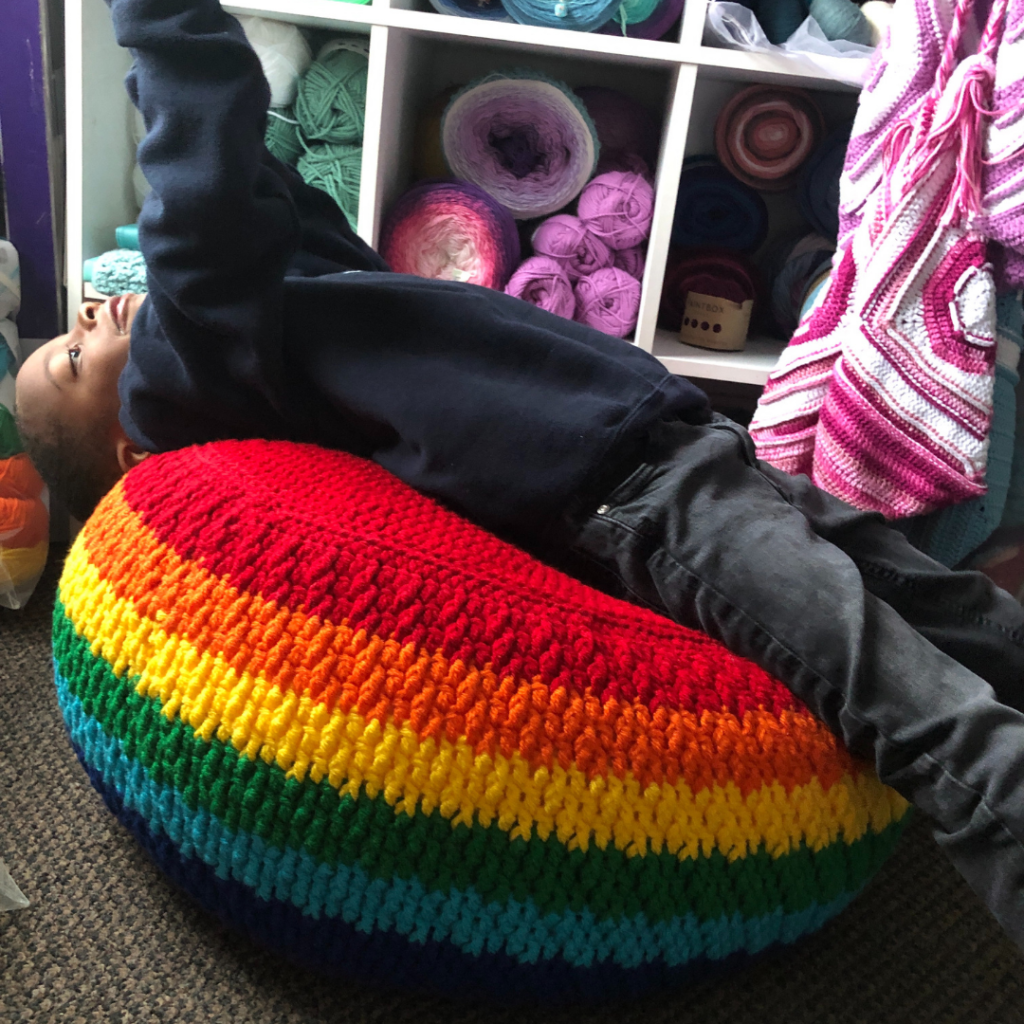 The rainbow colour version of this crochet pouffe pattern is stuffed with a mixture of a beanbag insert and pillows, with a wider base. This gives it a more floppy floor pillow appearance and structure and is more suited to lying about on as Myles does, rather than as the firm footstool/side table that Marcell uses his for! The pattern includes a full yarn colour breakdown and yarn amounts for both colour options.
Large crochet pouffe pattern tips
The On the Bias Pouffe is a beginner crochet pattern.  Made in two pieces, this works up quickly and is a fairly versatile pattern.  With a diagonal bias to the texture this is a combo of my Marian Bay Bag and On the Bias Tote patterns.  The colour layout of the grey version is the original design, however either or an alternative option would be amazing for this large crochet floor pillow pattern. Try darker shades, a pop of colour, solids or stripes will give emphasis to the texture and diagonal ribs.  
This pattern is worked by holding two strands of yarn together, partly to give it a more robust fabric, but also to create an ombre effect in the colour changes.  There are multiple suggestions for filling and closing your pouffe.  I don't sew so well, but also I wanted to be able to have the option to wash the cover and so have included a way to add an 'invisible' zipper but this is not required.
Getting appropriate bean bag stuffing, or even just knowing that I had the correct amount in my basket was an interesting challenge when finishing this crochet pouffe pattern as the measurements just wouldn't work in my brain! I used 5 preloved pillows, or 1 x 2 cubic feet bean bag insert and 2 preloved pillows to stuff the other. I am also reliably informed that this can be filled with a single duvet fairly easily!
I have also used a zip on one of my pouffes – this is optional, see below.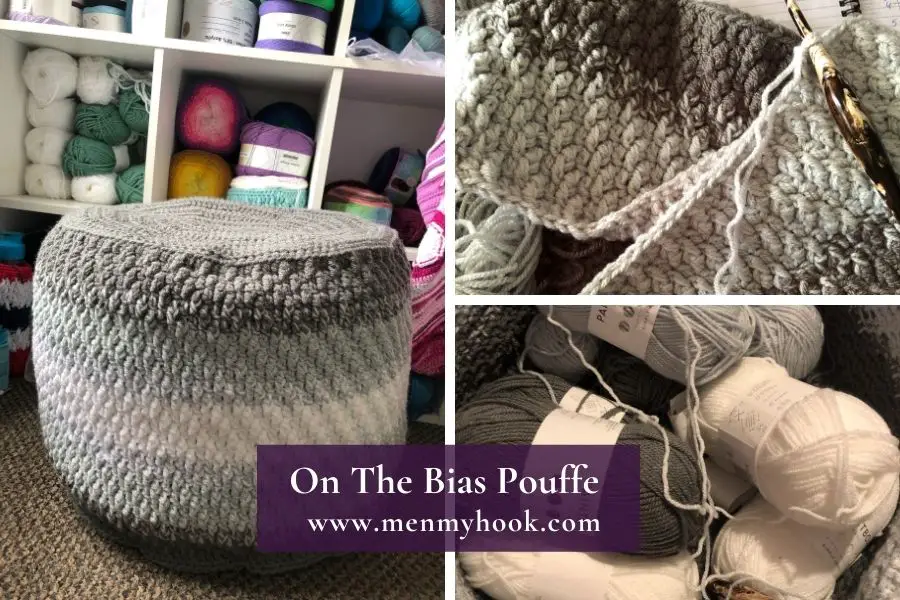 Terms: written in US crochet terms.  
Pattern type: written
Skill level: beginner
Yarn: 1200m of Paintbox Simply Aran or similar of any Aran or Worsted weight yarn
Size – Tall 16 x 16in, Wide 20 x 11in
Hook: 6mm – I used my Clover Amour Hook for one and Furls Resin Streamline hook for the other
Other Materials: stitch markers, darning needle, scissors, optional choices – (pre loved pillows, beanbag insert, zipper, sewing needle, sewing thread)
Stitches used:
Single Crochet
Double Crochet
Front Post Double Crochet
Half Double Crochet
Slip Stitch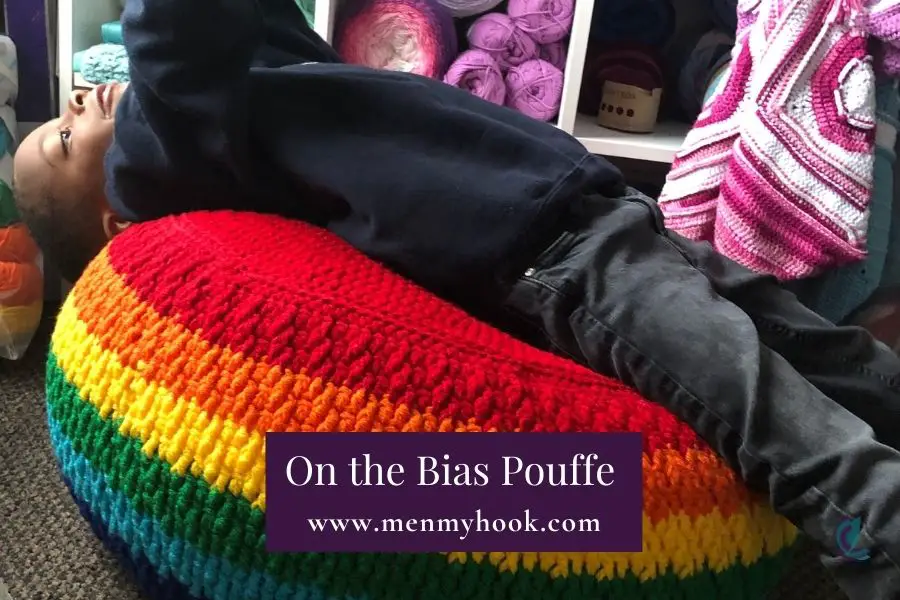 Get the On the Bias crochet pouffe pattern
Get your Ad FREE digital download pdf pattern copy of the On the Bias Pouffe large crochet pouffe pattern from your favourite pattern store below:
I hope you enjoyed the post and look forward to seeing your On the Bias Pouffes!
If you are loving the texture and want more home decor – check out the Loopy for Marian Bay Cushion
For accessories – the Marian Bay Clutch is a super quick make or the Marian Bay Cowl for the original design in the collection.
Garments – the Marian Bay Cocoon
Pop into the Facebook Group and let me know what colour you plan to make your wrap in and share your progress.
Bye for now,
B x