Free crochet cushion cover pattern – Craggy Coastal
This post may contain affiliate links. This means I may earn a small commission if you make a purchase from these links, at no additional cost to yourself.
Looking for a super simple crochet cushion cover pattern?  The Craggy Coastal Cushion is an easy beginner pattern that works up quickly and looks fabulous in solids or stripes.  Read on to find out more about the pattern and how to make your own below.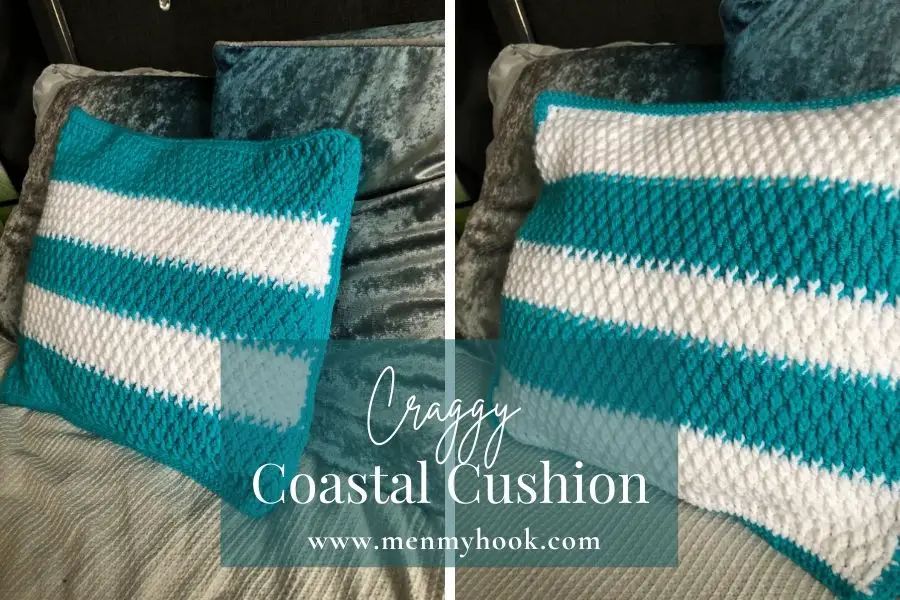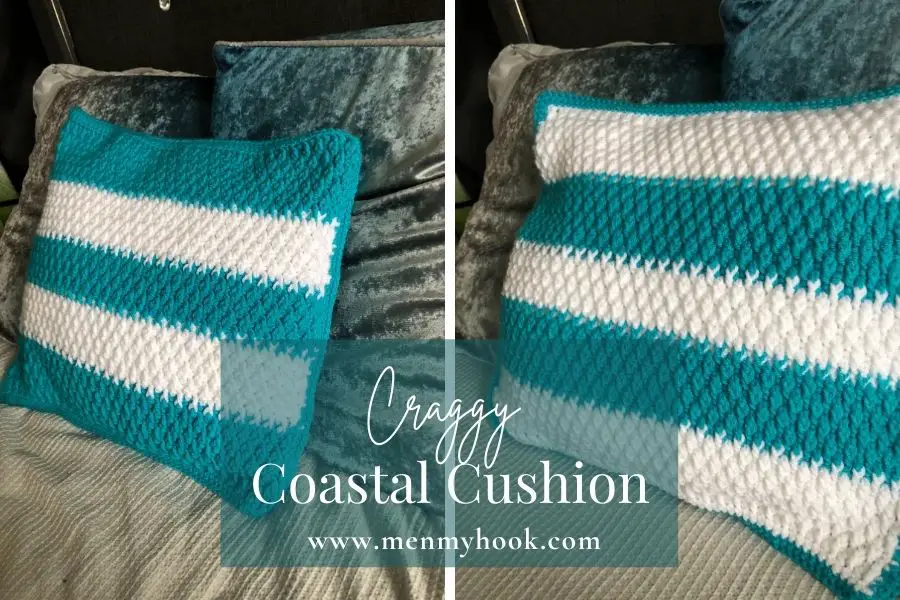 Inspiration
I chose the name Craggy Coastal Cushion for this design because craggy means (of a cliff or rock face) rough and uneven. I live on a coast that has cliffs and rock faces, the surface of the cushion is rough and uneven – objectively. And it's a bright blue sort of nautical theme so it works right?!
I love texture in my crochet and I have had a few comments and messages about how similar the alpine stitch used in this pattern is to my Marian Bay Collection stitch pattern.    It's is similar – they both have a textured surface, made using similar stitches.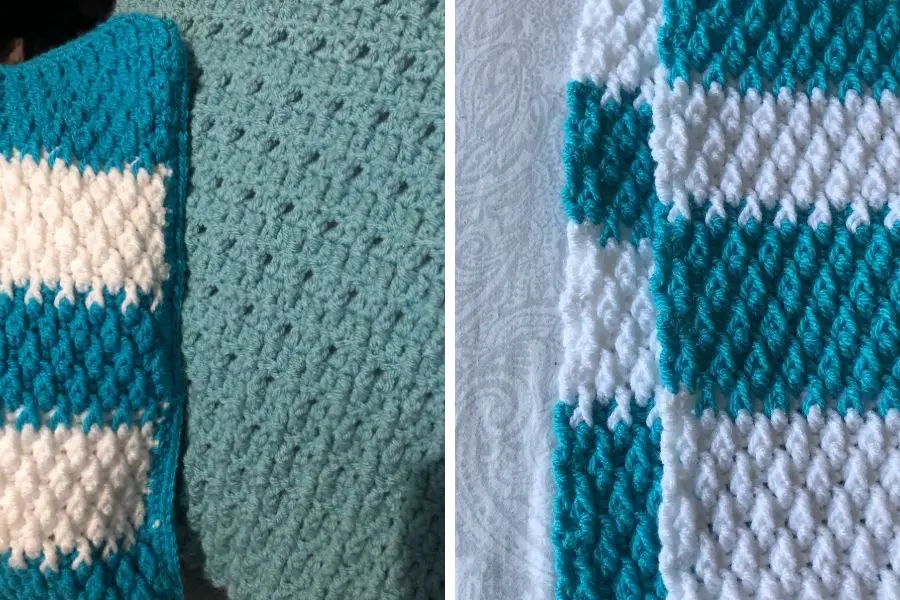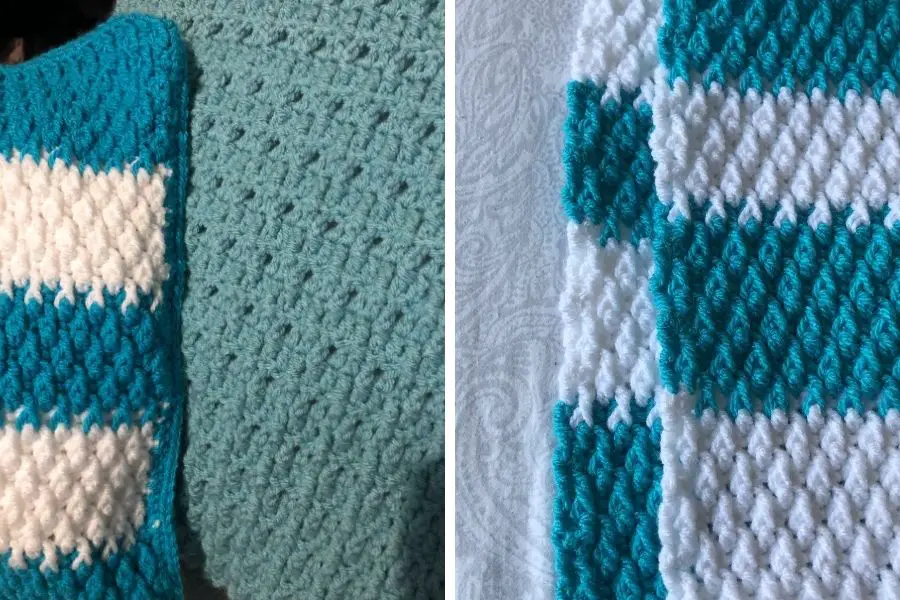 For me, maybe for you too, it's easier to see something visually than explain it sometimes. So I decided to make something – initially a swatch, to show side by side that they are different.  I got carried away and made a cushion cover.  Does that happen to you?
Crochet cushion cover – yarn love  
To make my Craggy Coastal cushion cover pattern I used Paintbox Simply Aran in Marine Blue and Paper White from Lovecrafts. This is a really soft, and great value, 100% acrylic yarn. Marine Blue is close to one of the brighter shades of teal/blue/green that I use in my bedroom and the contrast with the Paper White makes it bright and cheery, which I kind of need as a break from all the grey sometimes.

This is a great choice for a cushion for me as it washes well and stands up to real life – perfect for a crochet cushion cover that is intended for use in high traffic areas.
Craggy Coastal Cushion pattern info & tips
This crochet cushion cover pattern features the Alpine Stitch. This is an easy repeating stitch pattern. Things to watch – you will think it's a 2 row repeat, it isn't it's a 4 row repeat, and while this may effect yarn amounts note that this stitch pattern will cause your work to curl.
TRY, to keep a loose tension. Full confession – mine curled and I let it. However, it was loose enough that it would flatten out by simply running my hand over it. Usually I am not a slave to gauge at all, but for this I think maybe I am. I wanted to achieve a tight dense fabric for my crochet cushion cover, but not so tight that it felt too stiff, or had to be stretched too much to fit the pad. When making your cushion, keep that in mind.
While my cushion has a striped pattern this is a really gorgeous stitch and effective in a single colour. I chose stripes to give it more pop. Also, cos I love them. My cushion has stripes in alternating emphasis – each side has a different dominant colour. Again, totally not required, but details on how to achieve the same effect are included in the pdf pattern instructions.
Terms: US crochet terms, written pattern.  
Skill level: Beginner, easy
Stitches used:
Double Crochet
Single Crochet
Front Post Double Crochet
Get the Craggy Coastal Cushion Cover Pattern
Buy your copy of the Craggy Coastal Cushion Cover from your favourite pattern store here:
FREE crochet cushion cover pattern
Are you ready to make your own Craggy Coastal Cushion with this free crochet cushion cover pattern? All the details you need are below
Skill Level: Beginner
Terms:  US Terms
Materials used:
4 x Paintbox Simply Aran – 2 each of Paper White and Marine Blue
Hook: 5mm
Other items:  
1 x 16 x 16 in cushion pad
Scissors, darning needle, stitch marker
Gauge: 15 sts x 14 rows
Size: 16 x 16 ins
Notes: 
Ch2 counts as a stitch 
Ch1 does not count as a stitch
Try to keep a loose tension – the work WILL curl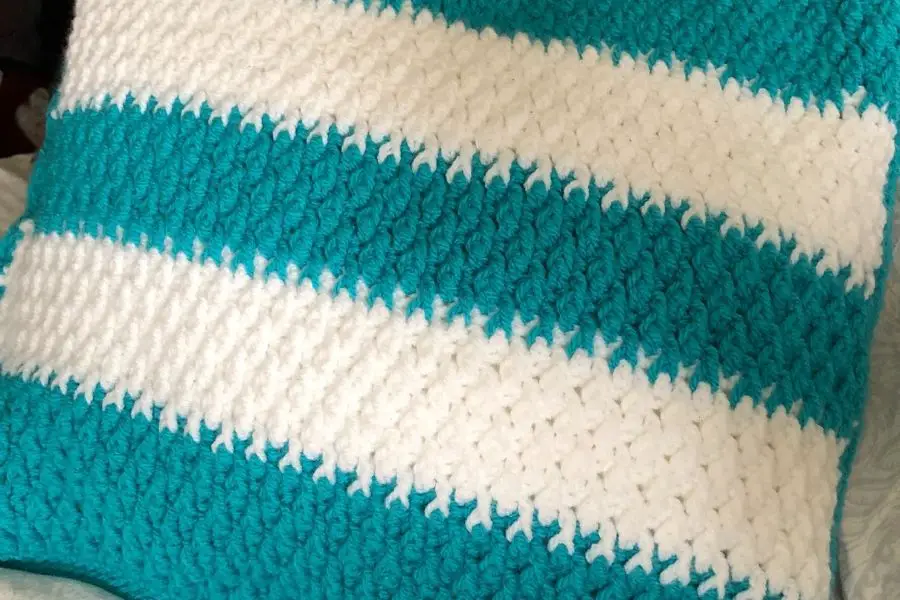 Stitches:
Single Crochet – sc
Double Crochet – dc
Front Post Double Crochet – fpdc
In this pattern the two colours are alternated to create a striping effect.  I have labelled each colour A and B.  
Colour A – Marine Blue
Colour B – Paper White
Both panels are made using the same stitch pattern.  Make one panel starting with colour a, the other with colour b.
Make 2 
Start:
Ch62
Row 1:
Dc in the 4th chain from the hook, dc in each ch across.  Turn (60)
Row 2:
Ch1 (does not count as a st), sc in the same st, sc in each st across.  Turn (60)
Row 3:
Ch2 (counts as st), [fpdc around the dc from 2 rows below, dc in the next sc], repeat across until 1 st remains, dc in the last st.  Turn 
Row 4:
Ch1 (does not count), sc in the same st, sc in each st across.  Turn 
Row 5:
Ch2, dc in the next sc, [fpdc around the dc from 2 rows below, dc in the next sc], repeat across to the end.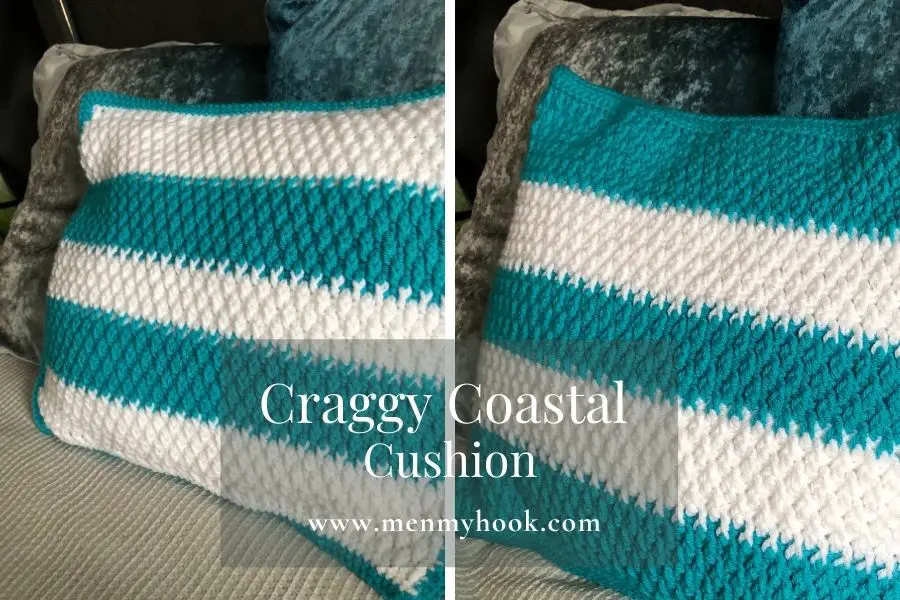 Row 6:
Repeat row 2
Row 7:
Repeat row 3
Row 8:
Repeat row 4
Row 9:
Repeat row 5
Repeat rows 6 – 9 until piece reaches 16 inches

Edge:
Join with colour A in any stitch and sc evenly around all 4 sides of the piece – placing 2 sc in each corner
Join
Place both pieces together right side facing out and starting in any corner sew or crochet together along 3 sides.  Now, place your cushion pad inside the cover and continue along the final side.  Tie off and secure your ends.
That's it – your Craggy Coastal Cushion Cover is complete.
I hope you enjoyed the post and look forward to seeing your Craggy Coastal Cushions! If you would like to make another – check out the Loopy for Marian Bay Cushion Cover.
Don't forget to pop into the Facebook Group and let me know what colour(s) you plan to make yours in and share your progress.
Bye for now,
B x