Summer Crochet Sweater Pattern – Hawthorne Sweater
This post may contain affiliate links. This means I may earn a small commission if you make a purchase from these links, at no additional cost to yourself.
Looking for an easy lacy lightweight summer crochet sweater pattern?  The Hawthorn Sweater is a beginner lace crochet summer sweater pattern featuring lace and puff stitches and a slouchy fit.  Read on to find out more about the design and how to get your copy of the pattern
Hawthorne summer crochet sweater pattern inspiration
Hawthorn's are one of the birth flowers for May and the inspiration behind the name for the Hawthorne summer crochet sweater pattern.  It all began while I was designing the Hawthorne, a beginner mobius cowl featured as a guest design on the Cosy Rosie UK blog.  I had been browsing for some new summer threads and finished the scarf way quicker than I had imagined and decided to adapt the stitch pattern to create a wrap and an easy beginner slouchy sweater that I could wear with my jeans.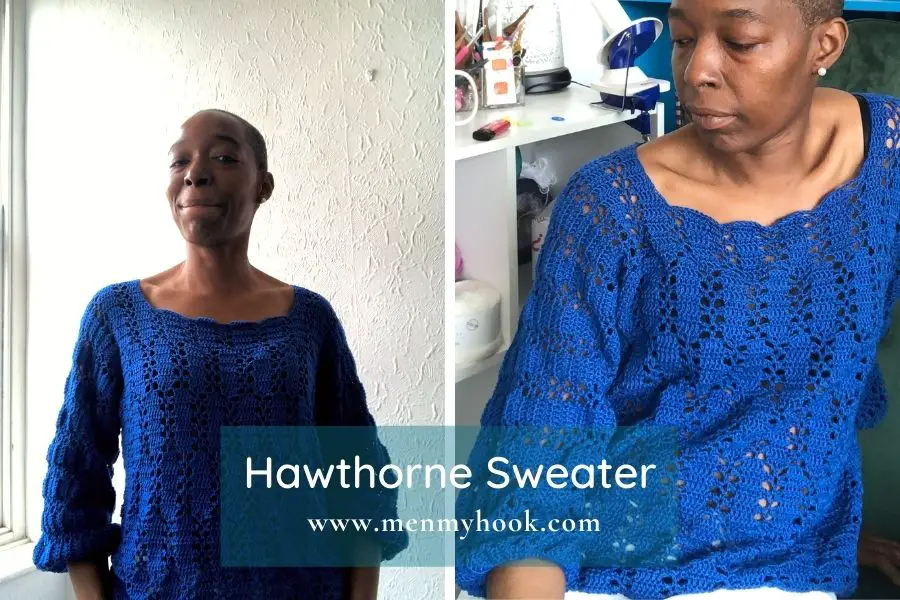 Lightweight summer crochet sweater pattern yarn & materials
To make my Hawthorne Sweater I used Twister Solids from Hobbii.  I like colour but generally design with gradient cakes and wanted to do something a little different so went with a single bright blue in colour no 148 Royal Blue.  Twister Solids are 55% Acrylic 45% Cotton 100g, 400m cakes available in 52 shades.  This is a great choice for a summer top, especially if you want something that is lighter/lacy.  To find out more about this yarn, check out the review post here.
For alternatives, I would stick to a cotton or cotton blend yarn.  Scheepjes Whirlette is almost a like for like alternative to make this slouchy summer sweater crochet pattern. You could also make this in a combination of gradient cake plus solids, or gradient cakes – Twister, or Scheepjes Whirl with matching colours would make an awesome version in my opinion but would take a little planning and prep to make my colour issues work out in this summer crochet sweater pattern.
For an alternative weight of yarn to make this summer sweater crochet pattern I would choose a DK or 3 weight yarn such as Stylecraft Naturals Bamboo Cotton, a personal favourite, or Lion Brand Coboo as used by one of my testers.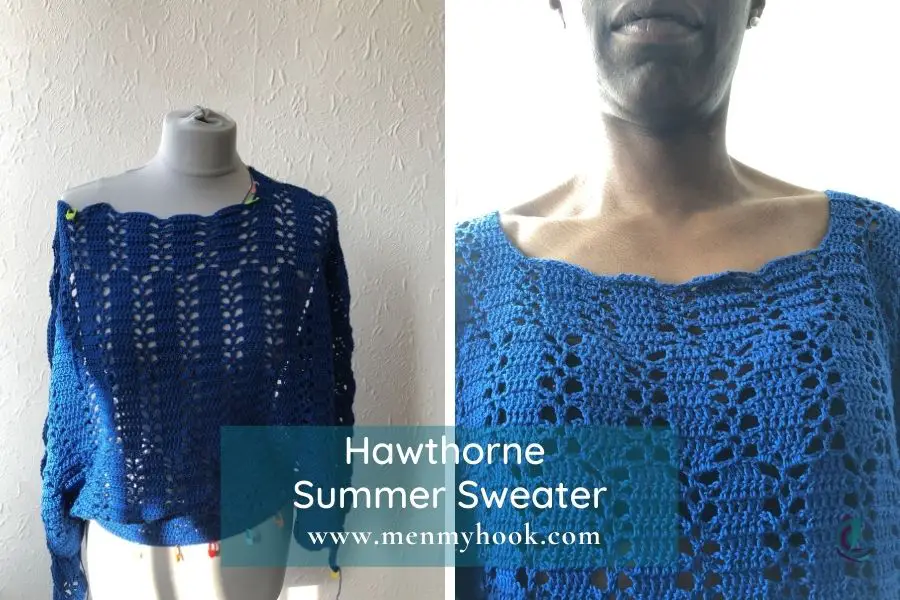 Slouchy sweater crochet pattern info & tips
The Hawthorne Sweater pattern is graded as experienced beginner, but I really want to say beginner. There is only one special stitch used within the pattern and that is optional!  Use a mixture of solid and lacy blocks to create a light, flowy fabric.  Made from the bottom up, with minimal sewing, this slouchy summer sweater crochet pattern is a little more advanced than the Key West Pullover but has some of the same thoughts and features included there.
Originally designed with 2 options for the front panel, this size inclusive slouchy sweater now has multiple sleeve options as inspired by my testers, which I think makes it a more versatile option and suitable for most summer style wardrobes.
Gauge is important in this design, otherwise you will lose at yarn chicken. I did on the original version, testers did and honestly it doesn't look or feel like you need all the yarn but you do. Adjust your hook as required BUT if you make adjustments outside of what is in the pattern then you may need more yarn.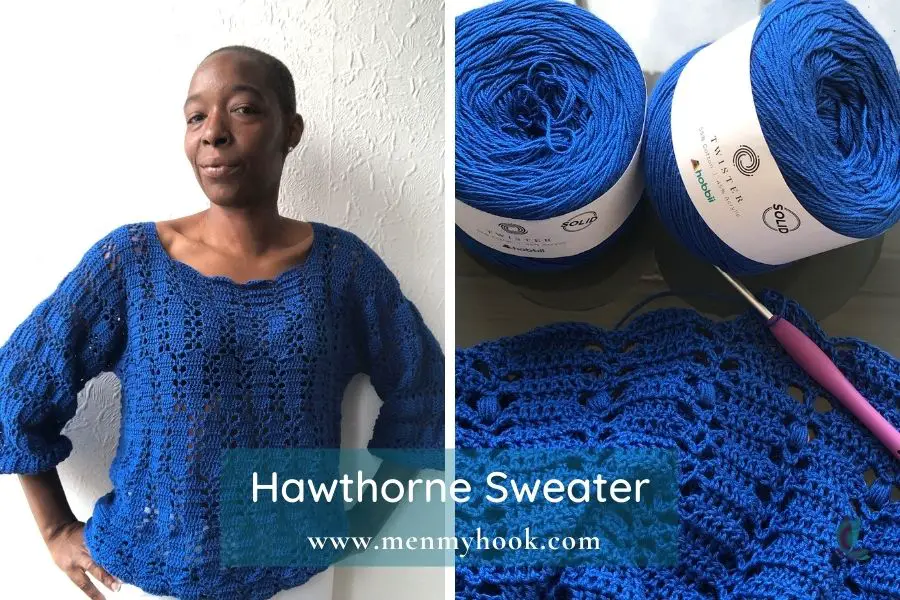 Terms:  written in US crochet terms.  
Type: written, photo tutorial and schematic included in pdf pattern
Skill level: beginner, some experience would help as this is not a typical 2 panel construction
Yarn: You will need 5 – 7 Twister Solid OR 2000m/2200yds – 2800m/3100yds of any fingering/ no 2 weight OR the same amount of any light weight 3 or DK yarn. 
Hook: 4mm (4.5 for dk version) or whatever is required to achieve gauge
Other Materials: stitch markers, darning needle, scissors, tape measure
Stitches used:
Chain
Single Crochet
Double Crochet
Puff Stitch
Hawthorn Sweater Tester Thanks
Teamwork makes the dreamwork so huge thanks to Jenny, Carmel, Kami, Winnie, Shayne, Becci for helping me with the test for this design. Check out their gorgeous work below
Jenny & Carmel


Get the Hawthorn Summer Crochet Sweater Pattern
Team work makes the dreamwork right? Join the Hawthorne Sweater CAL in my facebook group and make your own stylish slouchy summer crochet sweater. Starting on 31st May for 4 weeks, join the fun and make your own summer slouchy crochet sweater.
Hawthorne Sweater CAL
The Hawthorne Sweater CAL is a low cost premium cal that will be run in my Facebook community. Join us there to join in the fun!
How it will work:
Week One: Front Panel
Week Two: Sleeves & Neckline
Week Three: Shoulders
Week Four: Back Panel & Seaming
Each week there will be a Sip 'n' Stitch Q & A to answer questions, share tips and share your progress throughout the CAL.
Available to pre-order (including a materials list so you are ready!), get your copy of the pdf pattern 30% off NO CODE REQUIRED until 25th June
I am really excited to get this CAL started and see all your Hawthorne Sweater's come to life!
Pop into the Facebook Group and let me know what colour you plan to make your Hawthorne Sweater in and share your progress.
Bye for now,
B x