Simple Granny Square Crochet Handbag – Harmony Handbag
This post may contain affiliate links. This means I may earn a small commission if you make a purchase from these links, at no additional cost to yourself.
Looking for a a beginner crochet handbag pattern? The Harmony Handbag is an easy crochet granny square handbag pattern that works up quickly. Suitable for beginners and great in all colour combinations, read on to find out more about the pattern and how to make your own Harmony Handbag.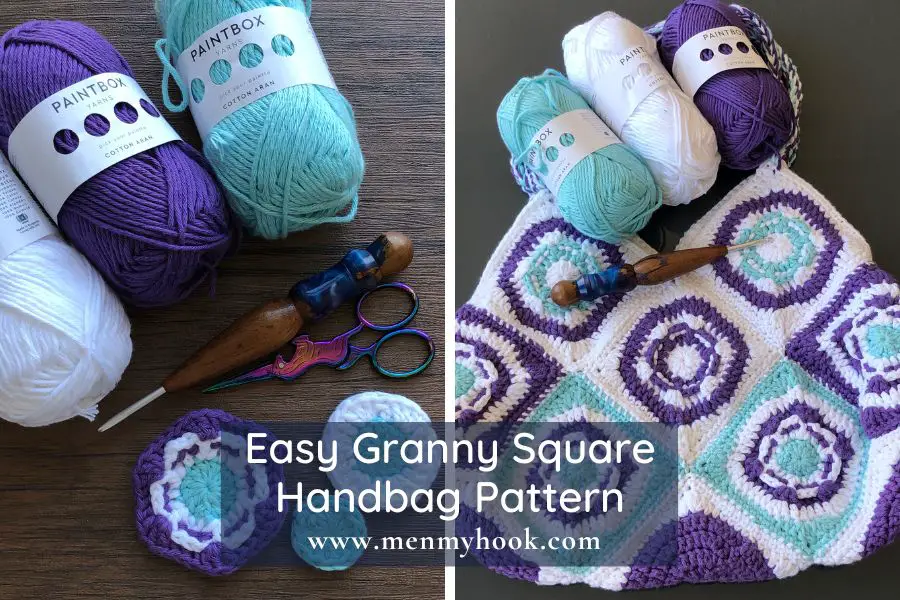 Crochet Granny Square Bag pattern inspiration
Do you love granny squares?  I have a love hate relationship with them – mostly because I don't enjoy weaving in all the ends. Recently I have been obsessed with different shapes and this easy crochet handbag pattern was adapted from my Harmony Bag as part of my obsession!
It started back in October last year, as I remember watching the final race of the 2021 F1 season when I began to join squares in this granny square pattern. However, as my sewing isn't great it needed to be pulled back and I didn't want to and it has sat in the corner for a little while! Happily granny square crochet patterns are popping up all over the catwalk so it's a great time to showcase the versatility that is a granny square with a quick to make crochet granny square handbag pattern.
Never made a granny square before? Check out these 3 easy beginner granny square motifs.
Harmony Handbag yarn & materials 
To create my Harmony Handbag granny square crochet pattern I used 3 colours of Paintbox Simply Cotton Aran yarn – Paper White, Pansy Purple and Washed Teal.  This is a lot of colours together for me but I think you need at least three colours so get the visual effect of the different layers to the square.  Paintbox Simply Cotton Aran is 100% cotton 50g, 250m/273yds available in 64 colours at the time of writing. 
I used a total of 300g of cotton to create my bag so you could, use more colours and create a totally scrap version, or you could use 300g of any Aran/Worsted or 4 weight yarn. A great alternative would be Lion Brand 24/7 – which is mercerised so would have a more hardwearing finish.
I also went with another favourite, my Clover Amour 4mm hook for this project. This is my go to 'regular' hook, although I know there is much debate about whether these are worth the price in crochet groups. For me, they are and when I want to work up something quick or, as in this project use a slightly smaller hook than I should, these are my first choice.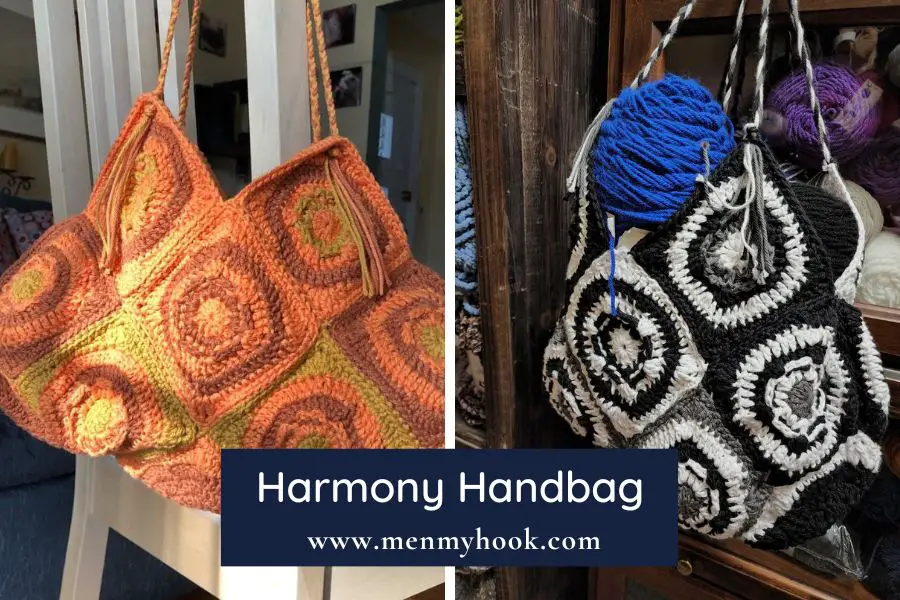 Granny Square crochet pattern info & tips
The Harmony Handbag pattern is a beginner crochet project.  Suitable for all levels of skill, this pattern uses all standard stitches and is a great opportunity to practice making different motifs, tidying up the corners in your granny squares, or using up odd ends of yarn to create a colourful and unique crochet gift.
Made of two motifs, this bag uses colour to accentuate the textures in the centre of the raised motifs used. Each motif is quick to work up and I would suggest an assembly line approach to working through this beginner crochet granny square bag pattern.
Once you have laid out your motifs, joining is completed with a simple sewing technique and the bag is finished with a braided handle.
For an alternative handle, check out the how to use a Lucet fork post here.
Terms: US crochet terms
Skill: beginner
Type: written
Yarn: 6 x Paintbox Simply Aran Cotton, 50g, 85m/93yds, 100% Cotton (see the colours plan below) or 300g of any Aran/Worsted or 4 weight yarn in similar quantities.
1 x Washed Teal
2 x Paper White
3 x Pansy Purple
Hook: 4mm = gauge is not important in this project so use something that is slightly smaller than the suggested hook size on your chosen yarn and this should work up just fine.
Other materials: stitch markers, darning needle, scissors
Stitches used:
Chain
Single Crochet
Double Crochet
Half Double Crochet
Double Crochet 3 Together
Double Crochet 2 Together
Slip Stitch
Magic Circle
Granny square handbag tester thanks
Many thanks to Christopher, Ilea and Kerry for helping me with the test for this crochet pattern.  To find out all the details on their projects including the yarn used, hit the images below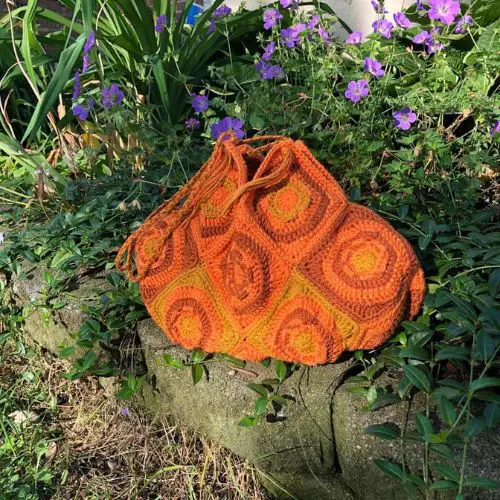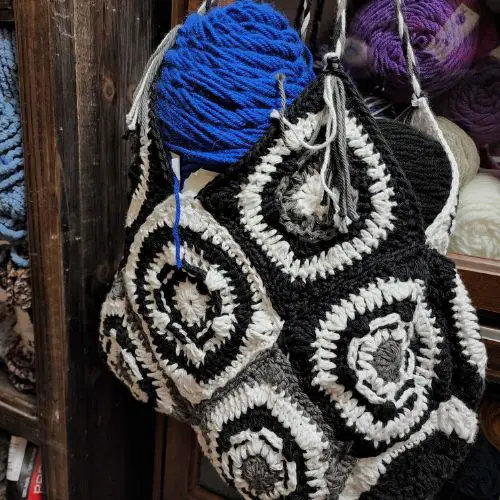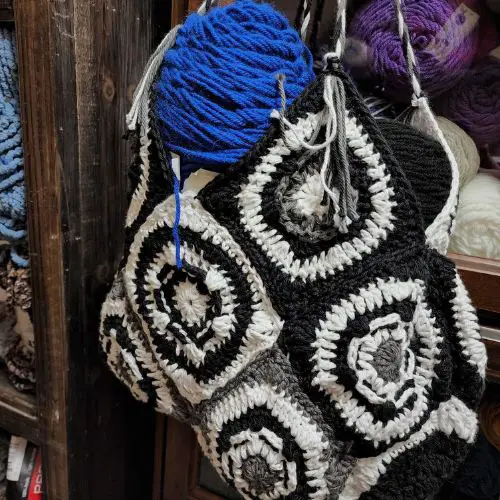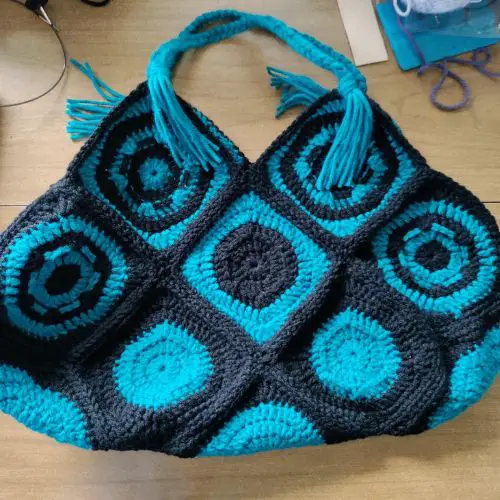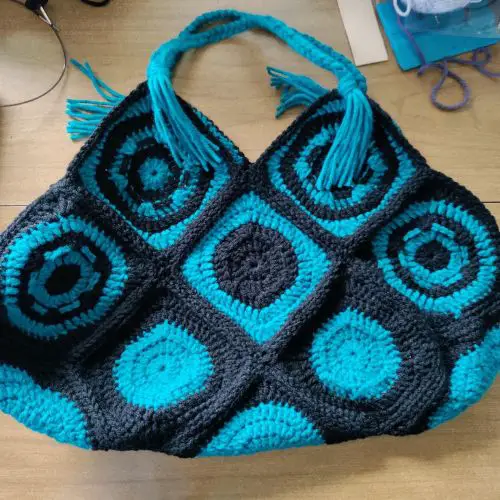 Get the Harmony Handbag crochet handbag pattern
Buy your ad FREE digital download pdf copy of the Harmony Handbag crochet granny square bag pattern from your favourite pattern store below.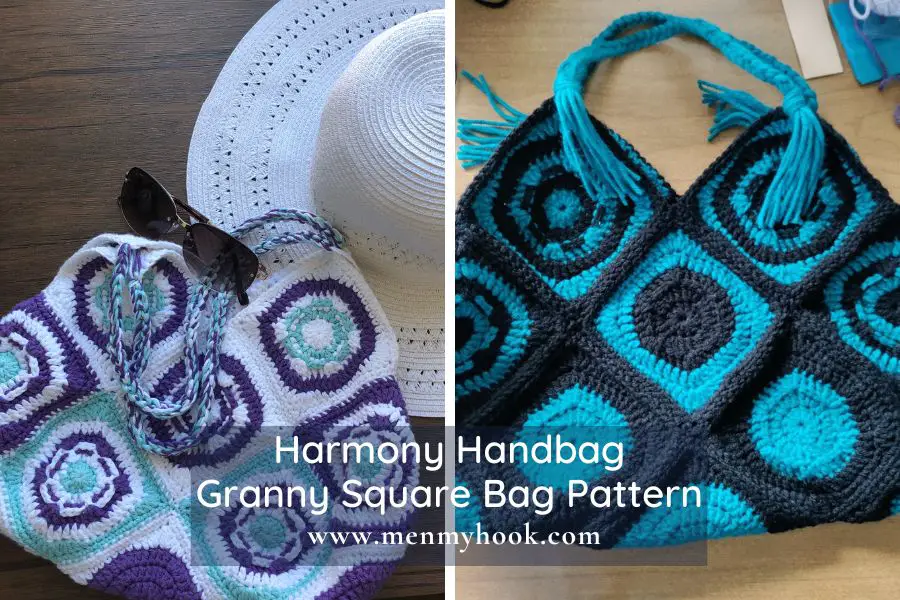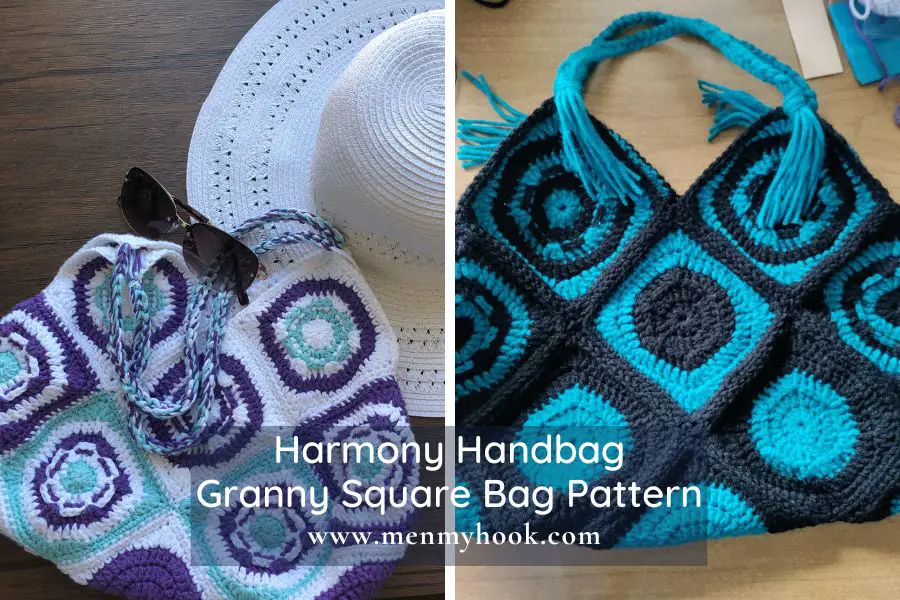 I hope you enjoyed the post and look forward to seeing your Harmony Handbag!
Love making bags? Check out this collection of market bag patterns.
Love Granny Squares? Check out the Granny Merge Cocoon or the Granny Merge Bralette for an alternative type of project using granny squares.
Pop into the Facebook Group and let me know what colours you plan to make your bag in, share your wip and fo's I would love to see them.
Bye for now,
B x