Easy textured cocoon cardigan – Marian Bay Cocoon
This post may contain affiliate links. This means I may earn a small commission if you make a purchase from these links, at no additional cost to yourself.
Intro
Looking for a beginner crochet project?  The easy textured cocoon cardigan – the Marian Bay Cocoon is an easy to make women's cardigan.  Quick to work up and full of texture, this easy cocoon cardigan is a great project to make for yourself, or someone you love.   
Inspiration
The Marian Bay Cocoon is the newest addition to the Marian Bay Collection and is possibly my favourite.  Well so far.  This easy textured cocoon cardigan is easy to make, a great beginner crochet project and full of texture and fun that with different colours looks amazing on everyone.
I love layering, I get too hot when I wear bulkier items and am forever taking things off and putting them on.  That is why cocoon cardigans are a firm favourite for me.  When making the Marian Bay Throw what occurred to me was that the texture might make for a fabulous cardigan that was both warm but light.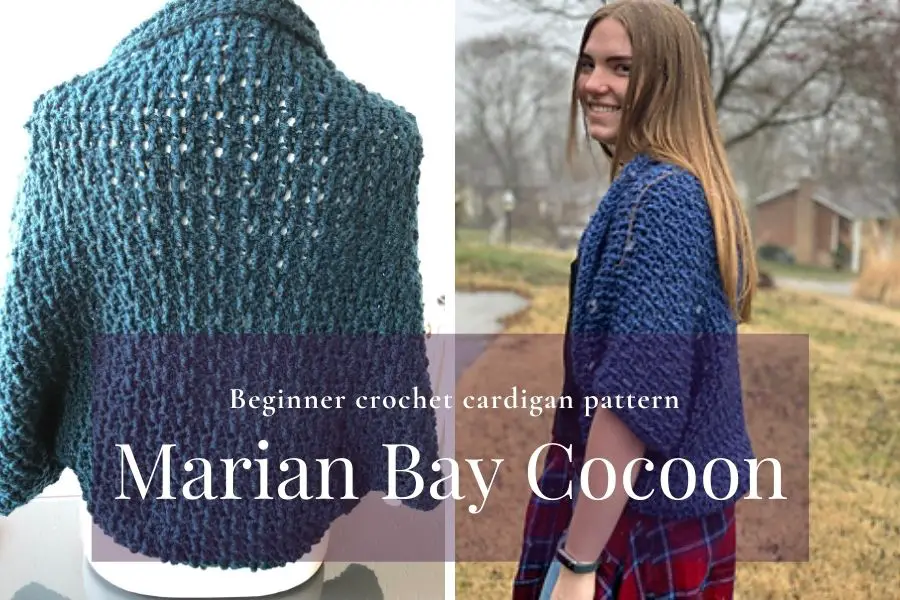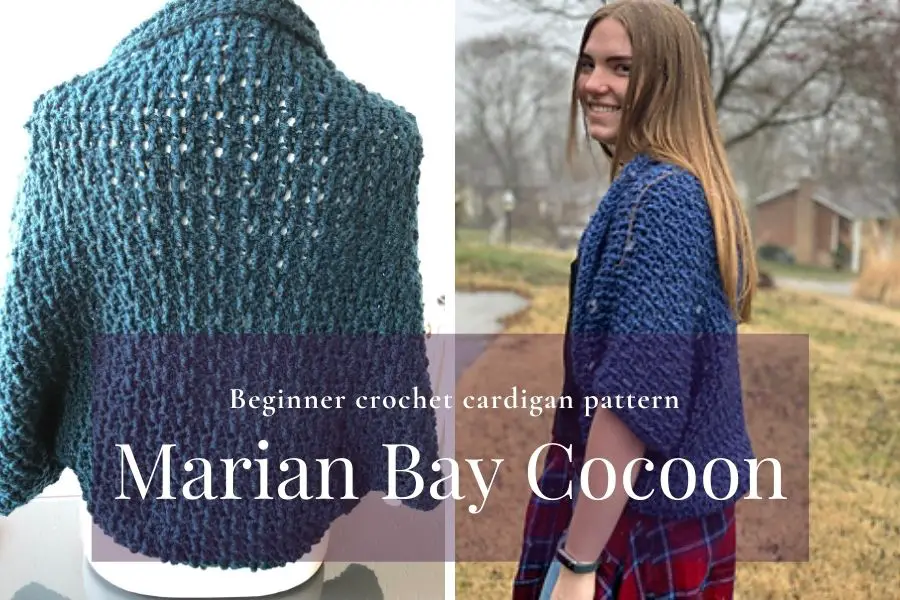 The Marian Bay Cocoon was designed to feature in the Mother's Day Gift's blog hop. The first ever blog hop hosted by me and I wanted to include something that I would be happy to receive as a gift, OR, gift to my mother. As a child my mum knitted us jumpers and cardigans. She also has this chunky oversized cardigan that we all wear when it gets to winter or cold in her house. OR we need a bit of comfort. That is kind of what I hoped to create with this design. A cosy feeling of home.
Head over to the post to check out all the details, the gorgeous designs included and how to get your FREE patterns.
Women's cardigan pattern info
Being my first easy crochet cardigan pattern I wanted something that anyone could make. This beginner crochet project is comprised essentially of a rectangle, then shaped to create a neck and armholes. This is the perfect easy cocoon cardigan to try if this is your first attempt at a crochet garment or women's cardigan.
The design is written to use Aran or Worsted weight yarn. However, I live in North Wales and its wet and or cold most of the year. I'm sure it will look fabulous in a dk or even a 4ply or light fingering weight yarn. I haven't yet had the time to work out the math or try this out myself, but I would love to see it. I think this stitch pattern in a gradient cake would make an interesting finish to this easy crochet cardigan. Depending on how you manage the colours, or not, it could make for an interesting visual effect.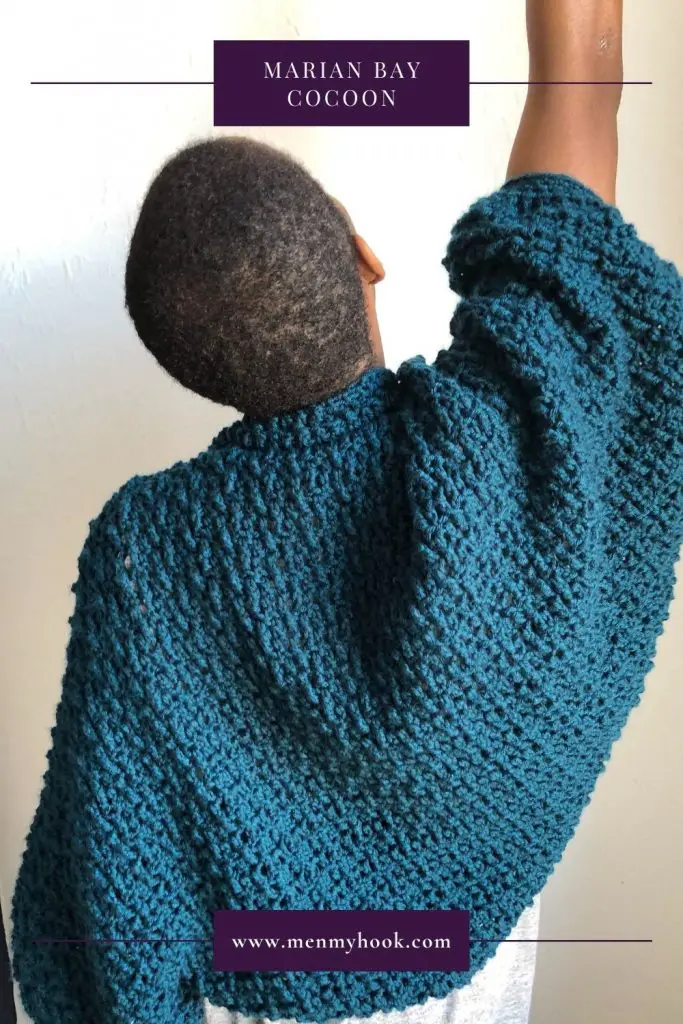 Yarn and materials
For this design I used Deramores Studio Aran in 3 colours.  At the time of writing i've made two of these easy cocoon cardigans, one striped and one solid version with this yarn.  
It's soft, easy to work with and frogs and washes well.  Available in 23 colours, each skein is 100g, 165m/180yds 100% anti piling acrylic yarn and retails at £2.19 each.  Machine washable at 40 degrees – it doesn't say clearly what the drying instructions are.  Hmm, I have put mine and other items I have made with this yarn in the dryer on low – so far so good, making it a great fit for a womens cardigan or any other wearable item.  
For my striped version I used Juniper and Jasmin, for the solid I used Emerald – it looks blue on the screen and it is somewhere between a deep green and a petrol type blue.  I love it personally but just a head's up about the shade in case you get some and are surprised.
Of course, my trusty Clover Amour was at my side.  I used a 7mm hook to create my cardigans – more on this in the tips section below.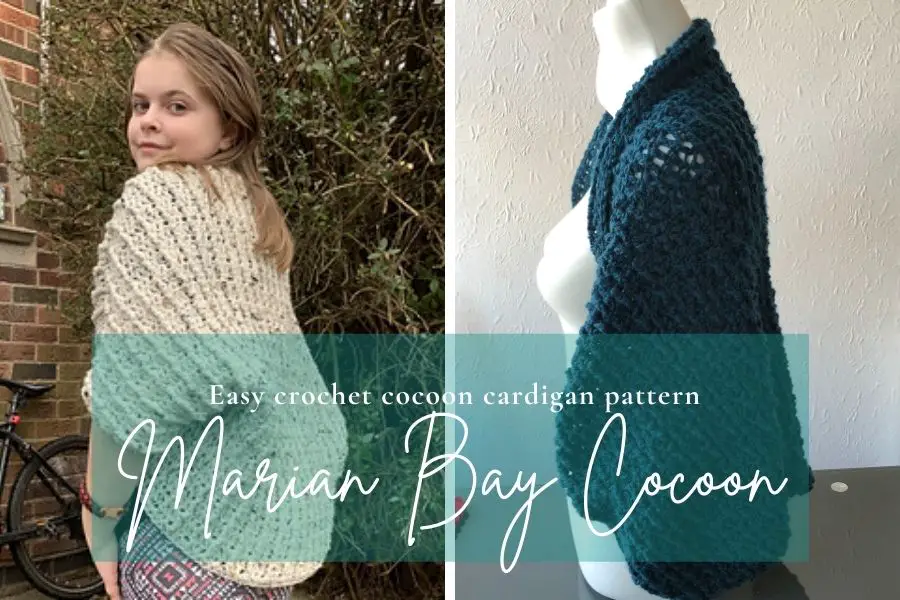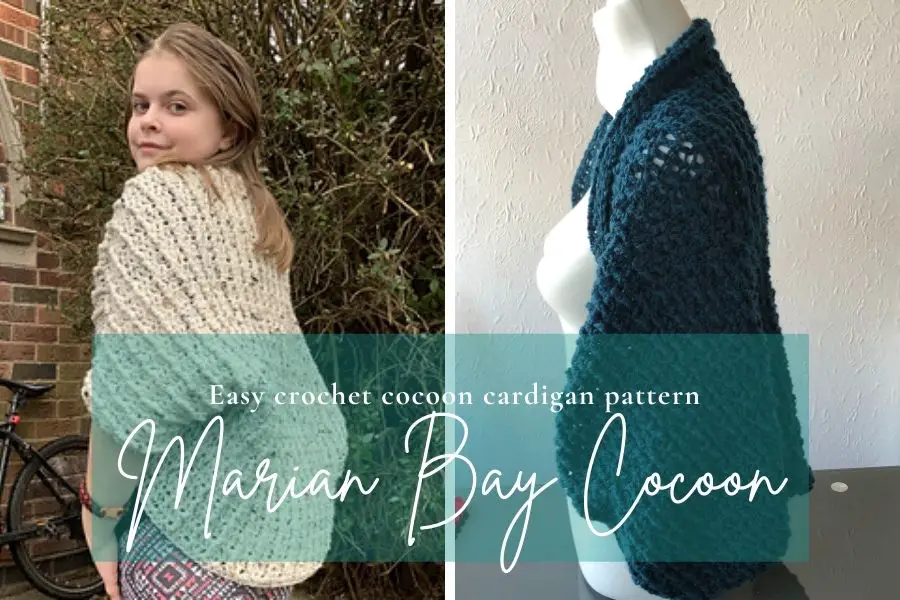 Easy crochet cardigan pattern tips
When making your cardigan the most important thing to remember is that this stitch pattern will create a dense texture so flexibility in your piece is more important than sticking rigidly to the gauge that is listed on the pattern.
Do not switch out your trebles for doubles – this will create a super tight fabric and won't allow the fabric to move as it should.
When making your trebles, one thing to note that happens frequently, is that the top loops of the stitch are quite loose at the end, or looser than those of the doubles.  When working your trebles try to remember to keep your finger on the loop on the hook as your work the rest of the stitch.  Also, pull your yarn a little tighter after each yarn over and pull through, this should help to keep it tighter and more in line with the doubles.
Trebles never go into the top of trebles.  Never.  If this is happening, check your row before you pull it out.  Generally, one stitch has been placed in the back of a treble when it shouldn't have been, OR, you have misplaced one stitch as the repeat becomes familiar and this will throw off the entire row.
It is more important that you have a tight and neat, but loose fabric with good drape than it is to stick closely to the gauge of this pattern.  Use whatever size hook gives you the best feeling fabric, just be mindful that a larger hook or looser tension than mine may require more yarn.
Skill level: Beginner – advanced
Terms: US Crochet terms
Yarn: Deramores Studio Anti Piling Aran, 
1080 – 1440 yds / 990 – 1320m of Aran/Worsted or 4 weight yarn, depending on size
Hook: 7mm, or whatever size you need to achieve a neat but fluid fabric in your cardigan depending on your tension and the yarn you use.
Stitches used:
Double Crochet
Single Crochet
Half Double Crochet
Front Post Treble Crochet
Back Post Treble Crochet
Half Double Crochet Two Together
Sizes: S/M, L, XL
Easy cocoon cardigan – tester thanks
I had a great response to my tester call for this cardigan, for which I am very appreciative of.  Many thanks to Judy LaBine, Joyce Shelton, Niki Chester, Leigh Lees, Michelle Stokes, Angelica Salagovich, Carmel McDonald, Sally Chin, Winnie Nelson, Tawnya Herman, Debra Chonos and Elaine Lattimore helping me to work through this pattern.  A selection of their gorgeous easy crochet cardigans are below.  I think I like a couple of these more than my own.  Also click on the images or names to find out details of the yarns used etc for this beginner crochet project.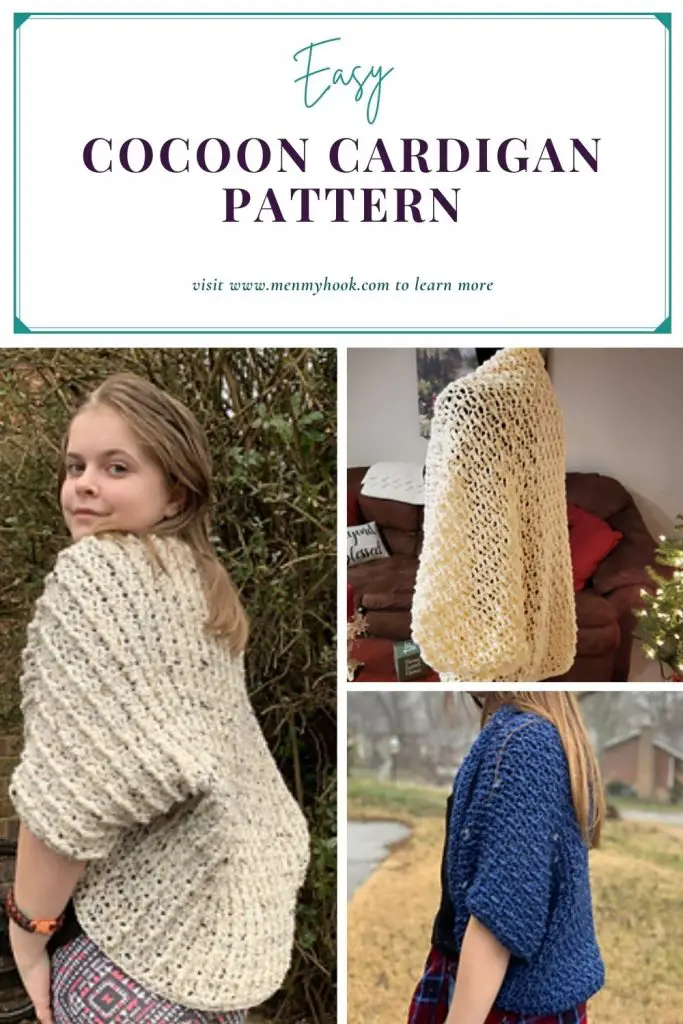 Get the easy textured cocoon cardigan pattern
The Marian Bay easy textured cocoon cardigan was featured in the Mothers Day Gifts Blog Hop on February 2nd. The hop includes a selection of patterns designed as gift ideas for mothers day and women. Head over to the post to find out more, or grab your copy of the cocoon cardigan pattern below.
Get warm this winter with the Marian Bay Cocoon. Treat yourself to a cosy cardigan make at 50% off part of the Candy Stripe Sale hosted by Cosy Rosie UK. For ONE DAY ONLY get 50% off your Marian Bay Cocoon pdf pattern. To get your discount code, and check out the other patterns in the sale, hit the button below.
I hope you enjoy your Marian Bay Cocoon pattern – I can't wait to see the colours that you choose!
Don't forget to join the group and let us know what colour you plan to make your easy textured cocoon cardigan in.
See you there,
Bx