This post may contain affiliate links. This means I may earn a small commission if you make a purchase from these links, at no additional cost to yourself.
Introduction 
A cute scarf or cowl can totally change or update your wardrobe for the new season.  Add texture, style and a cosy feel to your autumn winter wardrobe with the  beginner textured cowl pattern – The Marian Bay Cowl. This easy crochet cowl pattern works up quickly and makes an extremely stylish gift. Read on to find out how to make your Marian Bay Cowl and get your copy of this easy crochet cowl pattern.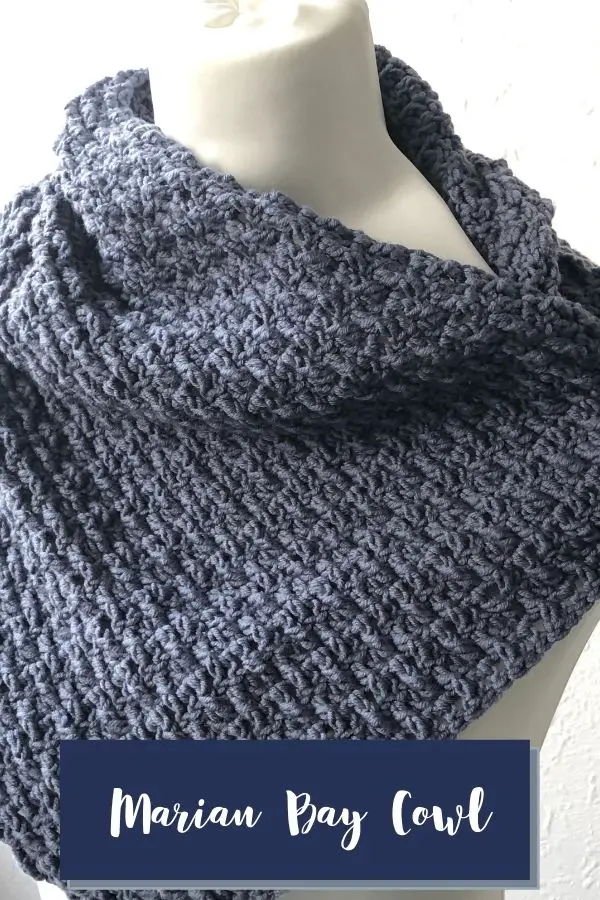 Inspiration
The Marian Bay Cowl and series are inspired in part by my need for a warm cowl and a love of texture.  I wanted something simple and warm but that would highlight the yarn used.  After making the Marian Bay Mitts, I posted in one of my most regular facebook groups for naming inspiration.  My friend, and co enabler Jane, suggested the name Marian Bay and it immediately stuck.
The Marian Bay easy cowl pattern was designed to featured in the 2020 Gift Giving Blog Hop by Crochets by Trista.  Throughout November, 20 designers have collaborated to share 21 new designs with you for free.  Today, 20th November is my day.  Scroll down to find out how to get your free pdf copy.

Easy cowl pattern yarn and materials 
I was fortunate enough to grab a Deramores Mystery Box no 4 at the early stage of their mystery box deal.  I received a number of balls of yarn including the super soft, and simply gorgeous Deramores Studio Merino yarn in 4 different shades. 
Immediately I knew that I wanted to make something with this yarn to showcase it.  A soft, springy texture greets you when you first touch this yarn and you will continue to fall in love with it while you work.  It doesn't split, frogs extremely well, and creates a warm dense fabric, a benefit of 100% merino that you won't necessarily get with other dk weight yarns.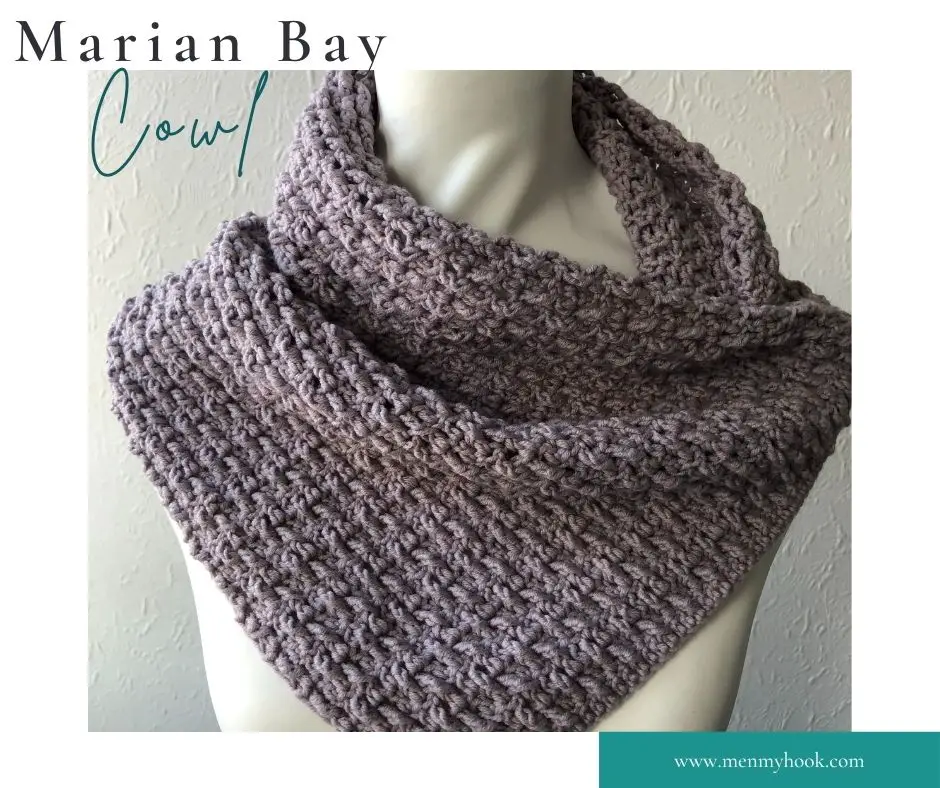 Crochet cowl pattern info & tips
Merino is a natural fibre and behaves a little differently to acrylic.  If you haven't used it before, it's important to know that the yarn I used has a quite springy texture.  It creates quite a warm dense fabric and I used a 5mm hook because it kept the structure and definition of the design, while allowing the fabric to move.
Confession.  I generally don't do a gauge swatch if I make a project from another designer.  I say this so you don't feel that you have to be a slave to the gauge listed.  Also so that you know if your fabric is super loose – go down a hook.  IF it feels stiff go up.  You want it to be close and warm, but if it's too stiff you will not achieve the drape in the pictures below.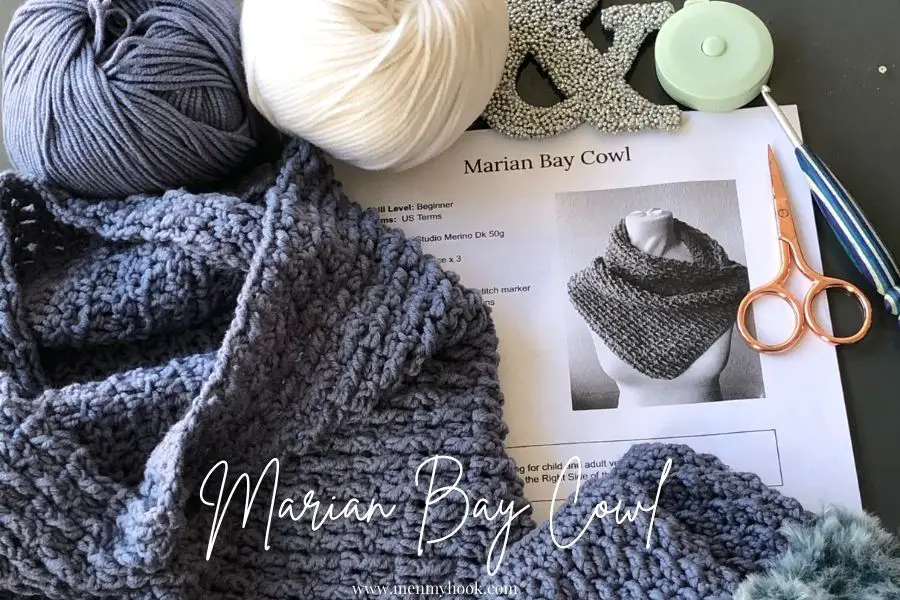 Skill level: Intermediate
Terms: US Crochet terms
Yarn: Scheepjes Whirl Fine Art or 400-450m of any dk weight yarn.  I love gradient cakes and think this would work with most gradient or long striping yarns.   The effect with a pooling or mottled yarn would be interesting and I think a solid colour would be gorgeous.
Hook: 5mm
Stitches used:
Double Crochet
Front Post Treble Crochet
Back Post Treble Crochet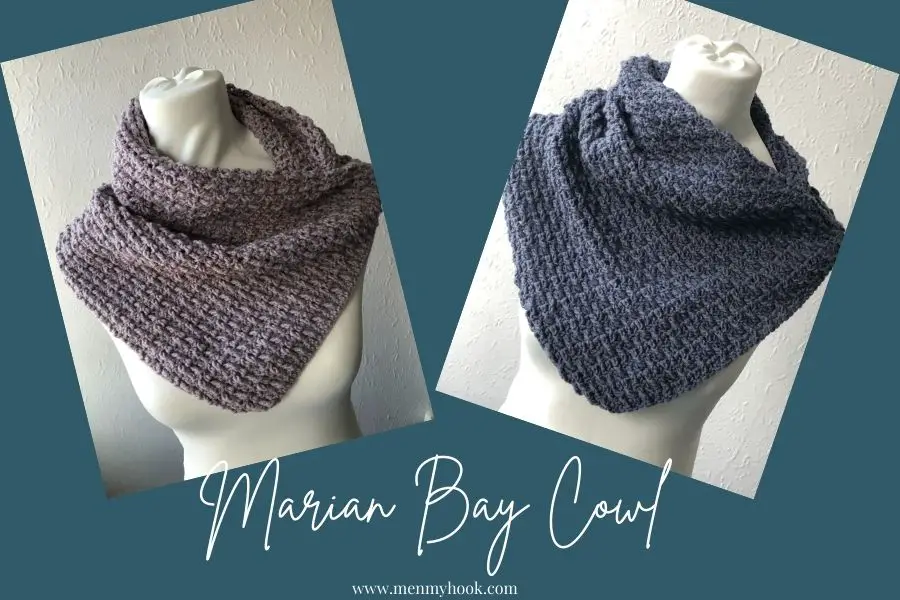 Easy cowl pattern
This pattern was available for free as a FREE download as part of the Crochets by Trista Gift Giving Blog Hop on November 20.  Check out the post for the full lineup of all the patterns that were included in the event.
I hope you enjoyed the post and look forward to seeing your Marian Bay Cowls.
Let me know in the comments below, what colour you plan to make yours in.
If you like this cowl, you might also like the Marian Bay Mitts – a coordinating pair of fingerless gloves with a furry cuff!
Buy your copy of the Marian Bay Cowl here
Pop into the Facebook Group and let me know what colour you plan to make your wrap in and share your progress.
Bye for now,
B x