Textured Crochet Cushion Cover – Loopy for Marian Bay Cushion
This post may contain affiliate links. This means I may earn a small commission if you make a purchase from these links, at no additional cost to yourself.
Looking for a modern crochet cushion cover pattern?  The Loopy for Marian Bay Cushion is a modern, advanced beginner, textured crochet cushion cover pattern.  Featuring lots of texture and multiple sizes, read on to find out more about how to make your textured crochet cushion cover and how to get your copy of the pattern below.
Textured crochet cushion cover pattern inspiration
This crochet cushion cover pattern has been on my list of things to do since I designed the Marian Bay Throw.  I love things that match, and immediately as I decided to make that throw I knew I needed to have a cushion cover to go with it.  A number of things conspired against me to complete this in November like I wanted to.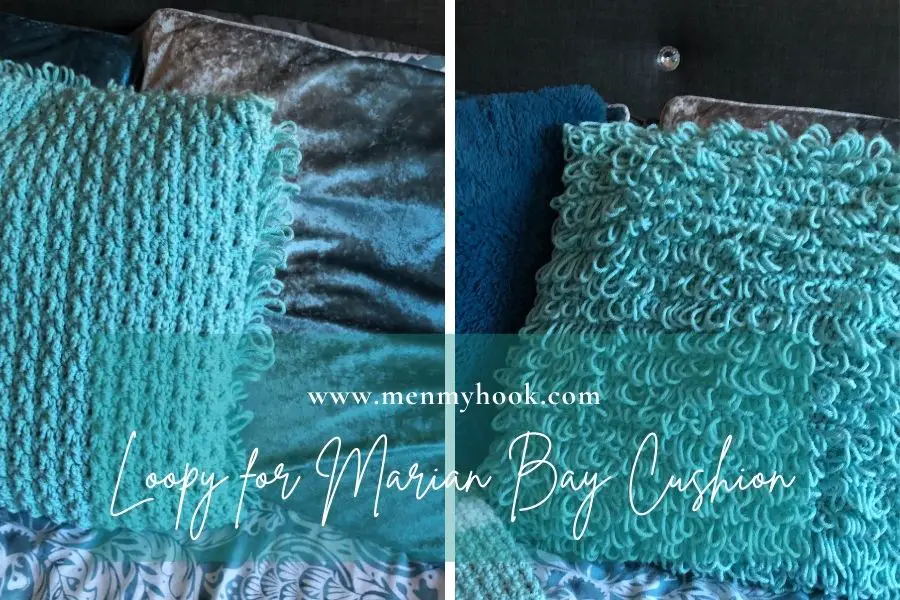 Yarn – I wanted this to be for myself, however none of the colours that I wanted were available in the numbers I needed.  I gave my original throw away as a gift, and planned to make a coordinating textured crochet cushion cover to go with it.  Enter snag number two.  The original designed had a furry back.  I had recently made the Marian Bay Mitts, and fallen in love with Sidar Alpine. 
However, I knew the amount I needed was beyond my budget for the single side of a cushion so I sought out an alternative yarn.  I stumbled upon King Cole Tufty – which on the face of it was a brilliant move.  They had a pink shade, it was a huge ball and as I only wanted to make one side this should not present a huge dent in my finances to complete my square cushion cover.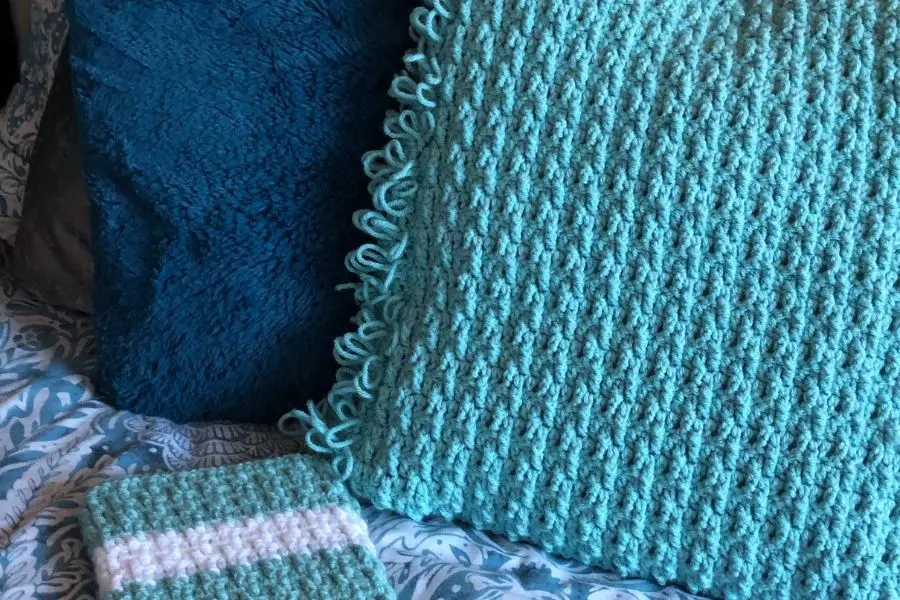 I hate it.  It's sitting across the room now in my basket of hell.  I tried double stranding it with an additional yarn in a similar colour.  I tried doubling the additional yarn.  If you know how I can use this yarn successfully to complete the cushion – pop a comment below because I don't like to be defeated by things and I don't want to throw it away!
I had a lightbulb moment with the loop stitch to finish this textured cushion pattern.  My original idea was to have two different textures – that is how I like my cushions.  As the Marian Bay side is already quite textured, I could have chosen a more simple pattern but I wanted both a visual and tactile texture to be present which I think I have achieved with the loop stitch.

Yarn Love
The yarn I have settled upon using in this textured crochet cushion cover pattern is Paintbox Simply Chunky.  It's the same yarn I used to make the throw and I like it.  It is a 100g 136m/149yds of 100% acrylic yarn available in 49 shades, priced at £2.25.  It is available in packs which are regularly discounted – if you plan to make this with the cushion buying packs are what I would encourage, especially in the sale.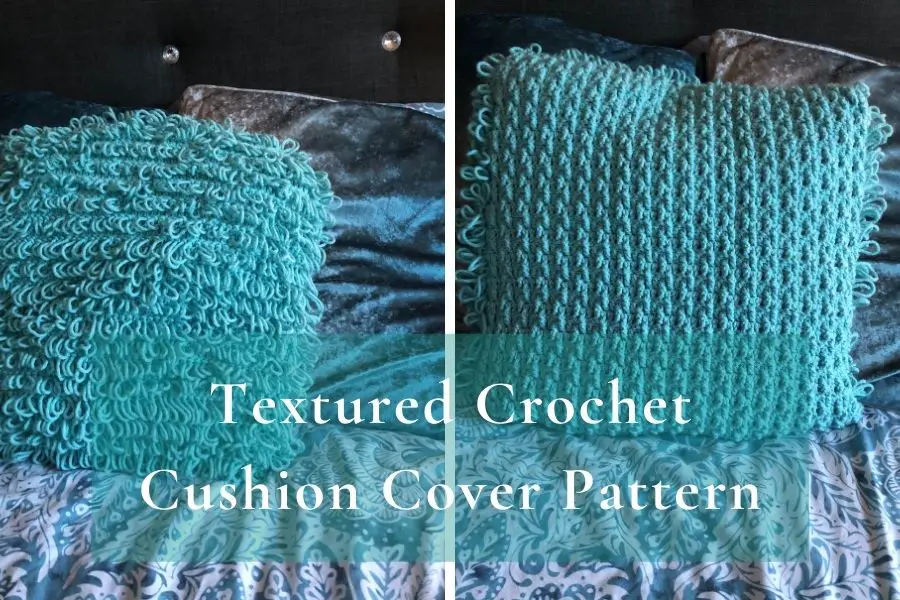 Crochet cushion cover pattern info & tips
Where do I start.  I have graded this as an intermediate pattern as the loop stitch takes a minute to get your head around, and to keep consistent.  While I like things to be even, the only way I found that I kept the loops fairly consistent on my textured cushion cover was to complete the loop rows without stopping to do something else. 
I found that if I stopped half way through a row of loops, like I would in other patterns, the second half did not look the same as the first and it was noticeable – either long or shorter with no consistency.  Don't do it.  Finish that row if you must stop, even if the next row is a little different once you get going again and the rows stack up on each other that is not as noticeable – don't all go staring closely at the pictures of my Loop for Marian Bay textured crochet cushion cover will you.

If you are new to the Marian Bay Collection, my tip for keeping your post stitches, and trebles generally, tighter at the top, which helps to keep it uniform is to keep your finger on the loop on your hook as you work through the stages of the post stitches.  You should also tug the yarn gently as you work through each yarn over as this will help as well.
If you haven't used Paintbox yarns before and follow my instructions for hooks then it's important that I tell you that it will be a little splitty when using the 4.5hook especially.  I would usually use a 6mm and not have any problems with it, however, in this design I wanted a tight fabric so that I didn't have to line the cushion cover and so that the pad wouldn't show through.
This pattern is written in US crochet terms.  
Skill level: Intermediate – tricky in places, but advanced beginners should be able to complete the pattern
Yarn: 6 x Paintbox Simply Chunky or 894 yds/816 m of any Chunky/Bulky 5 weight yarn 
Hook: 4.5mm & 5mm
Other Materials: 1 x 18 x 18in (46 x 46cm) cushion pad
Stitches Used:
Single Crochet
Half Double Crochet
Double Crochet
Front Post Treble Crochet
Back Post Treble Crochet  
Single Crochet Two Together
Right Side
Wrong Side
Loop St
Loopy for Marian Bay Cushion FREE Pattern
On the 28th February, the Loopy for Marian Bay Cushion Pattern was available for FREE as part of the Mother's Day Gift's Blog Hop.
Loopy for Marian Bay Cushion Pattern
Buy your copy of the Loopy for Marian Bay textured cushion cover pattern from your favourite pattern store here:
Get the Marian Bay Collection
Get the entire Marian Bay Collection crochet patterns here
I hope you enjoyed the post and look forward to seeing your Loopy for Marian Bay Cushions!
Pop into the Facebook Group and let me know what colour you plan to make your wrap in and share your progress.
Bye for now,
B x