How to make an easy crochet tote bag – On the Bias Tote
This post may contain affiliate links. This means I may earn a small commission if you make a purchase from these links, at no additional cost to yourself.
Are you a bag lover, looking for your next wip?  Would a modern crochet tote bag pattern be just the thing you need to add to your summer wardrobe?   The On the Bias Tote is a beginner crochet tote bag pattern with lots of texture.  Made in one piece and without sewing, this bag works up quickly and is a great quick make.  Read on to find out more about the On the Bias Tote crochet bag and how to get your copy.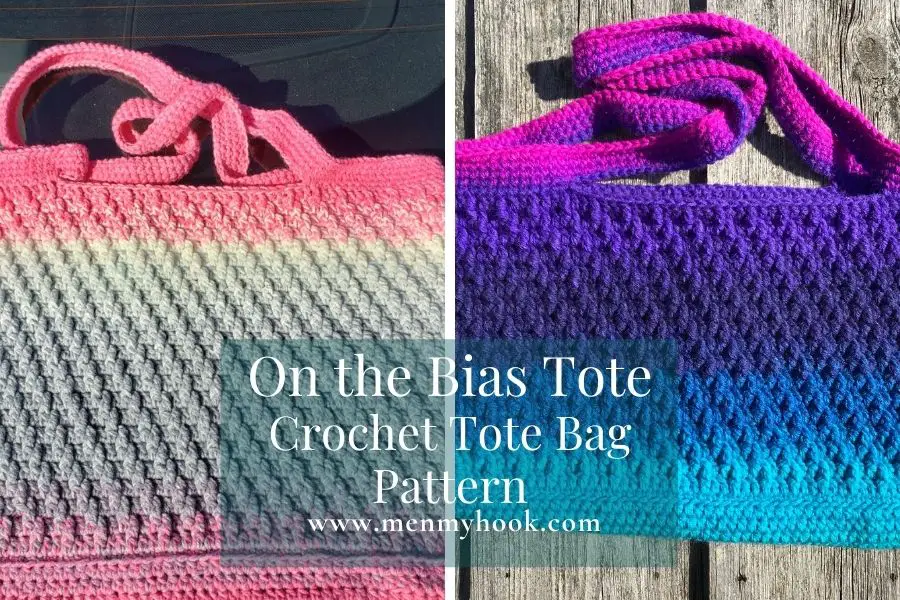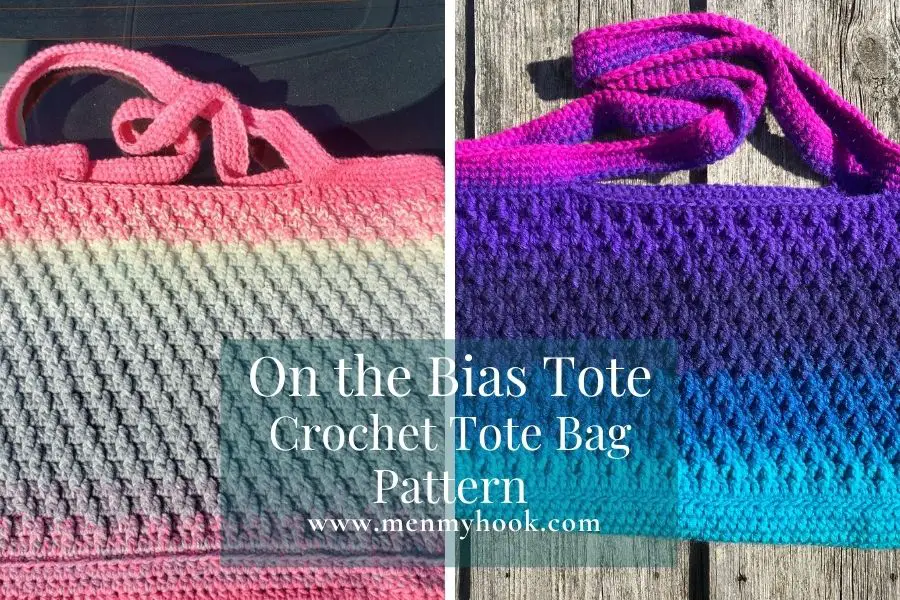 On the Bias crochet tote bag inspiration
Since I made the Marian Bay Bag, I have wanted to rework the pattern with an alternative base.  As a definite handbag lover – there can never be too many bags, and with all the shape and yarn choices I have wanted to make a crochet tote bag pattern for a while.  The stitch pattern for the On the Bias Tote has a few similarities to the Marian Bay Bag, and is also included as one of the textures in the Totally Textured Yarn Baskets pattern. If you enjoyed working either of those patterns, or the textures this might just be the tote bag pattern for you!
Yarn and Materials 
To make my original On the Bias Tote crochet tote bag pattern I went back into my stash of King Cole Cottonsoft Dk.  For this design I used the colour Opal, a gorgeous bright jade green shade and worked with two strands held together. I think bags should be sturdy, BUT, I haven't found a chunky weight cotton that I love so for me, working with two strands of dk weight yarn is the current alternative. It's soft and sturdy but not too stiff. Unfortunately, Opal is currently out of stock everywhere, so I wanted to remake the bag in something accessible….

For my second make, I broke the rules and bought some new yarn – Paintbox Recycled Cotton Worsted in the colour Jam. I am a big fan of recycling in my personal life and natural fibres, so I have been eager to try this yarn since I saw it appear in my Lovecrafts newsletter a while back. This is a 100g 155m/169 yd ball of 100% recycled cotton aran/worsted weight yarn. Currently available in 10 shades that are a little different to the regular paintbox lines and price at £3.50 per skein. For more details on the Paintbox Recycled Cotton Worsted yarn, check out my review here.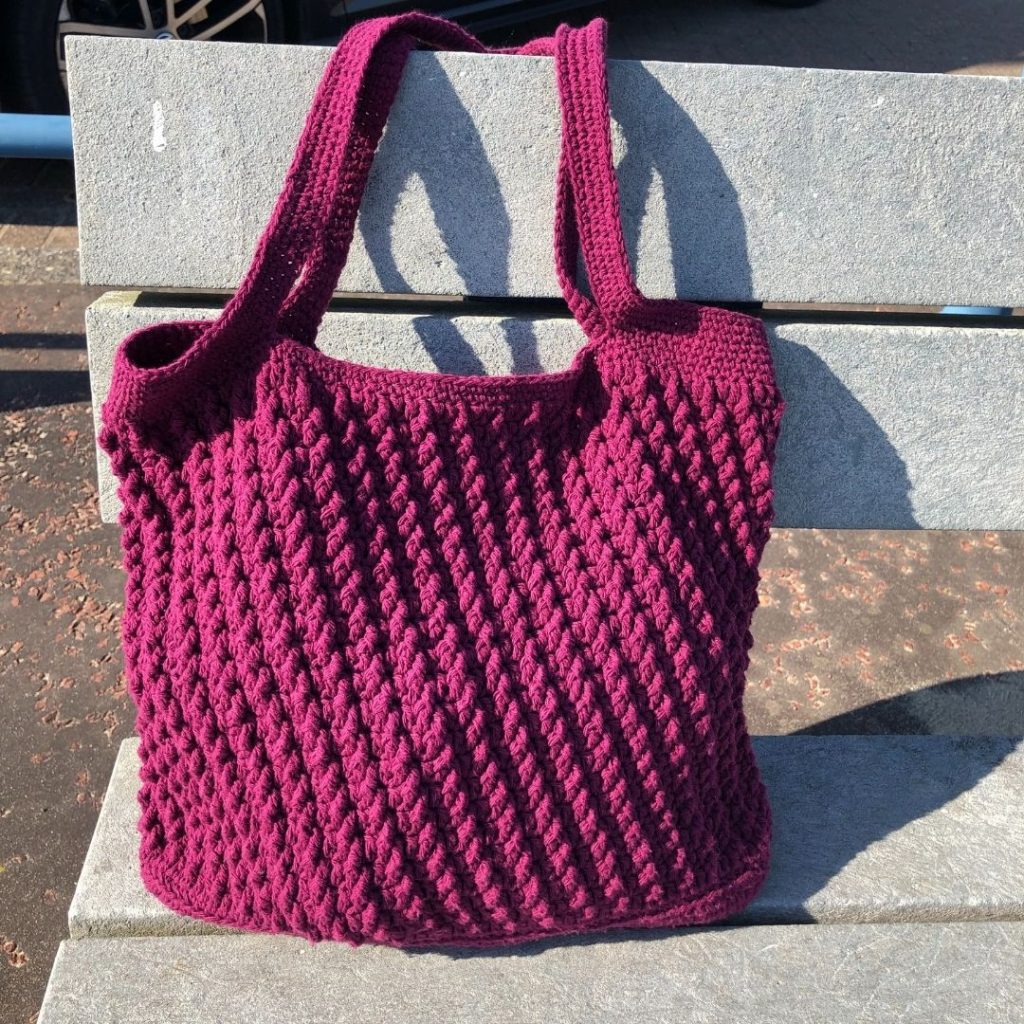 Pattern info & tips
The pattern is labelled as beginner, and uses a combination of simple stitches to create the textured effect.  This may be the first time you work around both sides of your starting chain, but it isn't difficult and once you get the hang of it it's a pretty neat trick.
This bag pattern is written in one size only, and worked from the bottom up using two strands of yarn held together.  I tried to keep a consistent and tight gauge when working this design as I wanted the structure of the bag to be quite firm.  I don't think you need to be a slave to the gauge in the pattern provided that your stitches are neat and close together.   
In order to keep your post stitches neat, hold your finger on the loop on the hook until you work through the final loops of the post stitch. As you work through the loops, give the yarn a little tug to keep it from getting too slack – this should help with keeping your post stitches tighter and the loops at the top from looking so big.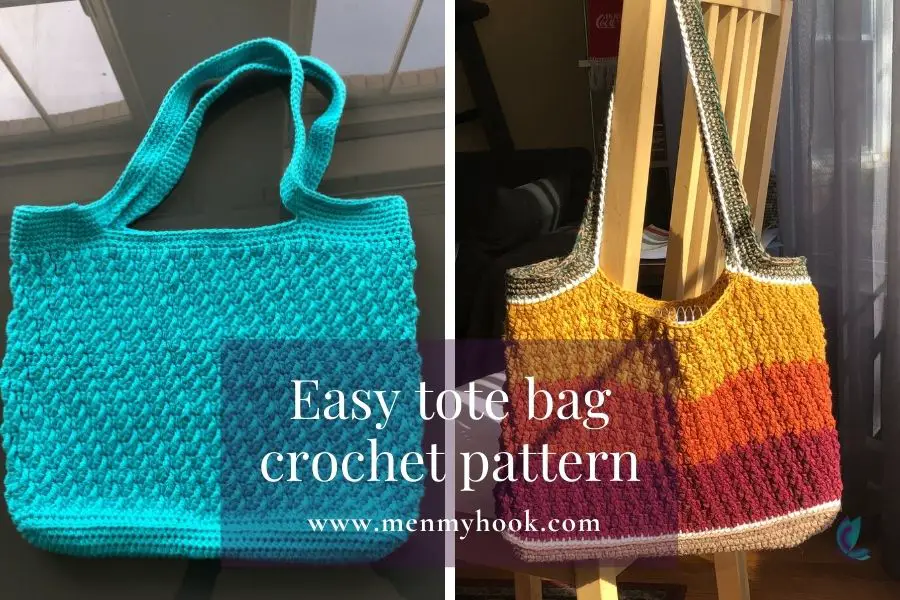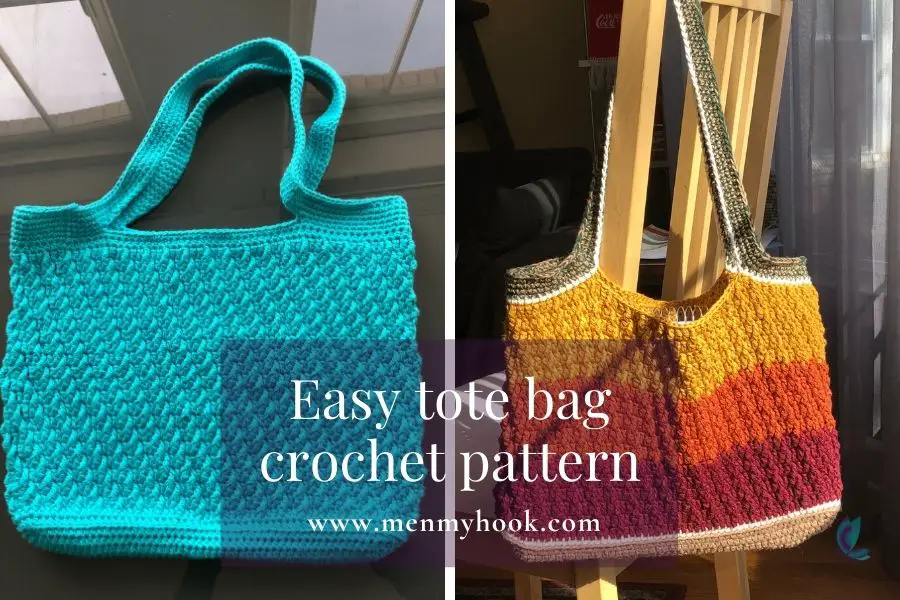 This pattern is written in US crochet terms.  
Skill level: Beginner – confident
Yarn: 4 x King Cole Cottonsoft DK OR 920yds/840 mts of any dk or 3 weight yarn
Hook: 4.5mm Clover Amour
Other Materials: stitch markers, darning needle, scissors
Stitches used:
Chain
Single Crochet
Half Double Crochet
Double Crochet
Front Post Treble Crochet
Back Loop Single Crochet
Slip Stitch
Crochet tote bag tester thanks
Many thanks to Christopher, Connie and Tonya for helping me with the test for the On The Bias Tote crochet tote bag pattern.   To get the info on the yarn used in each please hit the image to check out their projects on Ravelry.
On the Bias Tote Pattern
Love the pattern and want to make your own? Get your Ad FREE pdf digital download copy of the On the Bias Tote from your favourite pattern store below
Head into the Facebook Group and let us know what colour you plan to make your On the Bias Totes in, I'd love to see them.
Bye for now,
B x