Easy Tunisian Crochet Clutch Pattern – Entrelac Sort of
This post may contain affiliate links. This means I may earn a small commission if you make a purchase from these links, at no additional cost to yourself.
Looking for a new bag pattern to get your seasons parties off right?  The Entrelac Sort Of Clutch is a Tunisian crochet clutch pattern that is easy to make, adapt and add your own splash of personal style to.  Read on to find out more about this variation on Tunisian entrelac crochet and how to make your own Entrelac Sort Of.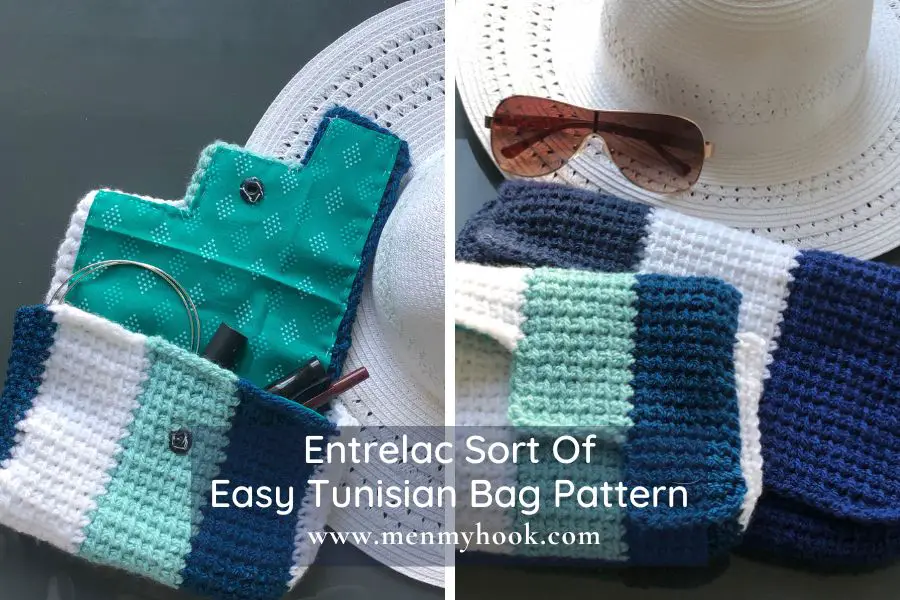 Tunisian Crochet Clutch pattern inspiration
Surely you know it had to be done right.  I am a lover of bags.  I can't help it.   I often browse online retailers for ideas or inspiration on my designs and this Tunisian Crochet clutch bag design is a great way to share something different and put a spin on some of the textured / basket weave style bags I have seen online.
I really don't do much Tunisian crochet but entrelac has always been something that has intrigued me, and I thought this would be a good way to introduce a beginner to the Tunisian crochet concepts, and create a unique accessory or gift.  This is a take on entrelac crochet, which is a specific diamond or square, whereas in this design I have been a little flexible with the construction of the fabric.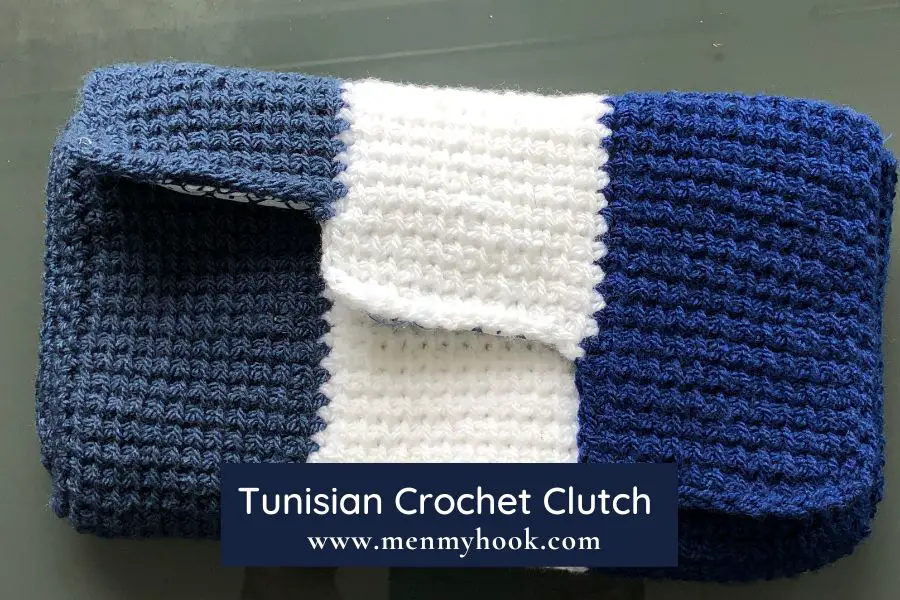 Tunisian Crochet Clutch yarn & materials 
To make my Entrelac Sort of Tunisian Crochet Clutch Bag pattern I used Paintbox Simply Aran, a 100% acrylic yarn from Lovecrafts.  This is my go to acrylic.  Loads of variety in colour, good price point and it holds up well to washing. 
I used Paper White, Washed Teal and Rich Teal to make my small Entrelac Sort Of Tunisian crochet handbag. For the larger sizes I used ends of blue, again in Paintbox Simply Aran, with the white as a contrast. Depending on the size of your clutch you need up to 100g of any single colour so this is a great option for a scrap buster pattern.
To find out more about Paintbox Simply Aran, check out the review post here.
Love clutch bags?  Check out the Marian Bay Clutch and the Houndstooth Clutch Bag patterns.
Entrelac Sort Of Clutch pattern info & tips
I have graded this Tunisian crochet clutch bag pattern as beginner because it uses a single stitch.  It is, however, a concept that takes a minute to wrap your mind around. You will use a single stitch to create blocks in a repeating pattern that has the greatest effect when you use contrasting colours.
If you are new to Tunisian crochet, it can be tricky to see where your stitches are and I would advise that you use a lighter colour to start your handbag project, or at least practise with some until you are confident in how it works.
As this has a fairly firm / dense fabric lining is not essential, although I have lined 2 of my 3 clutches so far.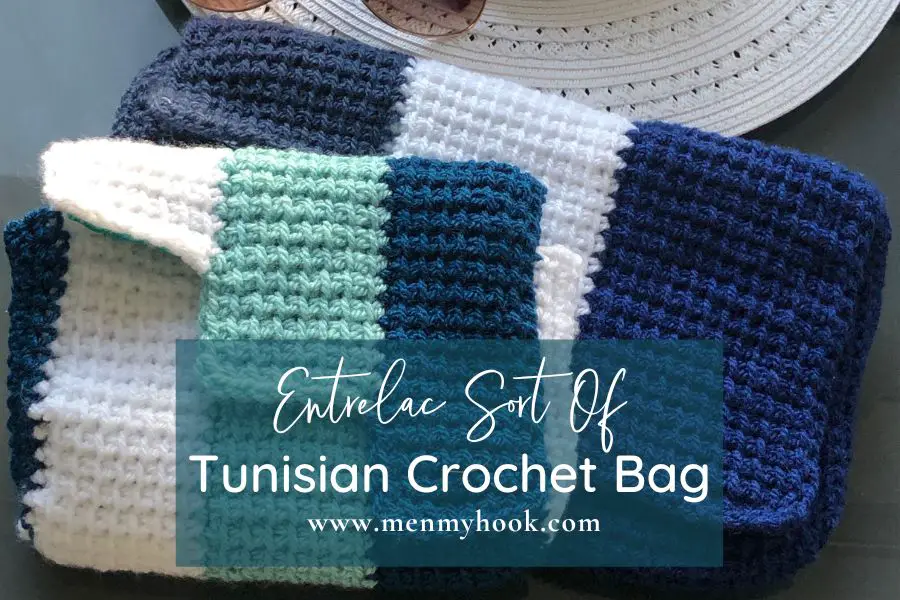 Type: Tunisian Crochet 
Terms: US Crochet Terms
Type: written.  
Skill level: Beginner
Yarn: 3 x 100g balls of Paintbox Simply Aran, or any Aran/Worsted or 4 weight yarn
Hook: 7mm – I used my Knit Pro Symfonie Cabled Hook
Other materials: fat quarters, sewing needle, thread, magnetic clasp, tape measure, stitch markers, darning needle and scissors
Entrelac Crochet Pattern Collaborations
Wanna learn all the Tunisian things?  Super excited to share the Entrelac Sort Of Tunisian crochet clutch pattern with you as part of the Terrific Tunisian August 2022 Issue of Pattern Pack Pro Magazine by Happily Hooked Mag.  Get creative and add Tunisian to your repertoire with this collection of Tunisian Crochet patterns.
Get the Entrelac Sort of Clutch Bag Pattern
Get your Ad FREE Digital Download PDF Copy of Entrelac Sort OF – including all 3 sizes from your favourite pattern store below
Get the August Terrific Tunisian Edition of Pattern Pack Pro which features the Entrelac Sort of Clutch and 5 more Tunisian Crochet Patterns on Ravelry via the button below.
To find out more about Happily Hooked Mag and subscribe hit the button below
I hope you enjoyed the post and look forward to seeing your Entrelac Sort Of's!
Love Bags?  Check out the On The Bias Tote and the Harmony Bag
Pop into the Facebook Group and let me know what colour you plan to make your wrap in and share your progress.
Bye for now,
B x