Easy crochet bag pattern – Marian Bay Bag
[elementor-template id="520″][elementor-template id="2054″]
Looking for a cute crochet bag pattern to brighten up your spring wardrobe?  The easy crochet bag pattern, the Marian Bay Bag, is the perfect beginner crochet bag pattern.  With a simple repeating style, and made in one piece, this crochet handbag works up quickly and is a great gift or quick project make.  Read on to find out more about the bag and how you can get a copy of the pattern below.
Beginner crochet bag pattern – inspiration
The Marian Bay Bag is the latest addition to the Marian Bay Collection and was designed to feature in the Bring on Spring Blog Hop hosted by Ashley from Through the Loopy Yarn Craft.
From the 1st of February to the 1st March, a different spring themed pattern will be available as a FREE pdf download from a brilliant collection of designers.

I wanted to include something cute and practical as part of the hop.  I think this crochet bag meets that brief.   Although, I am the designer and biased, I love the texture that is created with this stitch pattern.  It is versatile and has two things I love in my crochet – a simple repeating pattern, a gorgeous texture.
For more examples of this stitch pattern, check out the Marian Bay Cowl, the first design in the collection, or the Marian Bay Cocoon a super easy textured cocoon cardigan that works up quickly in aran.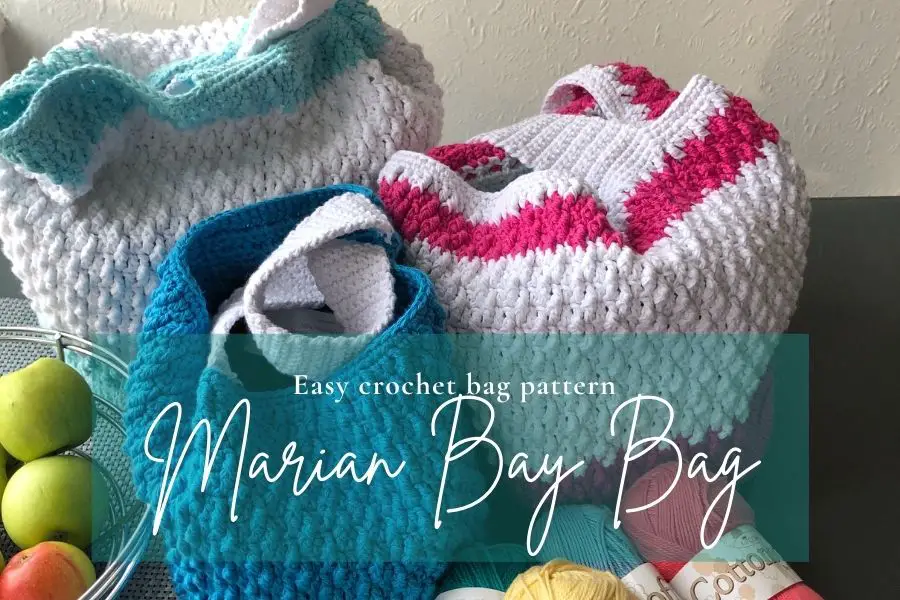 Crochet handbag yarn and materials 
If you're new here, I am a MASSIVE fan of 100% Cotton yarn.  For this easy crochet bag pattern, I used King Cole Cottonsoft Dk, double stranded.  King Cole Cottonsoft is, in my opinion, a great value yarn.  Soft, easy to work with, minimal splitting and comes in 100g skein.  Available in 37 shades, each skein is 210m/229yds and £3.59 each.  Oooo, – there is also a crush version of this yarn in 14 variegated colourways.
This yarn is great for baby items including baby blankets single stranded.  It is soft, washes well and keeps its colour and structure. 
Crochet bag pattern info & tips
To make this beginner crochet bag pattern you will work in what I have called sections – base, body and strap.  The pattern has 3 sizes included, S, M and Large, each following the same stages throughout the pattern.
This bag is designed to use double stranded dk weight cotton.  This is what I had in my stash.  I have a limited experience of converting crochet bag patterns, however, this will work with any weight of yarn you choose, but if you change the weight of the yarn then the finished size of the bag will be altered.  For example, if you decide to make this beginner crochet bag pattern with an aran or chunky weight yarn your finished bag will be larger, the same is true of a finer weight yarn.  Or if you decide to single strand.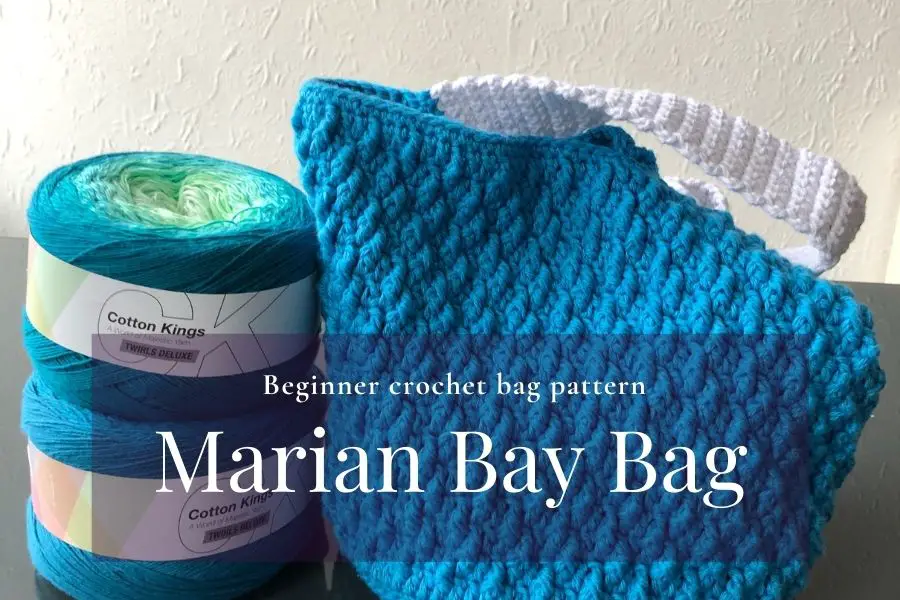 I used 100% cotton, and while I love it others don't.  Any fibre will work, however, if you use acrylic it will pill eventually if you use the bag a-lot.  Acrylic cotton blends will work.  As will ANY colour combinations that you choose.  This crochet bag pattern is/was a total stash buster for me.  I'm currently trying to use my stash to design and not buy yarn!

Terms: US crochet terms.  
Skill level: Beginner, easy
Stitches used:
Single Crochet
Double Crochet
Front Post Treble Crochet
Back Loop only Single Crochet
Magic Ring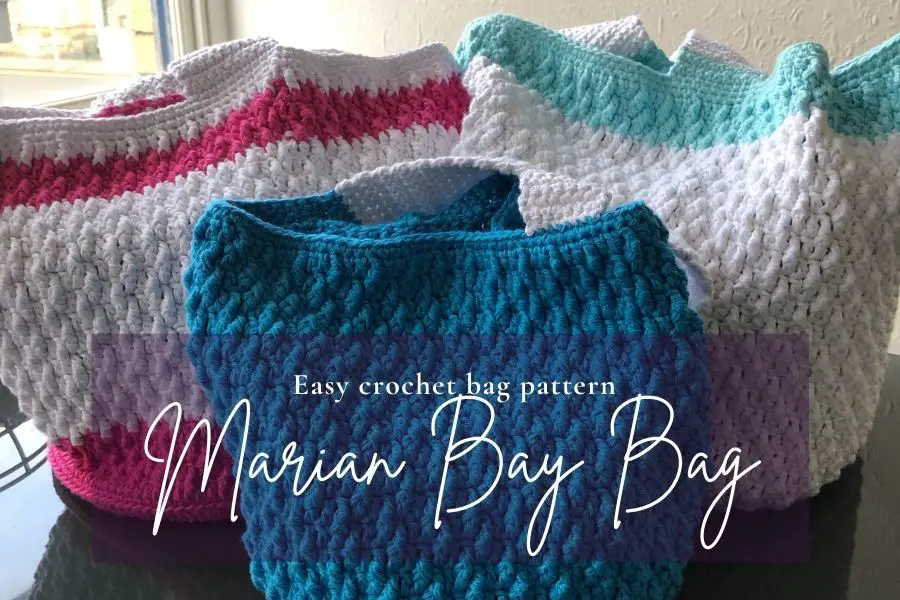 Instructions:
Written pattern includes instructions for 3 sizes of this beginner crochet bag pattern; 
Small 8 inch base
Medium 10 inch base
Large 12 inch base
Techniques:
Worked in the round
Double Stranded
One piece
Hook: 4.5mm
Yarn: 620m/687yds -1050m/1145yds King Cole Cottonsoft DK or any dk weight yarn
Easy crochet bag pattern
On 13th February 2021 the Marian Bay Bag pattern was available for FREE as part of the Bring on Spring Blog Hop Through the Loop Yarn Craft.
Get your copy of the Marian Bay Bag easy crochet pattern from your favourite pattern store below
I hope you enjoyed the post and look forward to seeing your Marian Bay bags!
Pop into the Facebook Group and let me know what colour you plan to make your wrap in and share your progress.
Bye for now,
B x