Lightweight crochet cowl pattern – Hawthorne
This post may contain affiliate links. This means I may earn a small commission if you make a purchase from these links, at no additional cost to yourself.
Looking for a spring scarf pattern with a bit of something different?  The Hawthorne is a free mobius crochet cowl pattern made in lightweight yarn making it perfect for spring and summer accessories.  Read on to find out more about Hawthorne and how to access the free pattern.
Hawthorne mobius crochet cowl pattern inspiration
Hawthornes are one of the birth flowers for May and the inspiration behind the name for this free mobius scarf pattern.  The stitch repeat used has some resemblance to the bud element of the Hawthorn and this design was originally made from a green – white ombre cake of yarn, another nod to the colour for this easy crochet mobius crochet cowl pattern.
Featured as a guest post on the Cosy Rosie UK Blog, I wanted to create something light and fun but also beginner friendly.  While the yarn for this design is a finer weight than what you might be used to, the stitches used are of standard construction and the twist in this free crochet mobius cowl pattern adds a little bit of additional flair.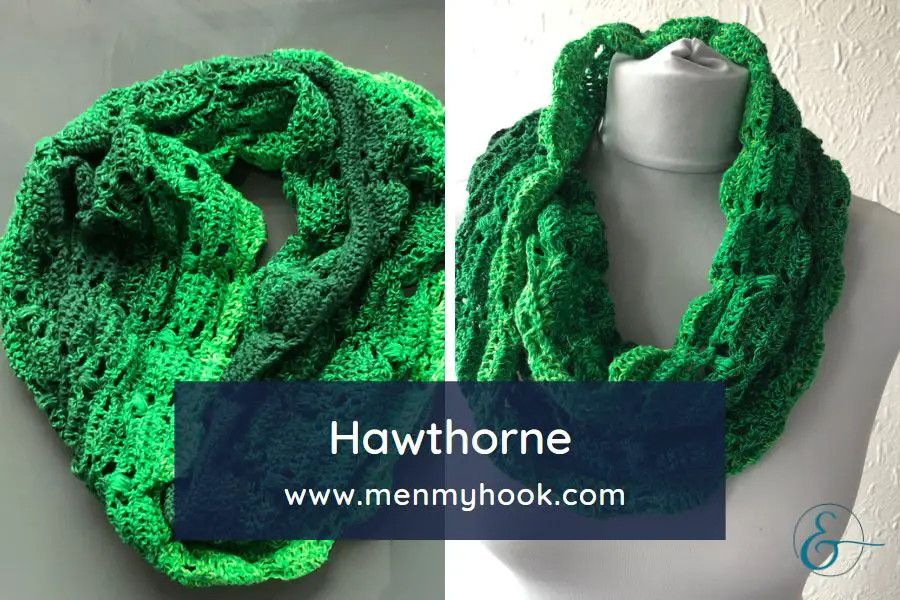 Mobius scarf yarn and materials 
I originally designed this scarf with the idea of using a single cake of Sultan Deluxe and used the Siberian Jade which I received from a lucky bag.  Luckily for me, this design worked up quicker than I anticipated and I was able to make 2 versions from a single skein, bonus.  Sultan Deluxe is a 100% Cotton, 1000m fingering weight/2 yarn.  It comes in 27 colours and my biggest tip for this yarn is to buy it when it is at least 40% off (this happens alot)!
If you have never worked with such a fine yarn, check out my tips for working with 4 ply gradient yarn cakes here
For alternatives, you could use a single Twister Solid or a single 100g skein of any fingering weight yarn in a solid colour.  If you prefer to use thicker weight yarns, it would also be possible to make this in a dk / 3 weight yarn of a similar amount of yardage without compromising the stitch definition /detail.
Hawthorn Crochet Cowl Pattern info & tips
Hawthorn is a free beginner mobius scarf crochet pattern.  While some would say that a mobius is a more advanced technique, I think it is achievable with a little bit of practise.  Also, if you are a new crocheter, then all the stitches and techniques are challenging so give it a go.  Once you have created your loop, the repeating pattern is established with a mixture of standard stitches.  
The slight offset to the stitch pattern in the Hawthorn mobius scarf pattern adds an additional tweak in this reversible crochet pattern.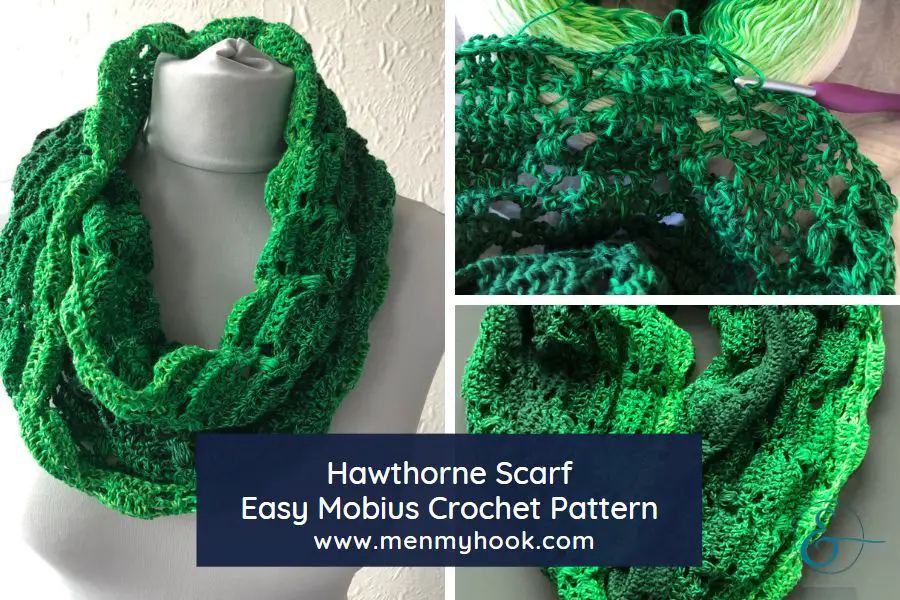 Terms:  written in US crochet terms.  
Type: written, photo tutorial included in pdf pattern
Skill level: beginner, some experience would help
Yarn: I used 1 x Sultan Deluxe in the Siberian Jade Colourway and made 2 versions of the Hawthorn mobius scarf, OR 400g of any fingering weight yarn OR 400g of any DK or 3 weight yarn
Hook: 4mm or whatever is required to achieve gauge
Other Materials: stitch markers, darning needle, scissors
Stitches used:
Chain
Single Crochet
Double Crochet
Puff Stitch
Lightweight Cowl Pattern Tester Thanks
Teamwork makes the dreamwork so huge thanks to Carmel for helping me with the test for this design. A nod to how quick this twisted crochet pattern works up, Carmel I am fairly sure made both of these within 24 hrs!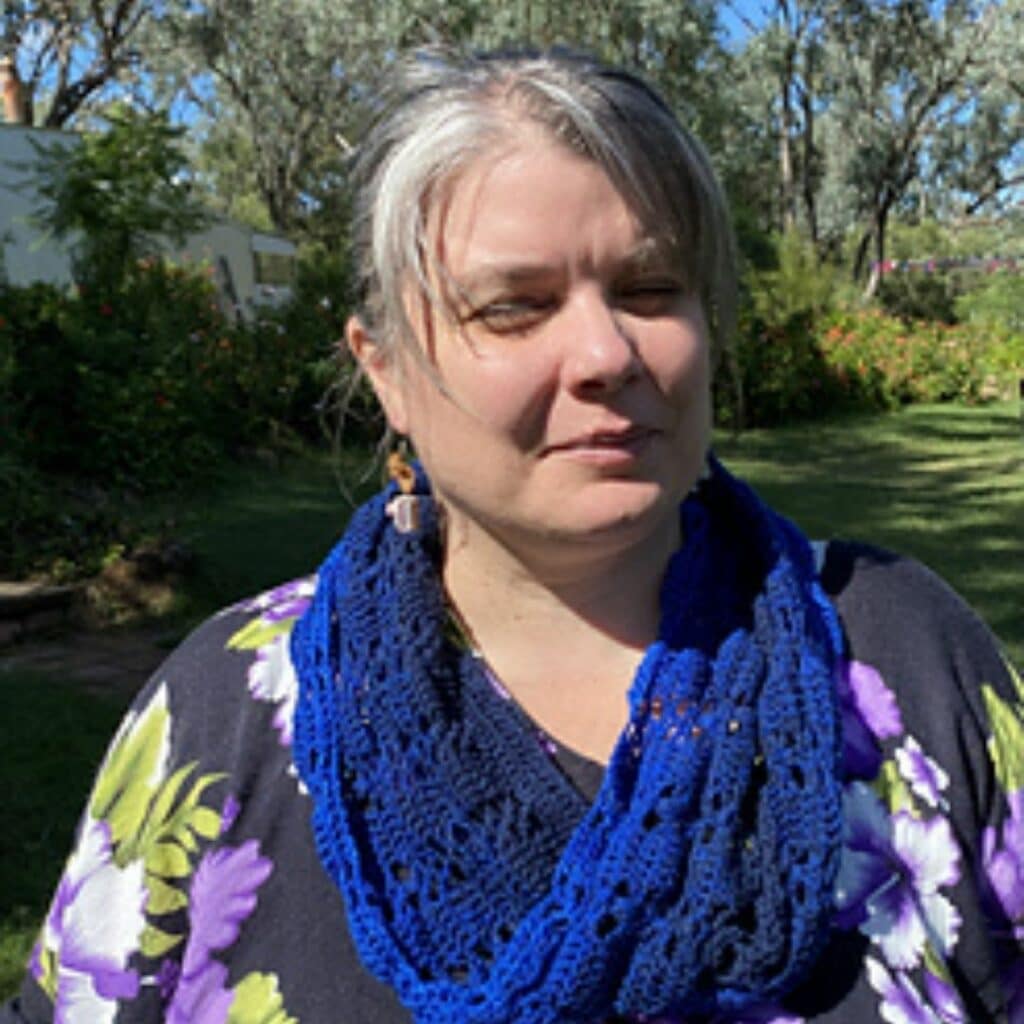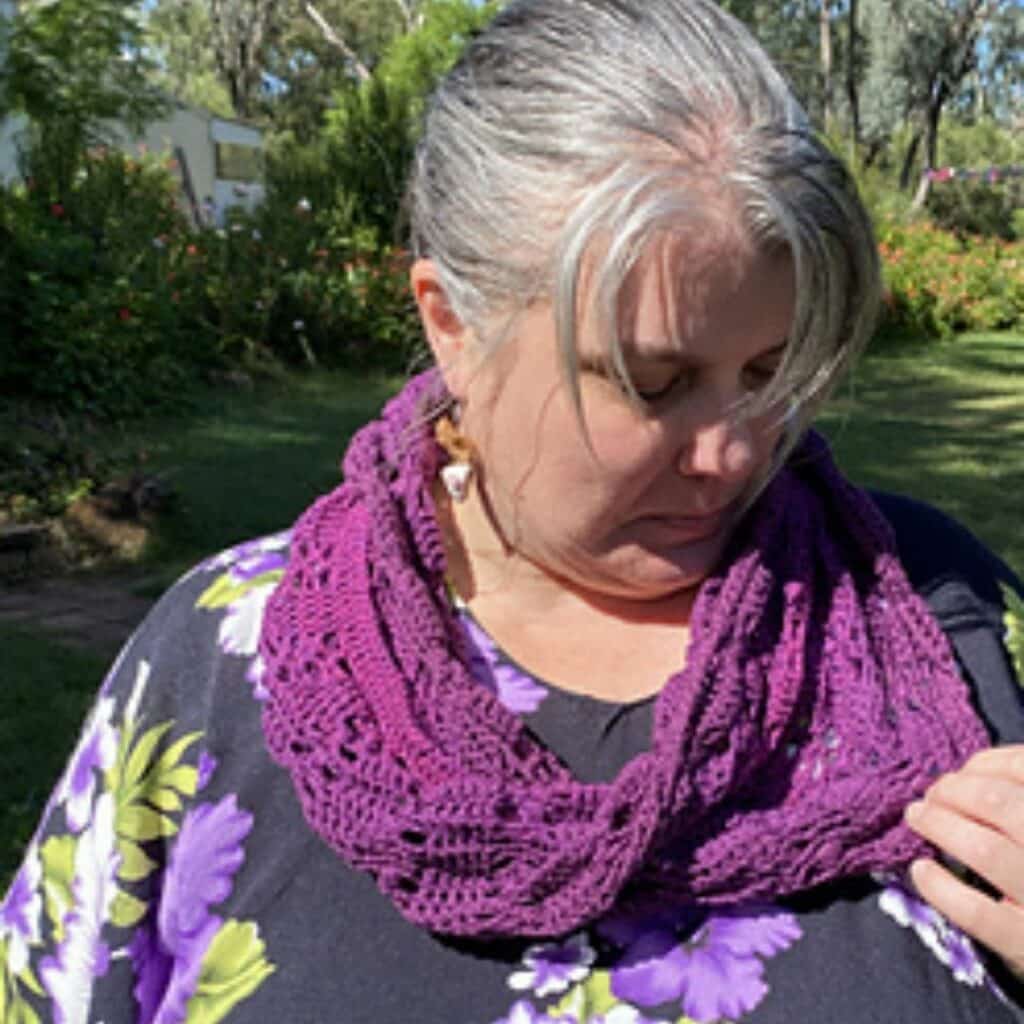 Hawthorn Mobius Scarf Pattern
Get your Ad FREE digital download pdf copy of the Hawthorn Mobius Scarf from your favourite pattern store via the button below
Hawthorn Collabs

Spring has sprung and that means a whole new season of accessories are needed. Thankfully, Debbie from Madame Stitch is hosting the Wraps, Scarves and Cowls Blog Hop (spring edition) for those of us who love them. Every day during the event a 22 different scarf, wrap or cowl pattern will be available to download for FREE and be totally spring summer suitable, YAY. Today, 10th March, is the featured day for the Hawthorne Moebius Scarf.
To find out more about the event, and grab your discount code, hit the button below to head over to Madame Stitch.

Then, head over to Ravelry to claim your FREE pdf download before Midday 11th March.

If you've missed a few days, or know your a shawl, scarf and cowl lover, check out the exclusive event bundle via the button below where you can grab ALL the patterns included for a great price.

Free crochet mobius scarf pattern
To access the free to view version of the Hawthorn Mobius Scarf pattern, head over to the post on Cosy Rosie UK here.
I hope you enjoyed the post and look forward to seeing your Hawthorn's!
Pop into the Facebook Group and let me know what colour you plan to make your wrap in and share your progress.
Bye for now,
B x