FREE Lightweight crochet cowl pattern – Cable & Crossed Cowl
This post may contain affiliate links. This means I may earn a small commission if you make a purchase from these links, at no additional cost to yourself.
Sometimes you just need to wrap up lightly without having a scarf flapping around your neck, getting in the way. This lightweight crochet cowl pattern is an ideal neck warmer to add alongside your winter coat to keep those chilly winds out.  Read on to find out more about the pattern, designer and how to make your own.
Today I am very excited to share with you a design from Fiona over at Cosy Rosie UK. We 'met' early on in my design career and have become firm friends and cheerleaders. Fiona is passionate about designing for beginners and encouraging everyone to upskill their crochet with new stitches and techniques. I have yet to try the yarn used in this design, but as you know I love cowls so am interested to dive in and make one myself. Shall we?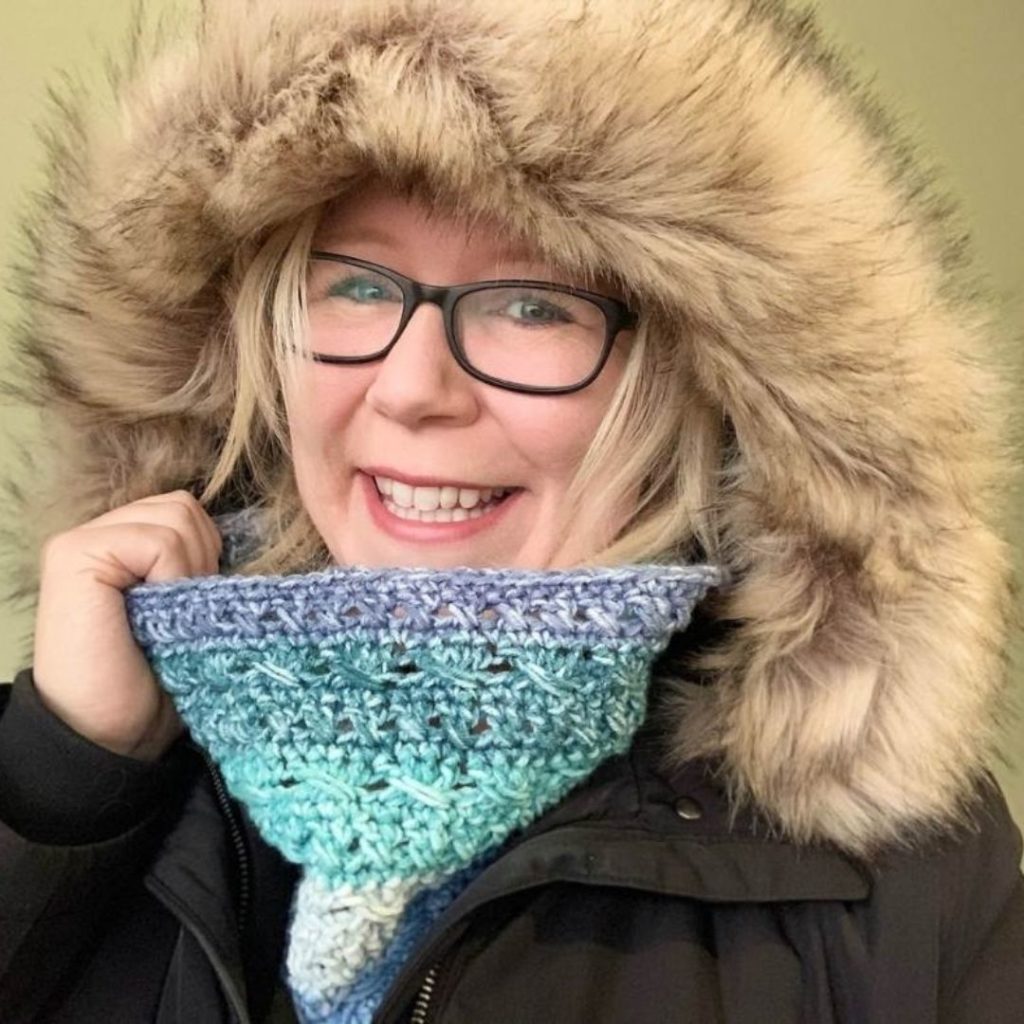 Lightweight crochet cowl pattern
If you're ready to step it out in the new year and blow away those cobwebs of 2021, this lightweight crochet cowl pattern is the ideal make to wear wherever you want to wander. 
Sometimes the biggest challenge when planning to go out for a walk is avoiding the weather. Hoods are perfect to stop the rain getting in, but when you also wrap up in a bulky scarf and it can feel like you'll end up breaking a sweat before you even walk out the door. 
This lightweight crochet cowl pattern is the perfect addition to your cold weather wear. The foldable width allows you to easily adjust the breeze you let in down your collar when you've walked up a hill without letting yourself catch a chill. 
Being considerably smaller than a scarf, you can carry it with you in your purse for on-the-go warmth whenever you need it. 
Lightweight crochet cowl pattern yarn and materials
230yds Worsted (size 4)/Aran weight yarn

I used Lion Brand Mandala Ombre in shade Mantra

5mm Crochet Hook
Scissors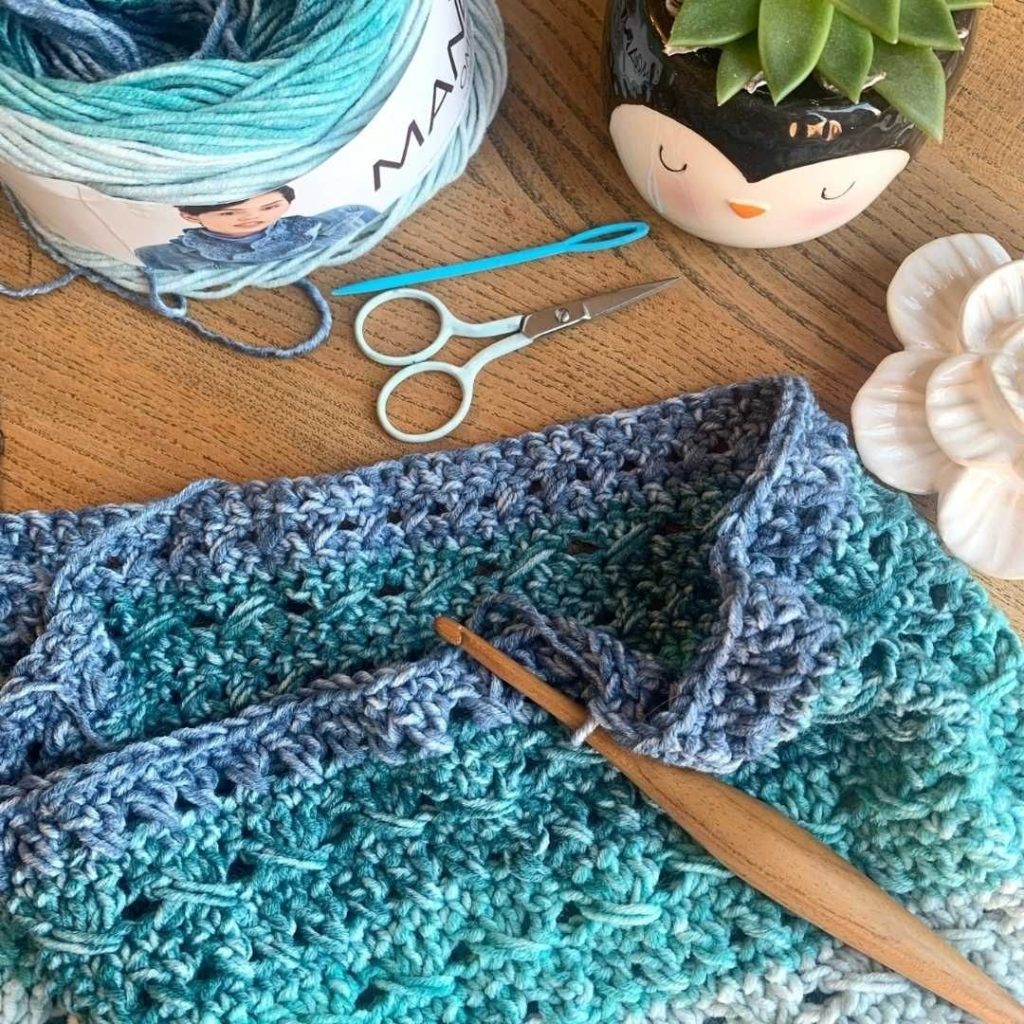 Lion Brand Mandala Ombre is a self-striping cake yarn that features a longer ombre colour change than some other self-striping yarns. 
It comes in 6 different colourways and I've used this yarn in a number of designs including my Make with a Cake Shawl where I used the shade Pure, which includes some pink shades too. 
For the Cable and Crossed Cowl, I picked the shade Mantra which reminded me of the blue skies seen in Spring. 
It is an Aran weight/ size 4 yarn that is 1005 acrylic but incredibly soft. The 1st time I worked with this yarn, I had to double check the fibres used as its one of the softest acrylics I've ever used. It feels more like it's blended with Pima cotton. 
If you've never tried this yarn you wont be disappointed if you give it a whirl.
Like cowls? Check out the Stella Infinity or Stella Moebius as alternative designs for this yarn.
Lightweight crochet cowl free pattern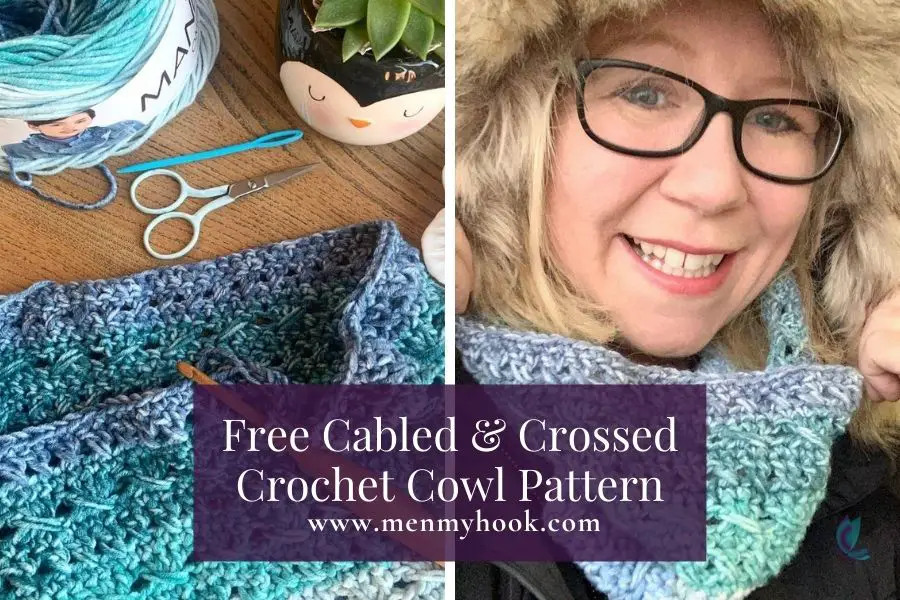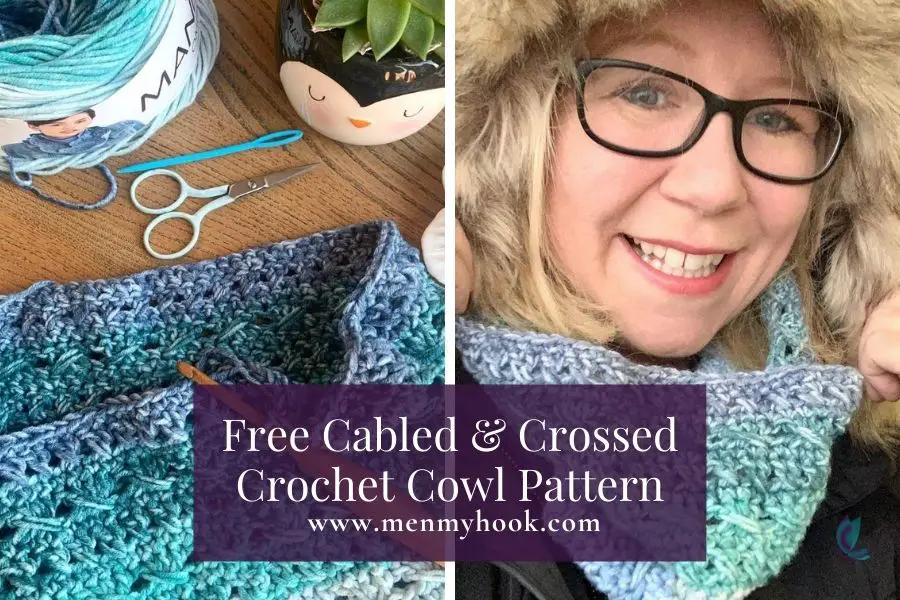 Skill Level: Beginner
Gauge: 9 rows x 4 cables (16 sts) = 4 inches (10cm) in pattern using a 5mm hook. Use a larger or smaller crochet hook to obtain the correct tension.
Abbreviations:
US terms 
St(s) – Stitches
Ch  – Chain
Ch Sp – Chain Space
Sc – Single Crochet
FSc Foundation Single Crochet
Dc – Double Crochet
Cable – Cable Stitch (see Special Stitches)
CDc – Crossed Double Crochet
RS – Right Side 
WS – Wrong side
Special Stitches
Foundation Single Crochet (FSc)
Click here for a video explaining how to crochet a Foundation Single Crochet
Cable Stitch (Cable)
3Dc, cross-over
Skip the next stitch
Dc into next 3 stitches
Yarn over, insert hook into skipped stitch
Pull up loop to height of Dc
(Yarn over, pull through two loops), twice to complete stitch
Click here to see how to crochet the Cable Stitch
Crossed Double Crochet (CDc)
Skip the next stitch
Dc into next
Dc into skipped stitch working over previous Dc
Click here to see how to crochet the Crossed Double Crochet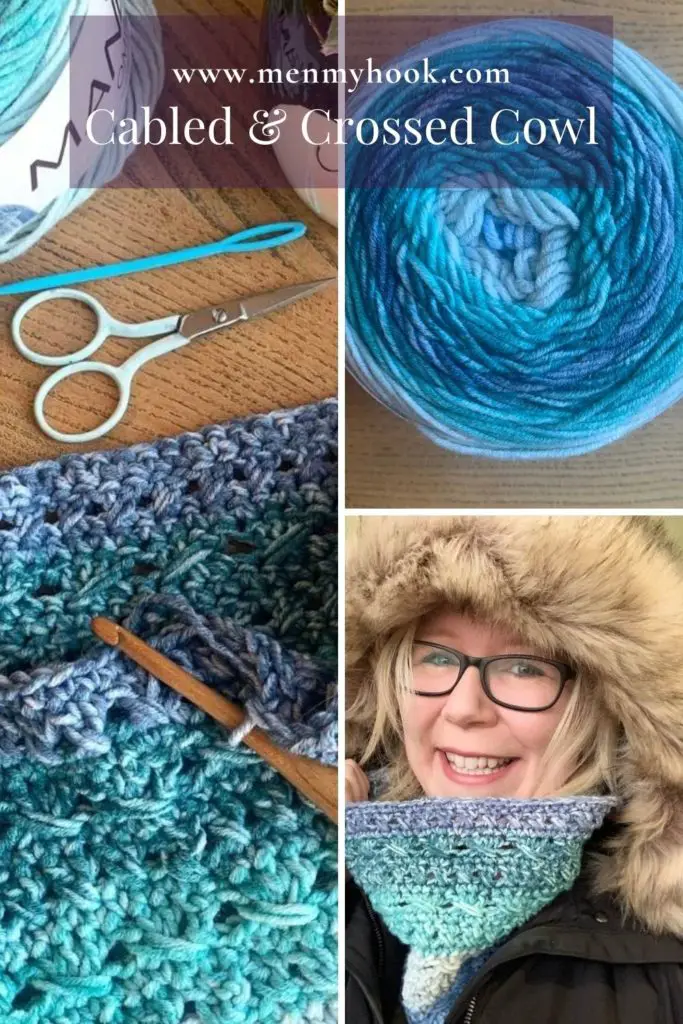 Pattern Notes
Whatever your skill level with crochet, I always recommend reading through this pattern before beginning. Get in touch if you need any help completing the pattern. 
Ch3 at the beginning of the rows DOES count as a stitch. 
Ch1 at the beginning of the rows DOES NOT count as a stitch. 
Round 1: FSc 104, slip stitch to 1st FSc to create a ring ensuring chain is not twisted. (104)
Alternative Round 1: Ch104, sl st to 1st ch made to create ring ensuring ch is not twisted. Sc into each ch around, sl st to 1st Sc to join round. (104)
Round 2: Sl st into 2nd st, Ch3 (Count as 1st Dc in Cable), Dc in next 2 Sts, Dc in skipped Stitch under sl st, Cable (skip next St, Dc in next 3 Sts, Dc in skipped Stitch) around to end, sl st to top of ch3 to join round. (26 Cables)
Round 3: Ch1, Sc into each st around, sl to 1st Sc to join round. (104)
Round 4: Sl st into 2nd st, Ch3, (counts as 1st Dc in CDc), Dc in skipped St), CDc around to end, sl st to top of ch3 to join round. (52 CDc)
Round 5: As Round 3. 
Repeat Rounds 2-5 four times for a total of 21 Rows.
Finish the final round with an Invisible Join for a completely seamless finish.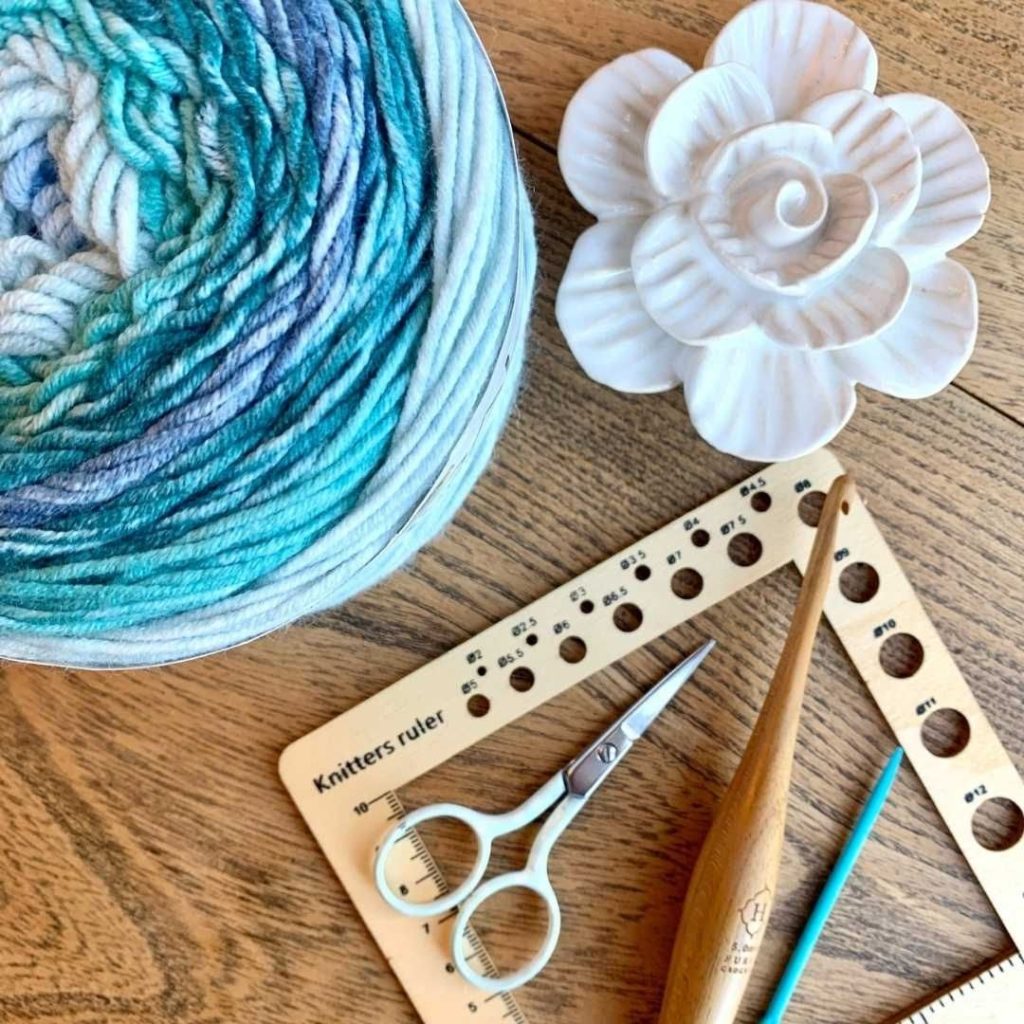 I would love to see your finished lightweight crochet cowl. Come on over to the Cosy Rosie Community Group and post a picture, or tag me in a post on Instagram tagging me using @cosyrosieuk
You can purchase a copy of the printable PDF of this pattern over in my Etsy or Ravelry shops. There is a special pattern launch discount which will take 30% off the usual price between Friday December 31st 2021 – Friday January 7th 2022. 
Meet the designer – Fiona, Cosy Rosie UK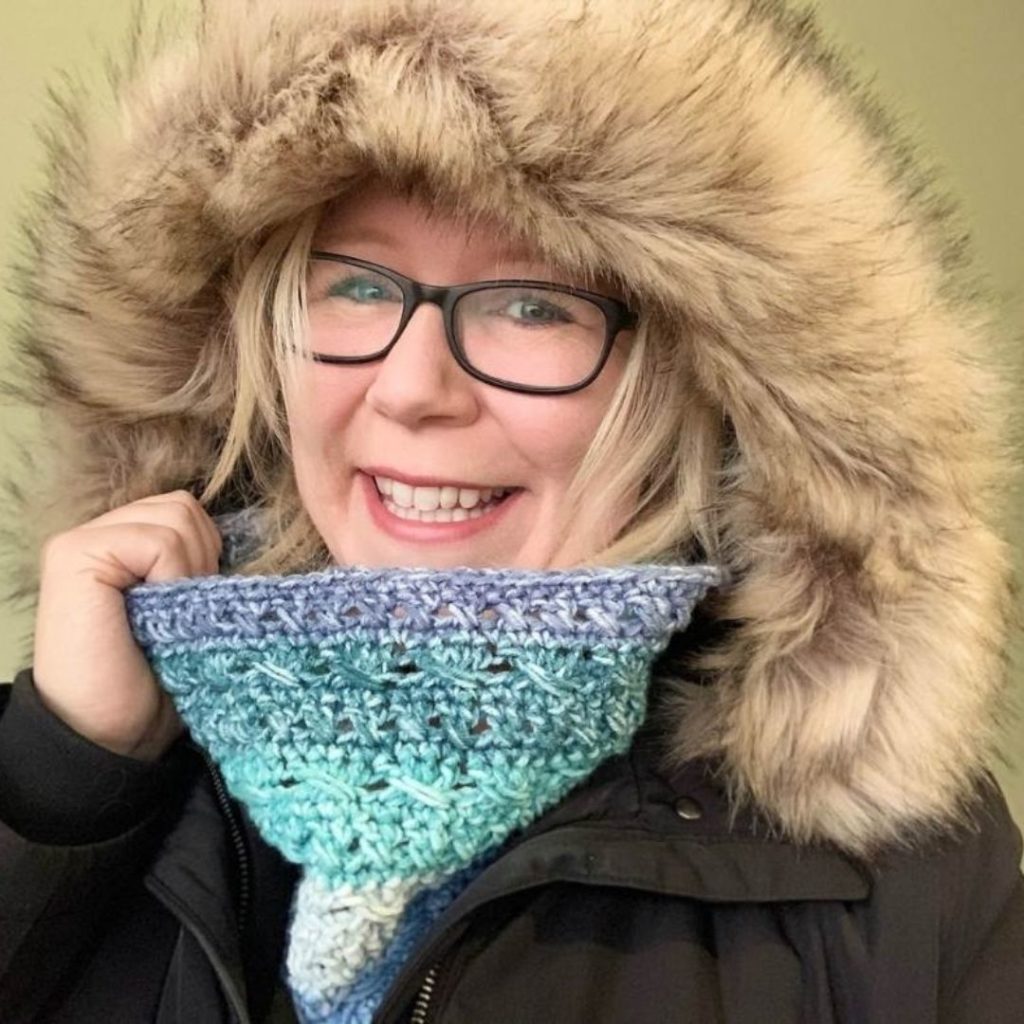 Fiona lives in the UK with her husband and their 2 Cavalier King Charles Spaniels, Emily and Rosie. Her dogs share her passion for crochet and all things yarn. They act like kittens around yarn – they love nibbling on the yarn bands if left unattended. 
Her favourite projects to design are patterns that allow beginners and improvers add a new technique to their skills as they make beautiful size inclusive garments and homewares that make home a happier, cosy place to be. 
You'll usually find Fiona curled up under a crochet blanket with a new project in progress. 
Social Links: