Free Moebius Cowl Pattern – Blooming Cowl
This post may contain affiliate links. This means I may earn a small commission if you make a purchase from these links, at no additional cost to yourself.
Looking for a cosy twisted scarf or one skein cowl pattern?  The Blooming Cowl is quick to make crochet cowl pattern.  With a simple repeating pattern and an understated texture this cowl is suitable for all styles.  Read on to find out more about the Blooming Cowl pattern and how you can get your copy below.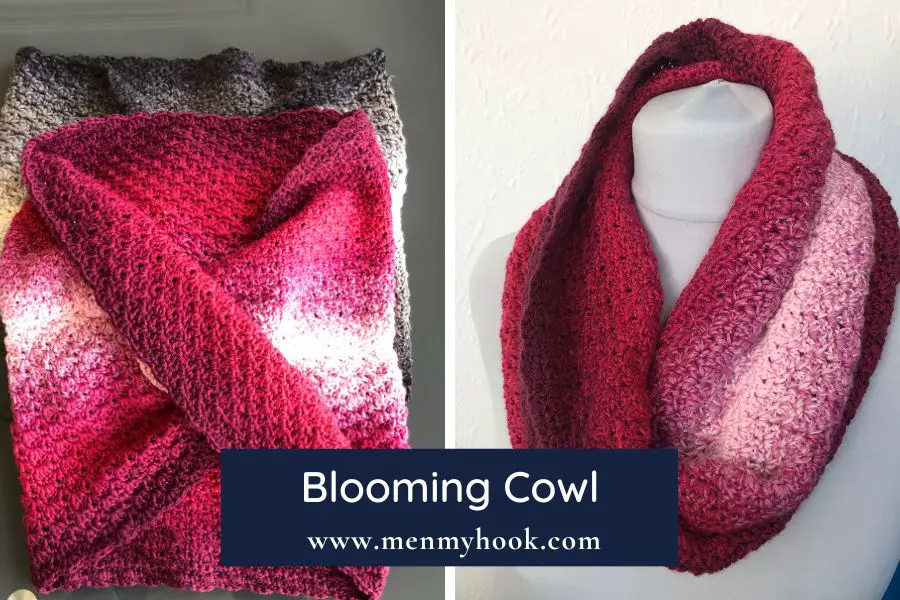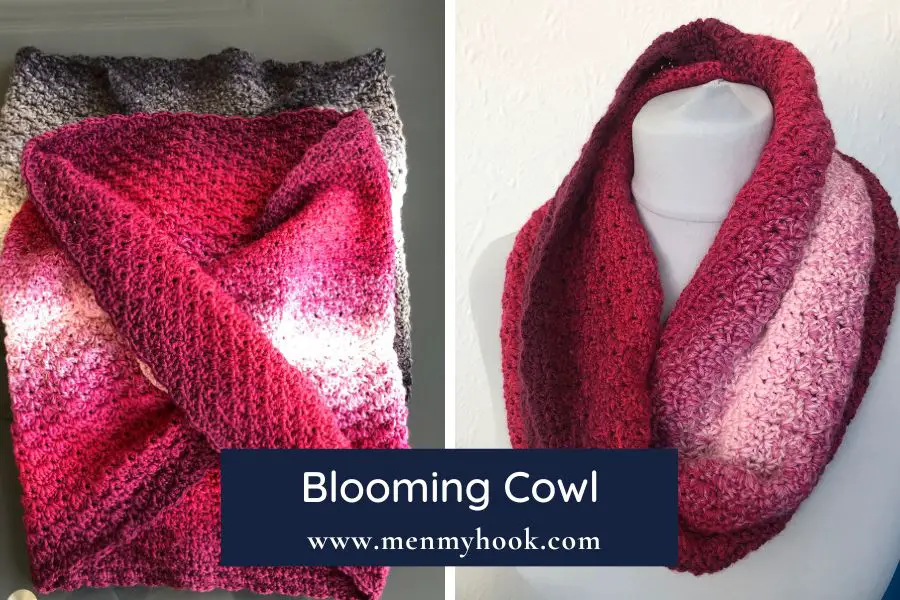 Crochet cowl pattern inspiration
What is a Blooming Cowl?  A Blooming Cowl is one designed by someone who struggles to name things and came up with a random name based on the stitch used for the pattern!  LOL.  I want to say the weather is changing and so it's time to change it up, but I'm a jeans and hoodie kinda girl and I live in North Wales so the weather is mostly autumn every day!  
I love cowls and autumn and winter – the colours, clothes and food are generally my favourites.  I like rich tones, stodgy foods and comfy jumpers and blankets.  The change of seasons means that it's my favourite time of year and I have a reasonable excuse to stay home and crochet even though I've been staying home and crocheting for a while now.  Pandemic – insert eye roll here!
Leafing through my stitch books when I want a quick project is a regular thing.  It gives me ideas and helps me to figure out what I want to make on those days when you want to do something but aren't sure what and none of your current wips are really pulling you in.  I keep returning to the same pages and stitches so I decided to pick one of those and run with it.

The stitch I chose is called the blossom stitch and combines a v stitch with  single crochet in a repeating pattern.  Very simple but effective, and not the whole story in this cowl.  
A combination of fans, and the moebius technique combine to give this cowl its structure.  Featuring a gentle curve and seam free if you haven't tried the moebius before, it is a little tricky at first but once you get it it's really cool.
From there the name was born.  Blossom's bloom and so I started calling it the blooming cowl and it stuck.  Blooming is also a phrase I heard a lot in my childhood as an alternative to swearing by people who are not potty mouths like me and so it makes me chuckle every time.  A bit sad or silly I can't decide but totally the truth
Luckily, it was also a fab christmas gift idea and so I jumped at the opportunity to join in the Christmas Gift Ideas Blog hop by Fosbas Designs,  check out the post for more information and cute christmas gift ideas.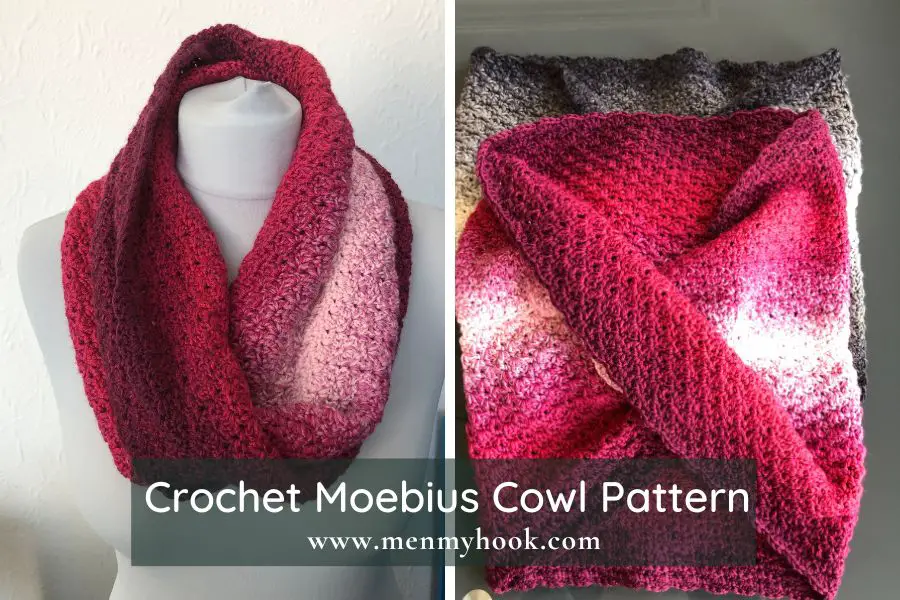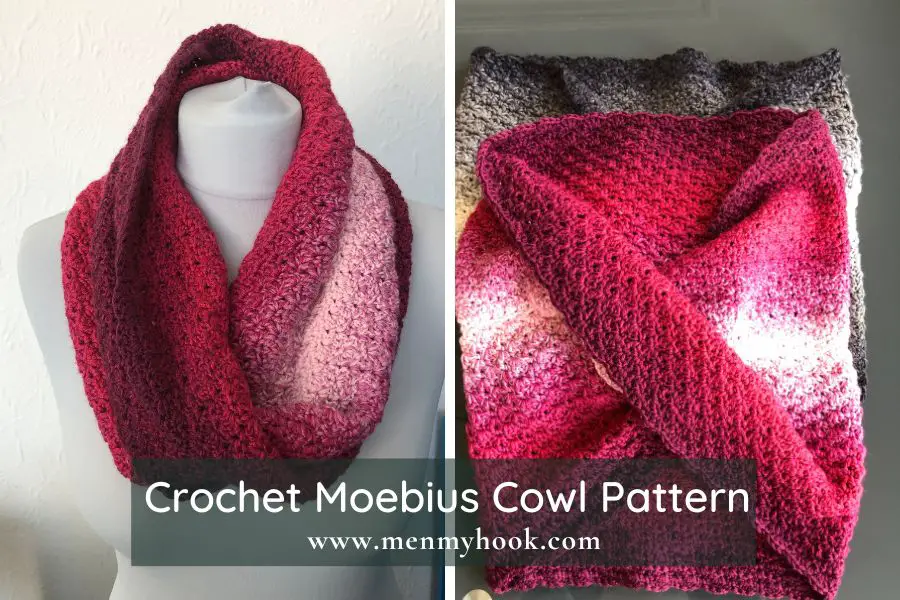 Blooming Cowl crochet pattern info & tips
This pattern includes the moebius technique – essentially you create a twist deliberately in your work with the result that it cannot lay totally flat.
I love the moebius but it's a little tricky.  It does, however, create a beautiful twisted scarf, or in this case, one skein cowl patternPattern is written in US crochet terms.  If you haven't tried the moebius technique before, check out this video tutorial here before you attempt to make the cowl.
Using stitch markers is essential in this pattern.  As the two row repeat starts and ends it can be difficult to keep a track of where you are in the rounds.  Use a stitch marker to mark the first stitch to ensure that you end your round in the right place each time.
Skill level: Intermediate
Terms: US Crochet terms
Yarn: Scheepjes Whirl Fine Art or 400-450m of any dk weight yarn.  I love gradient cakes and think this would work with most gradient or long striping yarns.   The effect with a pooling or mottled yarn would be interesting and I think a solid colour would be gorgeous.
Hook: 4.5mm
Other materials: darning needle, stitch marker(s), scissors
Stitches used:
Double Crochet
Single Crochet
Chains 
One skein moebius cowl pattern – yarn & materials
Having fallen in love with the Scheepjes Whirl Fine Art, I had purchased another with the intentions of making another cowl pattern that was a little taller and this had to be the yarn.   
If you haven't tried Scheepjes Whirl Fine Art, and you like merino and or cake yarns you should.  I will say upfront it isn't cheap at £29.99 per cake, but it is luscious.  
For me, it's the type of yarn that you might get for a reasonably priced quick gift – this cowl can be made in probably a couple of decent movies – I watched most of two Harry Potter movies making mine.
Its 50% Superfine Merino 19 micron / 25% Micro fibre / 25% Acrylic, 460m/503yds and has a very soft but springy texture/structure to it.  
Available in 12 colours, that have a similar gradient quality to them as loved in the original whirl in dk weight.
For an alternative, Stylecraft Dreamcatcher, or Lion brand Mandala should be a great match.
Get the Blooming Cowl moebius cowl crochet pattern
Get your Ad FREE digital download copy of the Blooming Cowl from your favourite pattern store below
FREE Blooming Cowl Pattern
Skill Level: Beginner / Intermediate
Terms:  US Terms
Materials used: Scheepjes Whirl Fine Art – Minimalism/no 650, or 400 – 450m of any DK weight yarn
Hook: 4.5mm
Other items:  scissors, darning needle, stitch marker
Gauge: 19 stitches x 14 rows (7 repeats)
Size: 15 inches x 27 inches
Notes: 
This cowl is made using the moebius technique 
There is no seam – pay close attention to beg/end of rounds, place a marker in the first st as a guide
Do not turn your work
Ch1 at beginning of rounds does not count as a stitch
Ch4 at the beginning of rounds counts as dc + ch1 sp
Stitches & Abbreviations:
Single Crochet – sc
Double Crochet – dc
Chain – ch
Slip Stitch – sl-st
Start:
Ch140 – join with a slip stitch to the beginning ch being careful not to twist your chain.  
*tip – to avoid twisting your chain, make 5-10 chains.  Remove your hook from the working loop and insert it into the first ch, insert back through the working loop and continue to make your chains.  Once you have reached the required number, yarn over and pull through both loops on the hook to join and create your loop.
Round 1:
Ch3, sk1, [(dc, ch1, dc) in the next, sk1, sc in the next, sk1] repeat to the end of the round.  DO NOT JOIN.  Rotate your work so that the BOTTOM of the first ch3 is visible.  
Insert your hook here and CONTINUE the stitch pattern around until you reach the beginning ch3 again.  *tip – you will be making your 3dc group in the base of the sc, and the sc in the base of the dc, ch1, dc, group.
Join with a sl-st in the top of the beg ch3.  There will be a small hole here – this is normal and we will close this at the end of the piece.
You should now have a loop with a gentle twist that will not lay flat.
Round 2:
Sl-st to the next ch1 sp, ch1 (does not count as a st) sc in the ch1 sp. 
(*Place a marker in this sc to mark the beg/end of the round.  As your piece grows move this marker up).
3dc in the next sc, [sc in the next ch1 sp, 3dc in the next sc] repeat around.  Join with a sl-st in the top of the beginning sc.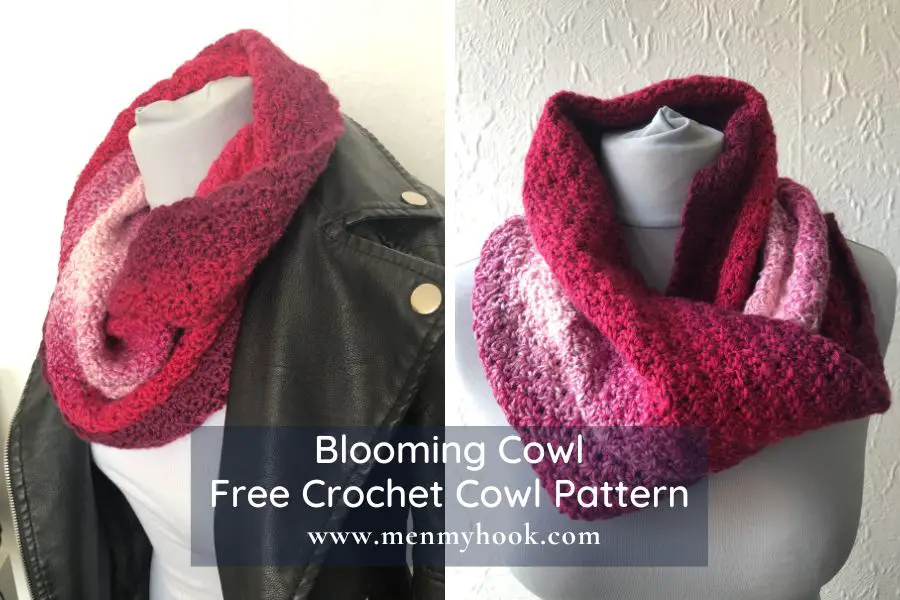 Round 3:
Ch4 (counts as dc, ch1), dc into the base of the same st, sc into the 2nd dc of the next 3dc group, [(dc, ch1, dc) into the next sc, sc into the 2nd dc of the 3dc group] repeat around.  Join with a sl-st to the 3rd chain of the beg ch4.  
Round 4:
Sl-st to the next ch1 sp, ch1 (does not count as a st), sc in the ch1 sp, 3dc in the next sc, [sc in the next ch1 sp, 3dc in the next sc] repeat around.  Join with a sl-st in the top of the beginning sc.
Row 5 – 22:
Repeat rounds 3 and 4 ending on round 4.
Tie off and secure your ends.
Use your darning needle and weave through the small hole at the start to close the gap.  A gentle tug and 1 or 2 stitches should close the hole.
I hope you enjoyed the post and look forward to seeing your Blooming Cowls!
Blooming Cowl Collaborations
Although it is super hot here right now, the seasons are changing and so should your wardrobe to match. Luckily, the Transitional Wearables Blog Hop hosted by Two Brothers Blankets has got you covered. Every day from the 8th to 14th August a new pattern will be available as a free digital download to help you on your way with your transitional season wardrobe. Today 14th August, is my day to be featured with the Blooming Cowl.
To find out more and get your discount code, head over to the main blog post via the button below.
Then head over to Ravelry to get your FREE digital download copy of the pattern before MIDNIGHT TOMORROW.
Missed a couple of days? Wanna grab a deal? Get the entire 14 pattern bundle for $15 before it ends!
Looking for more one skein pattern inspiration? Check out 16 One Skein Makes and Granny Merge Semi
Pop into the Facebook Group and let me know what colour you plan to make your crochet cowl in and share your progress.
Bye for now,
B x