Free Mug Rug Crochet Pattern – Hooking in Spades
This post may contain affiliate links. This means I may earn a small commission if you make a purchase from these links, at no additional cost to yourself.
Looking for a mug rug crochet pattern for a big mug?  The Hookin in Spades mug rug is an easy mosaic crochet mug rug pattern that is perfect for those who use larger than average mugs.  Read on to find out more and access the free pattern below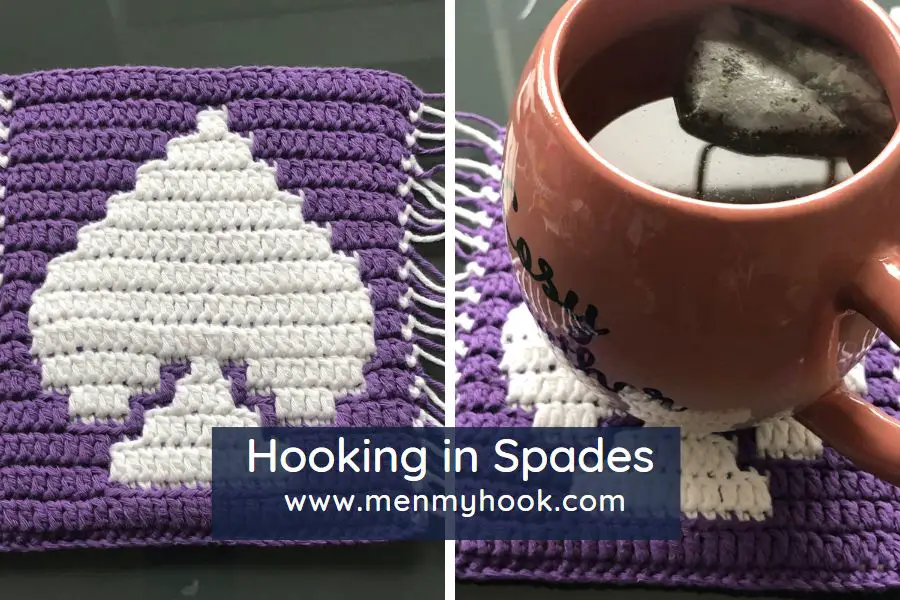 Hooking in Spades Mug Rug Crochet Pattern
Why make a massive crochet mug rug pattern?  I love big mugs.  I always find that if I have a coffee in a 'regular' sized mug that I get to the end and haven't had quite enough coffee yet.  I also buy a lot of mugs, my kids think I'm crazy but I like the ones with cute or sassy sayings and I get them as the mood takes me while I'm out doing the food shop generally.  
I got a huge mug at Christmas which doesn't really fit on the coaster I have on my desk, and while I was working on the House of Cards Blanket pattern I realised I needed a lot more informational content to include in the pattern than I usually do and decided to make a mosaic crochet mug rug out of one of the cards to help my brain work through the informational content and stop me from balancing my mug on the edge of the pile of patterns on my desk!
Mug Rug Crochet Pattern yarn & materials 
To make my Aces mug rug pattern I used a familiar favourite from my shelf, Paintbox Simply Aran Cotton in Pansy Purple and Paper White – gotta stay on brand, but also that's what's on my shelf!  Paintbox Cotton Aran comes in 50g 100% Cotton balls and a range of 64 shades. Machine washable and holds up well, you can find out more about Paintbox Cotton Yarns in the review post here.
For an even sturdier option, check out Paintbox Recycled Cotton Worsted.

Easy mosaic crochet mug rug pattern info & tips
Technique: Overlay Mosaic Crochet
Type: pdf includes chart and written pattern
Terms: US Crochet Terms  
Skill level: beginner
Yarn: 40g of Paintbox Simply Cotton Aran, or 40g of any Aran/Worsted or 4 weight yarn divided equally in two contrasting colours.
Hook: 4mm
Other materials: stitch markers, scissors

Get the Hooking in Spades Mug Rug Pattern
Buy your Ad FREE Digital Download copy of the Hooking in Spades Mug Rug Pattern, including chart and written pattern, from your favourite pattern store below.
Free Hooking in Spades Mug Rug Crochet Pattern
Start:
Ch31 then follow the chart below from row one, using the key as a guide.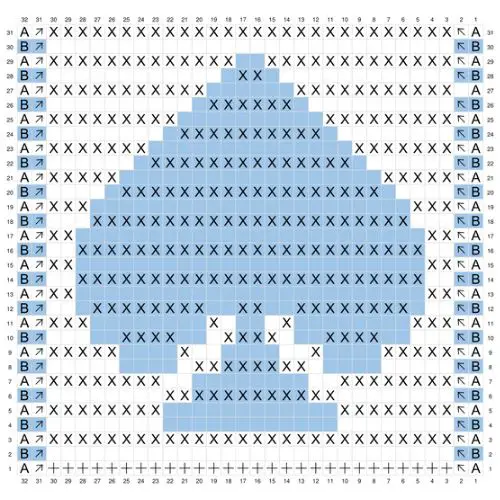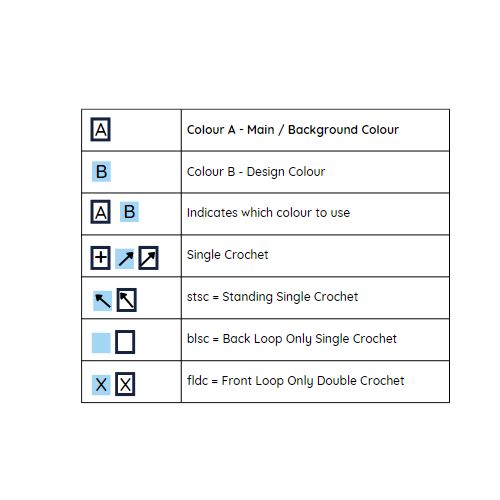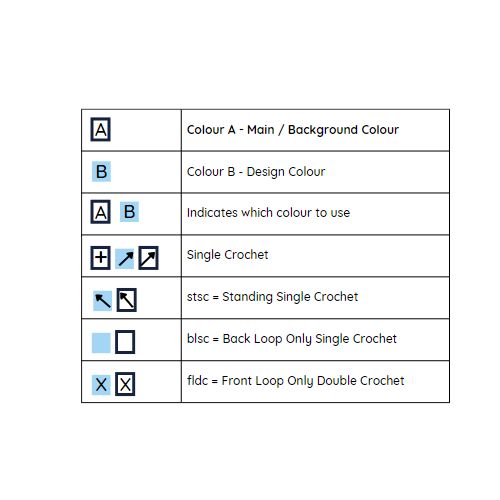 Once you have completed all your rows, secure the ends of each row by pulling gently to tighten the knots at each end. Repeat on the opposite side of your mosaic crochet mug rug.
Then, tie two strands together in a further knot and repeat this until you have completed both sides of your mug rug. Then trim the ends until they approximately 1 inch in length. If you want to straighten the edges out a quick blast of steam from an iron should do the trick!
Hooking in Spades Collabs
Looking to uplevel your crochet skills? The New Years Resolution Blog Hop is just what you need. Featuring 31 patterns to help you improve your crochet skills. Every day in January a different pattern will be available as a free download, and today is the day for the Hooking in Spades Mug Rug. To find out all the details and get your FREE copy of the pdf pattern, head over to the main event blog post via the button below to get your discount code,

Then, head over to Ravelry before Midday 24th January to grab your copy

I hope you enjoyed the post and look forward to seeing your Hooking in Spades Mug Rugs!
Pop into the Facebook Group and let me know what colour you plan to make your wrap in and share your progress.
Bye for now,
B x