Paintbox Simply Cotton Yarn Review
This post may contain affiliate links. This means I may earn a small commission if you make a purchase from these links, at no additional cost to yourself.
Are you looking for good value cotton yarn with a range of colours?  Paintbox Simply Cotton is the 100% cotton range, available in 3 weights, from Lovecrafts.  Read on to find out more about the range and if it's suitable for your projects.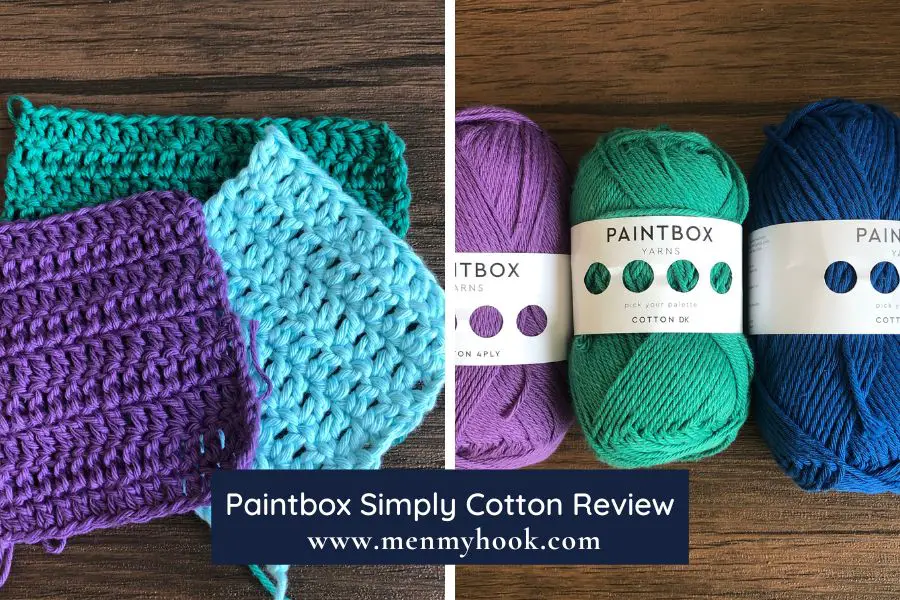 Why Paintbox Simply Cotton?
I really don't know why I haven't done this review on Paintbox Simply Cotton yarns sooner.  This is the first 100% cotton brand I tried – accidentally. LOL.  I didn't read properly and ordered a ridiculous amount of cotton in a sale when there Lovecrafts brand was split across separate 'niche' websites.
If this has ever happened to you, then you know the shock that I felt when 20 balls of Paintbox Simply Cotton Aran turned up, instead of what I thought I had bought – the regular Simply Acrylic Aran for a blanket.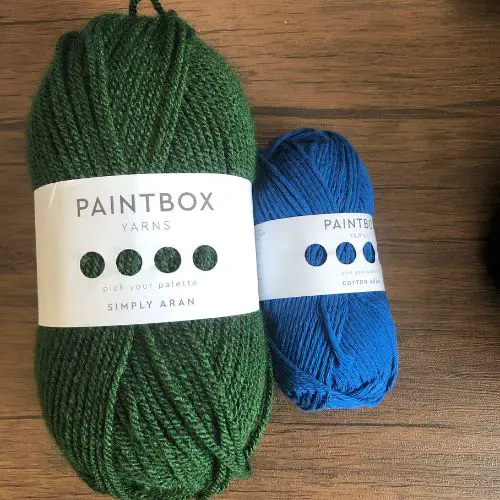 After the meltdown I used some of the Paintbox Simply Aran Cotton I had received, I also bought more yarn for the blanket.  I have been using the paintbox range of cotton since then.  The brand has changed a little in that time, so this review will cover the 3 weights currently available in this line of 100% Cotton yarns.
Paintbox Simply Cotton Yarns – the info bits  
Paintbox Simply Cotton is only available from Lovecrafts as this is their house brand.  When I initially started using it, there were DK and Aran versions, today there is also a 4ply and a recycled cotton worsted, which you can find out more about here.

All varieties are 100% Cotton and come in 50g balls/skeins.  The DK and Aran varieties come in 64 shades, the 4ply is newer and has 25 shades.  Priced at £2.50 – £2.75 per skein, (93 – 186yds Aran/Worsted the least, 4ply the most) they are also available in packs of 5/10 in the same shade and regularly included in discounts and promotions.  
With a vibrant and pastel shades across the range, this yarn is fairly soft to touch and gets softer with washing. Machine washable at 40% it holds its colour, structure and shape very well making a great option for projects that will be handled a lot or would benefit from being washed at least occassionally.

Things to note with Paintbox Simply Cottons
One thing that is important to note with this yarn is that the colours do not directly translate from Acrylic to Cotton or across the cotton range.  Also the all colours are not available in all weights of cotton
What's it like to work with?
My favourite is the DK variety.  I have used this the most, and find it less splitty to work with than the Aran version.  And this is only with a couple of the darker colours.  Otherwise I find that it slips right off the hook and is easy to work with.  I generally centre pull, and although these are not wound that way it is usually pretty easy to find the end and comes with minimal barf.
I find it has great stitch definition, but the 3 is a little thin.  I have yet to finish my project with the 4ply but my only real complaint is I should probably have used a slightly smaller hook for this project which is a me problem and not the yarn!
From right to left – Paintbox Simply Cotton 4ply, Cotton Dk and Cotton Aran Swatches using the hook recommended on the band.

Yay or Nay 
For me it's a YAY.  It is really good value at the price, especially as I try to buy packs when they are on sale.  It's also a great option for the projects I chose to use it for as they are practical/everyday use type items and get a lot of mileage.
As I have said, the DK is my favourite, but I have all 3 varieties on my shelf and probably always will.  I like it for bags particularly because I don't like the feel of mercerised yarns in my hand and it's machine washable.  But it's a great option for blankets and wearables also.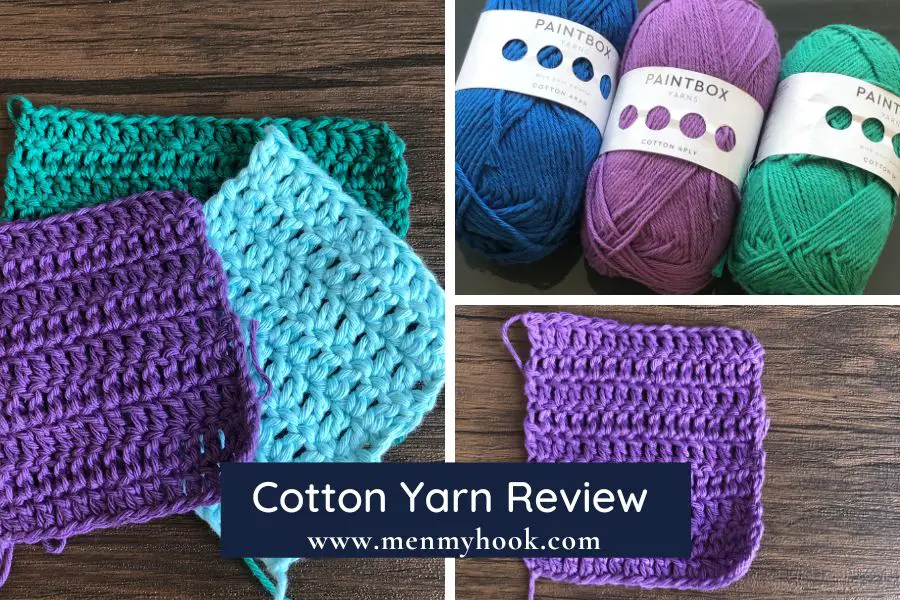 Project you could try with
Check out the Houndstooth Messenger, designed with Paintbox Simply Cotton Aran the Harmony Handbag designed with Paintbox Simply Cotton DK.
For more alternative cotton yarns, check out this post on DK Cotton yarns.
I hope you enjoyed the post and look forward to seeing your projects made with the Paintbox Simply Cotton range of yarns!
Pop into the Facebook Group and let me know what you think if you get some, or have used it previously.  Or just to suggest another yarn I might try and fall in love with! 
Bye for now,
B x