Easy Crochet Maxi Dress – Granny Merge Maxi
This post may contain affiliate links. This means I may earn a small commission if you make a purchase from these links, at no additional cost to yourself.
Looking for an easy crochet maxi dress pattern?  The Granny Square Maxi is a beginner size inclusive fitted crochet maxi dress pattern.  Read on to find out more about the pattern and how to make your own Granny Square Maxi.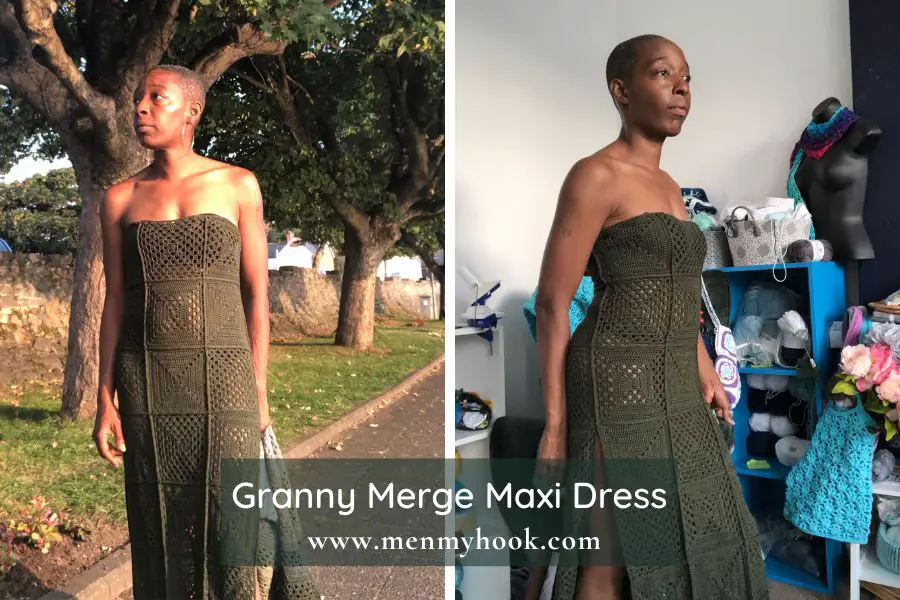 Easy crochet Granny Square Maxi Dress inspiration
Maxi dresses are my favourite type of summer dress as I am a bit ungainly – according to my mum.  While I was making the Granny Merge Summer Dress, I kept mulling over my original idea of an easy crochet maxi dress and decided to adapt some of the ideas I had used in that pattern to create this.
Although I generally go for bright colours and prints in a summer dress, I wanted this to be in a dark solid colour for a more adult/evening wear effect.  To keep myself motivated I decided to use multiple different squares of the same size and create a checkerboard layout to add some drama to this easy crochet maxi dress pattern.
Granny Square Maxi yarn & materials 
To make my Granny Square Maxi I used Twister Solid in Soft Moss.  Is green the new black yet?  This shade of green is possibly my favourite and I think a little underrated but the perfect colour for my easy crochet maxi dress.  Twister Solid is a 55% Cotton, 45% Acrylic blend yarn.  It comes in 100g 400m or 437yd cakes.  Available in xx colours, you can find out more about this yarn by checking out the review post here.
For alternative yarns, I would stick to a no2 weight yarn.  Scheepjes Whirl, Twister or Rainbow Bamboo Cotton would all be great choices for alternatives to make this beginner granny square maxi dress.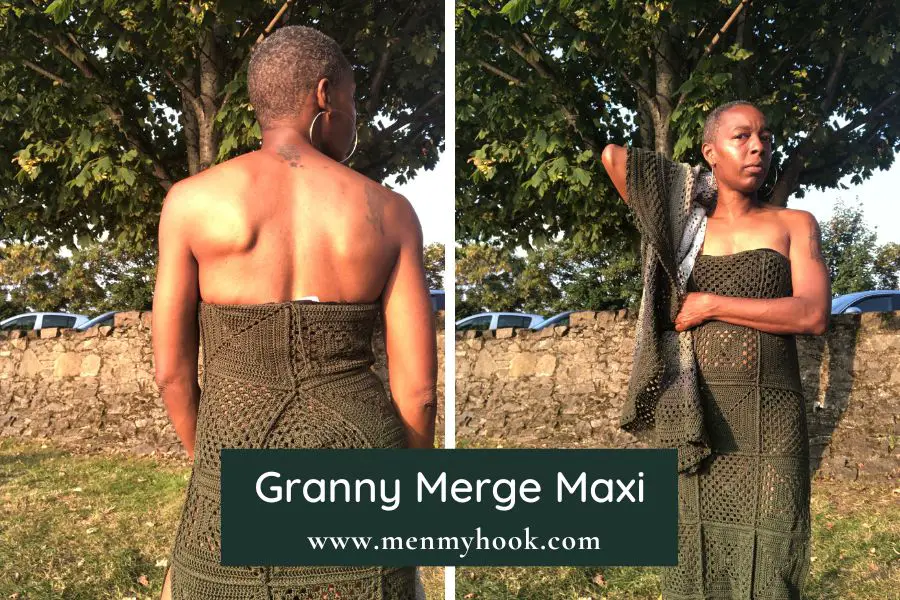 Granny Merge Maxi Dress Pattern info & tips
The Granny Merge Maxi dress is an easy granny square dress crochet pattern.  Size inclusive, the pattern includes 3 beginner granny square motifs, which are easy to adjust to create your own maxi dress.
Gauge is important as this is designed as a fitted dress, with 0 ease.  This is another reason to stick to a finer or lightweight yarn when using this easy crochet maxi dress pattern.
I did not block my squares before joining them as they were all fairly uniform in shape and size, except the solid squares.  While blocking isn't required for this easy crochet granny square maxi dress pattern, it may help to even out your stitches and make it easier to see the tops of stitches for beginners when joining their motifs. IF you decide to block your squares, only do so lightly, as if you stretch the squares you will very likely end up with a dress that does not fit as intended.
Terms: US crochet terms
Type: written, includes schematic
Sizes: XS – 5X (28 – 62 in bust) easy to adjust
Yarn: 5 – 8 Twister Solid or 2200 – 3200yds of any fingering or no 2 weight yarn
Hook: 4mm or whatever is required to achieve gauge – generally my testers go down half to a whole hook size to achieve the same gauge as me.
Other materials: stitch markers, darning needle, tape measure, scissors
Skill level: Beginner
Stitches used:
Chain
Single Crochet
Double Crochet
Slip Stitch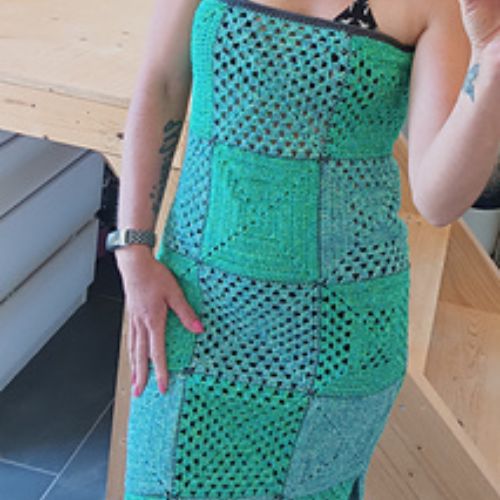 Granny Merge Maxi Tester Thanks
Many thanks to Winnie for helping me with the test for this pattern – check out her version
Granny Merge Easy Crochet Maxi Dress Pattern Collabs
It's Granny Square Day – HURRAY. If you love Granny Squares then you appreciate the versatility of them, but also enjoy making them. Thankfully, Fiona at Cosy Rosie UK, rounded up a few of us designers for an event all about the Granny Square – Stitching With Granny and today, 15th August, is the featured day of the Granny Merge Maxi.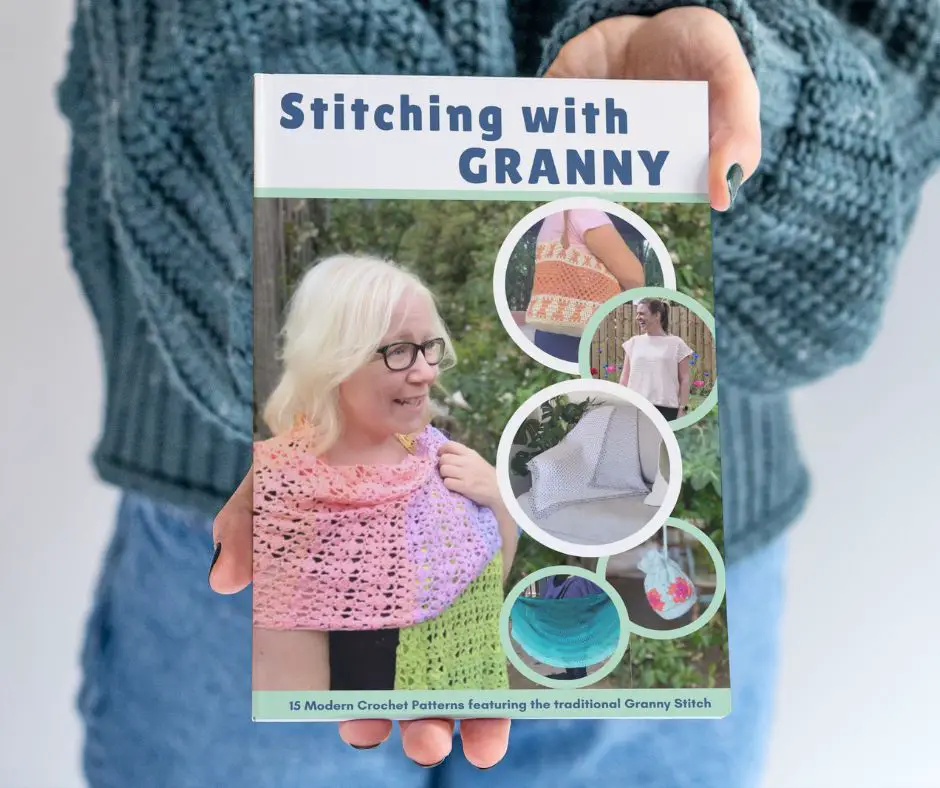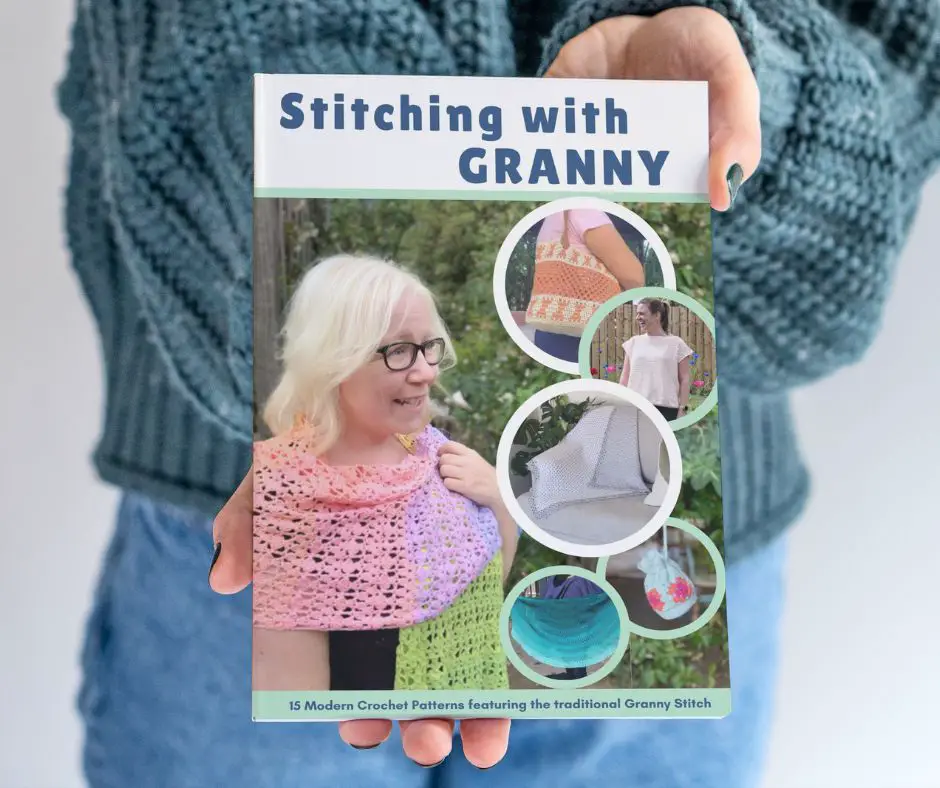 Until Midnight Tomorrow you can get 50% OFF the Granny Merge Maxi as part of this event. To get all the details, check out the other designs and get your discount code, head over to Cosy Rosie UK via the button below.

Get the Granny Merge Granny Square Maxi Dress Pattern
Then, use the code to get your copy of the Granny Merge granny square maxi dress pattern from your favourite pattern store below, before MIDNIGHT 16th AUGUST
Love a deal? Get the entire 14 pattern Stitching with Granny Bundle before it goes away tonight! This includes the Granny Merge Semi – a FAB opportunity to get a deal. For all the details and to get your copy, hit the button below before MIDNIGHT

I hope you enjoyed the post and look forward to seeing your Granny Merge Maxi's!
Love Granny Squares?  Check out the Granny Merge Cocoon and the Granny Merge Market Bag 
Don't forget to pop into the Facebook Group and let me know what colour you plan to make your wrap in and share your progress.
Bye for now,
B x