Easy crochet chevron shawl pattern – Sweet Pea
This post may contain affiliate links. This means I may earn a small commission if you make a purchase from these links, at no additional cost to yourself.
Do you love the granny stitch?  Are you a fan of chevron crochet patterns?  Sweet Pea is an easy crochet chevron shawl pattern that includes the granny stitch and is made from one skein of yarn.  Read on to find out more about the design and how to get your copy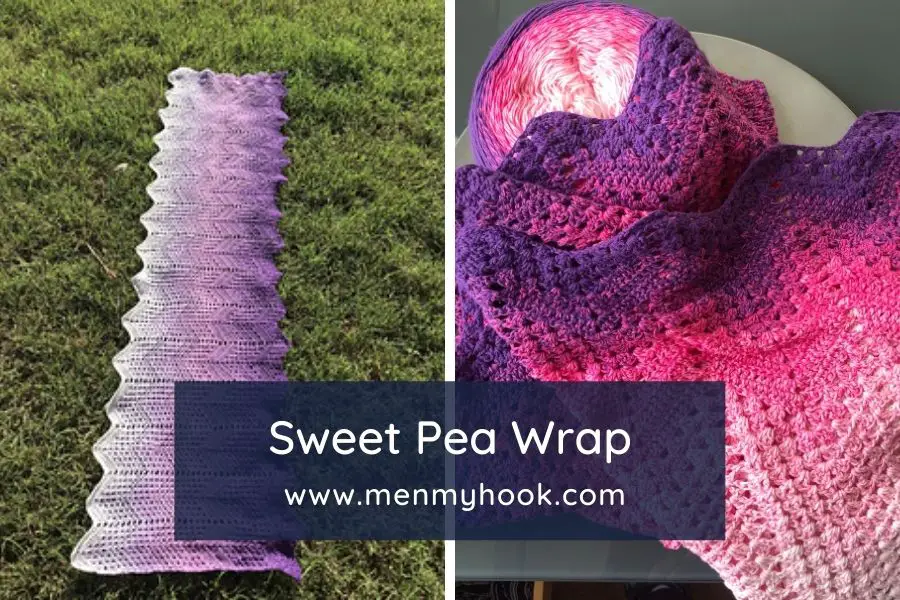 Sweet Pea granny chevron crochet pattern inspiration
I love ripples.  Ok chevrons.  I can't decide why calling it a chevron doesn't really work for me but to my mind they are the things painted on the road surface NOT the undulating pattern that you create with crochet stitches.  Anyway.  After designing Rheanna, I had a brief thought that I wanted to design another chevron shawl pattern, this granny chevron shawl pattern is mostly the realisation of that idea.  
For a while it had been circling in my brain to design one on a long chain as the peaks would fall across the body and add additional features to the overall result.  On my travels to London it popped into my head that I could do this with the granny merge design that I had used in the Granny Merge Cocoon.  While this design isn't a straight transfer of that stitch pattern it does feature some of the same elements.  Sweet Pea features the traditional granny stitch, simpler rows of dc stitches and v stitches throughout the shawl.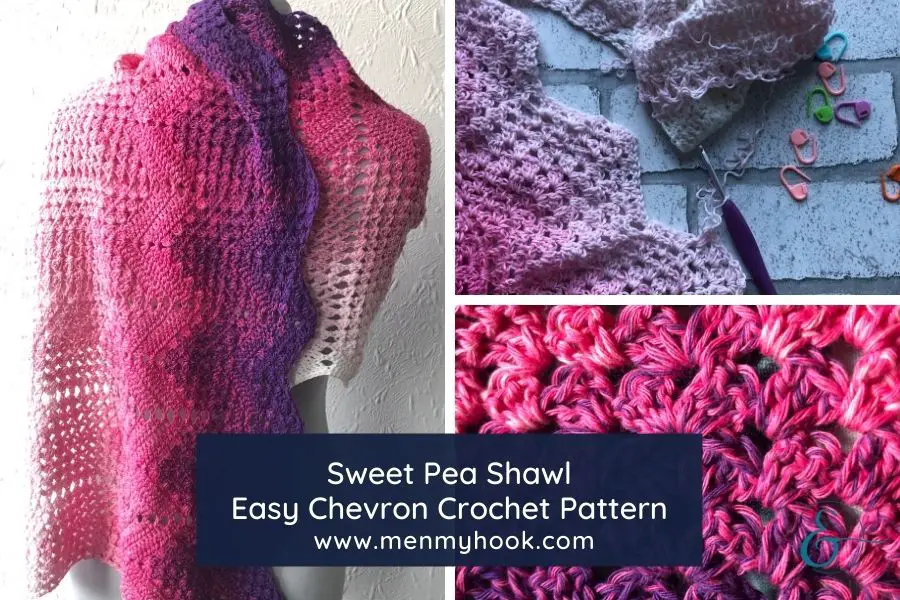 Easy crochet chevron shawl pattern yarn & materials 
To design my Sweet Pea I turned to a favourite – Sultan Deluxe from Hobbii.  The colour I used is Delongh Star Ruby – featuring a white/pink/purple gradient which is bold and bright and one of my favourites in the collection.  This yarn is 100% cotton, 1000m/1092yds gradient yarn cake priced at £21.00.  These cakes are regularly available on sale – which is when I get them. 
Chevron crochet pattern info & tips
Sweet Pea, the granny chevron shawl is a beginner crochet pattern.  Although this features a few different stitch patterns, all are made using standard crochet stitches.  When working this easy crochet chevron pattern I recommend that you use stitch markers, especially when changing between stitches, as this will help you to keep track of where you are in the repeats.
Normally, gauge isn't super important in my shawl designs, however, almost the entire cake of Sultan Deluxe, so if you do not match my gauge or use an alternative yarn you may need more total yardage to complete your easy crochet chevron shawl.
Blocking, again, not essential, but will definitely help to open up all the stitches and make the alternate stitches visible in this easy granny chevron pattern.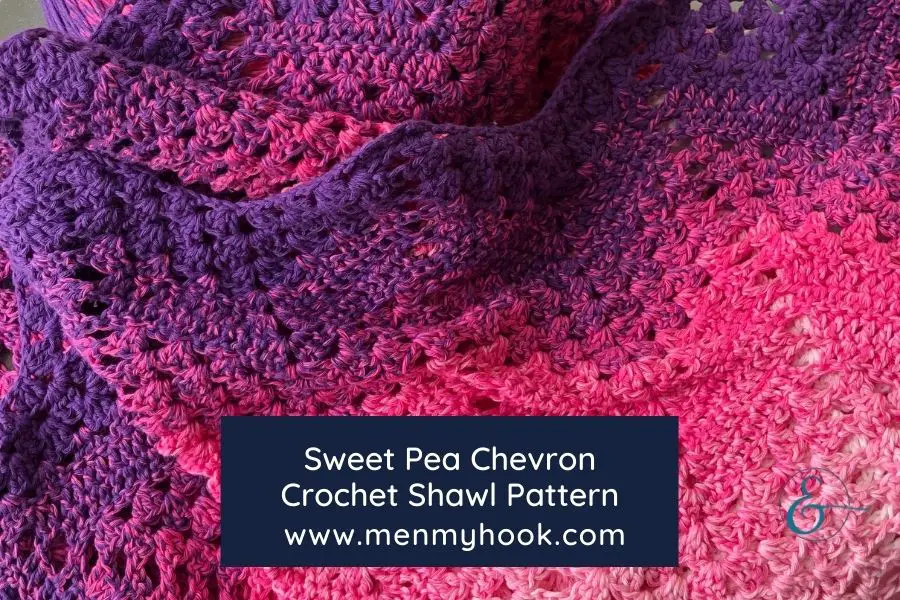 Terms: written in US crochet terms.  
Type: written, stitch tutorial
Yarn: I used 1 x Sultan Deluxe in shade no , Delongh Star Ruby, 1000m/1092yds 100% Cotton gradient yarn cake, OR a similar amount of any fingering (2) or dk (3) weight yarn.
Hook: 4mm, (or whatever is required to achieve gauge. I used my Clover Amour Hook.
Other materials: stitch markers, scissors
Skill level: beginner
Stitches used:
Chain
Double Crochet
V Stitch
Sweet Pea tester thanks
Many thanks to Carmel, Niki, Lyn and Martha for helping me with the test for this design.  To check out all the details on their gorgeous Sweet Pea's, hit the images above and below.
Get the Sweet Pea easy crochet chevron shawl pattern
Buy your ad FREE digital download pdf copy of the Sweet Pea easy granny merge chevron crochet pattern from your favourite pattern store below
I hope you enjoyed the post and look forward to seeing your Sweet Peas!
Love Shawls? Check out Narcissus for an oversized crochet shawl pattern, or Estella for a beginner triangle shawl crochet pattern.
Pop into the Facebook Group and let me know what colour you plan to make your wrap in and share your progress.
Bye for now,
B x