My 3 fav cotton yarns to crochet with
This post may contain affiliate links. This means I may earn a small commission if you make a purchase from these links, at no additional cost to yourself.
Love cotton yarns, but struggle to know which ones to use? You are not alone, I am a huge fan of cotton yarns, and natural fibres in general. However, all yarns are not equal so I wanted to share some of my stash favourites with you. Read on to find out about 3 great value cotton yarns that are available easily in the UK today.
3 favourite cotton yarns inspiration
March is crafting month, and the 11th March is tool appreciation day. As a huge fan of cotton yarns, I thought I would share with you 3 of my favourites as my contribution to celebrating all things tools!!!
Did I say I am a massive fan of cottons yarns? It makes up the majority of my stash at any given time and it's the thing I spend the most time searching the interwebs for to get a great deal. Cos, let's be totally honest, it isn't the cheapest. I like to have my favourite and most used types around for when inspiration strikes or I just wanna make something, so for me, yarn and most definitely cotton yarns are a must have part of my crochet toolkit.
The yarns included below are my favourites, and new obsessions, available readily worldwide, but particularly in the UK. I've also included a couple of my tips on how to stretch your budget and get more. Before we start, the things I look for in a yarn of any kind, but particularly in cotton yarns are:
Skein / ball size and yardage
Fibre content
Colour choices
Price per skein/ball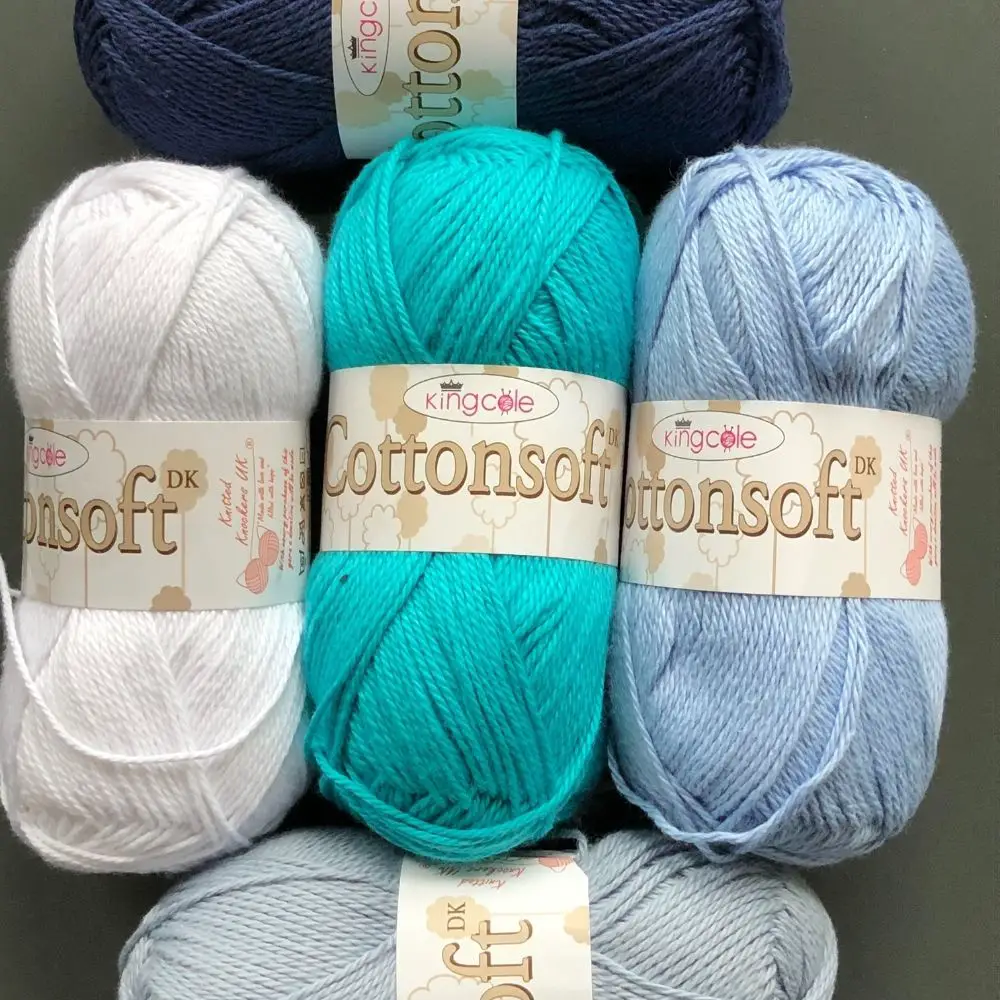 King Cole CottonSoft Dk
I'm starting with King Cole Cottonsoft Dk because it comes in 100g balls. I think that is fair. It's 100g, 100% DK cotton yarn. With 229yds / 210 meters per skein and priced at £3.59 – 3.99 per ball. Now, if you are a cotton yarn regular you know that these usually come in 50g balls. When you compare the price of this 100g ball to 2 of many other comparable yarns, this is the more cost effective option MOST of the time. Especially if you want to make larger projects.
This yarn is available in 35 shades, there is something for pretty much everyone. There is also a Cottonsoft Crush DK, Candy DK and Baby Crush DK 100% cotton versions of this yarn. These multicoloured versions of the 100% cotton yarn open up a variety of additional colour choices and options with an additional 31 shade options at the same competitive price.

Now, you're like B. I wanna make a blanket but I need 3000m. I hear ya. I buy this yarn primarily from Love Crafts or Deramores. Both offer sales and discounts and I try to use those all the time. Depending on the promotion available, you can get more for the same amount. Example – if you buy 5 or 10 balls on deramores, of most yarns, they will automatically apply a discount to your basket. You can then apply another code to your basket depending on what you have available to you.
Always make sure your final total is above the £25 minimum so that you can keep your free shipping discount also.
King Cole Cottonsoft is one of my go to options for a baby blanket. I like the way that it washes and behaves, and how it feels while I work with it. Cotton yarns aren't the kindest on your hands the longer a project goes. I like that this one starts off soft and gets better.
For example projects made with this yarn, check out the Marian Bay Bag, made with double stranded Cottonsoft Dk.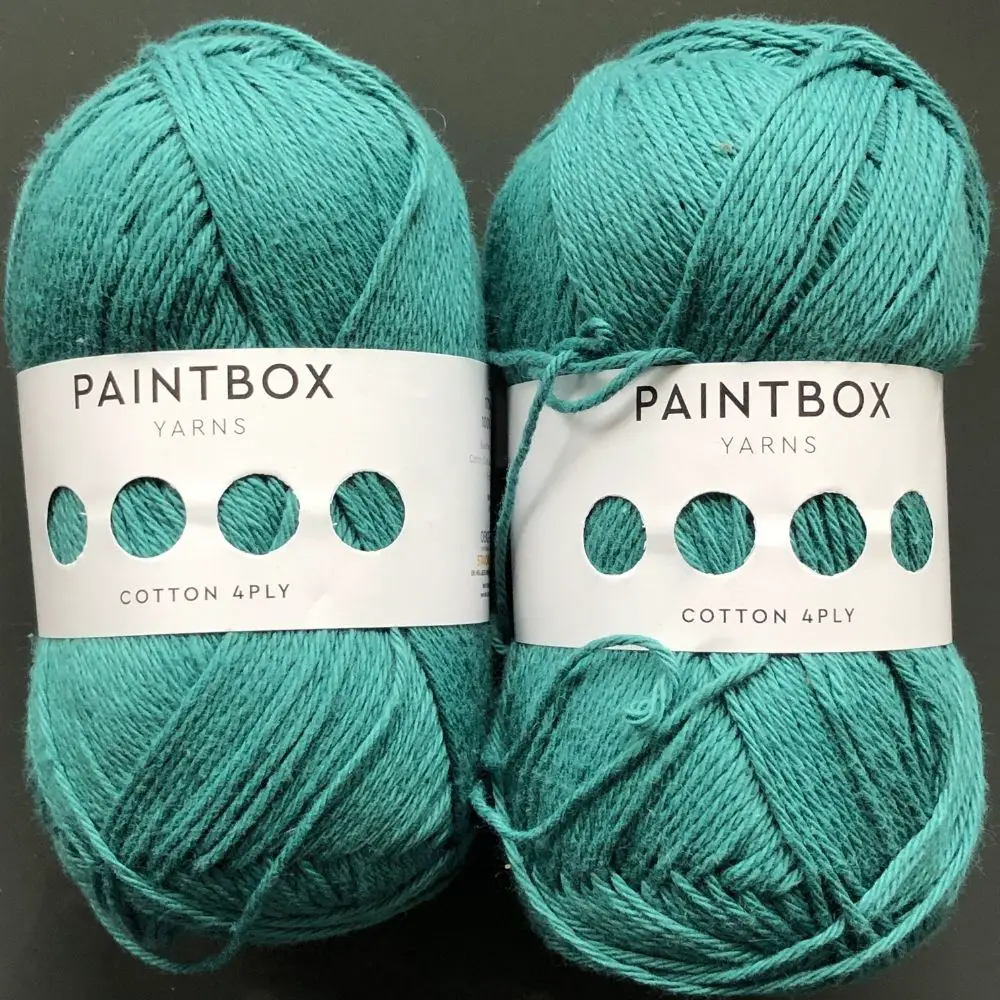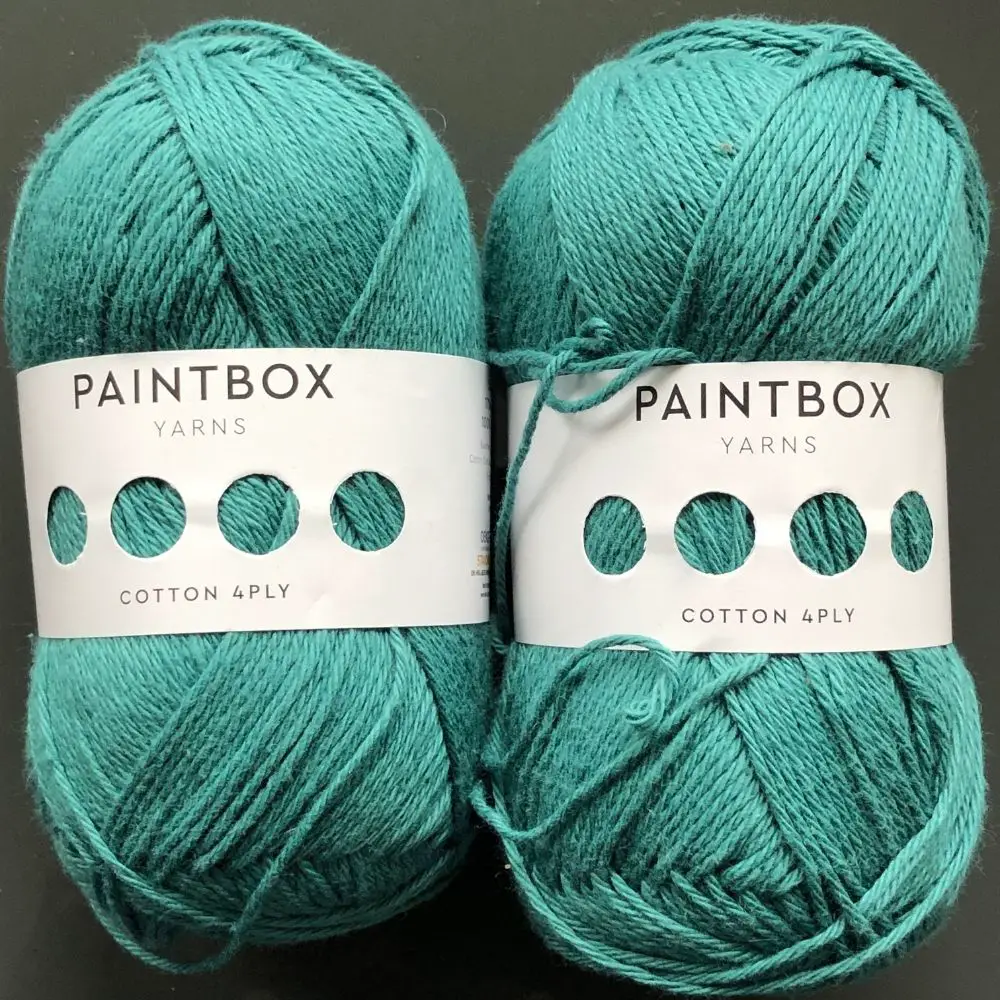 Paintbox Simply – 4ply / Dk / Aran
Paintbox Simply is the house brand from Lovecrafts. It was the first 100% cotton yarn I tried and that was an accident. It stays in my favourites because it's paintbox – it is affordable, reliable and they have a great range of colours. Originally available in Dk and Aran, they have recently added a 4ply version to their range of cotton yarns.
I haven't yet finished my first project with my 4ply, but it has all the things I love from paintbox. Great to work with, not splitty or too shiny. There is a slightly different take to the colour range in the 4ply versions than what you might be used to from the wider Paintbox range of yarns. HOWEVER, if you aren't into 2 weight yarn this isn't a thing. The Dk and Aran versions of this cotton yarn are available in 50 and 49 shades respectively. If you like it in their acrylic range, then its the same thing here in cute balls of cotton.

The range is priced from £2.50 – 2.75 per 50g ball. LoveCrafts also have these yarns available in packs of 5 or 10 balls. I personally grab multi packs when they are included in the sale – on the right day they will sell 10 packs for up to 30% off. They also reward customers with discount vouchers via email and in the package after shopping – I use these all the time.
I've used this to make home decor items – blankets, placemats and some home decor items. The colours are vibrant and varied there is definitely something for everyone. Also as a beginner crocheter, this cotton yarn, and the paintbox range in general, is a good value brand to start off with and stick too.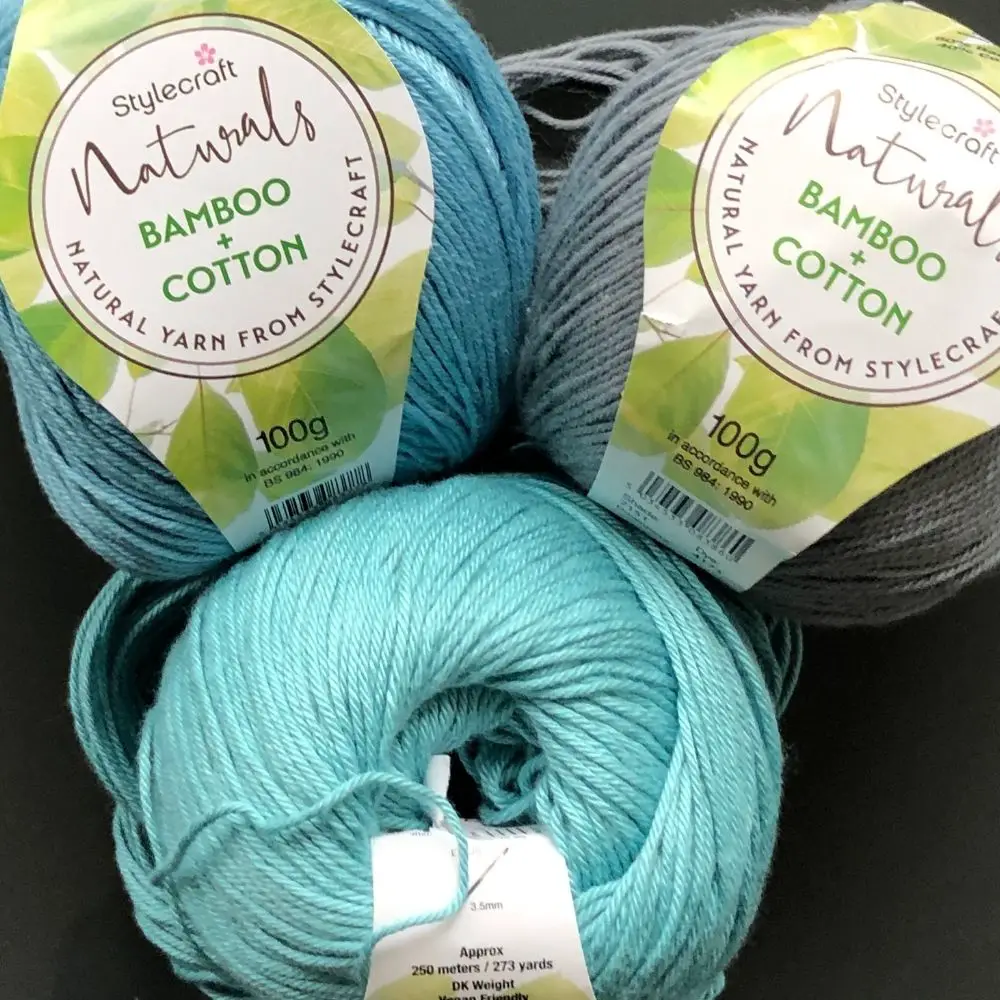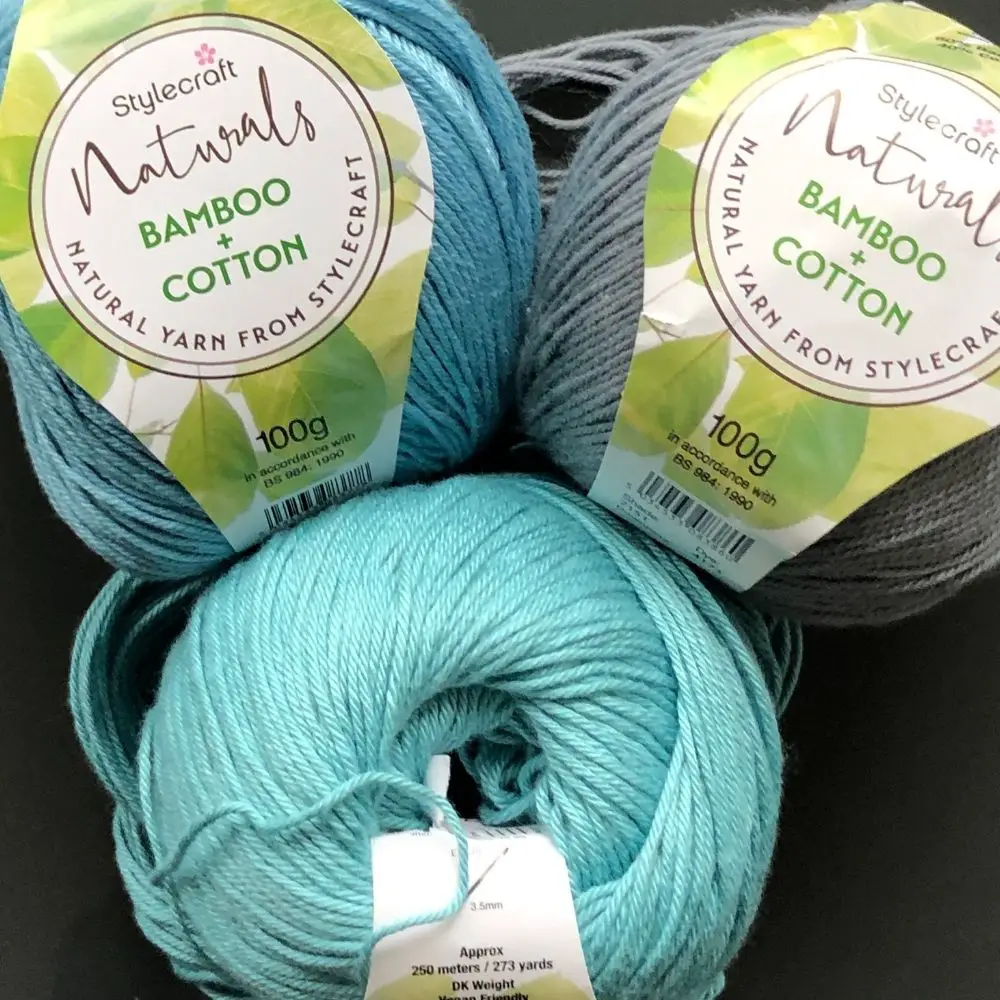 Stylecraft Naturals Bamboo Cotton
This is my new obsession. Stylecraft Naturals Bamboo Cotton. It first appeared during the middle of 2020 and the early stages of the coronavirus pandemic. I loved the idea, jumped immediately onto the bandwagon and bought some. It them promptly stayed in my stash until I designed the Chilo Lacy Spring Scarf. Shame on me. It's fab. Super soft, great to work with and has a fabulous drape. I'm not entirely sure why I didn't work with it before but now I want to make all the things with it.
This is a blend, 60% Bamboo, 40% cotton vegan friendly yarn. It comes in 100g 273yd/250m balls, priced at £4 – 4.99 per ball. This comes in a donut form and doesn't look like much, but as soon as you touch it, you want to stroke it – at least I do. It has a sheen to it's appearance with none of the weird texture you get with mercerised cotton yarns. Available in 43 shades that are what I will call the more muted end of the colour palette. That isn't to say that darker colours are not included, but they are not necessarily the deep, rich or vibrant shades you would expect in some other brands.
This yarn is perfect for wearables – shawls, garments – sweaters, cardigans, dresses, as it has a fabulous drape. It also holds up well to frogging and being reworked. As yet, I haven't noticed that the fabric shifts or changes much after washing or wearing, but I think it would probably be better suited to looser fitting designs if making garments. For shawls and scarves, keep a loosish gauge and the world is probably your oyster.
So there it is my 3 favourite cotton yarns, always hanging about in some form in my stash.
Would you like to learn about other tools for Tool Appreciation Day? Check out the posts from my friends below
Crochet Tools – Worshipping my Mimmo Caddy from Sweet Potato3
Crochet Tools are a Girls Best Friend from Millenial Maker Co
Crochet Tools every beginner needs from Simply Melanie Jane
I hope you enjoyed the post. Don't forget to pop into the Facebook Group and share your favourite tools, I am sure I am not the only one who appreciates a yarn or hook deal or two. In fact – if you know where I can get a large 3d printed yarn bowl please share the link!
Bye for now,
B x