Simple, free corner to corner sweater pattern – Nain Sweater
This post may contain affiliate links. This means I may earn a small commission if you make a purchase from these links, at no additional cost to yourself.
Are you looking for an easy oversized corner to corner sweater pattern?  The Nain Sweater is a beginner crochet sweater pattern that is easy to convert and works well in smart or casual outfits.  Read on to find out more about the pattern and how to make yours
Oversized corner to corner sweater inspiration
I love loose sweaters.  I am a sweaty Betty in all weathers so I like layers and clothes that are multi-purpose or multi-season so I can get more mileage out of them.  When my oversized corner to corner sweater design proposal was accepted to feature on the Two Brothers Blanket Blog, I was working on a beginner series of corner to corner ideas and immediately jumped on the idea of adding a garment to the series.  Although making garments can be intimidating, this stitch technique is versatile once you wrap your mind around how it works and this makes it perfect for flattering easy to make beginner garments.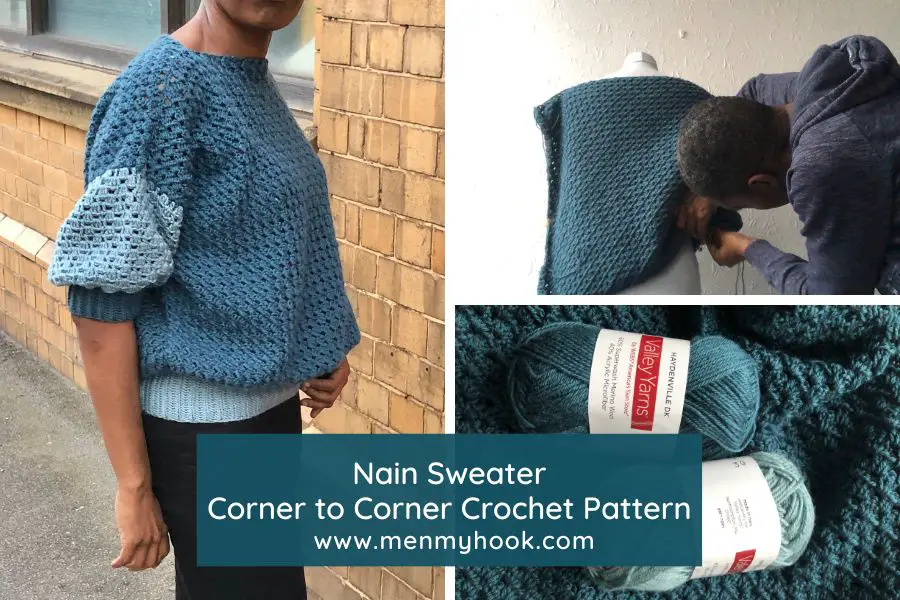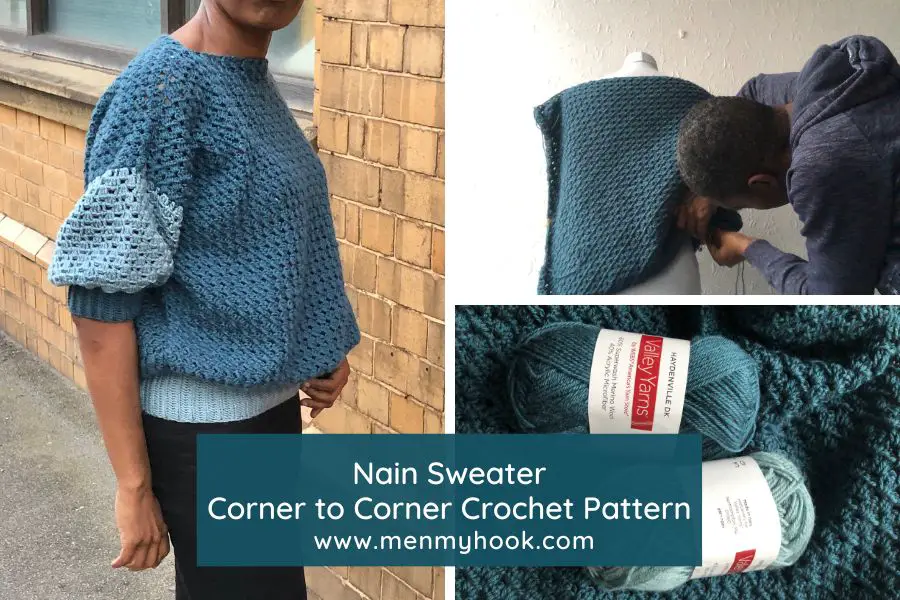 Granny corner to corner sweater yarn and materials 
To create my Nain oversized corner to corner sweater, I used Valley Yarns Haydenville DK.  This is a merino acrylic blend yarn that is super soft and easy to work with.  I chose two colours on the blue/green/teal spectrum: Teal and Lake.  Normally I would go with a lighter colour as the main focus, but I love how this has turned out with the lighter ribbing.  
To find out more about the yarn, check out the review post here.
Oversized granny corner to corner sweater pattern info & tips
To create your own Nain corner to corner sweater, you will make two panels for the main body area, and once these are joined you then add the sleeves, followed by the contrasting waist, collar and cuffs.  Written to fit all standard sizes from XS – 5X, the pdf pattern includes tips on how to adjust the design to fit those who don't conform to the traditional sizing charts available, or those who want to add a slightly different spin to their sweater!

The yarn I used has great stitch definition and drape but will become stiff if using a smaller hook.  While gauge isn't normally an issue in my designs, in this oversized corner to corner sweater pattern it is.  The objective is to create a loose oversized sweater without it becoming a sack, so pay close attention to your gauge/tension and protect your work while working.  For an alternative yarn I would choose Paintbox Yarns Simply Dk, with a 5mm hook, instead or possibly Scheephjes Merino Soft.
The pattern is written in US crochet terms, and includes schematics and photo tutorials. 
Skill level: Beginner
Yarn: 11 – 15 x Haydenville DK or 1500 – 2100yds of any dk or 3 weight yarn
Hook: 5.5mm
Other Materials: stitch markers, darning needle, scissors
Stitches used: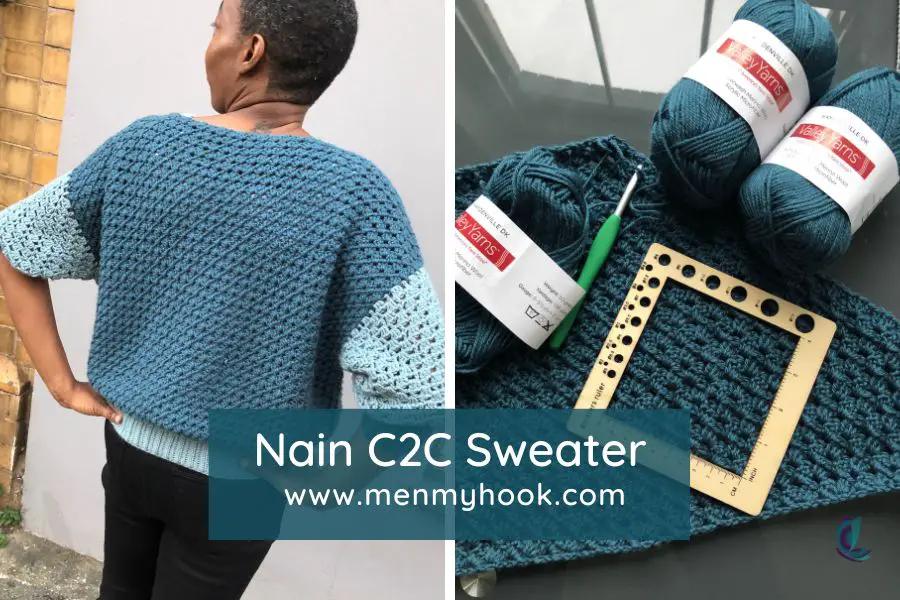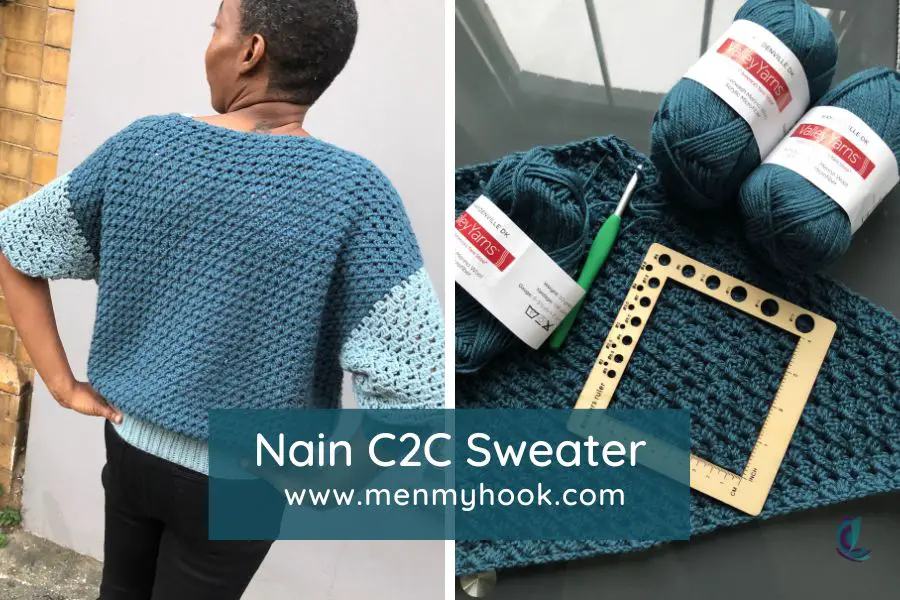 Get the Nain Corner to Corner Sweater Pattern
This pattern is available to view for free on the Two Brothers Blankets Blog here.
Get your Ad FREE digital download pdf copy of the Nain Sweater Pattern from you favourite pattern store below.
I hope you enjoyed the post and look forward to seeing your Nain Sweaters!
Looking for more garment pattern inspiration? Check out the Granny Merge Cocoon or the Hawthorne Sweater.
Don't forget to pop into the Facebook Group and share your wip's and fo's – I would love to see your work.
Bye for now,
B x