12 Crochet Christmas Gift Ideas
Looking for new crochet christmas gift ideas? Handmade gifts of any kind are a super special way to show someone that you care and that is especially true in holiday season. Finding the right projects to spend your crafting hours on are important and we all need the perfect pattern for that special person but where to find them? And what do to make?
Christmas Crochet Gifts for Everyone
FYI I LOVE Christmas. The food smells and fashion are some of my favourites but also the gift giving. Handmade and personalised gifts are some of the most precious things you can give – especially if they are crocheted imo. Looking for the perfect crochet Christmas gift idea is something I do, and see happening, in some of my most favourite Facebook groups. Finding the perfect gift can be tricky as there are hundreds of patterns and ideas out there and the Pinterest rabbit hole takes away from precious crochet time for the super long gift list you have to make!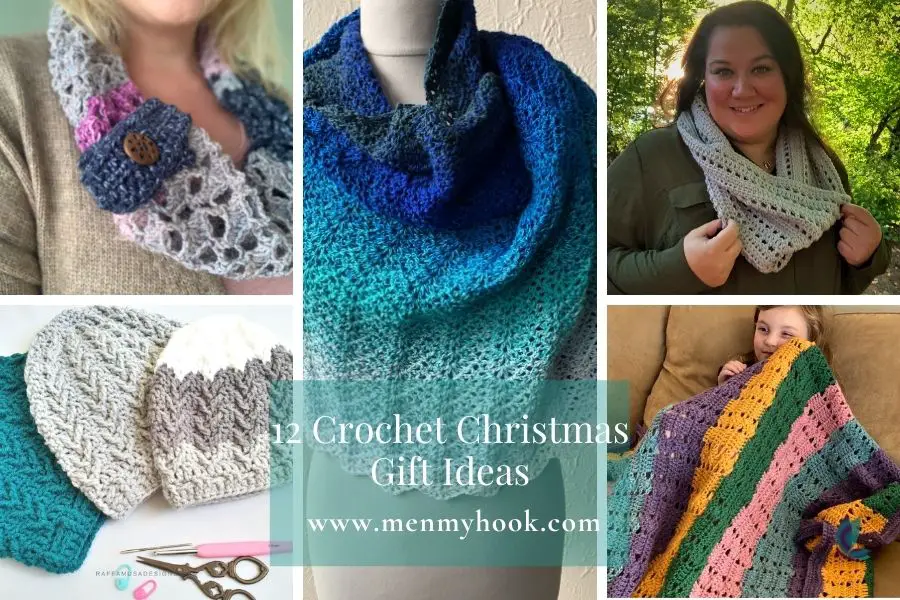 I'm here to help. The 12 Weeks of Christmas Blog Hop is born of the idea of loving Christmas but not all the things and wanting to share it with my friends. Featuring 10, of my crochet designer friends, each week, starting on the 1st October, a new premium crochet Christmas gift pattern idea will be released especially to help you choose what to make for your loved ones.
Each design will be available at an exclusive discount for 24hrs, all you have to do is decide WHO to make the pattern for and grab it before the deal goes!
12 crochet Christmas gift ideas designers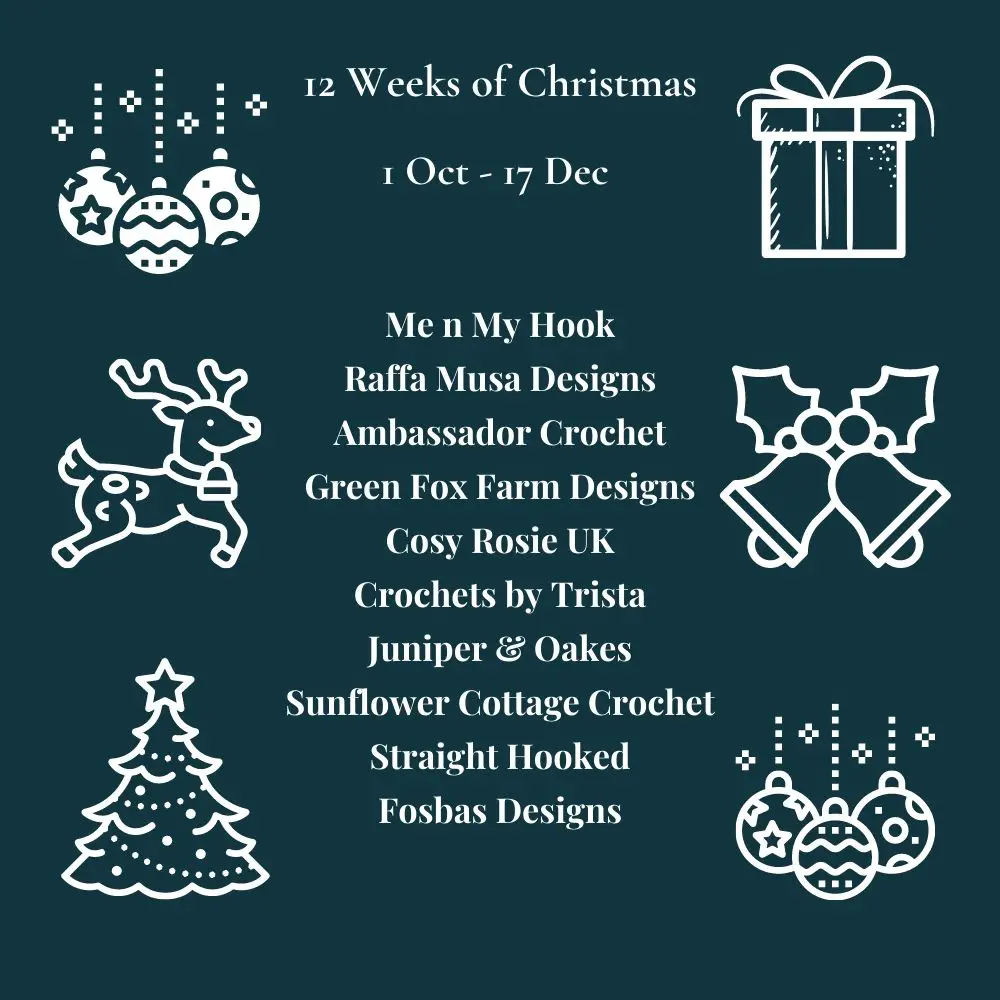 Many thanks to everyone who made this event possible. To check out their work and get a feel for their designs hit the links below
12 Weeks of Christmas – How it works
The 12 Weeks of Christmas crochet Christmas gift ideas event starts on the 1st October. Every week at 10am GMT a new pattern will be featured and available at an exclusive discount for 24hrs. Scroll down to the featured date on this post, and you will find that discount code, then, head over to the designers blog, via the button below, to purchase the pattern at your favourite pattern store before the discount expires.
Example get the pattern button


1 – 1st October, Rheanna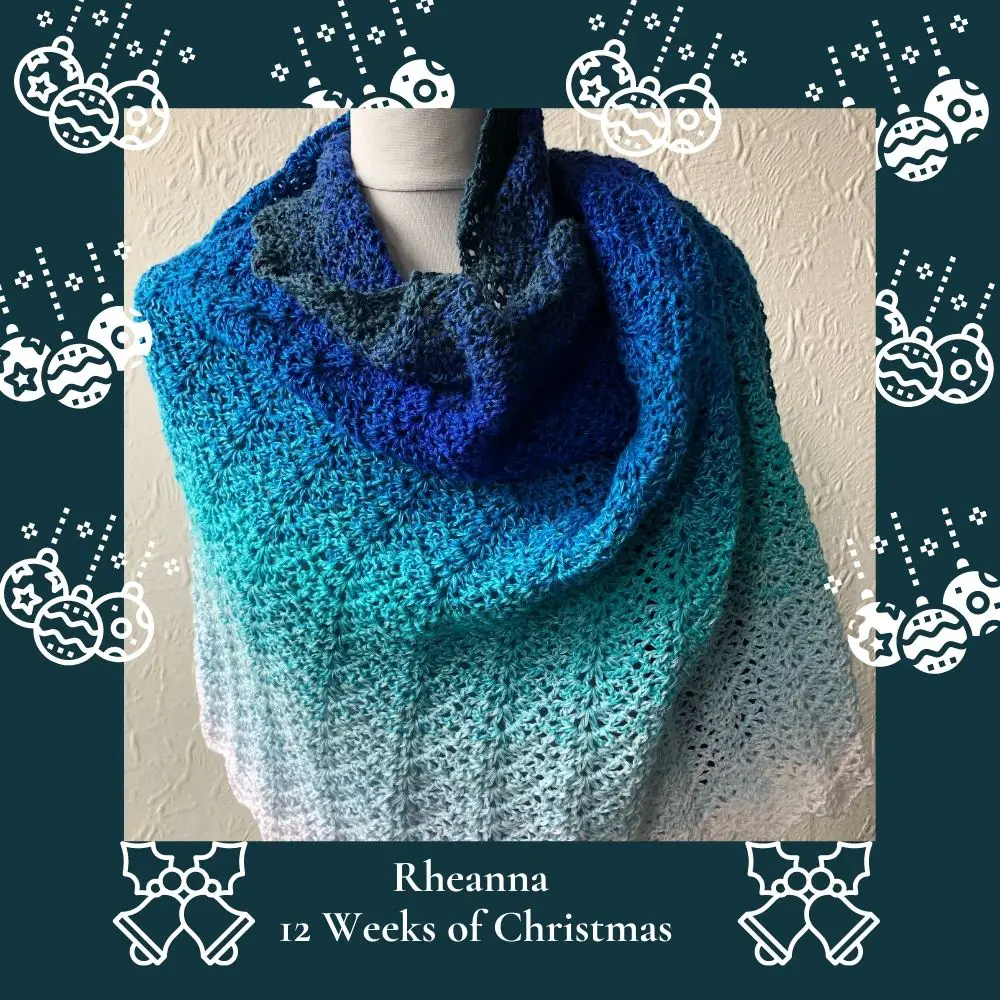 It's day 1 of the 12 Weeks of Christmas and the featured designer today is ME. Rheanna is my niece, we both have birthdays in this end of the year and the colours of this shawl were chosen for winter but remind of me of summer!
To check out Rheanna, head over to the blog post here.
2, 8th October – Wrapped Arrow Beanie, RaffaMusa Designs

It's week 2 of the 12 Weeks of Christmas event, and today I am excited to share with you this super squishy and full of texture beanie pattern. The Wrapped Arrow Beanie is designed by Raffaella of Raffamusa Designs. Featuring the Wrapped Arrow Stitch and sized from baby to adult, this beanie pattern would make an amazing gift for all the family. To find out more about the Wrapped Arrow Beanie, head over to Raffamusa Designs.
3, Serenity Placemat Set – Ambassador Crochet

Week 3 of the 12 Weeks of Christmas crochet gift ideas comes from Kristine at Ambassador Crochet. Add some serenity to your kitchen or dinner table with this lush textured placemat and coaster set. Today, 15th October you can get the Serenity Placemat and Coaster set to enrich your kitchen and add some home style to your crochet Christmas gifts, for 30% off till midnight tomorrow using the code KITCHEN. To find out more, and get your copy, hit the button below.
4, Drunken Granny Scarf – Madame Stitch

Scarf season is upon us and as the nights draw in, what better way to add some crochet to your wardrobe and your Christmas gift making list than with a scarf. The Drunken Granny Scarf is a modern take on a classic stitch and is a great gift make in solids or stripes. Designed by Madame Stitch, you can find out more about the design here.
5, Sweet Stripes Backpack – Green Fox Farm Designs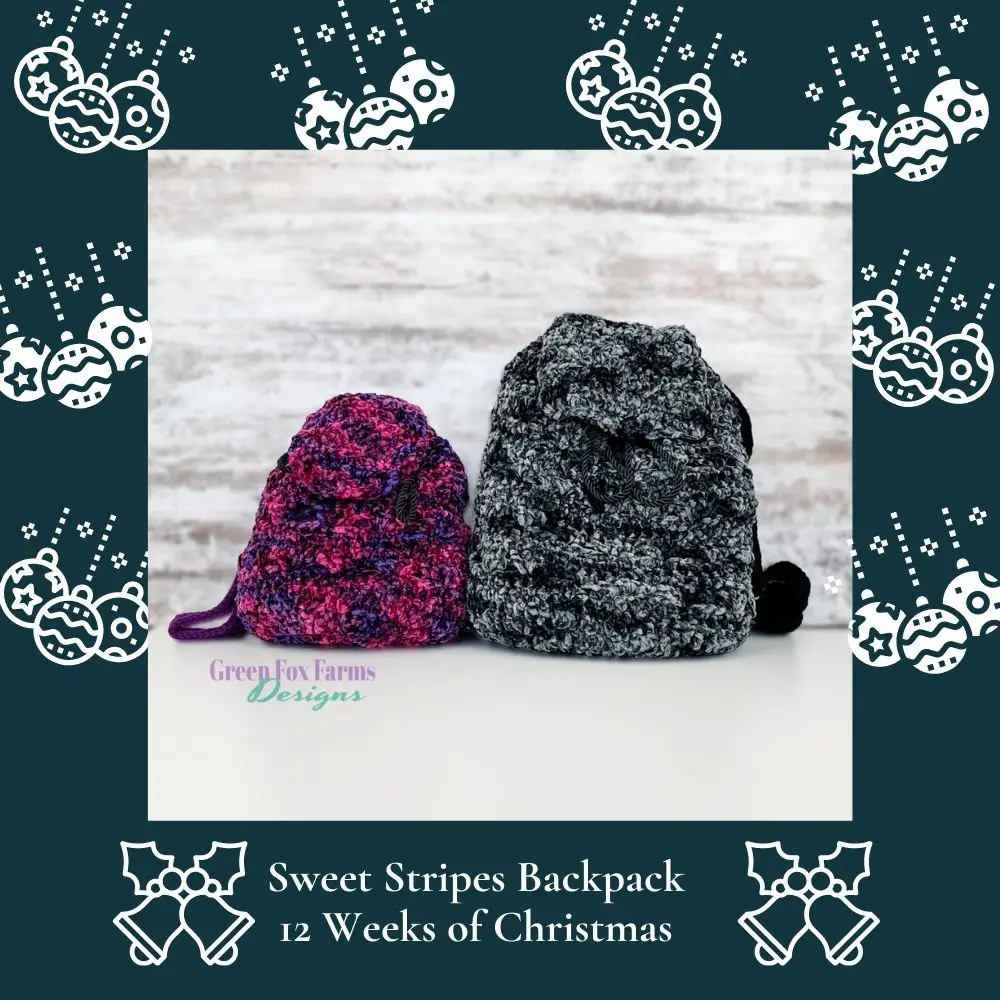 Are you a bag lover? I don't think it would really be a gift giving post without a bag pattern of some kind and Lisa from Green Fox Farms has got this super cute bag that will make a great mummy and me gift idea. The newest addition to the Sweet Stripes collection, the Sweet Stripes Backpack is a super cute pattern featuring two sizes and multiple strap options – I love options. To find out more about the Sweet Stripes Back Pack check out the blog post here!
6, Highland Shell Cowl – Cosy Rosie UK

Love Cowls? I do, they make accessories and gift makes, especially at Christmas and this pattern is a great example of that. The Highland Shell Cowl is lacy cowl with a button feature designed by Fiona at Cosy Rosie UK. The open detail is fun and feminine with an intriguing texture. To find out more about this cute cowl pattern, head over to Cosy Rosie UK here.
7, Twisted Mobius Cowl – Crochets By Trista

If you like a bit of a twist in your crochet and fashion then the Twisted Mobius Cowl is just the thing you need to add a bit of flare to your Christmas gift wip pile. Designed by Crochets by Trista, this cowl will look amazing in your favourite worsted weight yarn. Cowls are a great quick gift make and this one has great potential for being a universal gift!
8, Cozy Alpine Pouf – Juniper & Oakes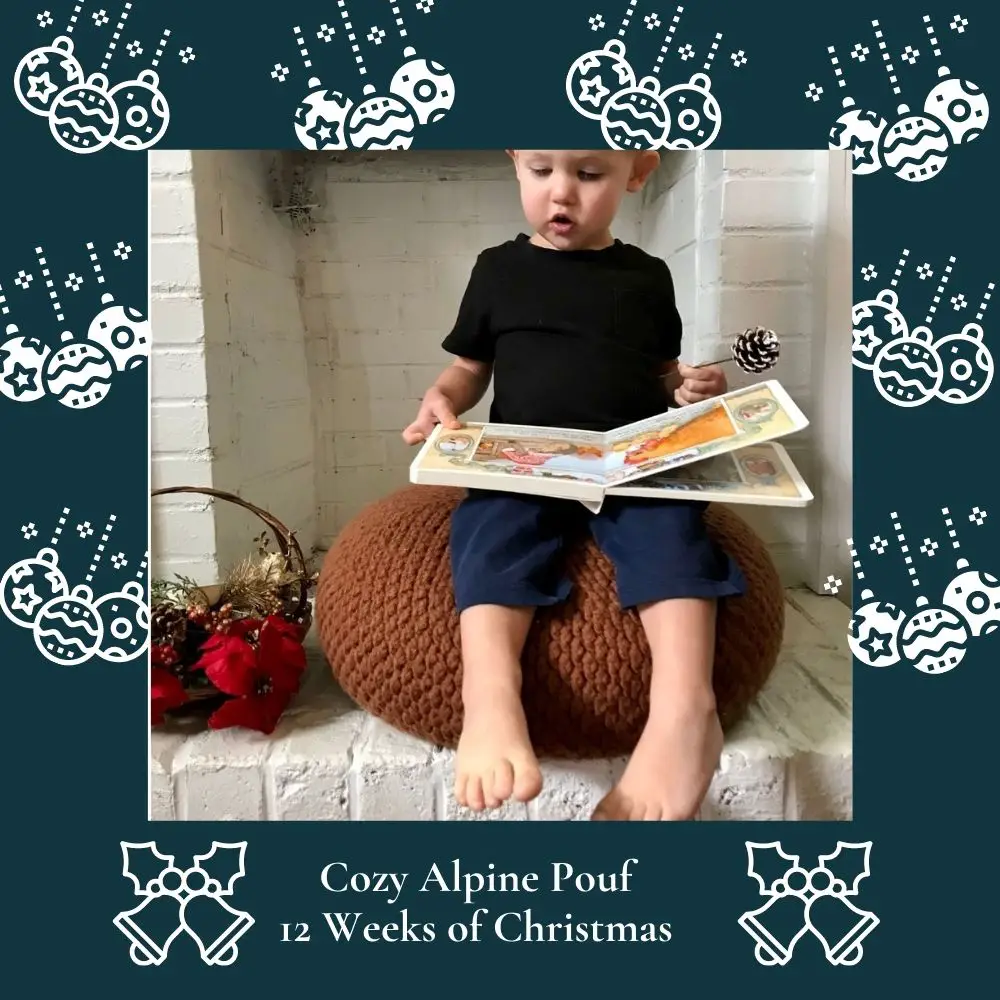 If home decor is your thing or you know someone who just moved then the Cozy Alpine Pouf is just the thing you need. Full of texture and warm and will look AMAZING in any room or colour this gorgeous pouf is designed by Erin over at Juniper & Oaks.
9, Prairie Fields Afghan – Sunflower Cottage Crochet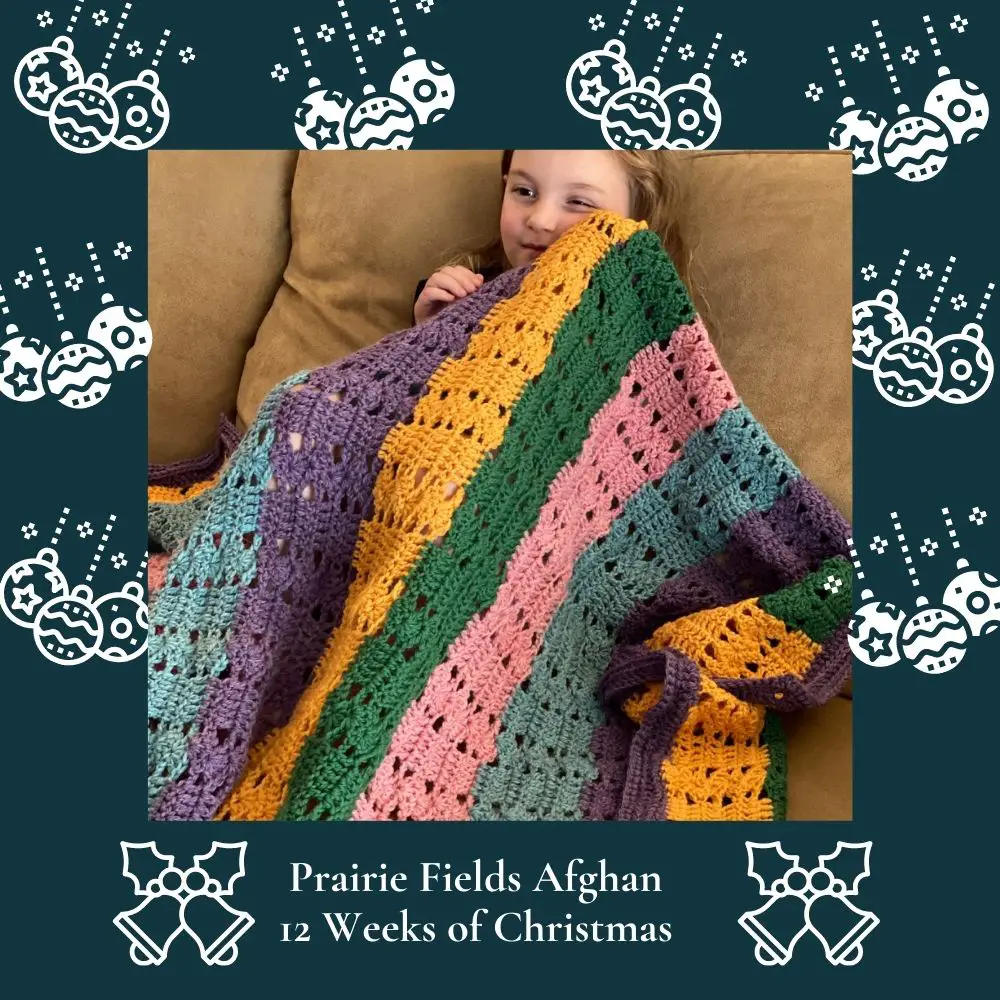 Who doesn't love a cosy blanket at this time of year? Luckily we have a new and very versatile blanket pattern from the ladies over at Sunflower Cottage Crochet that will fit all your needs! The Prairie Fields Afghan is a cute quick make, pictured here in stripes but would look in fab in solids or ombre or variegated yarns as well.
10, Chantelle – Me 'n' My Hook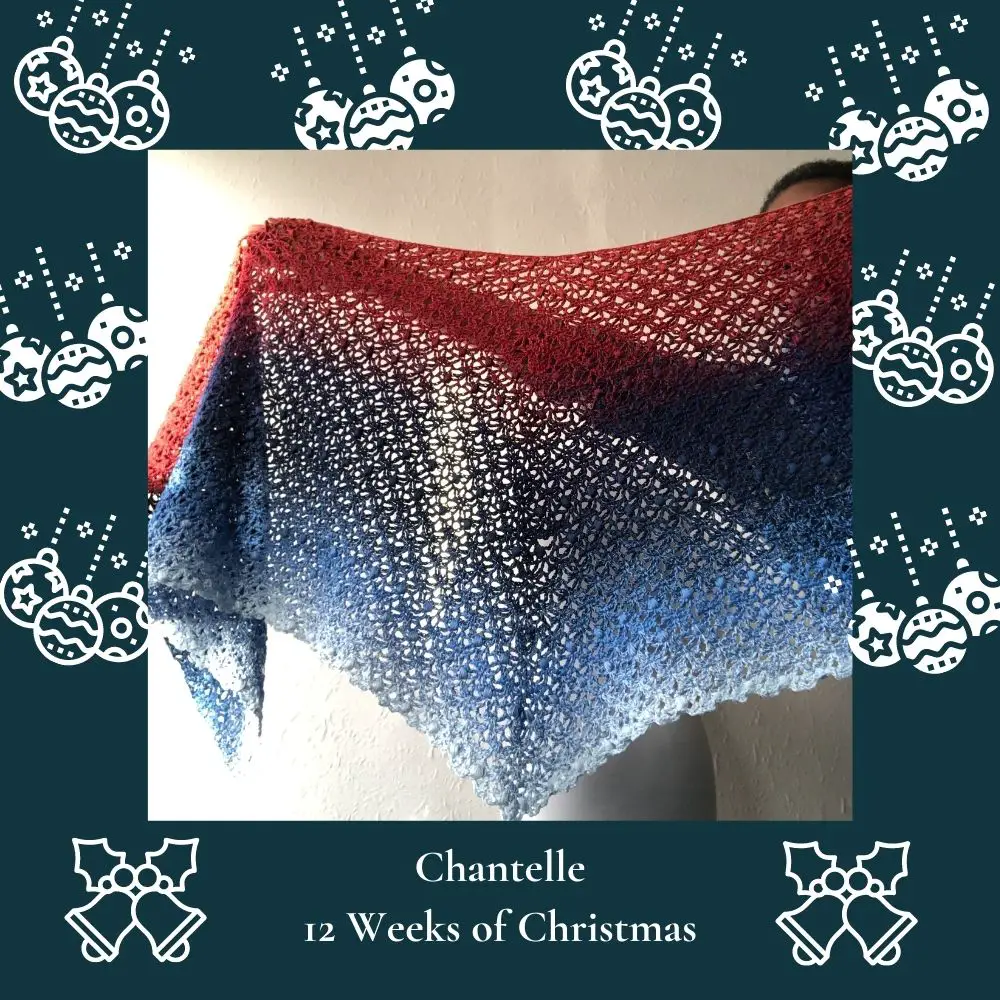 Looking for something a little larger to make? Wraps and shawls are a great way to add an extra layer and glam up your Christmas party outfit and Chantelle is perfect for just that. A large triangle shawl, this lacy pattern increases slowly from the centre, with a repeating pattern and a spattering of puff stitches. To find out more about Chantelle, head over to the blog post here.
11, Candy Cane Cowl – Straight Hooked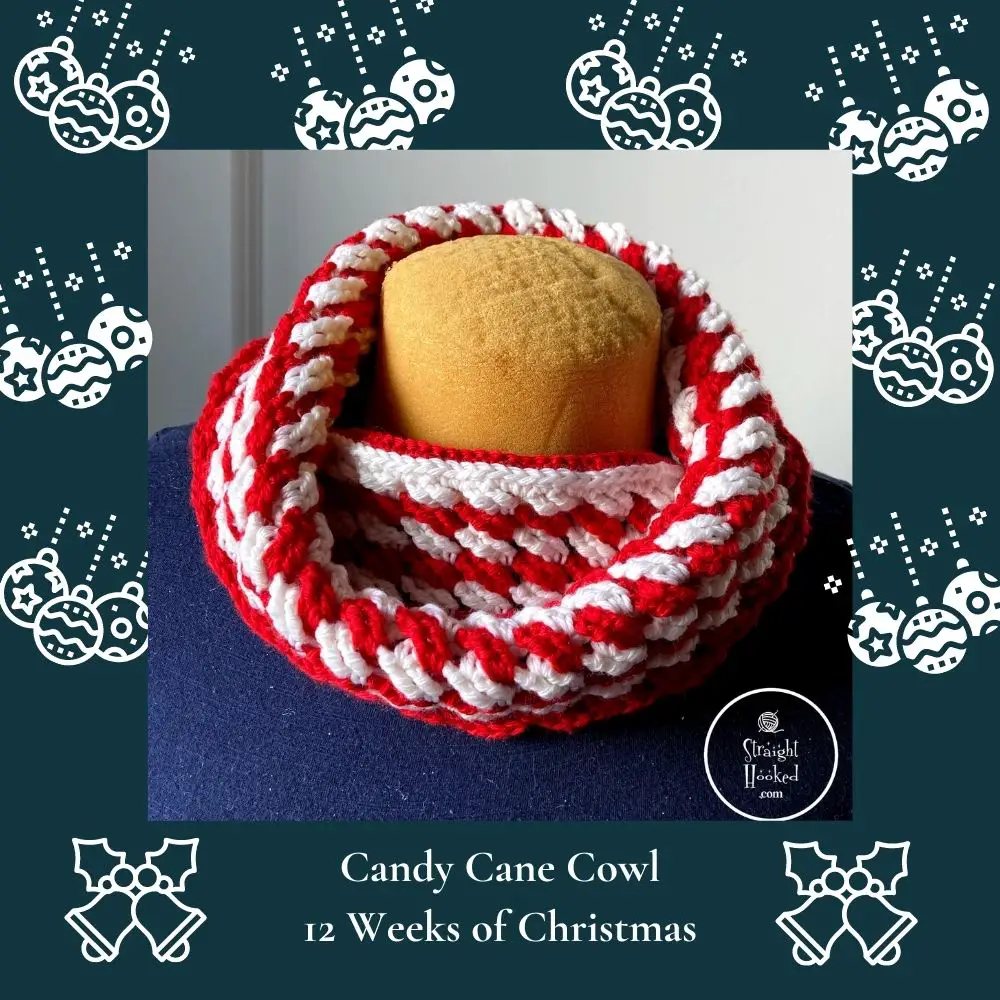 It's the penultimate week of the 12 Weeks of Christmas event and could it be more appropriate that this weeks new design features a Christmas staple – Candy Cane? The Candy Cane Cowl is a fun, cozy addition to your handmade winter accessory collection. You'll be asked where you got it every time you wear it! Made with two contrasting colours of your favourite DK weight yarn, this cosy cowl will make a head turning gift for any fashionista!
12, Easy Breezy Pocket Scarf – Fosbas Designs

It's the week before Christmas and you need a quick gift make with something a little bit different but you are not sure what. How about a convertible scarf /cowl with a pocket? The Easy Breezy Scarf is a versatile design that can be styled as a pocket scarf or as a cowl with pocket. Designed by Susanna from Fosbas Designs, this cowl is released and featured today at 30% discount.
To find out more about the pattern and grab your copy use the code BresszyChrsitmas via the button below.


Don't forget to pop into the Facebook Group and share your favourites – and progress with us.
Love gift ideas? Check out these 30 Gift ideas for Mum