Bowltech Ergonomic Crochet Hook Review
This post may contain affiliate links. This means I may earn a small commission if you make a purchase from these links, at no additional cost to yourself.
Ever seen the pretty handmade Bowltech Ergonomic Crochet hooks on Facebook or Instagram and wonder – are they worth it? Price, quality and of course appearance are front and centre with handmade crochet hooks but are they really worth the money? Read on to find out more about Bowltech Ergonomic Crochet Hooks and if they might be the right choice for you.
Why Bowltech Ergonomic Crochet Hooks?
One of the most important things to me in my crochet is the feel of the tools in my hand. Yarn and hooks. I crochet a lot and my hands aren't what they used to be so it's very important that I have the most comfortable hooks I can find. A couple of years ago now, I stumbled across these handmade ergonomic crochet hooks from Bowltech Crochet Hooks on Facebook. A sucker for a pretty thing, I asked the question most people probably do – 'are they worth it though'? As I have had a chance to use some of the products I am sharing my thoughts, and experiences in this Bowltech ergonomic crochet hook review with you.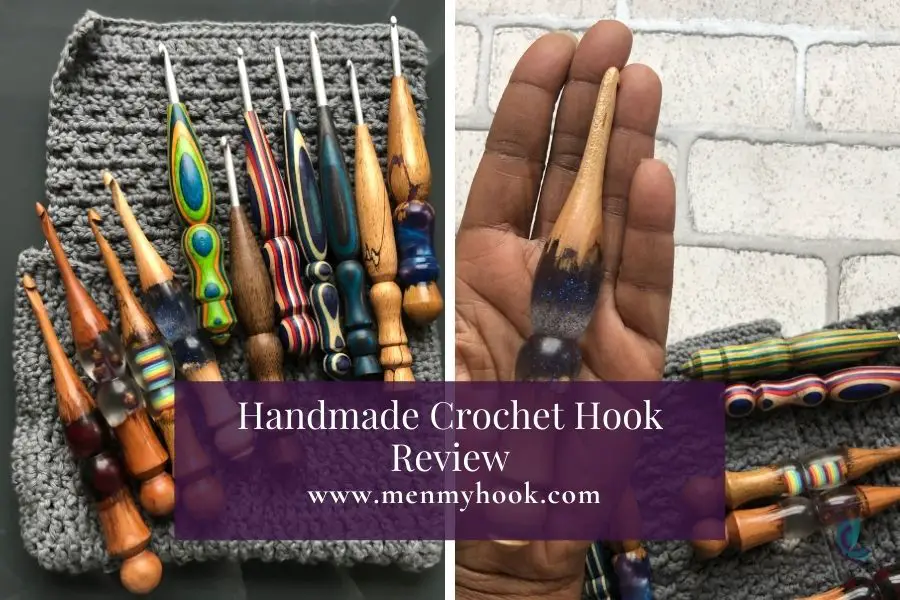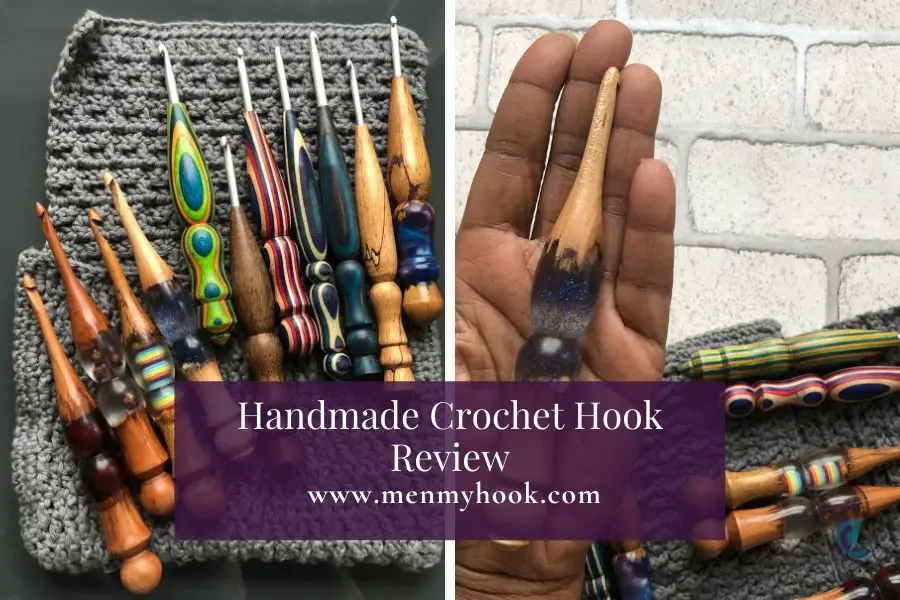 Bowltech Ergonomic Crochet Hooks the info bits
Bowltech Crochet Hooks is a small business based in the UK. The owner is Allan Marshall and each hook is handturned – by him or his son Callum in their studio, to order. No two hooks, or hook ends are exactly the same. There are also a variety of additional products – needle holders, seem rippers etc, which are available to order. I am sticking to the range of ergonomic crochet hooks here as these are the only products I have experience with, although I have heard and seen great things.
Handmade ergonomic crochet hook materials
What are Bowltech ergonomic crochet hooks made of? Here is a little look at the various elements that make up these handmade crochet hooks.
Wood
I don't know enough about wood turning to talk about it any depth, except to say that this artistry is what is used to create the handle/body Bowltech Ergonomic Crochet Hooks. With various styles of woods available, each with different colours and characteristics, wood is the main material used to create the hooks. From a variety of sources, dark to light and multicoloured in between, there is a wide choice of woods available to choose from and a list of weight characteristics can be easily obtained on request.
Some of the woods I have in my collection are Caribbean, Americana and Macaw in Spectraply, Spalted Beech and Walnut.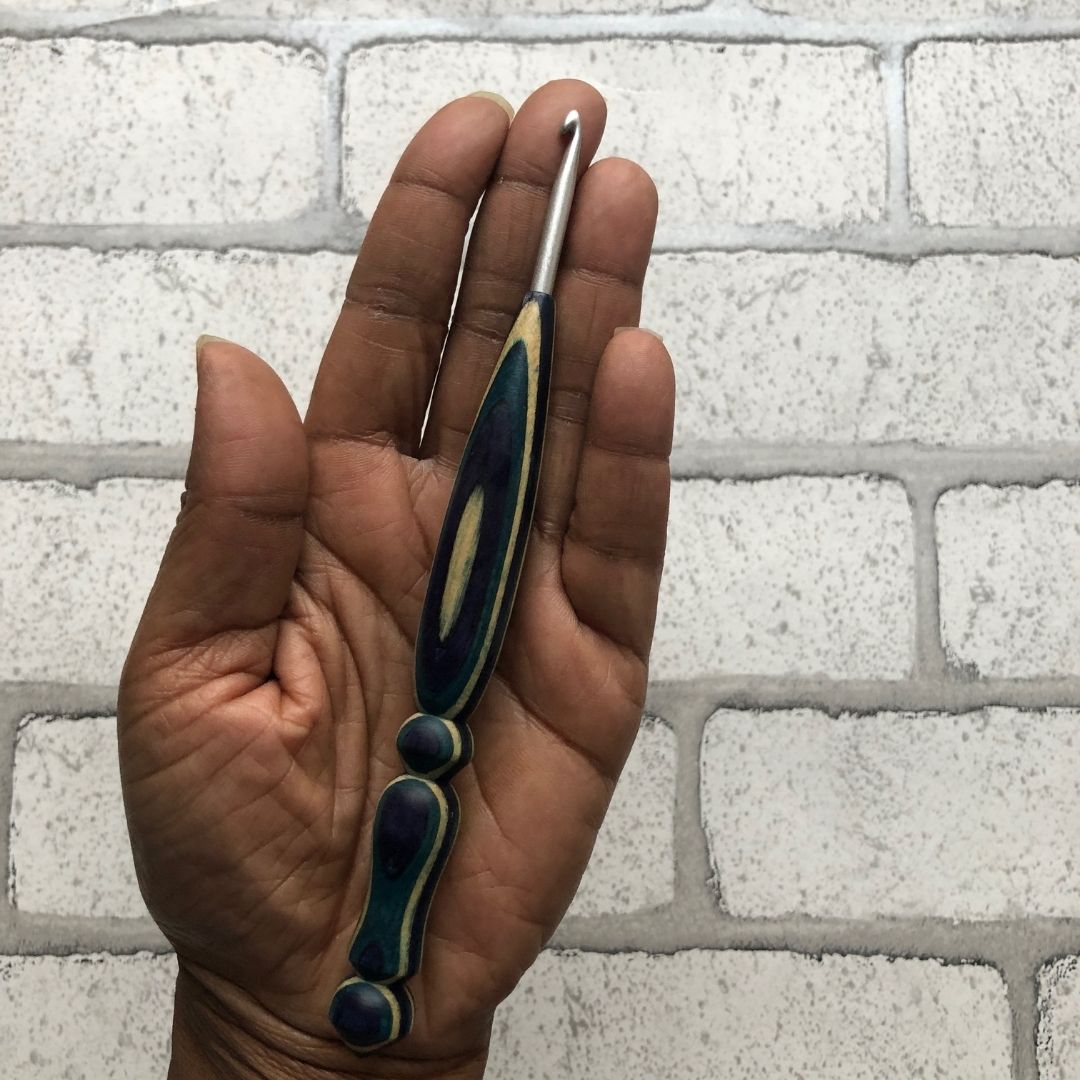 Metal
Hook ends – here there is the second opportunity to personalise your Bowltech crochet hook. While fully turned Bowltech ergonomic crochet hook are available, IF you are a die hard fan of a particular hook end – me silver Clover Amours, then it is possible to get these inserted into your hook. The majority of my hooks have inserted ends as I regularly work with cotton and regular cotton work will wear on a wooden hook end over time.
Resin
Resin inserts are a feature which drew my attention when I first 'discovered' these handmade ergonomic crochet hooks. Set within broken wood, the resin inserts add an additional point of intrigue to these hooks. Now available in various with specific wood combinations, I don't know if there is any hand health benefit to be had from this aspect but they are ALL pretty so I love them.
And more
While I don't own any of these hooks it seems odd not to share that over time the range has grown and while I have my favourites there are others to explore. Memory hooks are a new introduction. These include a small vial of ashes of a loved one. The Flower Kawai and Beaded Resin inserts are very pretty – I believe there are three different types of flower and 2 or 3 types of bead choices available at the time of writing.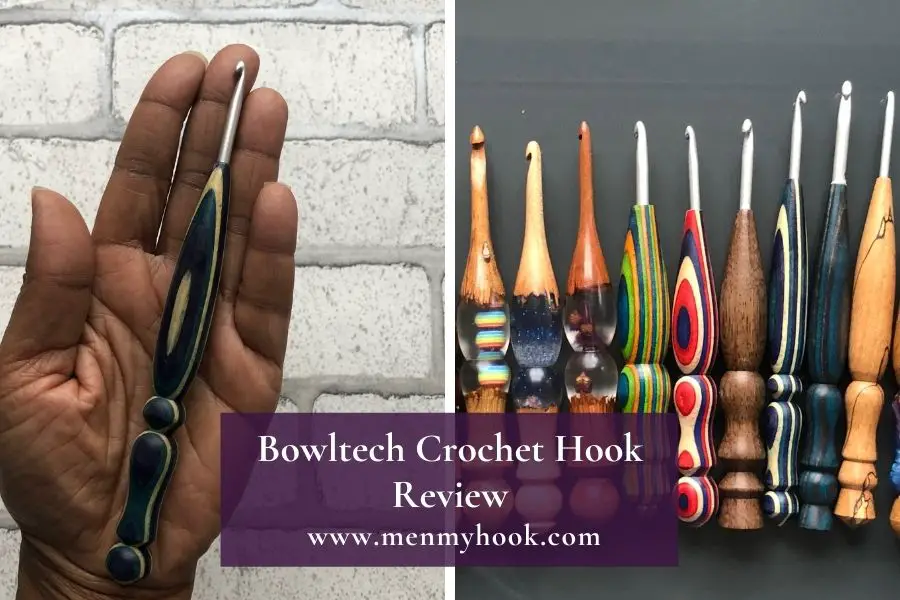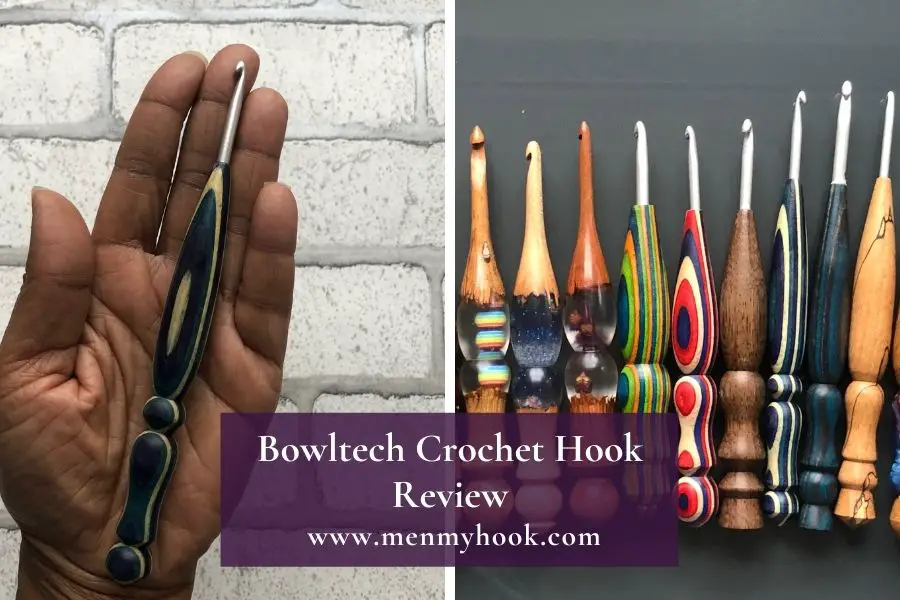 Shape – Wand or Ergo
When choosing your Bowltech crochet hooks the starting place for most people is wood/resin size, but the shape of your hook is also important. There are three styles available at the time of writing, each is an ergonomic crochet hook.
Wand
The thinnest appearance of any Bowltech hook is the Wand. It is the closest in shape to what I will call a manufactured ergonomic crochet hook. Turned with a gentle body shape, these appear to be longer than the other shapes available, but it is is possible to request a longer/shorter hook shaft to fit your needs. Great if you are a knife/sabre holder like me. Most hook options are available in this shape.
To check out a design made with a Bowltech handmade ergonomic crochet hook see Lena.
Ergo
This is a fuller shaped version of the wand to my mind. It is more rounded in the body but still easy to fit into your palm. Available as a resin insert and all other styles of crochet hook.
Full body Ergo
This is the voluptuous version of the three shapes. Well rounded in the middle, this is perfect for those who have less mobility in their hands. Available across the range of woods and styles available.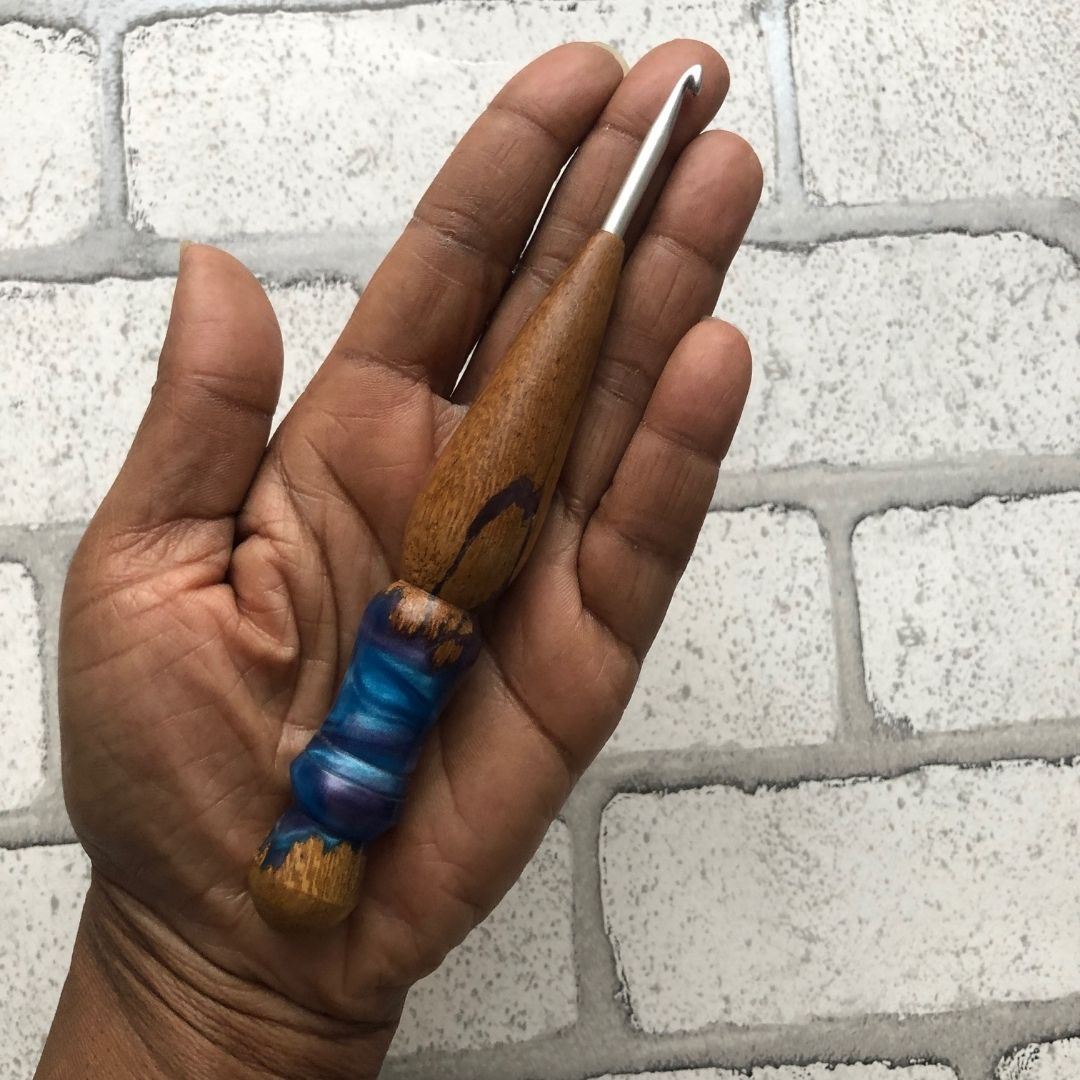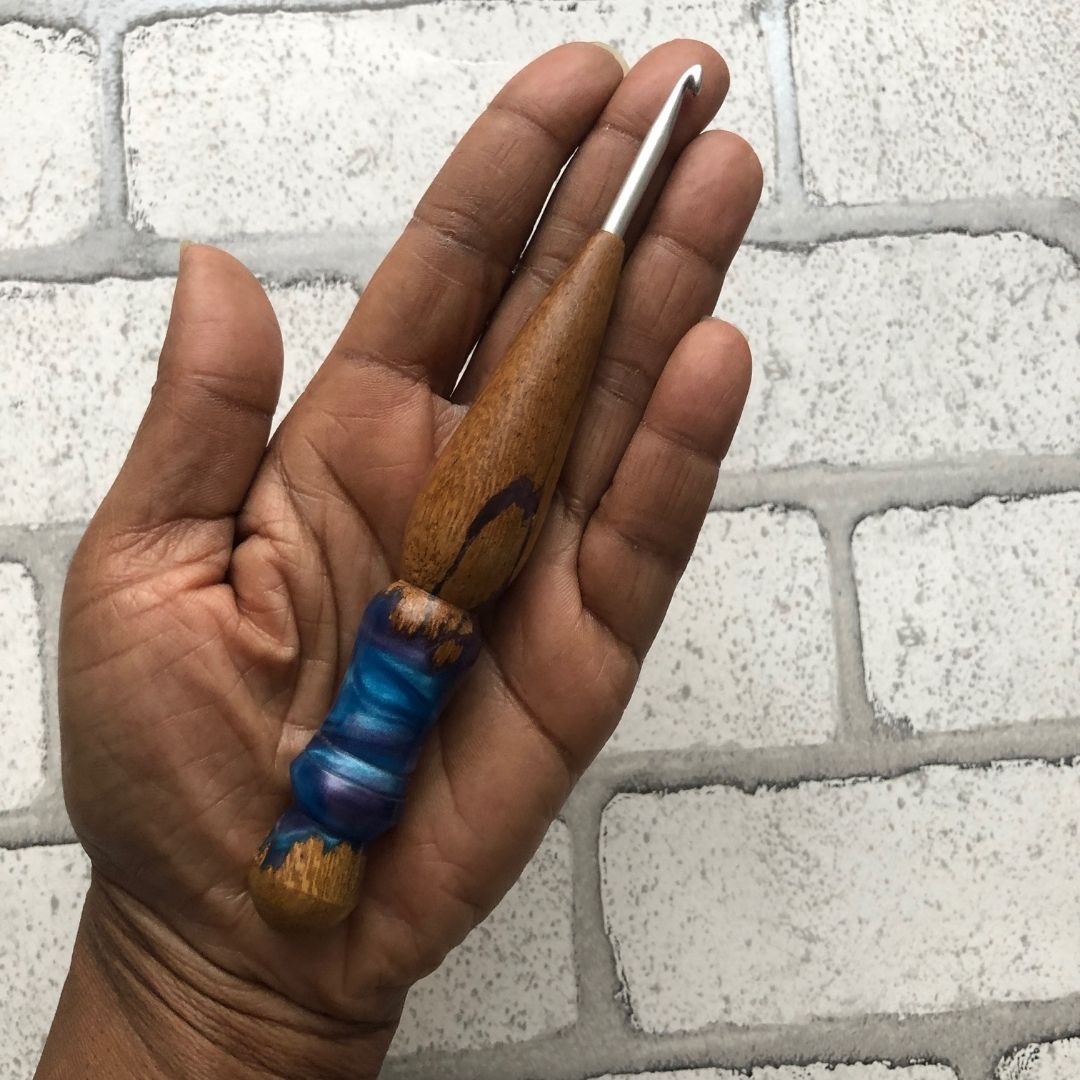 Price
There are a range of price options available for ergonomic crochet hooks from Bowltech. Native UK woods start at £16, with the various alternative elements adding an additional cost on a sliding scale depending on what you choose, with a single hook ranging up to £38 without any specific customisations. Not a small sum, but comparable to well known brands in terms of price and range of product.
Interchangeable kits
An option that intrigues me that is available from Bowltech is an ergonomic interchangeable hook set. Available in a variety of woods and body styles, this comes with a set of interchangeable heads for a great value set of handmade crochet hooks, especially for those who regularly use a range of hook sizes.
Bowltech Ergonomic Crochet Hooks YAY or NAY?
For me, it's a YAY. If you follow me then you know I have more than two of these handmade ergonomic crochet hooks and I currently have an order waiting for another. At first, I was unsure. I purchased one hook and didn't give it really enough time before I put it aside for a while. I then went back to it and while I still have it, that isn't my favourite hook shape and so ultimately it wasn't the right Bowltech hook for me, but there are some that are perfect.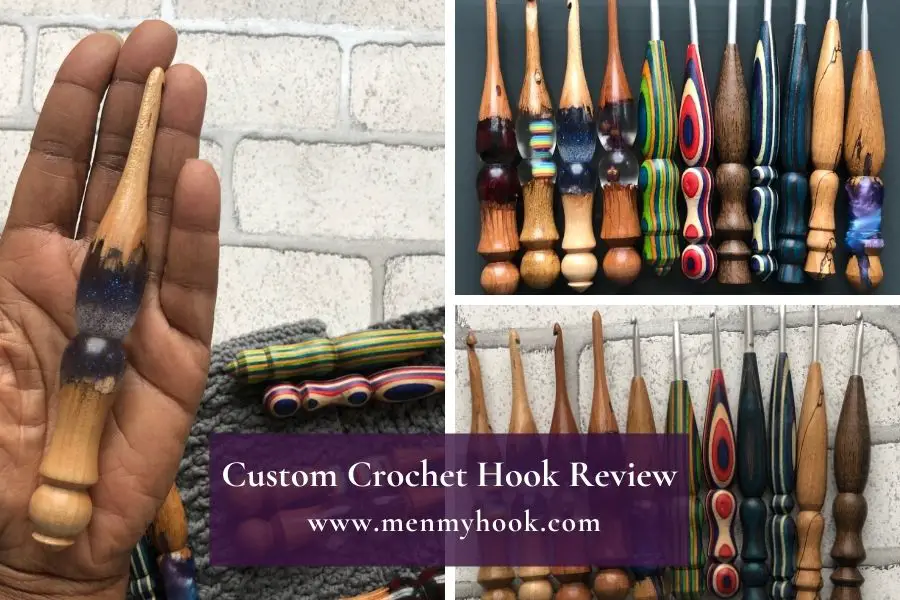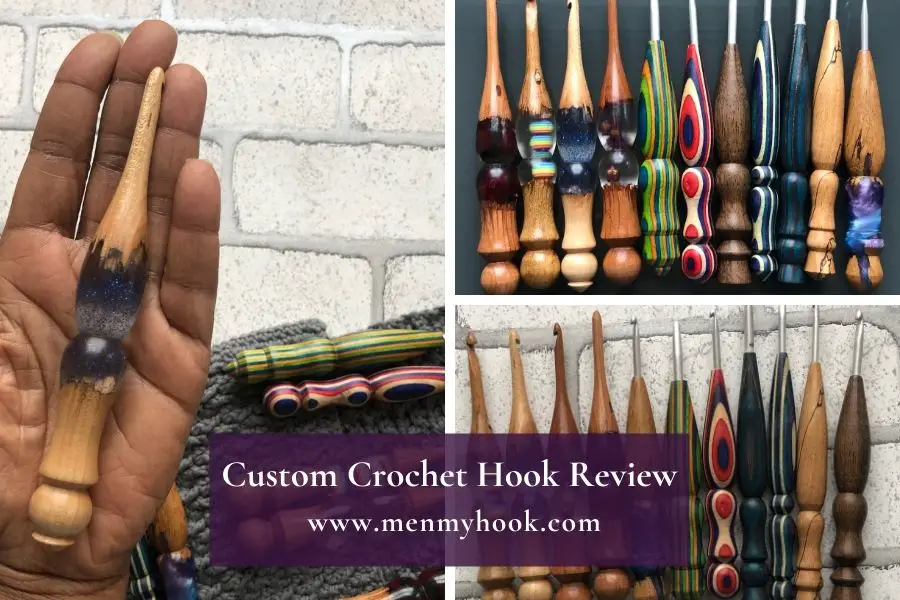 Price was and still is a factor but I like treats, pretty hooks and of course collecting crochet hooks is a different hobby to crochet. As I crochet more, I use these more and more as my hands respond less negatively when I sit with these over my other favourites for hours at a time.
I think my top tip would be to join the Bowltech Crocheters, ask some questions and think about your crochet style before making an investment in a Bowltech ergonomic crochet hook. It would be the same for anything like this really, but these are made to order so will take some time to arrive so you want as close a good match to suit you to start with as this is an investment in your hands, wrists and craft to my mind. Not that this would be any less irritating with a manufactured hook, just easier to swallow the cost of it.
So outside of waiting for it to be made and shipped, or a celebration you can get gifts for – what are you waiting for?
Lol. I hope you enjoyed the post.
To check out some of the hooks available from Bowltech Crochet Hooks head over to their Facebook Page and check out the Gallery images OR their Etsy shop via the buttons below.
Don't forget to pop into the Facebook Group and share your favourite hooks, tools wips and fo's I would love to see them.
Looking for pattern inspiration?
Shawl lovers – check out this collection of Lace Shawl Patterns
Garment lovers – check out the Hawthorne Sweater
Bags and Accessories – check out the Harmony Bag or the On the Bias Pouffe!
I'm gonna go buy some alternative crochet hooks to try I think.
Bye for now
Bx