Easy Tunisian Full Stitch Clutch Bag – Full on Clutch
This post may contain affiliate links. This means I may earn a small commission if you make a purchase from these links, at no additional cost to yourself.
Looking for an easy Tunisian full stitch pattern?  The Full on Clutch is an easy beginner Tunisian Full Stitch Clutch Purse Pattern that is full of texture and easy to work up, read on to find out more about the bag and how to access the free crochet pattern.
Tunisian Full Stitch Clutch inspiration
The Full on Clutch was totally inspired by need, and a love of texture.   While I don't make alot of tunisian crochet projects, I love the textures that it creates and the ease in which some stitches, like the tunisian crochet full stitch work up.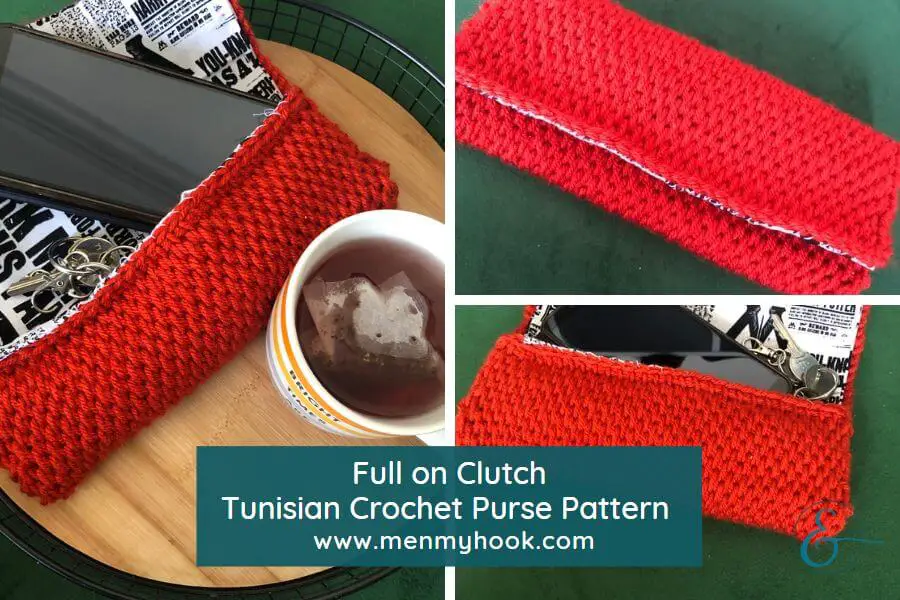 Looking for a quick project, and trying to work through a design block I decided to play around with a few different tunisian crochet stitch patterns and make myself something to use up some of my stash.  It was quickly decided that this growing rectangle would become a tunisian crochet full stitch clutch bag as I could guarantee that I would use it!
Full on Clutch yarn & materials 
To make my Full on Clutch I used a new favourite, Brava Worsted from Knit Picks.  This is a 100% Acrylic yarn that comes in 100g balls in 50 colours.  My first experience using this yarn was when I designed the Victoria Super Scarf and having a few balls left hanging around it seemed rude not to use it.
To find out more about Brava Worsted, check out the review post here.
For alternative Aran or Worsted weight yarns to make your own easy Tunisian crochet full stitch clutch purse, check out Paintbox Simply Aran.
Looking for alternative Aran or Worsted bag patterns? Check out the Mirror Stitch Shopper or make yourself a slightly larger On the Bias Tote.

Tunisian Crochet Full Stitch pattern info & tips
The Full on Clutch is a beginner tunisian crochet pattern.  You will need either a straight handled crochet hook or a cabled tunisian crochet hook to complete your project.
While you would normally use a larger hook to complete tunisian crochet projects I have deliberately stuck to a smaller hook as I wanted a tight dense fabric for this clutch, for those who do not want to line their work.  As such, there is even more curl apparent when you are working this stitch than you would normally find.  To combat this, when pulling up your loops, try to pull them all a little higher and keep a looser tension.
The Tunisian Crochet Full Stitch is worked over a two row repeating pattern in this piece which helps to keep your edges straight and creates this alternating textured surface.
Type: Tunisian Crochet
Terms: US crochet terms.  
Skill level: beginner
Yarn: 1 x Brava Worsted 100% Acrylic 100g, 218yds or 100g of any Aran, Worsted or 4 weight yarn
Hook: 5.5mm Tunisian Crochet Hook with or without cable, or you can use a straight handled 'regular' crochet hook
Other materials: stitch markers, darning needle, scissors
Optional materials: fat quarter, sewing needle, thread
Stitches used:
Chain
Tunisian Full Stitch
Get the Full on Clutch Pattern
Buy your Ad FREE digital download copy of the Full on Clutch pattern from your favourite pattern store below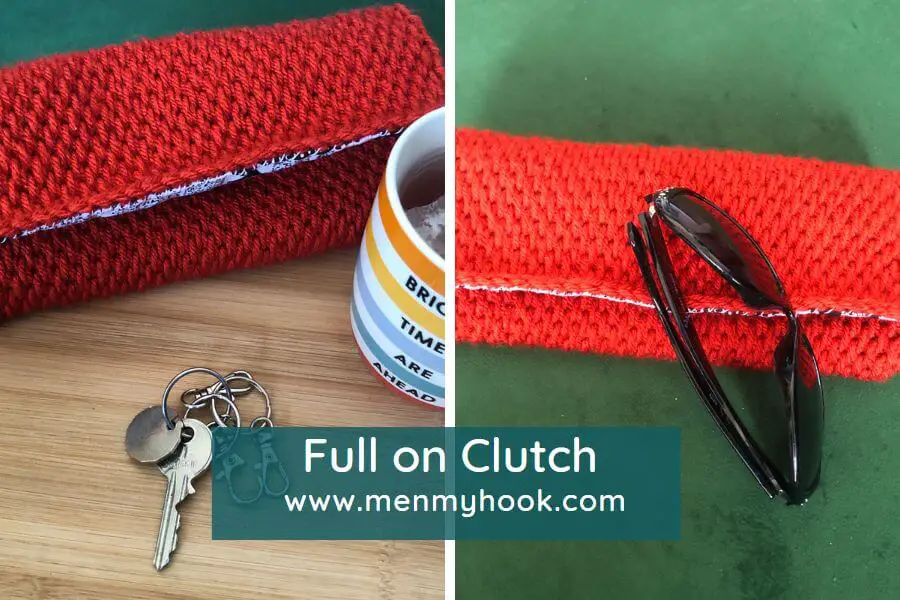 FREE Full on Clutch Tunisian Crochet Full Stitch Purse Pattern
Stitches & Abbreviations
Chain – ch
Foundation Row – FR
Tunisian Full Stitch – TFS
Space – sp(s)
Skip (sk)
Forward Pass – Fwp
Return Pass – RetP
Tunisian Full Stitch – TFS
Finishing Stitch – FS* see special stitches
Special Stitches
Finishing Stitch (fs) – Finishing Stitch (fs) – insert your hook under BOTH bars of the last/edge st, yarn over and pull up a loop
Start:
Ch 34
Foundation Row:
Insert hook into back bump of the second ch from the hook, yarn over and pull up a loop, repeat across to the last st. (34) 
Return Pass (RetP) :  
RetP – ch1, yarn over and pull through 2 loops, repeat across until 1 loop remains on the hook.
Row 2:
FwP – yarn over, insert your hook into the space between the stitches below and pull up a loop in every sp until 1 sp remains, sk sp, fs. (TFS)
RetP – ch1, yarn over and pull through 2 loops, repeat across until 1 loop remains on the hook.
Row 3:
Ch1, sk the first sp, insert your hook into the space between the next 2 sts and pull up a loop, repeat in every sp across, fs.
RetP – ch1, yarn over, and pull through 2 loops, repeat across until 1 loop remains on the hook.
Rows 4 – end:
Repeat rows 2 – 3 until your piece is approx 11 inches tall 
Block your work before moving on.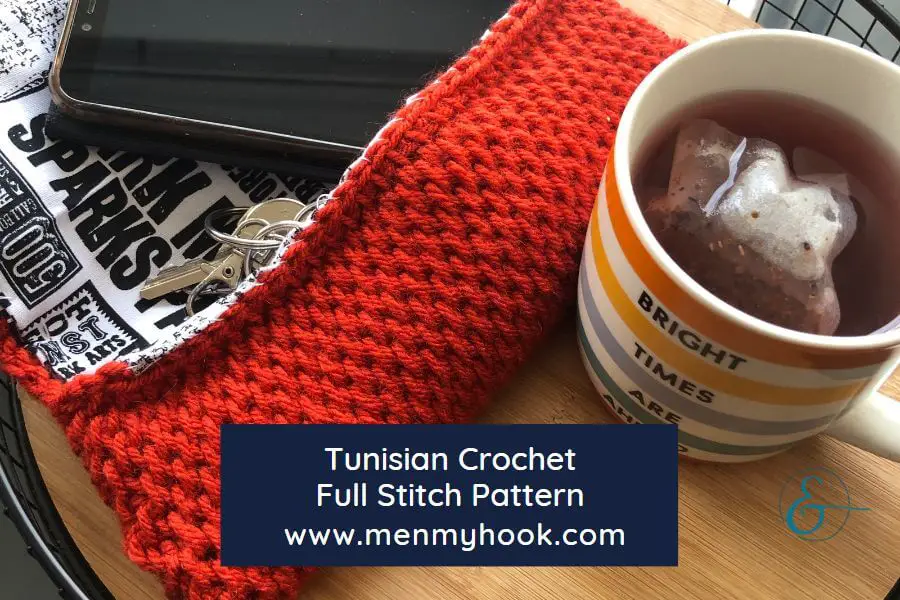 Lining your clutch
I lined each of my bags with a fat quarter before joining.  I laid the piece wrong side facing and placed the fabric around the work 1 – 2 stitches inside the edge all the way round.  I did it this way to ensure I could have the lining inside the front flap and no cut in the fabric.
Join
Still with the wrong side (or fabric) facing, fold your work into thirds, and use a stitch marker to hold 2 flaps together – this will create the 'pocket' for the clutch.
Take care to use a piece of fabric that is LARGER than your work leaving some slack in the middle.  This will account for the pocket / internal base area of the bag once it is assembled.
Using your yarn and darning needle, insert your hook into the marked st and join evenly using the mattress stitch working towards the curve.  Place 3 or more stitches through the curve to secure the hole.  Tie off and repeat on the opposite edge.
Tie off and secure all ends.
Flip your work out.
Secure magnetic snaps approx 1 inch inside each front flap.
Full on Clutch Collabs

Are you a fan of super quick to make projects?  Ashley from Through the Loop Yarn Craft has just the thing you need.  The Make in a Day Blog Hop features 28 crochet patterns that can be made in a single day – GUARANTEED!  Every day in February a new pattern will be available to download for free as part of this event and today, the 14th February is the featured day of the Full on Clutch Bag!
To find out more about the event, and to grab your copy of the Full on Clutch pdf pattern, head over to Through the Loop Yarn Craft via the button below to get your discount code.

Then hit the button here to check out on RAVELRY using your discount code before Midnight 15th February

I hope you enjoyed the post and look forward to seeing your Full on Clutches!
If you would like an alternative Tunisian Crochet pattern, check out Entrelac Sort Of here.
Pop into the Facebook Group and let me know what colour you plan to make your wrap in and share your progress.
Bye for now,
B x